NHP is reader-supported. As an Amazon Associate we earn from qualifying purchases.

Deep Conditioner For Relaxed Hair Growth [Top #5]
Deep Conditioner for Relaxed Hair Growth
Let's have a heart-to-heart about deep conditioner for relaxed hair growth, sis…
Because some of my beauties out there are just lost when we start talking about growing hair even when your are using relaxers.
You shouldn't give up on hair growth even the relaxing causes more structural damage. So, let me ask you...
Are you deep conditioning your relaxed hair? If the answer to this question is 'no,' you are committing a severe faux pas in the world of hair care best practices.
Does relaxed hair need to be deep conditioned? Of course! Relaxed hair needs deep conditioning too.
Yet, why do so many women skip this critical step in the relaxed hair care process?
We'll talk about that after I give you NHP's best 5 deep conditioner for relaxed hair growth picks! LET'S GET IT!
Top 5 Deep Conditioners for Relaxed Hair Growth Reviewed:
Moroccanoil Restorative Hair Mask
MIZANI Moisture Fusion Intense Deep Conditioner
PURE NATURE LUX Argan Oil Deep Conditioner 
Dr. Miracle's Hydrate & Strengthen Deep Conditioner
Shea Moisture JBCO Growth Treatment Masque
1. Moroccanoil Restorative Deep Conditioner Hair Mask
This premium deep conditioner for relaxed hair growth makes your hair feel soft and holds up to the daily use of blow dryers and curling or flat irons. 
This is a protein-rich hair nutrition infusion booster, a best-seller restorative hair treatment that helps reconstruct relaxed hair strands damaged by chemical processing or heat styling. Infused with argan oil and shea butter.
Here's a customer review from sister with relaxed hurr (Yes, I said "hurr" - leave me alone…)
MoroccanOil deep conditioner for relaxed hair growth review:

"I love this hair mask! I've been battling against damaged, dry, breaking hair for a few years now due to a medication I was taking. I will tell you that my hair is extremely thick and when I use this, my hair feels like silk!
I have very thick African American hair and I am in the middle of transitioning from a relaxer (5 months since last relaxer) and this mask gives my hair enough slip that I don't even need a relaxer.
I lose a lot less hair when I detangle, and my hair immediately feels stronger. This deep conditioner works wonders! Please remember to use a regular conditioner after this product, as it is a protein treatment and you have to put the moisture back into your hair. Worth the $$$!!!"

- Monica Harper
2. MIZANI Moisture Fusion Intense Moisturizing Deep Conditioner Mask



Mizani's popular deep conditioner for relaxed hair growth restores essential hydration and vibrancy to dry hair. Deeply nourishes and moisturizes dry curls and coils.
MoroccanOil deep conditioner for relaxed hair growth review:
"My hair has been dull for about a year now, so I decided to try this deep conditioner mask. My hair is relaxed and possibly over processed, having relaxed my hair every 8 weeks.
Anyway, this product not only added shine but intense moisture. My hair has not felt so soft in a year. Definitely adding this to my hair regimen each week."
- Lady B.
Join NHP-HIVE and get sent our info-packed, down-to-earth & sometimes funny NHP hair tutorials by email. SIGN UP HERE...
3. PURE NATURE LUX Argan Oil Hair Deep Conditioner Mask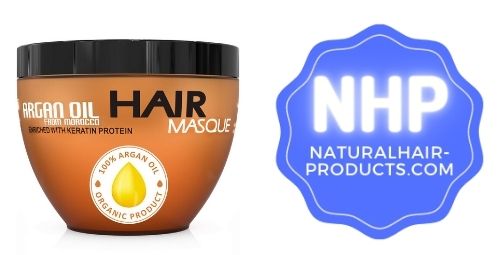 #3 Best deep conditioner for relaxed hair growth
The PURE NATURE LUX SPA Argan Oil Hair Mask Deep Conditioner is a sulfate-free product that helps to repair dry, brittle hair.
It contains jojoba oil, a moisture sealing oil that helps lock in moisture and strengthens and thickens your hair. 
The deep conditioner for relaxed hair growth also employs the power of a ​Moroccan oil.
This restorative hair mask​ has been known for generations to naturally improve the vibrancy and health of relaxed hair and promote growth.
Pure Nature ​hair treatment mask​ penetrates deep from root to tip help restore damage from chemicals in relaxers, sun exposure and pollution.
This argan oil ​moisturizing hair mask​ also helps protect against split ends, make sure to lock in that moisture with your satin bonnet cap for hair growth.
4. Dr. Miracle's Hydrating & Strengthening Deep Conditioner for Growth



Dr. Miracle's Hydrating and Strengthening Deep Conditioner supports all hair types and helps protect your hair from dryness which may contribute to unwanted shedding or breakage.
This formula helps to detangle your hair and strengthen it. This product contains babassu oil which moisturizes hair while promoting hair growth, and coconut oil which enhances hair elasticity.
This deep conditioner for relaxed hair growth is a well-known staple in the relaxed hair community.

5. Shea Moisture Jamaican Black Castor Oil Treatment Masque for Dry Relaxed Hair



Shea Moisture Jamaican Black Castor Oil Treatment Masque for Dry Hair is another great option for repairing relaxer damaged hair.
This deep conditioner for relaxed hair growth is sulfate-free and contains a good blend of ingredients formulated to strengthen your hair.
Shea Moisture Jamaican Black Castor Oil Treatment Masque for Dry Hair contains shea organic hair butter, peppermint, and apple cider vinegar.
Each of these ingredients serves to lock in moisture which is vital for hair flexibility and growth.
[RELATED ARTICLE: See 5 Best biotin shampoos for hair growth!]
Why Deep Conditioner For Relaxed Hair Growth Is Critically Important
Relaxed hair has to endure a variety of factors that can be harmful to the health of these tresses.
Heat: Heating tools like hairdryers and flat irons are often a must-have component of the styling process for relaxed hair.
However, heat can be harsh on relaxed hair with repetitive use, even with an excellent thermal protectant. In addition, heat can rob hair of moisture, creating the perfect scenario for split-ends, shedding, and breakage.
Ultraviolet Rays: The sun's ultraviolet rays are not only damaging to our skin if left exposed for too long without protection but our hair as well. They can attack the structure of our hair, causing it to break down over a period, becoming brittle and ripe for deterioration.
Climate: Temperature swings and seasonal changes also create a bit of confusion when it comes to our hair. In the U.S., in southern climates in the summer, you have to contend with humidity.
Southwestern residents have to make do with dry, arid heat sucking the moisture from their hair and skin. Meanwhile, folks in the northern U.S. have to make do with blustery winds and arctic blasts during the winter months. These weather extremes create chaos for our scalp and hair follicles.
Lifestyle: Those of you who have an active lifestyle in which your scalp and hair have to endure encounters with sweat, chlorine-filled pools, or salty ocean water likely understand that your hair's texture can be slow to recover from these events.
[RELATED ARTICLE: Use this baby bald spot remedy...]
Deep Conditioner for Relaxed Hair Growth Benefits
Deep conditioners can have a positive effect on relaxed hair.
Stop Hair Breakage: Deep conditioners can help to control and eventually halt breakage with consistent practice. In addition, they can strengthen your hair and improve your overall hair elasticity.
Eliminate Frizz: Frizzy hair or incurable flyaway are symptoms of hair that is thirsty for hydration. Most days, it may seem that your hair won't lay down no matter what you do. Deep conditioning your hair can help to eliminate frizz while hydrating dry hair and improving hair elasticity.
Restore Moisture: Dry scalp and dandruff issues can be a problem for chemically-treated hair. Deep conditioners help to hydrate your hair and be highly effective in moisturizing your scalp.
Dry scalps have a tendency to become inflamed, red, and irritated. A deep moisturizing conditioner can be surprisingly helpful in rejuvenating the scalp.
Deliver Vibrancy: Hair lacking shine or luster is often a tell-tale sign that a deep conditioner regimen may be in order.
Deep conditioners often contain the right blend of essential oils that may help to not only restore moisture but bring back the Vibrancy your hair is missing.
Conditioners that contain vitamin E, Argan oil, jojoba oil, or coconut oil are great options for rejuvenating your hair.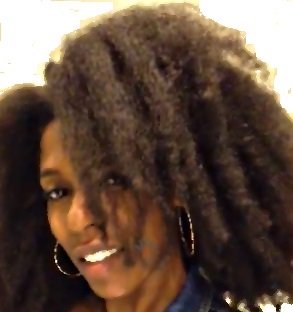 Hey sis, heyyy!
I'm Melissa Lee...
Co-founder of NHP. You'd de wise to...
TAKE DELIVERY of NHP Tutorials in your inbox for FREE!
Get EXPERT HAIR HELP at your fingertips weekly!
Let's keep in touch - sign up quickly by clicking RIGHT HERE...

How to Deep Condition Relaxed Hair for Growth
After rinsing out your shampoo, apply a deep conditioner to your hair. Place a conditioning cap.
You also have the option to wrap your hair with cling wrap, then wrap your covered hair with a towel.
Your goal is to create some heat to aid the conditioner in penetrating your hair. You have the option to use a hooded dryer or heat cap to assist in generating enough heat to open the cuticles.
At the end of your deep conditioner treatment, allow your hair to cool for approximately ten to fifteen minutes before rinsing it.
Your goal in completing this final step is to let your hair time seal in the moisture.
How Often Should You Deep Condition Relaxed Hair for Growth?
The frequency in which you should use deep conditioner for relaxed hair growth may vary, depending on the health of your hair.
However, initially, you should aim to deep condition your hair every 1-2 weeks. From there, you may find that deep conditioning your hair every other week is sufficient.
[SEE NHP ARTICLE: Cute girls hair bonnets!]
NHP Wrap Up: Deep Conditioner For Relaxed Hair Growth
In closing, relaxed hair needs a deep conditioner regimen. Deep conditioners can help repair damage and stop breakage in its tracks. Getting started is relatively simple.
Start with a schedule for deep conditioning your hair every week for 15 minutes post-wash. Adjust your routine based on your results.
Do not limit yourself to a single deep conditioner for relaxed hair growth product. If you do not achieve positive results with the first, move on to another.
And hey! BOOKMARK NHP so you can find us more easily or even sign up to get NHP articles delivered to your inbox for FREE!
Follow Author of Deep Conditioner For Relaxed Hair Growth Tutorial...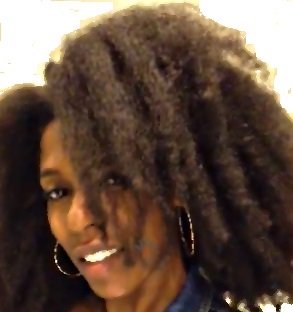 ABOUT THE AUTHOR: Melissa Lee 
Melissa Lee is a Contributing Editor to NHP and a former owner of the BlackhairOMG website. She formed 4C Trichology Growth Services, LLC., a US based hair care consultation service. She has also contributed as a writer and consultant for various hair and beauty websites. Melissa can be followed on Twitter here.

---