Finding the best blow dryers from a very popular brand like Babyliss Pro can be difficult because almost every version of their products has raving fans, ya know?
Don't worry though, because...
You'll probably agree with me that it feels good to KNOW that the hot hair tool you buy is TOP-QUALITY, durable and gives the best results, right? 

That's why professional salon hairdressers, barbers, and DIY personal-use client reviews show that people straight up love BaByliss hair dryers.
I listed the top BabylissPRO blow dryers below so that you can check and see for yourself.
I have always liked getting straight to the point, and I'll do the same for you.
I created this QUICK HIT Best Babyliss Pro hair dryer list for you folks who don't want to read every single Babyliss hair dryer review detail and simply want the list of the best picks.
Ok, so listen, although I'd decided to leave out the extra details in the list above and show you straight to the top-ranked blow dryers that Babyliss buyers have reviewed as the best.
I have more info for the diligent folks who like to research before buying...
You can avoid a lot of problems that cheap drugstore blow dryers bring you by investigating the best Babyliss hair dryer reviews and choosing wisely.
One of the main issues we see with cheap and flimsy, low-budget hair dryers is that you can't guarantee that they last any decent amount of time because they aren't durable like Babyliss PRO blow dryers.
Although some think that cheap prices are "great prices", I don't think I'd want to keep buying a new blow dryer over and over again because of penny-pinching.
Another problem I thought that you'd be happy to avoid by investing in premium Babyliss brand hair dryers is weak airflow.
And hey...
Lightweight and very powerful are qualities of a great hair heat tool.

Some underestimate the airflow power of Babyliss hair dryer, but when I want to dry my hair quickly when I blow dry, I don't want it to last all day long, especially if I'm blow drying everyday.
Many of the best Babyliss PRO hair dryers even come with a turbo boost button that can blast through thick curly hair to get it dry as quickly as some lesser dryers get thin and fine hair to dry!
1. BaBylissPRO Nano Titanium Hair Dryer - 1st Place BEST
One day, 3 or so years ago, I got fed up with frizz and split ends, and asked my hair stylist what brand hair dryer he would recommend.
One of which was "BaByliss." So off to the interwebs I went, and did a lot of comparing and review reading. Days later, I pulled the trigger on the "BaBylissPRO." OMG! Why didn't I do this sooner?!
Before Babyliss, I'd have to blow dry my hair straight, but it would still be frizzy, so I'd have to use a flat iron.
The result would be wasted time and LOTS of split ends.
But now I use this Babyliss nano titanium hair dryer and have cut my styling time in half...better yet? Since I don't use a flat iron - No split ends!

The BaBylissPRO Nano Titanium Hair Dryer is ranked NHP's #1 best Babyliss hair dryer.
The reviews for this blow dryer are filled with women raving about how this is the best Babyliss hair dryer they have ever used. 
It comes with unique Nano Titanium technology and a 2000 watt motor that's both powerful yet lightweight. This hair dryer's ergonomic style makes it easy to handle and efficient. Thus, the BaBylissPRO Nano Titanium Hair Dryer is a must-have heat tool for anyone whose arms feel strained easily when blow-drying their luscious locks. The Nano Titanium Ionic technology gets your hair dry faster and without causing any frizz.
The main complaints I've found with this Babyliss PRO hair dryer is that the detachable nozzle falls off sometimes, it doesn't have a retractable cord and of course, since you have to pay for top quality heat tools some women may feel that it's slightly expensive. Check for sales and the current price of the BaBylissPRO Nano Titanium Hair Dryer at Amazon.
1st Place on Best Babyliss hair dryer list.
GOLD STANDARD WINNING FEATURES:

6 heat and speed settings.
Removable filter.
Uses ionic technology to create gentle even heat.
1 detachable nozzle for focused airflow.
Ergonomic Design Patented 
2000 watt power.





This BabylissPRO blow dryer is great for all hair types including thick & coarse hair, this blow dryer helps reveal shiny, healthy-looking hair. 
This blower boasts six heat and speed settings, a cool shot button and a concentrator nozzle, as you can see, this Babyliss provides a wide range of styling options, and the removable filter makes cleaning easy.
The dryer's lightweight ergonomic design makes handling less painful for stylist because you get less hand fatigue.
I'd say that this is not only great for professional salon stylists, but a treat.

2. BaBylissPRO Ceramix Xtreme Hair Dryer - 2nd BEST
This BaBylissPRO Ceramic Xtreme hair dryer could've easily been ranked #1 best but we didn't want to leave it at a tie. It's effective on every hair type from natural hair to synthetic Yaki weave hair to human wig hair. 
It was only edged out by the BaBylissPRO Nano Titanium Hair Dryer because we had to choose one, they are pretty much 1a and 1b, the BaBylissPRO Ceramic Xtreme hair dryer is extremely long-lasting, very durable and extra-gentle. This blow dryer is equipped with far-infrared technology that will protect your hair strands from excess heat damage.
All of this, makes this hair dryer a #1 contender any day of the week for #1 best Babyliss blow dryer currently available. 

The BaByliss blow dryer brand is known for its exceptionally high quality and is one of the true luxury hair tool brands on Amazon right now.
2nd Place on Best BaByLiss Hair Dryer list.
GOLD STANDARD WINNING FEATURES: 

2000 watt motor.
It has warm hot and cool settings.
6 heat and speed settings.
Narrow barrel & concentrator nozzle for focused air pressure.

Rubberized housing for an anti-slip grip.

Cold shot button to lock in style.

Extra-gentle and far-infrared heat protects hair from heat damage.
9 feet long cord.
This is a sure-fire pick and one of the best Babyliss Pro blow dryer for giving you professional-looking results. It's powerful, making it ideal for women with hair longer than 9 inches and blessed with a lot of hair volume. Truth be told, it's suitable for all hair types and great for salon workers because it has a comfortable grip.
If you're a DIY'er you can get a professional salon-quality drying and even heat distribution to avoid scorching your delicate tresses and prevent increasing frizz.
There are a couple complaints though. nothing is perfect, ya know?
Some reviewers didn't like how the BaBylissPRO Ceramix Xtreme Hair Dryer feels overheated sometimes, but, it IS a powerful blower and that's the cost of power sometimes.
Also, because of this blowers power you may have to scale back from the high setting if your hair tangles easily.The fast setting blows some hair type hair all over the place and everywhere. So, to avoid an unexpected detangling session, starting on the lower setting may be best so your hair isn't ending up a tangled mess. 
It's also a relatively heavy blow dryer, so if you need a lightweight Babyliss Pro this may not be your choice.
Lastly, I've found that the settings control switches are smooth and somewhat difficult to use, it can be tricky. If your fingers are damp or, worse, if you have slippery hair product on your hands, be prepared to stop blowdrying and use a towel or something to change heat or air settings.
As one reviewer mentioned...
"Well, I love everything about this babylissPRO Ceramix Xtreme dryer except for the buttons... it's too difficult to slide back and forth with one hand while drying my hair. If my hands are perfectly dry and I have absolutely ZERO hair product on them, then the buttons are no problem. Unfortunately, before drying my hair I always put some type of product in it.. a smoothing cream or gel of some sort.
Usually I just rub the remaining product into my hands, as those that I use are great for dry skin.... though they take a while to fully absorb, leaving my hands a bit slippery.... which makes it very difficult to slide the buttons back and forth. I have to stop, put my round brush down and use both hands so I can use a fingernail to move the buttons.
This may sound petty, but I like to change the speed and temperature quite a bit while I am drying my hair. Constantly needing to put my brush down so I can use my nails to move the buttons is a hassle."
But rest assured, the VAST MAJORITY of the reviews are overwhelmingly positive, see what others have to say at Amazon about the BaBylissPRO Ceramix Xtreme hair dryer.
3. BaBylissPRO Nano Titanium Portofino Hair Dryer - 3rd BEST
I know a lot of folks balk at the price but its the blow dryer my stylist uses when he finishes a cut.
I swore it must be him because I just could never do it. He told me to get this hair dryer and boom...it was done! I create the salon look every single time in 5 minutes!
- Kayla Lowry
The BaBylissPRO Nano Titanium Portofino hair dryer is rated the third-best blower because its Italian-made motor boast the very Nano-titanium technology that you'd usually find in one of Babyliss' top-tier silk press flat irons.
This full-sized version has a powerful motor with 2000 watts that will last much longer than one of a lower wattage, too.
The famous Nano Titanium technology emits negative ions that diminish static and frizz in your hair while closing the cuticles for a smooth and glossy blowout result.
Heat in this blow dryer can be changed based on what is needed. It has a few heat settings. There's low, medium, and high heat. It also has a cool shot button. The cool shot will seal your style. You can use the right heat based on the health of your hair overall.
I was happy to discover that this Babyliss hair dryer comes with 2 concentrator nozzles. 
The Babyliss concentrator nozzles help focus the heat and air towards styling, instead of just drying hair wildly. This Babyliss blow dryer also has a removable steel filter for maintaining your device.
3rd Place on Best BaByLiss Hair Dryer list.
WINNING FEATURES: 



2000 watt powerful Italian AC motor.
6 heat/speed settings.
2 changeable nozzles.
Nano Titanium technology.
Removable stainless-steel rear filter.
Available in 2 colors – Blue and Black.
This is the #3 Best BaByLiss hair dryer because it's great for all hair types including thick & coarse hair, this blow dryer helps reveal your shiniest, healthiest-looking hair.
It compare favorably to other more expensive Italian blow dryers that cost near and above $200, Like Elchim.
As one reviewer mentioned...
"This BaBylissPRO Nano Titanium Portofino is the best hairdryer I've ever had, even better than my previous Elchim which I loved. I wear my hair in a bob, and this dryer dries my hair so quickly and gives me the look like i just walked out of the beauty salon. It's fairly quiet too & comfortably light. It's an amazing blowdryer."
Many, also believe that Babyliss products are better than Good Hair Day (GHD)...
4. BaBylissPRO Tourmaline Titanium 3000 Hair Dryer - 4th BEST



Because the BaBylissPRO Tourmaline Titanium 3000 Hair Dryer instantly gives you a dry and frizz-free finish, it has earned it's way on to this Best BaByLiss Hair Dryer list.
This Tourmaline Titanium hair dryer provide your hair with protective ions. Those ions will fight back the positive charges currently in your hair's structure. If your hair is dry and frizzy, that's positively charged ions working to do damage. The tourmaline in this blow dryer naturally generates negative ions for shiny hair that can more easily maintain its moisture.
4th Place on Best BaByLiss Hair Dryer list.
FEATURES: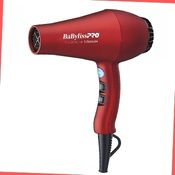 Ultra-light 1900 watts powerful motor.
Ionic technology with tourmaline titanium.
6 heat and speed settings.
Comes with a concentrator nozzle.
Removable filters.
This BaByliss PRO dryer has tons of features. Its powerful motor is made for professional styling of kinky and thick, coarse hair. Babyliss even makes some of the best flat irons for natural black hair.
The BaBylissPRO Tourmaline Titanium 3000 blow dryer features a comfort grip to help reduce stress & fatigue on the hand & wrist, great for professional hairdressers. I loved to see that it had far-infrared heat & ionic technology to combine for faster drying.
I figured that you'd like to know about the rubberized finish it has that protects the dryer from damage as well. There's a concentrator nozzle included. The power cord is 9 feet. It has a cool shot button for setting your style. It's lightweight and easy to use, too.
5. BaBylissPRO TT Tourmaline Titanium Travel Hair Dryer, Red - 5th BEST
This BaBylissPRO TT Tourmaline Titanium Travel Hair Dryer is highly-rated for mini & travel models that made this list. When you wanna pack up a small blow dryer that packs a punch, this is your girl!
This is a blow dryer for those from 1A to 4C type hair, it's great for all hair types including thick & coarse hair
The compact 1000 Watt BaBylissPRO Tourmaline Titanium Travel Dryer has dual voltage & a folding handle, making it perfect for travel. Tourmaline crystals emit ions to help fight static & boost shine.
5th Place on Best BaByLiss Hair Dryer list.
FEATURES: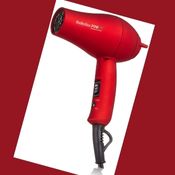 1000 watt power.
Heats up quickly.
Emits millions of natural ions to diminish static.
Dual voltage.
1-Year warranty guarantee
This BaBylissPRO TT Tourmaline Titanium Travel hair dryer is a travel-friendly blower that is compact and easy to carry. It has dual voltage for international overseas visits, and a folding handle that makes the dryer easy to store and pack while traveling.
6. BaBylissPRO Porcelain Ceramic Carrera2 Blow Dryer - 6th BEST
This BaBylissPRO Porcelain Ceramic Carrera2 Blow Dryer is a compact, powerful porcelain ceramic hair dryer that drys & styles hair while boosting its lift, volume, & shine. It's made with good quality materials to be durable and long-lasting.
It's great for fine hair as well, as one review I saw mentioned, "I have fine hair and love the BaByliss dryer! It has not scorched or damaged my fine hair and really helps in the styling."
I noticed that even those who have fine medium length hair are impressed with the improvement this blower dryer gives in just a few days of use. Thin hair is shinier with less frizz in comparison to using cheap drugstore hair dryers, and you can dry your fine to medius thickness hair completely in 7 to 8 minutes on the warm setting.
This Babyliss hair dryer doesn't overheat your locks and has great airflow, especially when you use the narrow concentrator to direct the airflow. Admittedly, this BaBylissPRO Porcelain Ceramic Carrera2 hair dryer is a little heavier than most cheap brands from the drugstore but the smaller size and how fast it dries hair makes up for it.
And big bonus after using this blower is that the humidity doesn't frizz your hair as much.
6th Place on Best BaByLiss Hair Dryer list.
FEATURES: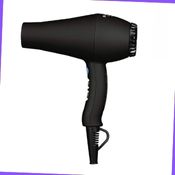 6 heat and speed settings
Rubberized finish and stylish design.
1900 watt motor.

Ionic and Porcelain Ceramic technology.
High-heat airflow.
Even distribution of heat.
Anti-slip grip.
One of the cons or negative about this product is the higher investment price, yet, that's outweighed by the crazy, long-lasting, durability.
As one Babyliss reviewer mentioned...
"This is by far the best hand held blow dryer I have ever owned. It's well crafted and bears no resemblance to the cheap, light-weight, plastic blow dryers you so often find.
True, it's more expensive, BUT I have owned my Carrera2 for more than 10 years and it's in perfect condition.
The exterior has a matte rubber finish that helps you to hold on to the blower from any point on the dryer itself. You are not limited to only holding the handle.
If your style is to blow using the barrel in your hand, you are in luck! The rubber finish not only helps you to hold the barrel more easily, it also insulates you from the heat. This is the sturdiest blow dryer on the market. If you are looking to buy, you owe it to yourself to buy a BaBylissPRO Porcelain Ceramic Carrera2 Dryer. They DON'T disappoint!"
7. BaBylissPRO Tourmaline Titanium 5000 Blow Dryer - 7th BEST
The BaBylissPRO Tourmaline Titanium 5000 Dryer is an Amazon "PREMIUM BEAUTY" pick and one of the best-sellers.
It deserves it's spot on NHP's Best BaByLiss Hair Dryer list because this blow dryer produces far-infrared heat to dry hair faster & releases natural ions to combat static & frizz. It's great for both perm relaxed and natural hair types, regardless of porosity or texture.
7th Place on Best BaByLiss Hair Dryer list.
FEATURES: 
Ultra-light 1900 watts powerful motor.
Ionic technology with tourmaline titanium.
6 heat and speed settings.
Comes with a concentrator nozzle.
Removable filters.
120 Volt.
Has a 2 year warranty.
I bought this to replace my Paul Mitchell Pro blow dryer that quit working after only 2 years. I didn't want to spend as much so I tried this Babyliss dryer. It's about half the price of a Paul Mitchell hair dryer and I am pleasantly surprised that it seems to be very comparable in performance. I've had it a week I'll update if I have any issues with this one. So far I love it and glad I didn't have to spend as much on Paul Mitchell again.
- Janet Rosen
8. BaBylissPRO 2000-Watt Turbo Hair Dryer - 8th BEST
The BaBylissPRO BAB307 2000-Watt Turbo Hair Dryer is suitable for anyone looking for a powerful, yet relatively quiet, tool. This dryer is designed for professional use and features everything needed for that. 
It features a powerful 2000-watt AC motor that lasts long, giving you guaranteed extra-strong air pressure and rapid drying.

Design-wise, there isn't much out of the ordinary.

You do, however, get six heat and speed settings. So, it's easier to tweak your heat tool's performance to your specific preferences.

All of these perks, coupled with minimal noise, make it a Babyliss heat tool worth the money.
8th Place on Best BaByLiss Hair Dryer list.
WINNING FEATURES: 
Affordable, compared to other BaBylissPRO hair dryers
Powerful
Minimal noise
Multiple heat and speed settings
Easy to use
Nice, comfy grip
8mm concentrator nozzle is included with this BaByliss PRO dryer...
The BaBylissPRO BAB307 2000-Watt Turbo Hair Dryer guarantees excellent results on any given hair type fron thin fine hair to thick and coarse types.
This high power, low noise blow dryer has 6 heat/speed settings & comes with an 8mm concentrator nozzle.
Plus, with the presence of a removable filter, cleaning is easier. Also, when well-maintained, this dryer lasts longer, thus, offering great value for money.
I also figured that readers would like to know that this Babyliss hair dryer is one of the cheaper, or, should I say less-costly of the bunch.
If you're wondering how hot this Babyliss hair dryer gets, the answer is these typically have exhaust temps without attachments of 85-90F at a distance of 1" from the nozzle. With a concentrator attachment, it would be 85F – 100F.
9. BaBylissPRO BB5175UC Classic Hair Dryer - 9th BEST
This BaBylissPRO BB5175UC Classic Hair Dryer is an oldie but goodie, definitely good for the price…
This is a  modernized, high-performance version of the worlds most iconic pistol-grip hair dryer. Crafted with the most advance technology to deliver outstanding professional results. I put this on the Best BaByLiss Hair Dryer list because it's high quality, long-lasting, recognizable and established as a go-to dryer for professionals.
This heat tool includes a Concentrator Nozzle, Straightening Pic and Diffuser
9th Place on Best BaByLiss Hair Dryer list.
FEATURES: 
The BaBylissPRO classic hair Dryer includes a long-life high-torque DC motor with up to 1875 watts of performance. It has 2 Heat Speed settings for simplified drying, a locking cold shot button, a professional 9 foot power cord, and includes a concentrator nozzle, straightening pic, and diffuser.
BaBylissPRO is the world leading producer of innovative, high-performance professional styling tools including hair dryers, curling irons, straightening irons, shavers and other pro quality accessories
10. BaBylissPRO Porcelain Ceramic 2800 Blow Dryer - 10th BEST
The BaBylissPRO Porcelain Ceramic 2800 Blow Dryer is one of the best BaByliss hair dryers.
The unique combination of Porcelain Ceramic technology & ionic technology make this one of the Best BaByLiss Hair Dryers and a breakthrough in styling.
I couldn't let you leave without knowing that this gentle dryer with its even, far-infrared heat lets you dry hair faster and protects it from damage. I promise you, every time you turn this Babyliss dryer on, clouds of natural ions will surround your hair to help work at eliminating static.
The results you get are healthier-looking hair and shiny, smooth styles. This powerful salon-quality dryer has a 2000-watt motor, 6 heat/speed settings, a cold shot button and a removable rear filter.
10th Place on Best BaByLiss Hair Dryer list.
FEATURES: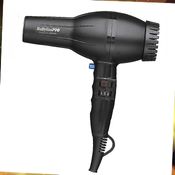 Ionic and Porcelain Ceramic Technology
2000 watts
6 heat/speed settings
Cold shot button
Concentrator nozzle
Removable filter



On the downside, there are some negatives to this dryer...

Although this is a very high quality Babyliss dryer that works fast and effeciently, not ALL is positive. Some reviews complain that the plastic concentrator nozzle piece that fits on the end to control where the air is going does not stay on very well. For a hair dryer that costs as much as this one does, that can be frustrating.
And, it's a pretty heavy blower.
I could imagine that if you were a stylist I could see how the weight might be a problem if a stylist had to use it for long periods.
Still though, I'm 100% sure that you'll find this 10th Best Babyliss hair dryer to be so much better than the cheap dryers I've heard others saying they have to replace every 6-12 months. As far as for travel, this Babyliss blow dryer is a no-no. It is big and bulky. I would recommend the same Babyliss brand, but for travel I'd suggest an actual travel size blow dryer specifically for that.
See this Top-tier Babyliss PRO blow dryer at Amazon.
11. BaBylissPRO Nano Titanium Travel Blow Dryer - 11th BEST
The this is one of the Best BaByLiss Hair Dryers for travel because it's so compact and light-weight. This 1000 Watt BaBylissPRO Nano Titanium travel dryer is a powerful, lightweight travel dryer that you can easily tote overseas.
It's geared with Nano titanium & ionic technology meaning your hair dries faster with less frizz. It also has a removable filter & has a stand included.
The Nano Titanium travel hair dryer has a foldable handle and dual voltage, making it the perfect choice for international travel. It has all the features you'd expect from a big BaBylissPRO dryer.
 [RELATED: Do you let heat protectant dry before straightening?]
11th Place on Best BaByLiss Hair Dryer list.
FEATURES: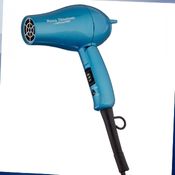 1000 Watt Power.
Dual Voltage.
Ultra-lightweight design.
Folding handle.
Removable filter/stand.
2 heat/speed settings.

.
Bonus Pick - BaBylissPRO ROSEFX Hair Dryer  
The BaBylissPRO ROSEFX blower may not be good enough to make the top 11 Best BaByLiss Hair Dryer list, but it still has a few fans even though it may not be that well-built.
This model is manufactured for power and style – these are just 2 of the many things to look forward to from the BaBylissPRO ROSEFX Metal blow dryer. It's a brand named tool designed to make hairstyling easier for barbers.
I learned that this Babyliss PRO hair dryer has a turbo button that boosts air speed to 110 mph, I don't doubt that this feature makes this one of the fastest hair dryers available.
Best of all, it's cheap in price. Of course, I would never ask you to expect the same level of durability and quality as I showed you in the top 11 list, but for the price it's a decent choice.
[RELATED: What happens when you straighten your hair everyday? Answered...]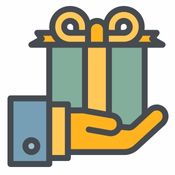 Our Penny Pincher Pick (Low-price, decent cheap blow dryer)
FEATURES: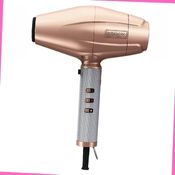 Cheap Low-Cost
110 Volt Power.
Light-weight
Don't expect much durability from this one, it's an entry-level blow dryer for folks who just want to get their hands on a cute Babyliss hair dry for THE FLEX that comes from having one.
I've learned that it's not up to par with rest on our Best BaByLiss Hair Dryer, but, it's an option.
[RELATED: Learn about argan oil for hair straightening...]
CONCLUSION:
Best BaByLiss Hair Dryer
By using the Best BaByLiss hair dryer, you get a more manageable, silky smooth look with relative ease. All the hot styling tools that we've listed in this Top #11 Best BaByLiss Hair Dryer list are highly-rated, reviewed and many are among the best sellers on Amazon.
I want you to know that I assured that these hair tools made NHP's Best BaByLiss hair dryer top #11 list because of their outstanding performance, value-to-price ratios, and advanced features that make them perfect for everything from a light drying session to a Dominican blowout!
They're the perfect blow dryers for giving you quickly dried hair with less frizz, but much more bounce, shine and body.
[ See my latest article: Best DIY heat protectant spray with aloe vera recipes...]