Babyliss Flat Iron | Top 7 Benefits & Babyliss PRO Reviews
If you want to know the "low down" on Babyliss flat irons, you're at the right spot. This in-depth tutorial will give you ALL the pros and cons of Babyliss Pro flat irons.
You'll also see Babyliss flat iron reviews from women who have kinky-curly natural hair. That way, you can get a feel if this, "top 5 hair straightener" works for OUR KIND of hair.
You'll hardly find a highly-esteemed Aveda hair salon that doesn't have a couple Babyliss pro hair straighteners on deck. And although this straightener is known to be "too much" flat iron for women with thin hair…
...many elite hairdressers tout the Babyliss flat iron as a top 5 hair straightener for kinkier textures along with GHD pro-level hair straighteners. 
Why?
Well... Babyliss flat iron reviews mention how these pro-level straighteners are solidly built for performance and made to last.
The Babyliss Flat Iron Company's Industry Reputation
The Babyliss flat iron makers have a great reputation in the professional hair-dresser community and is a favorite hair tool of celebrity stylists.

BabylissPRO has been producing innovative, high-performance professional styling tools for more than 50 years. That's why, much like  GHD hair straighteners.
 and FHI flat irons, Babyliss flat irons are a favorite of hairstylists, barbers, and their clients throughout the world.
That's not to say that they are perfect though, there are pros and cons to everything, so let's talk about it.
Pros & Cons of Babyliss Flat Irons
Pros:
Straighter results are longer lasting than with cheap flat irons.
Comes with a rarely seen 4 YEAR Limited Warranty.
Maintains consistently high temperatures while in use to straighten coarse hair faster.
Babyliss flat iron plates provide one of the smoothest surfaces for heat conduction and even heat distribution.
Hair straightening time is cut down by as much as 50% with fewer passes.
Less heat exposure because of efficiency translates to reduced potential for hair damage.
Particularly effective for thick, unruly, curly, coarse, and other hair types that are difficult to straighten.
Adjustable heat control to ensure that only the necessary heat is applied.
Cons:
Versions like the BaByliss Pro Nano Titanium don't have automatic shut off mechanism.
A pricey investment for some consumers.
The iron can get really hot.
Are Babyliss Flat Irons Too Expensive?
Let's be honest. These titanium bad girls are an investment, to be sure! And for some, a cheap throwaway ceramic hair straightener is all that they can stomach buying.
That's understandable.
To others though… The results that show when they are walking around on the red carpet of life outweigh the entry price to truly straightened hair.
And just to keep it real…
My cheapness comes in the form of wanting to DIY what somebody else is gonna charge me an arm and a leg. Ya know?
It's true:
Hair salons often do give you quality straightened hairstyles, their prices tend to be steep though. And I don't like to be a repeat customer for something that I can easily do myself with the right tools. 
Styling your hair in the comfort of your own home is actually a money-saver.
Especially the way that some folks overcharge to work with coarse hair.
That's why something like the Babyliss Pro Nano Titanium Flat Iron is so popular and effective for women in the natural hair community, especially those with coarse, unruly, and thick hair.
Which BaByliss Flat Iron Hair Straightener is The Best?

So we have to keep this best flat iron conversation in context, because we are specifically talking about which Babyliss Pro hair straightener is best for kinky, type 4 natural hair.
If you have thinnier, stringier hair the same you'll need to find the best Babyliss flat iron reviews from folks who have similar hair to yours to get a good feel for the best choice for your hair type. And really frail damaged hair may need a steam flat iron, a gentler hair straightening brush or to avoid flat ironing all together.
#1 BaBylissPRO Nano Titanium-Plated Ionic Straightening Iron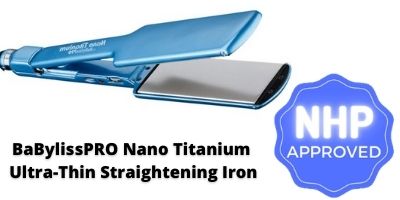 Features & Benefits:
Ultra-smooth titanium plates conduct ultra-high heat and resist corrosion
Ceramic heater, instant heat-up & recovery 5" extended plates for faster straightening
50 heat settings – up to 450°F
Slim design and ultra lightweight for maximum comfort
Housing resists ultra-high heat
Limited 4-year warranty
#2 BaBylissPRO Nano Titanium Prima Ionic Straightener
Crafted from the most advanced materials, the BaBylissPRO® Nano Titanium™ Prima3000® 1 1/4" Ionic Straightener is designed with cutting-edge features that redefine ease of use and excellence of performance. Straighten or curl with smoother, shinier, more beautiful results. Many kinky hair beauties consider this Babyliss straightener iron as the top flat iron for silk presses on natural type 4 hair.
Features & Benefits:
Convex SUS304 Stainless Steel Housing – lightweight, corrosion and warp resistant for perfect plate alignment
Dual Function – straightens and curls with maximum ease
Aircraft-Grade Titanium Plates – highly efficient heat transfer instantly smoothes, conditions and shines
HiDensity Dual-Ceramic Heating System – exceptional heat transfer and more power for up to 20% faster heat-up
Up to 465°F – enables styling of the most resistant hair types
FullWave Thermal Science – provides instant heat recovery to maintain constant temperature
IonMultiplier Technology – 2x greater ion concentration creates smoother, shinier, more beautiful results
Limited 4-year warranty
#3 BaBylissPRO Nano Titanium Digital Straightener
One touch. Total control. Designed for maximum comfort and precision, the BaBylissPRO® Nano Titanium™ 1" Digital Memory Flat Iron features a timesaving memory function to store frequently used heat settings for styling convenience. Digital temperature adjustment offers precise control, and temps reach 450°F in seconds. Nano Titanium™ advanced technology produces super shiny, silky results, and the all-directional floating plates provide 100% contact with hair for fewer passes and faster styling. One pass and done.
Features & Benefits:
Ultra-smooth titanium plates conduct ultra-high heat and resist corrosion
All-directional floating plates guarantee 100% hair contact
Memory function saves the preset heat setting
Digital temperature adjustment for precise control
Ceramic heater, instant heat-up & recovery, up to 450°F
Housing resists ultra-high heat
Limited 4-year warranty
#4 BaBylissPRO Nano Titanium Ultra-Thin Straightening Iron
The ultra-thin profile of these high-tech Babyliss Nano Titanium Ultra-Thin straightening flat irons makes them exceptionally lightweight and easy to work with. The extra-long 5" plates reach up to 450°F and allow for wider sections to be straightened, boosting speed and effectiveness while eliminating hand fatigue and increasing styling flexibility. Available in 1", 1½" and 2" plates.
Features & Benefits:
Ultra-smooth titanium plates conduct ultra-high heat and resist corrosion
Ceramic heater, instant heat-up & recovery5" extended plates for faster straightening
50 heat settings – up to 450°F
Slim design and ultra lightweight for maximum comfort
Housing resists ultra-high heat
Limited 4-year warranty
#5 BaBylissPRO Nano Titanium Mini Straightening Iron
This 6" Mini Straightening Iron has all the benefits of titanium/ceramic plates and Ryton® housing in a convenient, compact size. It has dual voltage for worldwide use and reaches temperatures up to 430°F. Lightweight, superior heat retention and exceptional smoothness… get beautiful hair from this little star!
Features & Benefits:
Nano Titanium™/Ceramic plates
Fast heat-up – up to 430°F
Gets close to scalp6" length – excellent for travel and purse
Dual voltage for worldwide use
Limited 12-month warranty
FAQs About Babyliss Flat Irons
What Customers Say About the Product Babyliss Flat Irons

According to customers who have been verified as actual buyers by Amazon, the Babyliss flat iron is a major hit among women of all hair types. Many of the women who Babyliss flat iron have switched to it from the cheap versions with no regrets. The tons of 5 star reviews calling Babyliss flat irons the best are undeniable.

Several customers upgraded to the Babyliss flat iron on the recommendation of their hairstylists and/or salons. More than half of the best Babyliss flat iron reviews gave it a 5-star Amazon rating. The product is highly recommended by African-American users for those with type-4 Black hair.

Because of the unique way it dispenses heat evenly and uniformly, Babyliss flat iron reviews mentioned the convenience of having their hair straightened in "just one pass," an important factor for kinky-haired naturals who have tight schedules yet want to have hair that looks professionally done in a high-end salon.

Answers To FAQs About Babyliss Pro Flat Irons

Does BaByliss PRO damage hair?

Most BaByliss Pro flat irons have titanium plates instead of ceramic or tourmaline. When used correctly, Babyliss flat irons don't damage your hair like cheap metal flat irons, the most dangerous flat irons you can buy that do not heat up consistently and can damage and burn your hair easily.

How Long Do Babyliss Straighteners Last?

While most straightening irons normally need to be replaced every 2-3 years, Babyliss Pro flat irons last longer, that's why they give a 4-YEAR limited warranty, it helps to store yours in a heatproof zip-up case for maximum use.

Is BaByliss Pro a Good Brand?

Definitely yes! Yes, it's a great brand and even used in most Aveda salons. For me Babyliss Pro flat irons are one of the best straightener brands, many say a top 5 brand.

Should You Buy a Babyliss Flat Iron?


Based on highly favorable customer reviews and 5-star Amazon ratings, yes, you should buy a Babyliss Pro flat iron, if you:

Have hair that won't straighten with inferior straightening irons.
Want your hair to remain healthy even if it requires daily styling.
Prefer to style your hair at home in a shorter period of time.
Want to save money by cutting salon trips & still have a salon-quality style.
Want to invest wisely in a hairstyling tool that"s not only reliable but extremely durable too.
Have unmanageable or unruly hair that needs to be styled in a shorter period of time.
Find that the cons and investment price are not deal breakers.
Want to stop buying cheaper but inferior quality flat irons.

Splurging on a hair styling tool such as the Babyliss Pro Flat Iron is an investment in the look of your hair when you are out and being seen. 

It's a mistake to think that by buying cheap flat iron models will save money in the long run. 

Why?

Because inferior quality hair straightener models typically last a few months before they wear out and/or damage your hair. Hair that you bust your butt trying to care for and keep cute.

After the cheapy dies on you, you'll need to buy another one any-dang-way!

And even worse:

You might end up with damaged hair to add insult to injury.  

So do the math, sis. Add up the amount you would spend buying a new flat iron every 6 months because your last purchase conked out after several uses. And imagine the loads of cash you'll save when you don't need regular trips to the salon.

With the Babyliss flat iron, you get professional styling results on your own, shoot, after folks see how good you look they might try to pay you to press them with your Babyliss flat iron. Ha! Imagine that...