NHP is reader-supported. As an Amazon Associate we earn from qualifying purchases.

Is Babyliss better than GHD? - GHD vs Babyliss Pro [Top 5 Comparisons]
Is Babyliss Better Than GHD?
The GHD vs Babyliss battle has been heating up and many are wondering… Is Babyliss better than GHD?
We're going to compare the 2 brands as a whole and then compare their best-selling and highest rated flat irons, curlers and hair dryers against each other to see who is the better choice for you.
I don't like to beat-around-the-doggone-bush, so I will tell you the short answer UPFRONT and before you see all the details and caveats in this tutorial. 
And the short answer is, yes, overall Babyliss is better than GHD, in the face-to-face battles you'll see below Babyliss won most. And you'll find out WHY Babyliss was selected the winner in these comparisons and you can decide on whether you agree or you think I'm a cheapskate who is biased because I can pinch a few pennies (dollars actually) by grabbing the best Babyliss Pro hair straightener vs spending unnecessarily for the highest-rated GHD flat iron.
Although I'll admit that GHD won vs Babyliss in one major matchup. So the overall winner is Babyliss, still though I think you better find out WHY Babyliss one and in which competition it was edged out by GHD products.
So get ready to be the ultimate know-it-all after you bite into this hearty tutorial. You'll be 100% sure about which one to buy after deciding for yourself, "Is Babyliss better than GHD or is GHD worth the extra dough?
So jump in!
Is Babyliss Better than GHD - GHD vs Babyliss Brand History & Reputation Comparison
Is Babyliss better than GHD? Well... Some really care about how established a brand is, so I'll quickly rundown high of the Babyliss Pro and GHD (Good Hair Day) brand info. Also, see my full tutorial comparing all of the Babyliss flat irons versus each other.
Here are some brand details so that you can compare these two innovative heat tool brands, which are known for their elite pro-level flat irons. 
BABYLISS PRO:
Babyliss Pro is owned by Conair, a big company that also owns the Cuisinart brand. Babyliss Pro hair tools have been on the market since the 1960s, and they are highly-regarded by professional hairstylists from around the globe. Babyliss Pro doesn't only produce flat irons – they produce a wide variety of different products, including Babyliss hair dryers, Hot Sticks, Babyliss curling irons and much more.
GHD (Good Hair Day):
GHD is a younger company to the market coming out of the UK. GHDs hair tool company has only been around since 2001, they are extremely popular in chic boutique hair salons in the United Kingdom. By the way, you can peep my Complete GHD Flat Iron guide here...
Both flat iron brands make some good quality products, but is Babyliss Pro better than GHD in this Good Hair Day vs Babyliss battle? 
Well, here's how we'll determine the best-of-the-best...
..this way you'll see the cutest hair ever in your mirror…
We're going to match each company's TOP 2 best-rated, highest selling products against it's direct rival in three different categories:
GHD vs Babyliss Pro Flat Irons - A Quick Comparison...
So let me give you a quick and in general comparison of these two highly-popular flat iron brands. Most GHD flat irons are equipped with ceramic plates while BaByliss uses more titanium and tourmaline ionic technology. 
[ You can learn more about titanium flat iron and their benefits in my titanium flat iron guide. ]
Because GHD flat irons are ceramic, pro stylists love how it glides smoothly and freely through a clients hair without snagging or tangling, while the powerful nano titanium Babyliss Pro flat irons specialize in helping your hair retain its moisture. One advantage GHD has over Babyliss flat irons is that ceramic is usually gentler for women with very fine or fragile hair strands.
So, is Babyliss better than GHD for your hair type and texture?
You have to consider how easily damaged your hair typically gets under heat… Because the Babyliss Pro nano titanium is simply more powerful than GHD in heat and is touted as a life-saver for women with thicker, coarser hair that fights against straightening.
Really thin hair may be overpowered by a Babyliss titanium flat iron which is better for thick type 4 hair silk press jobs. For that reason, many women with thin, frail or flimsy hair tend to be "ceramic girls".
Another reason the GHD has a reputation for being less damaging for thin hair ladies is because the temperature is preset to 365. Some ladies are saved by the fact that they don't even have the option of using higher levels of heat.
If you need to be reigned in and restricted from turning the heat up too much, maybe a GHD straightener is best for you.
For many professional stylists who know how to handle the pressing power and heat of a Babyliss Pro straightener, they tend to enjoy the adjustable temperature options available. BaBylissPRO Nano Titanium professional tools are Ultra-lightweight and durable.
Styling surfaces are strong, corrosion resistant, and ultra-smooth. Heat is evenly distributed and maintained at constant temperature. Ionic technology reduces frizz for sleek and shiny results.
BaByliss flat irons are lighter in weight and slimmer,making them the more travel-friendly option. However, GHD favors barrel design, which makes it great at making beach waves and curls in hair. 
Both flat iron brands are built for professional performance and made to last. 
GHD hair straighteners are known for their easy styling. They are padded with new technologies to keep your hair stylish. This brand, true to its name, has always ensured to create amazing hair days for their clients.
The hair straighteners are available for customized needs of professional and personal use and come in various, fun colors.
The most famous flat irons in GHD's suite of hair straighteners are the GHD Gold Styler, GHD Platinum+ Plus Styler, GHD Original Styler, GHD Max Styler, and the GHD Mini Styler.
So let's get out of generalities and see some specifics!
We'll be comparing the best 2 flat irons of each brand to each other to decide 'is Babyliss better than GHD or not?'… And beside comparing the top 2 Babyliss straighteners vs GHD flat irons, we'll also have a faceoff of GHD vs Babyliss curling irons, and GHD vs Babyliss hair dryers!
GHD Platinum+ Plus vs BabylissPRO Nano Titanium Ultra-Thin Straightening Iron
So let's start with the best GHD & Babyliss Pro straightening irons on the market (according to reviews and ratings)...
The GHD Platinum+ Plus is the highest-rated, best-selling for the GHD brand at Amazon.
GHD Platinum+ Plus
The latest hair straightener GHD Platinum+ is said to be the world's first smart hair straightener, which is capable of functioning by predicting the needs of your hair.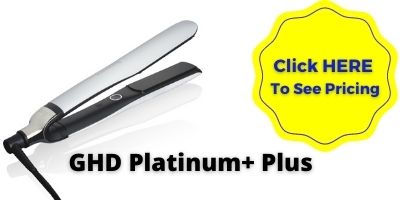 Is Babyliss better than GHD?
The GHD Platinum+ Plus flat iron is an award-winning styler designed with advanced technology that the company says is so intelligent that it predicts your hair type and constantly adapts the power to ensure the optimum styling temperature at all times. 
Platinum+ works for all hair types, meaning you'll always achieve pro-level styling results. It features a unique wishbone hinge that keeps the flat iron plates perfectly positioned, along with a rounder, sleeker barrel; the hand-feel and styling maneuvering opportunities are endless. Whether you want sleek and straight hair, or big and bouncy curls; the GHD Platinum+ Plus has rave reviews at Amazon that sing its praises. So, is Babyliss better than GHD? Let see some features...
PRODUCT FEATURES & BENEFITS:
Ultra-zone with predictive technology: the latest breakthrough in heat styling which guarantees even heat across the whole plate, allowing consistent beautiful results in one stroke.
Advanced, precision milled, floating plates with a high spec gloss finish, for effortless, perfectly smooth, pressing, styling and shine.
Wishbone hinge for perfect plate alignment giving you more control to create any style.
Heat resistant protective plate guard 
Universal voltage to deliver the same outstanding performance worldwide.
9 ft swivel cord for convenient styling
365º F temperature for optimum styling
Automatic sleep mode to switch your styler off after 30 minutes of non-use, for peace of mind
3 years manufacturer's guarantee
GHD Platinum+ Plus Review for Thin. Fine Hair Use...
This smart hair straightener is known to be gentler than the Babyliss flat irons because of its fixed temperature which helps with less breakage and promotes color protection. 
The heat capacity of this model is said to be at least 15 seconds faster than any other model. The thickness of your hair is calculated by its 'Predictive Technology' feature.
BabylissPRO Nano Titanium Ultra-Thin Straightening Iron Review
Is Babyliss better than GHD? If the number of sales and highest ratings dictate the answer, the answer is yes, this Babyliss is better than its GHD counterpart.
Fact is, this Babyliss flat iron not only sells FAR MORE than the GHD, it outsells nearly every flat iron on Amazon except for the "throw away", cheap flat irons! 
That's a strong testimony…
As of today, the Babyliss Pro Nano is the highest-rated, best-selling flat iron for the Babyliss Pro brand over at Amazon Professional Beauty.
Is Babyliss better than GHD? Find out...
Babyliss Pro yields the power of Ionic technology to the GHD vs Babyliss comparison, it is also perfectly paired with the benefits of pure titanium-coated plates for the smoothest, sleekest styles on hard to straighten, coarse hair, ever! 
The natural ions reduce frizz while the stay-cool housing resists the ultra-high heat for comfortable hand feel and handling. 
The BaBylissPRO Nano Titanium-Plated Ionic Straightener features a streamlined profile with a built-in ion generator & extra-long plates to help straighten hair faster while delivering exceptional hair sheen.
One of the main benefits for women with kinky, coily 4C hair is the adjustable high heat levels that provide elite-professional straightening results while Nano Titanium technology protects moisture in hair when used in conjunction with one of the premium heat protectant sprays available for purchase online, like MoroccanOil Perfect Defense. 
So, is Babyliss better than GHD? Let's check the benefits...
PRODUCT FEATURES & BENEFITS:
Ultra-smooth titanium plates conduct ultra-high heat and resist corrosion
Ceramic heater, instant heat-up & recovery
Digital ionic technology emits millions of negative ions
LED temperature settings – up to 450°F
Housing resists ultra-high heat
Limited 4-year warranty
Is Babyliss better than GHD? Read the reviews...
Is Babyliss better than GHD for kinky type 4C hair? A definite yes. GHD seems to be perfect for women with thinner hair, while Babyliss titanium flat irons power through on tough-to-straighten hair.
GHD GOLD vs BaBylissPRO Nano Titanium-Plated Ionic Straightening Iron Reviews
Now let's match the 2nd-in-popularity for each brand against each other and determine that answer to, "Is Babyliss better than GHD?".

GHD Gold Reviews- Better Than Babyliss?
If you're after one of the most popular sets of flat irons, then you should look into GHD Gold Classics. They were released a while ago, and today still prove to be one of their most popular flat irons online.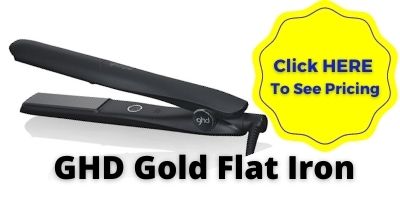 The first thing to say about the Gold Classics is that you do not need to worry about snagging your hair on these flat irons. Fortunately, the grooved ceramic heat plates on your GHD are designed specifically so that you don't need to worry about snagging your hair on them.
GHD flat irons are known to deliver sleeker, smoother and healthier-looking hair, pro stylists use the GHD gold styler to create impressive bouncy curls, loose waves and shiny, sleek flat-ironed silk press styles.
This flat iron features dual-zone technology for premium performance, the GHD Gold styler is equipped with two next-generation heat sensors, one across each styling plate, to evenly maintain the optimum styling temperature of 365º F from root to tip for a salon-smooth finish. 
The contoured, floating plates allow for quick and snag-free styling for effortless ease of use, no matter your hair length or hair type.
This versatile GHD flat iron has a rounded barrel, perfect for sculpting full-bodied curls and natural-looking waves with ease. Universal voltage means you don't have to compromise on style when traveling around the world, and the protective plate guard gives you peace of mind for your on-the-go schedule. For extra safety, the automatic sleep mode shuts down the GHD Gold flat iron after 30 minutes of inactivity.
Also, in a test of 128 consumers, significantly more consumers agreed that the GHD Gold® was better than the GHD V styler for leaving hair shinier, sleeker, smoother, and healthier looking. So, is Babyliss better than GHD? Let's check the features...
PRODUCT FEATURES & BENEFITS:
New dual-zone technology: 2 new generation heat sensors instead of one; controls optimum heat from root to tip for smoother, sleeker & healthier looking hair.
Optimum styling temperature of 365°F: any hotter damages the hair, any cooler and the result is compromised.
Smooth, contoured floating plates: glide through hair for quick, frizz-free styling and enhanced salon shine.
Sleek design and round barrel: for versatile, snag-free styling, quickly and easily.
Universal voltage: for outstanding performance wherever you are in the world.
Professional length 9ft cable
25 second heat up time: for quick and easy styling
 Heat resistant protective plate guard: take your style and your styler wherever you want.
Automatic sleep mode: switches off if not used for 30 minutes.
US 2 pin plug
2 years manufacturer's guarantee

Is Babyliss better than GHD? Read the reviews...
The GHD Gold flat iron is designed in a curved manner, the edges of the plates aren't formed in a straight-edged fashion like most flat iron hair straighteners.
This is likely one of the reasons that GHDs became so popular – they allow you to easily add cute hair flicks and curls to your style while you're performing the straightening session.
If you've ever used cheap straight edge flat irons, then you can probably identify with how annoying it can be when you're trying to style your tresses with them.
BabylissPRO Nano Titanium-Plated Ionic Straightener | GHD vs Babyliss Flat Irons
The BaBylissPRO Nano Titanium-Plated Ionic Straightener features a streamlined profile with a built-in ion generator & extra-long plates to help straighten your hair faster while delivering exceptional straightening strength and shine.
This is a favorite for naturals with kinky 4C hair.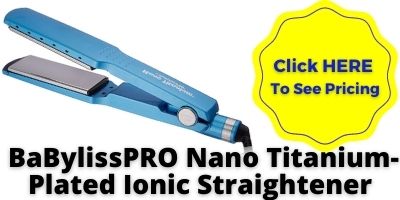 One of the benefits that pro stylists love about this flat iron are the high heat levels that provide excellent straightening results while the nano titanium technology protects hair from damage.
If you're wondering if this has a beveled edge for curling, the answer is yes, but only slightly beveled. It's beveled enough to curl while you straighten. And those who work all day with flat iron, they'll appreciate that this hair straightener is not heavy at all.
The ultra-thin profile of these high-tech titanium flat irons makes them exceptionally lightweight and easy to work with. The extra-long 5" plates reach up to 450°F and allow for wider sections to be straightened, boosting speed and effectiveness while eliminating hand fatigue and increasing styling flexibility.
Available in 1", 1½" and 2" plates. The latest BaByliss PRO straightener which uses nano titanium technology offers a full-size and a mini size version. This mini version can even be carried in a purse. So, is Babyliss better than GHD? Let's see the benefits...
PRODUCT FEATURES & BENEFITS:
Ultra-smooth titanium plates conduct ultra-high heat and resist corrosion.
Ceramic heater, instant heat-up & recovery 5" extended plates for faster straightening.
50 heat settings – up to 450°F
Slim design and ultra lightweight for maximum comfort.
Housing resists ultra-high heat.
Limited 4-year warranty.
Is Babyliss better than GHD? Read the reviews...
I see alot of BabylissPro flat iron reviews from women who have type 4C coarse hair say similar things about having used a bunch of even more expensive hair straightening irons than this Babyliss straightener and none comparing to its single pass straightening ability.
Spending more money isn't always going to get you better-looking results. It does depend on hair type though.
WINNER: Are Babyliss flat irons better than GHD? Yes. Babyliss is better because they are are less-expensive and have more straightening power for coarse and kinky hair. GHD flat irons are elite and a favorite for women with thin hair. Still, along with thousands of customer reviews, we give the edge to the less-expensive Babyliss. 

GHD vs Babyliss Hair Dryer - Is Babyliss Better than GHD or Nah?
Is Babyliss better than GHD when we're talking about the best hair dryers? Well, let's take a look at the best-selling flat iron for Good Hair Day brand, the GHD Air.

The GHD Air - Is It Better Than Babyliss Pro's Hair Blow Dryer?
Its powerful 1600 W professional-strength motor and patented air filter deliver high pressure air flow for super-fast drying, while advanced ionic technology reduces frizz and flyaways to give a smooth salon-style finish in half the time.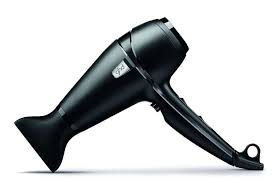 Is Babyliss better than GHD | GHD vs Babyliss hair dryers...
This GHD hair dryer is equipped with variable power and temperature controls, allowing you to tailor your blow-dry session to your hair type, while a cool shot button helps lock in your finished style in place with a blast of cold air.
The GHD air is also a breeze to use thanks to an ergonomic design that makes it comfortable to hold for both right and left-handed users, and a 9ft. long power cable that gives total flexibility as you style. The GHD Air is compatible with the GHD air diffuser.
For added volume when using this hair dryer, substitute GHD's heat protect spray for the GHD's Total Volume Foam (the foam contains heat protection). It's helps to dry small sections at a time, holding a round brush vertically to create more wave in your locks.
PRODUCT FEATURES & BENEFITS:
Professional strength 1600 Watt AC motor at 125v
Advanced ionic technology
Ergonomic design for maximum control whether you're right or left handed
2 speeds, 3 heat settings and cool shot button
Adaptor ring for universal diffuser
9 ft cord
Only for use in the US
1- Year Warranty
Is Babyliss better than GHD? Well, this GHD vs Babyliss hair dryer war is a tight one because this GHD hair dryer is very well-made with solid construction and 3 options each for speed and temperature, putting drying and styling control squarely in your hands.
A nice feature is also the relatively quiet operation of the GHD Air compared to many dryers. The biggest downside is that the GHD blow dryer costs a pretty penny, it's easily found hovering around $200.
BaBylissPRO Nano Titanium Hair Dryer - Is it Better Than GHD?
We know that many people won't want to break into triple figures for even the best blow dryer, and there are multitudes of cheaper options out here. Many cheap blow dryers, though, are risky propositions.

Is Babyliss better than ghd? GHD vs Babyliss blow dryers...
Not so with the best BaBylissPRO Nano Titanium hair dryer on the market. I wouldn't even call this the cheaper blow dryer, it's the less-expensive one. This is a super-efficient hair dryer that works miracles for a great price. 
The BaBylissPRO Nano Titanium blow dryer features more power than the GHD Air with 2000-watt power while the GHD Air hair dryer only sits at 1600 watts. The BaBylissPRO Nano Titanium blow dryer is lightweight and has supreme ergonomic handling for less hand fatigue. It's nano titanium ionic technology means that your hair dries faster, with less frizz.
This lightweight dryer benefits your hair and uses ionic technology to create gentle and even heat. 
This is a great blow dryer for all hair types including thick & coarse type 4 hair, this hair dryer helps reveal shiny, healthy-looking hair.
This Babyliss Pro hair dryer is a stellar combination of power, speed and design while offering 6 heat and speed settings, a cool shot button and a concentrator nozzle to provide a wide range of styling options. As a quick bonus, the removable filter makes cleaning easy. so, is Babyliss better than GHD? Let's look at some benefits...
PRODUCT FEATURES & BENEFITS:
Nano Titanium™ technology
2000 watts of power
Less than half the price of GHD's hair dryer
Ion generator
6 heat/speed settings
Removable rear filter/stand
More highly-rated than GHD's blow dryer
Long limited 4-year warranty
It has controls so that you can choose its power and temperature, and a nice long lead to ensure its ease of use. It's also nice and light to hold, making it a great all-round package if your budget is more limited.
GHD vs Babyliss Curling Iron - Is GHD Better In This Battle?
Sooooooo…. Is the best GHD curling iron better than the best Babyliss curling iron? Yes! This is a battle that GHD finally won against Babyliss. It has a higher percentage of 5 star reviews at Amazon although both premium curling irons are best-sellers and highly-popular.
So let's give you some detail about the best overall curling iron, the GHD Curve Classic curling iron, 1-inch.
GHD Curve Classic Curling Iron, 1-inch Proven Better Than Babyliss Curling Iron
The GHD curve is the clear favorite among customer reviews and hairstylists who were independently polled.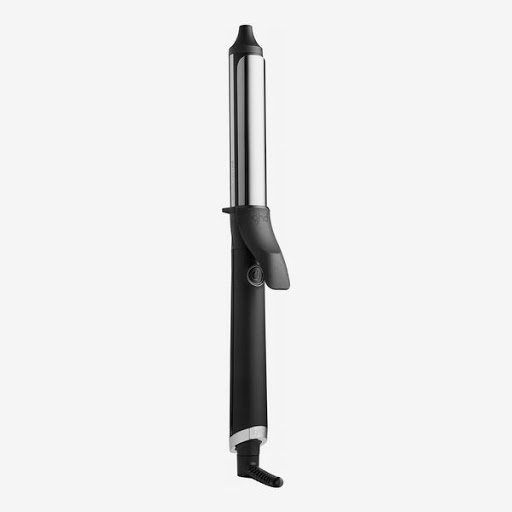 Is Babyliss better than GHD's curling iron reviews? Nope, GHD wins!
The famous one-inch curler from GHD was often complimented about how intuitive this flat iron is at minimizing hair damage — it maxes out at 365 degrees.
Extensive studies have been mentioning about the correlation of heat against elasticity of hair and for that reason the GHD curler iron does not go above 365 degrees. The advanced ceramic material allows heat to distribute evenly, creating the perfect wave without damaging your hair.  It's a top recommendation for serial curlers, and professional hairdressers.
The temperature is perfect for precise and effective curling, the hair never smokes or smells like it's burning, and your curls sit perfectly after four to five seconds from root to end — shiny and elastic. So, is Babyliss better than GHD? Check out some benefits...
PRODUCT FEATURES & BENEFITS:
Medium 1" barrel designed to create consistent medium size curls.
Spring-activated lever for securing the tips of the hair while creating curls.
Cool tip designed for more comfortable curling.
Safety stand for securing the iron on a hard surface while not in use.
Ultra-zone technology locks in your curls with the right, even heat.
Advanced ceramic coating specially designed for smoother curling.
On-off switch and indicator press and hold design avoids accidental use during styling. Light & sound indicate on-off and ready to use.
Sleep mode automatically turns off if left unattended for 30 minutes.
Universal voltage and professional length swivel cord.
GHD CURLING IRON REVIEW: I know this item is expensive but I decided to go for it because I also have a GHD flat iron that I purchased about 7 years ago and it's still going strong so I figured this would last and I would get my money's worth.
This iron heats up in about 20 seconds and makes the most perfect curls in my hair and the curls last all day unlike other irons that I've tried. Totally worth the money.
- Marissa W.

BaBylissPRO Nano Titanium Spring Curling Iron Great for Long, Thick Hair
If you have longer, thicker hair, chances are, you need a curling iron with a slightly bigger barrel, like this 1 ¼" Babyliss Pro Nano Titanium Spring curling iron. This curler for thick type 4c-4a hair has a whopping 50 heat settings (it goes all the way up to 450 degrees) and advanced technology ceramic barrel, which helps to evenly distribute heat without damaging hair.

Is Babyliss better than GHD? Not in the curler battle...
The ceramic in the curling iron creates a far-infrared heat that penetrates deep into your hair to preserve its natural moisture and shine, it also helps your hair glide through easily so there isn't breakage when you are pulling your hair through to start a curl.
For the waves of the future, these nano titanium curling irons are very good, especially for the price. These irons are engineered with advanced technology to create textured curls and waves. Nano titanium is an exceptional conductor of heat and maintains stability in ultra high temperatures.
It yields maximum far-infrared heat, penetrating the hair shaft from within for professional styling with less damage than cheap heat tools. Sol-Gel technology makes the iron barrels 37% stronger and 22% smoother than those of standard, cheap curling irons. Available in 3/4", 1",and 1-1/4". So, is Babyliss better than GHD? See these feature...
PRODUCT FEATURES & BENEFITS:
Sol-Gel Nano Titanium™/ceramic barrel
50 heat settings – up to 450°F
Turbo Heat® button instantly boosts heat
8' tangle-free swivel cord
Limited 2-year warranty
WINNER: GHD, although more this curling iron more expensive than Babyliss versions, it's better by all account and reviews. It has a higher 5-star rating percentage then the Babyliss curler iron and many women saying it's worth every penny, extremely long-lasting and durable.

CONCLUSION: Is Babyliss Better Than GHD? Overall… Yes, Babyliss Pro is The Better Choice
This has been a knock-down-drag-out duel, and even though GHD won the curlers battle, when it comes to GHD blow dryer versus the Babyliss hair dryer, or GHD flat irons vs Babyliss hair straighteners, Babyliss wins more battles and proves itself better than GHD overall when considering the big price difference.
Hey, I'm a sucker for good value-per-dollar ratio (or I'm cheap, say what you want, ha!)
And the Babyliss Pro reviews show that the buyers are very happy with these premium heat tools. And in a price comparison against GHD flat irons, they're cheaper on Amazon. Plus, Babyliss Pro gives you a longer warranty, better-selling and higher-rated across the web.
For the average person, Babyliss flat irons and hair dryers are probably a better choice. You get a quality product, and although they're not the cheapest flat irons and blow dryers arounds, they definitely get the job done on a professional level. Babyliss hair tools are also relatively light in comparison to most other flat irons, especially cheaper ones. So, if you're going to be straightening your own hair then Babyliss heating hair tools are a logical choice.
Though saying this, we can't ignore GHD reviews completely just because they are slightly lower-rated, because it's only by a slim margin. They're definitely still up there with the better heated heat tool options for professional stylists, there are many salons and hairdressers who swear by the extreme durability and quality of the top GHD flat irons. 
So, is Babyliss better than GHD? In my opinion, yes. But it really depends on which brand you're used to and what you're looking for. It's like choosing between Batman and Superman, both are able to save the day and make it a good hair day for you or your clients.
Also, see our article explaining which Babyliss flat iron is the best...
Learned That Babyliss is Better than GHD? Follow Author For More Flat Iron Tutorials...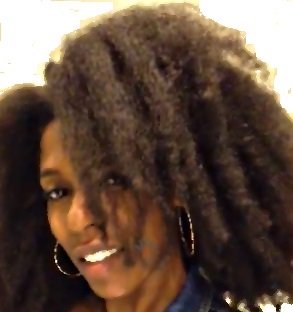 ABOUT THE AUTHOR: Melissa Lee 
Melissa Lee is a Contributing Editor to NHP and a former owner of the BlackhairOMG website. She formed 4C Trichology Growth Services, LLC., a US based hair care consultation service. She has also contributed as a writer and consultant for various hair and beauty websites. Melissa can be followed on Twitter here.

---