NHP is reader-supported. As an Amazon Associate we earn from qualifying purchases.

DIY Heat Protectant Spray With Aloe Vera
Are you looking for a DIY heat protectant spray with aloe vera to protect your hair from the heat of a blazing hot heat tool?
Well, before you grab that Babyliss pro flat iron, check out this easy DIY recipe!
This DIY heat protectant spray is lightweight, smells great, and will help keep your locks looking healthy.
DIY Heat Protectant Spray With Aloe Vera Recipe
Are you ready to get started? You will require a few ingredients and supplies to get going.
You'll need:
Remember that you can add other oils to meet your needs, like almond oil, avocado oil, or vitamin E.

Step-by-Step: How to make your own DIY heat protectant spray w/ aloe
Directions:
Combine aloe vera gel, water, and coconut oil in a heat-safe container.

Place the container in a pot of boiling water and stir until the ingredients are combined.

Remove from heat and add essential oils.

Pour into a spray bottle and use as needed.
Spray onto dry or damp hair before heat styling. You should set your heating tools (i.e., blow dryer, curler, silk press straightener) to a low temperature. Be sure to focus on the ends of your hair, which are more likely to be damaged by heat.
There you have it. Next time you want to try a more natural approach to protecting your hair from heat, consider creating an aloe vera heat protectant spray.
This DIY heat protectant spray will help to keep your hair healthy and looking great all summer long!
[POPULAR ARTICLE: Find the best flat iron for natural Black hair...]
How Does Heat Damage Affect Your Hair?
If you were looking for a DIY heat protectant spray with aloe vera you probably know how dangerous heat damage is.
The problem is that it's easy to ignore the signs of heat damage, but if you do not want to risk problems with thinning hair or hair loss, you must keep an eye out for common signs and symptoms of this problem.
Heat damage can be devastating to the health of your hair. In addition, excessive use of heat or heating tools at highly high temperatures leaves hair looking and feeling:
Dull in appearance

Dry

Brittle

Riddled with split ends

Frizz
Additionally, a distinct aroma of burnt hair may accompany each of these issues if your hair is experiencing heat damage.
To avoid these issues, experts suggest using a thermal protectant, also known as a heat protectant, on your hair. I'm sure that the DIY heat protectant spray with aloe vera recipe above will help you greatly.
[RELATED ARTICLE: Should you let heat protectant dry before straightening?}
Why Should You Use a Thermal Protectant on Your Hair?
It's a common question. Why do I need to use a heat protectant for hair? My hair seems to be okay. Are heat protectants necessary?
Using a heat protectant product is crucial if you style your hair regularly.
Heat protectants help to shield your hair from the damaging effects of heat styling, which can include everything from dryness and frizz to breakage and split ends.
How Does a Heat Protectant Work?
A heat protectant spray creates a physical barrier between your hair and the heat source.

This barrier helps to prevent moisture loss and keeps your hair looking healthy and shiny.
A good heat protectant spray will not only help to minimize heat damage, but it can also help to keep your hair looking and feeling healthier overall.
And if you are looking for a natural heat protectant that will not weigh your hair down or leave it feeling greasy, the DIY heat protectant spray with aloe vera is a great option!
[RELATED: Why You Should Use Argan Oil for Hair Straightening...]
Benefits of Using DIY Heat Protectant Spray With Aloe Vera
Why aloe vera? Aloe vera is a natural conditioner that can help to add shine and softness to your hair. It's also full of antioxidants and even is used in shampoos and other products.
When combined with powerful essential oils like almond oil, avocado oil, or coconut oil, aloe vera can help to protect your hair from damage caused by heat styling.
As with traditional typical heat protectant spray shows, your DIY aloe vera heat protectants also function as a barrier between your hair and the heat source.
In addition, the aloe vera contains the right properties to coat each strand of hair, lock in moisture, and add shine.
Aloe vera has other benefits beyond its moisture infusion properties. It is excellent for relieving itchy scalp and treating scalp irritation and inflammation.
It can be a fantastic ally in the fight against scalp conditions such as psoriasis and dandruff. If you liked this DIY heat protectant spray with aloe vera make sure to check out more NHP hair helper recipes!
And hey! Check out this POPULAR ARTICLE about what happens if you straighten your hair everyday!
Follow Author of DIY Heat Protectant Spray With Aloe Vera Tutorial...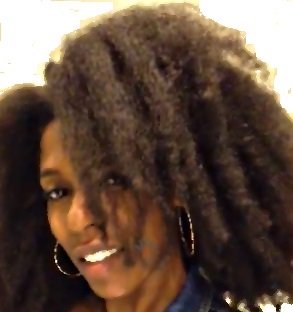 ABOUT THE AUTHOR: Melissa Lee 
Melissa Lee is a Contributing Editor to NHP and a former owner of the BlackhairOMG website. She formed 4C Trichology Growth Services, LLC., a US based hair care consultation service. She has also contributed as a writer and consultant for various hair and beauty websites. Melissa can be followed on Twitter here.
Diy Heat Protectant Spray With Aloe Vera

---