NHP is reader-supported. As an Amazon Associate we earn from qualifying purchases.

Chi Flat Iron | Top 5 Benefits & Hair STraightener Reviews
Hey sis! You want CHI flat iron reviews, comparisons and some real talk about this brand?
Good! I got you, I'm Melissa Lee and welcome to NHP.
Today, Im'ma give you the lowdown details so that you don't waste your money or miss out on a good thing.
I study the effectiveness of hair tools for a living, and ofcourse, I use them too. So I might as well share what I've found out with you!

And honestly:
Some of what I discovered about CHI flat irons is a bit surprising (we'll get to that though…)
In this in-depth tutorial I'll give you ALL the pros and cons of CHI hair straightening irons. No sugar-coating allowed.
You'll also see CHI flat iron reviews from women who have kinky-curly natural hair. That way, you can get a feel for if this popular hair straightener brand is best for OUR KIND of hair.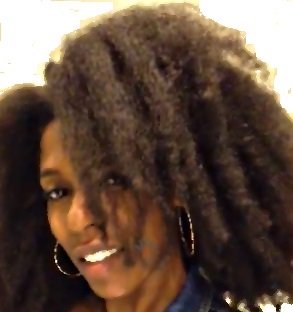 Hey sis, heyyy!
I'm Melissa Lee...
Co-founder of NHP. You'd de wise to...
TAKE DELIVERY of NHP Tutorials in your inbox for FREE!
Get EXPERT HAIR HELP at your fingertips weekly!
Let's keep in touch - sign up quickly by clicking RIGHT HERE...

The CHI Flat Iron Company's Industry Reputation
CHI flat irons are made by a Houston-based company that's known for manufacturing many best-selling hair care products under the industry-leading brands: SunGlitz®, CHI® and BioSilk®. The CHI flat iron company was founded in the mid-80's by Farouk Shami, a hair stylist whose mission was to provide the professional beauty industry with the most advanced technology based in "Education, Environment and Innovation".
The CHI brand has a great range of hair care products including flat irons, curling wands, hair straightening brushes, waxes, pomades.
You name it, and CHI has it. And if you're in the market for a flat iron hair straightener and you've no idea what to get because there are so dang many to pick from, I've picked the best of the best CHI flat irons to spend your hard-earned money on.

Are CHI flat Irons Worth The Money?
Well… I'll put it this way. It depends on what you've experienced before and what you expect.
If you've only drank grape juice your whole life you can't really "miss" the taste of fine wine, because you don't even know what you're missing.
It's similar in the case of spending for a CHI flat iron vs a premium titanium hair straightener.
CHI flat irons, although popular, are not TRULY top-tier hair straightening tools like Babyliss and Good Hair Day (GHD) flat irons are.
STILL:
If you don't flat iron your hair much a CHI flat iron will hold up well, yet, if you do flat iron often you should know that many CHI flat iron reviews complain about their lack of durability and longevity versus top-tier flat irons that come with a 4-YEAR warranty.
Also, many natural hair stylists advise that the best straighteners for very coarse type-4 hair are full titanium straightening irons, and most CHI flat irons are ceramic or "titanium-infused" ceramic instead of full titanium. 
Some folks aren't willing to invest in full titanium straighteners because the price point is a bit higher than your typical CHI flat iron. So, the lower-quality of the CHI ceramic is worth the lower price for some folks. That's understandable too. 
As my mama used to say… "you can't get blood from a turnip". And trust me, I know how it feels when money is lower than a limbo stick in quicksand, ha!
STILL:
If you have looser texture hair, the ceramic CHI might be all the pressing power that you need! So, yes, for many women CHI is worth the money in regard to what they need in a more economical straightening iron.

Join NHP-HIVE and get sent our info-packed, down-to-earth & sometimes funny NHP hair tutorials by email. SIGN UP HERE...
Which CHI Flat Iron is The Best?
So let's assume that you aren't in the market for a top-of-the-line model and a CHI will fit your needs just fine. Let's pick the best CHI flat iron from within the group!  CHI flat iron sizes vary and reviews often reveal that they have differing strengths and weaknesses.
So let's break it down…
...And talk about the top 5 CHI flat irons according to hairstylists and reviews. 
#1 CHI G2 Ceramic and Titanium 1 1/4" Flat Iron 
The CHI G2 Ceramic and Titanium is almost as popular as the cheaper CHI original flat iron but a more efficient hair tool for kinky hair because of the titanium infusion.
The G2 features titanium infused ceramic plates for added durability and an even smoother glide. Digital temperature reading displayed on a color coded LCD screen allows for proper temperature setting for fine, medium and coarse hair up to 425°F.
Although not a purely titanium option, the G2 Ceramic and Titanium straightener is a no-nonsense styling tool that is sometimes even used for professional use. 
Product Features:
Ceramic Heater Plates
Titanium Infusion
Ionic Technology
Quick 40 Second Heat Feature
New 'mode' button with preset temperatures
425°F Maximum Temperature
Floating Plates 
The titanium-infused ceramic plates make the G2 more durable than it's purely ceramic counterparts. This is the kind of flat iron that could survive a couple of tumbles but don't be too clumsy with it sis, don't drink and style! LOL... 
The ceramic flat iron plates produce negative ions that help smoothen your hair cuticles, giving you frizz-free results that last. The curved edges of the barrel offer more flexibility as far as styling goes. You can experiment with this flat iron and get consistently great results with proper technique.
#2 CHI PRO G2 Digital Titanium Infused Ceramic
The CHI Pro G2 Digital titanium is one of the best CHI flat irons in the top 5 CHI category. Because of the upgraded design, it's handsomely sleek and that makes it very portable and easy to tote with you.
To make it more durable and prolong the lifespan, the CHI Pro G2 Digital comes with titanium-infused ceramic plates. Moreover, the digital temperature displays make it easy to read the temperature and heat. 
Product Features:
Titanium Heaters
Ceramic Infusion
Ionic Technology
Quick 40 Second Heat Feature
Large LCD
425°F Maximum Temperature
Floating Plates  
You can set the temperature according to your preference and that depends on your hair texture. Because of the new titanium-infused ceramic plates, you are going to get better hair straightening power than plain ceramic CHI flat irons. It gets your hair smooth, straight and beautiful.
Most importantly, it protects your hair from overheating and burning. It displays in multiple digital LCD colors.
#3 CHI Air Pro Expert Classic Tourmaline Ceramic Flat Iron
If your hair is prone to frizz, if it's sensitive to heat, humidity, or is prone to damage, you need a flat iron that provides gentle, healthy heat to minimize the styling damage like this product.
The CHI Expert Classic Tourmaline Ceramic Flat Iron provides innovative technologies that transform delicate tresses sans the heat damage. This sleek, ergonomically designed flat iron features high-quality tourmaline-ceramic material.
Product Features: 
Tourmaline-Ceramic Heaters
Double Ionic Technology
180°F to 410°F Maximum Temperature
Slim barrel for hair straightening and curling
Curved Floating Plates Design
Adjustable Temperature Dial
LED Indicator Light
30 Second Quick Heat Up 
The tourmaline and ceramic material produces double the negative ions so your hair gets a healthy dose of gorgeous shine! This product banishes dullness and prevents hair breakage/split ends so your hair is not only looking fabulous; it's also stronger and less prone to damage.  
I love the versatility of a skinny flat iron because you can straighten, curl or flip your hair with it and if you feel the same way then the CHI Air Pro Expert Classic Tourmaline Ceramic Flat Iron will give you the styling freedom you crave.
It only takes 30 seconds to heat up so there's no waiting when styling in the morning. It heats up so fast and styling is so quick too so you get the work done in half the time.
#4 CHI Tourmaline Ceramic Hairstyling 1" Flat Iron 
This one is a fiery red hot looking, eye-catching straightener to equip yourself with. The CHI Fire red tourmaline ceramic flat iron uses exclusive heat distribution technology for a near professional-looking hair straightening experience.
The CHI Fire red tourmaline ceramic flat iron has been designed to be suitable for various hair styling preparations and purposes. Users will also appreciate the minimal heating time and 9-foot swivel cord for added convenience.
This flat ceramic iron produces an exceptionally high amount of negative ions and Far Infrared which reduce static electricity.
Pros
Temperature dial for variable heat settings with 30-second quick heat up
Tourmaline Ceramic with even heat distribution 
Producing an exceptionally high amount of negative ions and far Infrared which reduce static electricity 
1-Hour Auto Shut off for Safety 
Max Temperature 410 Degrees  
Floating Plates For Better Grip   
Dual voltage for international travel
Cons
Requires a converter for dual voltage function to operate.
So look, the CHI flat iron has ergonomic handles, which makes handling easier and less clumsy. 
This CHI flat iron model has an appealing finish, which allows you to press your hair with flair.
The temperature ranges from 180°F-410°F with a variable heat setting that allows you to use the flat iron for different types of curly hair. For additional safety, CHI Tourmaline Ceramic Hairstyling 1" Flat Iron has a 1-hour auto shut off mechanism.
#5 CHI Original 1″ Flat Hair Straightening Iron 
This flat iron, atleast in name, is the one that put the CHI brand on the map! The CHI Original flat iron features a pair of ceramic heaters that apply a surge of heat to your tresses. 
The special far infrared does well to penetrate the hair from the inside out. This CHI flat iron also produces negative ions that help guard moisture and improve shine.
Some CHI flat iron reviews say that it helps to create silky, shiny hair and to reduce the effects of frizz. While others say that this flat iron just isn't what it used to be. You can straighten, flip and wave because of its ergonomic design. The unique flash quick heating feature provides low waiting time while styling.
Pros:
Infrared Technology
Ionic Technology
Slim barrel for hair straightening and curling
Ergonomic design
Floating Plates Design
Flash Quick Heating - up to 392°F
11 FT Swivel Cord
Cons:
The heat Non Adjustable Temperature
People complain that the current version isn't as high quality as in the past
Has no temperature control mechanism
You'll also find that many CHI flat iron reviews often mention that the CHI Original flat iron has no problem heating up quickly, they also mention that the lack of temperature control takes alot of the styling flexibility out of their hands because you have to deal with a set temperature that is pretty high.
If you could adjust and play with the heat levels that would be a completely different situation and likely lead to a higher top 5 CHI flat iron rating. 
FAQs About CHI Flat Irons