NHP is reader-supported. As an Amazon Associate we earn from qualifying purchases.

Mommy And Baby Matching Bonnets [w/ Set Discounts!]
Mommy and Baby Matching Bonnets
Are you looking for super-cute mommy and baby matching bonnets? Do you want satin mommy and me bonnets that will actually STAY on your child's head?
Of course you do! That's probably why you're here and I won't leave you hanging, because look….
...you know NHP is quick to find the best Black businesses for you and even bug folks for a discount to pass on to the readers.
I ain't too proud to beg honey!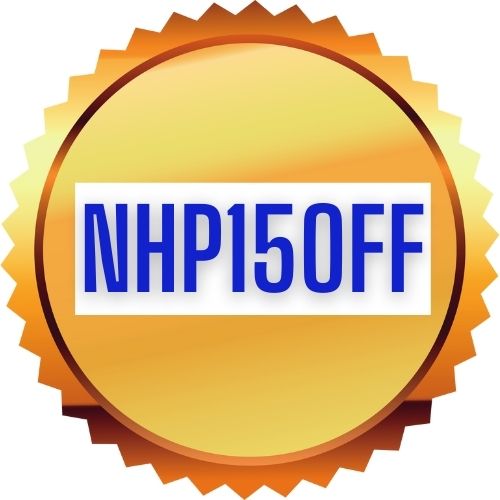 USE THIS CODE NOW!!!!
Not when it comes to the NHP-hive! That's the reason why the good folks at the Goodnight Hair Bonnets brand gave NHP readers a special discount code for their silky-feeling satin mommy and baby matching bonnets (and everything else they have in store). 
It's easier to give you a discount than to hear more whining from me, ha! So let's talk about the high-quality and cuteness you can get for A WHOPPING 15% cheaper by using the special discount code "NHP15OFF".
You'll love these bonnet sets and your child will too!
Join NHP-HIVE and get sent our info-packed, down-to-earth & sometimes funny NHP hair tutorials by email. SIGN UP HERE...
Get Mommy and Baby Matching Bonnet Sets That Are High Quality
Quality is important. And thankfully, the Goodnight Hair Bonnets company is a stickler for creating the best products that even the owner uses for herself and her family. These mommy and baby matching bonnets are a labor of love.
You know all about that, right? We try our best to give our children the best.
Plus, it never hurts to be "twinning" with your cutie-pie while doing it!
MOMMY & ME satin bonnets from www.goodnighthairbonnets.com have an adjustable drawstring, no elastic for toddler-adult sized bonnets.
The Itty-bitty and infant size bonnets do have elastic, and have no drawstring.
I'm sure many of you have made the mistake of getting a baby's bonnet with the drawstring, the bonnet keeps sliding down and the ball for the drawstring sometimes leaves marks on the back of your child's neck. So, this Black business leaves the drawstrings out of the infant size. 
You don't need that in your life. You want something that does not slide all around and you aren't worried about it being a suffocation hazard. 
[RELATED: Back to School Hair Care Tips & Maintain Hairstyles w/ Bonnets]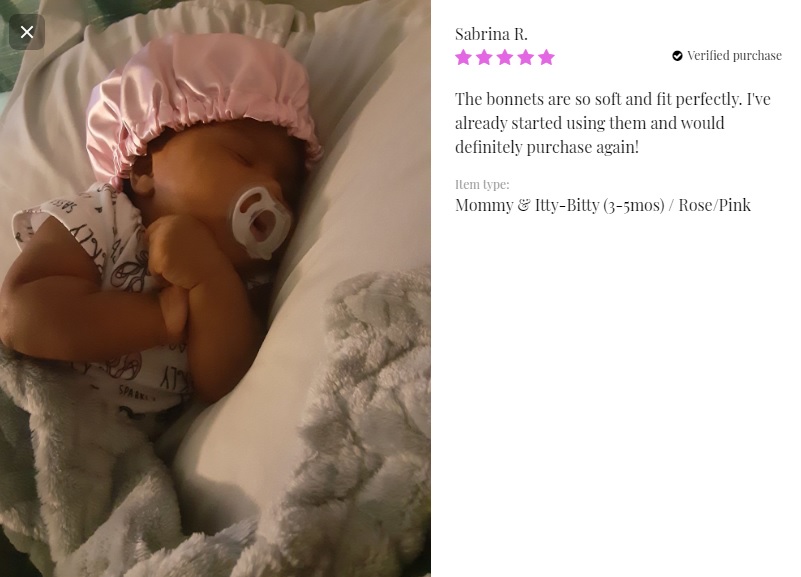 Benefits of Mommy And Baby Matching Bonnets from GNHB vs. Beauty Supply Store Bonnets
Goodnight Hair Bonnets have a double-layered design which provides extra protection for hair throughout the night allowing for moisture-retention. If you're a regular here at NHP you know how much moisture-retention helps with hair growth and length-retention.
Standard beauty supply store bonnets typically have a cheap-o single layer of satin allowing for important hair moisture to escape the hair from constant friction (ex. cotton pillows), especially if you have a wild sleeper in your house.
Fortunately, the mommy and baby matching bonnets from Goodnight Hair Bonnets:
Are double-layered
Stays on throughout the night
Are breathable
Prevent frizzy hair, dry/dull hair
Maintain hairstyles which helps with healthy hair promotion.
Are 100% pure satin
These are the perfect "mommy and me" matching bonnets. It's smooth, lays flat, comfortable on the ears and doesn't rough up your edges. It doesn't slide off during the night so you'll feel comfortable with your daughter or son being in their crib with it on. 
Goodnight Hair Bonnets offer two sizes -  the "Itty-bitty" size is perfect if your baby is 3-to-5 months old and the small fits for kids 6 months to 2 years old, keep in mind that these bonnets stretch for your baby's growing head. 
You can count on these mommy and baby matching bonnets to last a long time because of the high quality materials this brand offers have remained the same. You and your little princess will be all set for a cuteness overload while your hairdos are protected. 
I've added some mommy and baby matching bonnets reviews from customers along with a couple pictures, so take a look at those as well. 
I have a lot of hair and it all fits without issue. The seller is prompt and polite and I received my items very quickly. The packaging was nice and included care instructions and discount code for next time. Great customer service. I will definitely be purchasing from her again.
[RELATED ARTICLE: Does mango butter clog pores?]

Things To Consider When Buying Mommy And Baby Matching Bonnets
Here's something to consider when buying your mommy and baby matching bonnets from www.goodnighthairbonnets.com ...
...if your infant currently needs the "Itty Bitty" size for babies between 3-5 months, you may want to grab the next size up if your child is going to be hitting 6 months soon or has a larger head than other babies her age.
Babies grow fast and so do those little noggins!

Sometimes it seems like their head is growing faster than the rest of their body, LOL!!!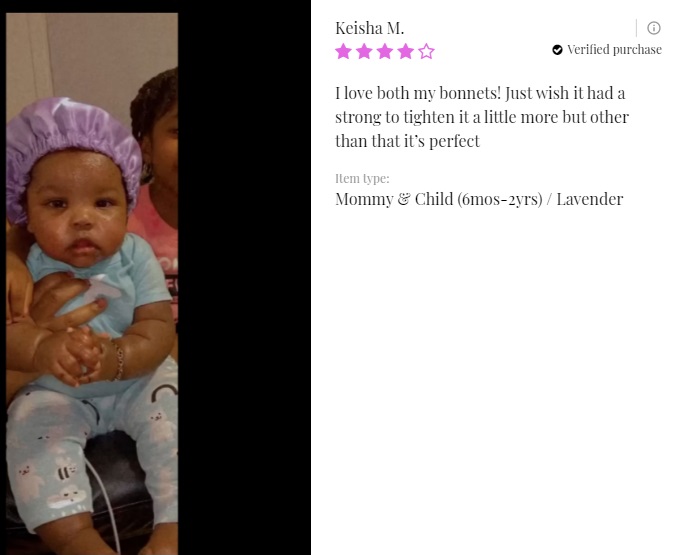 GHB Has More Than Mommy And Baby Matching Bonnets!
Remember, you can use your NHP special discount code on anything in their store! They offer more than mommy and baby matching bonnets.
They also offer:
Durags
Hair Growth Oil
Headbands
Scarves
Detangling Hair Brushes
Satin Hair Scrunchies
And More….
They have so much to add to your mommy and me outfits and hair care routines.
Do you use a durag? Or have kids that need kid-sized durags? The Goodnight Hair Bonnet company has you covered! Get your sons some durags so he can get his little 360 wave game poppin'! 
GHB also has their very own nourishing hair growth oil for those on a hair growth journey - great product for babies with bald spots! 
I'm telling you, they have too many products for me to tell you about right here. 
They have so many hair products that they even make a chic and handy "HAIR STUFF" STORAGE BAG to pack your bonnets, baby outfits, hair growth products, durags and other accessories!
It's the perfect solution to storing all your GHB products! With this storage bag, not only can you have a place to put all your hair accessories such as your bonnet, scarfs, & scrunchies, it can be used for traveling or in your purse!
Head on over to their website and use your 15% OFF discount code on errthang they have in store, literally!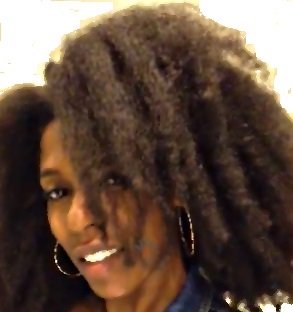 ABOUT THE AUTHOR: Melissa Lee 
Melissa Lee is a Contributing Editor to NHP and a former owner of the BlackhairOMG website. She formed 4C Trichology Growth Services, LLC., a US based hair care consultation service. She has also contributed as a writer and consultant for various hair and beauty websites. Melissa can be followed on Twitter here.

---