NHP is reader-supported. As an Amazon Associate we earn from qualifying purchases.

Does Mango Butter Clog Pores? [Hair, Skin & Scalp]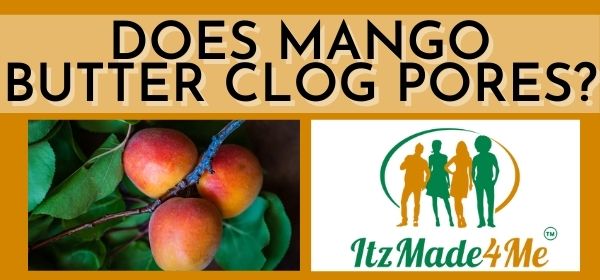 Does Mango Butter Clog Pores
Some ask… "Does mango butter clog pores?"
So, of course NHP answers, because we want you to fully benefit from rejuvenating hair and body moisturizer products such as MangShea butter from itzmade4me.com without worrying that you are actually suffocating your skin and scalp.
So let's get to the truth of the matter as we talk about what mango butter does to your hair and skin, as well as some info about shea butter in comparison.
Does Mango Butter Clog Pores [ANSWERED]
So, does mango butter clog pores? 
Thankfully, the answer is, no. Mango butter doesn't clog your pores. The reason it doesn't block skin and scalp pores is because mango butter is non-comedogenic.
Because it won't clog pores or aggravate acne-prone skin mango butter is used in hair growth products and is a natural skin soother. The rich, nourishing nature of this skin & hair butter can even benefit folks suffering from skin conditions such as eczema or psoriasis.
Mango seed butter is very creamy and used in many organic hair butter ingredient formations, like this combination of Mango Butter, Shea Butter, Cocoa Butter, Coconut Oil, Argan Oil, Aloe Vera, Tea-Tree, and Essential oils used in MangShea's unique beauty butter formula.
MangShea uses organic seed butter instead of extract because the seed kernel butter is more moisturizing than mango extract, as well as high in hair growth protecting and skin-saving antioxidants.
Don't use the mango extract butters if you aim to use the best and only the best. The creamy mango seed (kernel) butter will pay off in true moisturization all over your body.
Some may mistakenly feel that such intense creaminess leads to clogged pores, that's not that case.
You should know that mango butter sinks into skin quickly and is non-comedogenic. It has a texture that absorbs well and it feels hydrating.
Not only can you relax because mango butter does not clog pores, you'll also love it because it is loaded with essential fatty acids, and is extremely nourishing.
You can use it as a hair growth or moisturizing butter as well as a skin moisturizer because it does not clog pores or irritate skin that is quick to respond to problem products with increased acne, redness and bumps.
Mango Butter Vs Shea Butter For Hair
So now that the "does mango butter clog pores?" issue is settled, let's compare mango butter to another very popular, best-selling butter for skin and hair care. The ever-famous shea butter!
In the mango butter vs shea butter battle, you'll quickly discover that mango and shea share some brilliant similarities, yet, are still different.
Since different skin and hair types respond differently to these all-natural goodies, it's nice to be able test both and see which one you like better, but here is a breakdown of their differences and similarities...
THE DIFFERENCES:
Creaminess Difference: When determining "does mango butter clog pores" or not, we talked about the creaminess levels that mango butter reaches. Mango butter tends to be lighter and creamier than shea. The butters actually contain the same fatty acids, but mango butter has much more oleic acid and less stearic.
Melting Point Difference: Mango has a lower melting point because of its quantity of oleic acid. The lower melting point makes it easy to melt in your hands. Shea is harder, so it may be less convenient, especially if you live in a colder climate.
Smell Difference: Both all-natural beauty products have a buttery smell, but the scents don't match each other. Some naturals expect mango butter to smell sweet like the fruit's scent, but it doesn't because mango butter is taken from the seed and not the fleshy part of the fragrant fruit.
THE SIMILARITIES:
Both Butters Coat Hair Strands: Shea and mango butters are excellent for their protective qualities. They effectively seal in hydration and work to protect strands from harmful UV rays and wind.
Both Butter Add Shine: You can rely on both butters to add shine to skin and hair. Remember though, shea butter has a higher melting temperature, which means it may not work to make hair shinier in cold winter climates. In fact, it might even create a thin white film over your hair strands if your climate is too frigid. Mango butter melts down in colder temperatures than shea, making it easier to melt in colder weather. Keep that in mind if you're using butters for hair growth or moisturization.
Both Have an Excellent Profile of Fatty Acids: Both butters contain the same exact fatty acids, in different proportions. They each have stearic, oleic, linoleic, palmitic, and arachidic acids, making the hair and skin products very emollient and ideal for conditioning natural hair.
So hey, I know you came for info about "does mango butter clog pores", but I felt like this mango butter vs shea butter comparison is important because it's always helpful to compare oils and butters to get an idea of which one you should buy.
And fortunately ItzMade4Me offers you a great mango butter ingredient matrix as well as a super high-quality shea butter for smooth skin, moisturization and hair growth regimens.
Still though…
Since you wanted to know does mango butter clog pores or not, I'm sure more mango butter benefits info would make you happy, so let's break it down like a LEGO set!
[RELATED ARTICLE: Mommy & baby matching bonnets HERE]
Mango Butter Benefits For Hair 
When used for hair health and growth, mango butter works by sealing in moisture and reduces breakage and hair loss by strengthening hair follicles for increased length-retention, thereby encouraging the growth of stronger, healthier natural hair. 
Mango butter has many benefits for natural growing hair as it contains an abundance of essential hair growth vitamins and minerals.
When used regularly on the hair and scalp, mango seed butter can help to prevent split ends, reduce dandruff, and prolong the duration of hair color.
Mango Butter Benefits For Skin While Never Clogging Pores
Similar to cocoa butter, mango butter is an effective skin moisturizer and may help soften your body's largest organ (your skin, duhhhh!).
Dermatologists often encourage the use of Vitamin E and Vitamin C in abundance, that's what you'll get tons of with skin pampering mango butter mixtures, mango butter may also assist in protecting your skin from environmental stressors like sunlight, pollution, and even blue light from digital screens.
I'm sure you'll love how mango butter is packed with antioxidants and works as an emollient to soften your skin. This makes it a great ingredient for skin care that does not clog your pores.
1. Prevents The Development Of Wrinkles
According to some clinical studies, mango butter contains skin-sparing antioxidants like vitamin C that fight free radicals in your skin and slow down cellular degradation and damage.
2. Eliminates Itchy And Dry Skin
Mango butter for skin is effective in preventing inflammation and itching caused by overly-dry skin. It is an excellent source of triglycerides (a form of glycerin).
These are fatty acids that work as emollients to soften hard and/or dry skin and prevent it from feeling dry and itchy. It also contains Vitamin E, which is beneficial for your skin in many ways.
3. Protects From UV Rays
When mango butter for skin comes in contact with oxygen, it produces salicylic acid. Salicylic acid is an excellent exfoliant that works by softening a specific protein in the skin called keratin. This helps remove the top dermal layer of the skin that has become scaly, itchy, and dry.
It is also widely used to treat symptoms of eczema, psoriasis, and other dry skin conditions.
Used medicinally, mango butter facilitates the process of eliminating toxins, dirt, pollution, and other impurities from the skin, and is a great option for people with nut allergies. Mango butter is safe to use daily and works well with water-based hydrators
Do you have dry scalp or skin? The chemicals in your lotions or soap may worsen your condition. Switch to the mango butter natural hair and body moisturizer from ItzMade4Me today! Their mango butter is packed with safe, natural ingredients that allow for deep-conditioning and moisturizing without leaving the scalp or skin dry.
Does Mango Butter Clog Pores? No! So Get Yours From ItzMade4Me! 
No need to worry about where or how to use mango butter for hair and skin because this amazing product can be used from head to toe!
Use this MangShea 2-N-1 hair and skin moisturizer on your scalp and skin to leave it soft and healthy! This mango butter mixture promotes healthy hair growth! 
MangShea is good for bald spots, dandruff, dry scalp, and dry hair. It's also excellent for dry skin and helps heal acne scars and marks! If you were worrying about "does mango butter clog pores?", rest assured that the answer is no, this mango butter for hair and skin is also Vegan Certified.
Follow Author of "Does Mango Butter Clog Pores?" Article...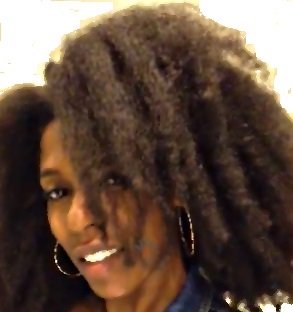 ABOUT THE AUTHOR: Melissa Lee 
Melissa Lee is a Contributing Editor to NHP and a former owner of the BlackhairOMG website. She formed 4C Trichology Growth Services, LLC., a US based hair care consultation service. She has also contributed as a writer and consultant for various hair and beauty websites. Melissa can be followed on Twitter here.

---