NHP is reader-supported. As an Amazon Associate we earn from qualifying purchases.

Kinky Curly Hair Oils for Natural Hair 101 [NHP Tutorial]
Natural hair gurus flock to kinky curly hair oils for natural hair for good reason. If you've been on your natural hair journey for more than five minutes, you have surely heard of the well-known staple oils for curly hair like coconut oil and olive oil. 
And that's fine, still though:
There are so many more highly-effective, premium hair treatment oils for you to use that are proven to boost hair health, growth and length-retention.  
By using a carefully curated selection of kinky curly hair oils for natural hair, you'll be able to address the diverse needs of afro-textured coily hair. Whether it's 4C or 3C, high or low porosity, thick or thin, I'll introduce you to the best DIY natural hair products you can make and I'll educate you on the best kinky curly hair oils for natural hair you can start using right now to keep your natural hair healthy. 
In this tutorial, I'll describe the benefits of the various kinky curly hair oils for natural hair so that you'll know which oils are best for your kinky curly hair and why, and this is so important because the first step to healthy natural hair when going natural is knowledge. So let's get started.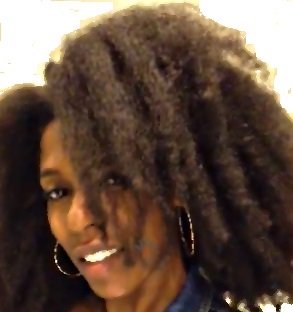 Hey sis, heyyy!
I'm Melissa Lee...
Co-founder of NHP. You'd de wise to...
TAKE DELIVERY of NHP Tutorials in your inbox for FREE!
Get EXPERT HAIR HELP at your fingertips weekly!
Let's keep in touch - sign up quickly by clicking RIGHT HERE...

Ways to Use and Benefit From Kinky Curly Hair Oils
Kinky curly hair oils for natural hair are versatile and have so many different uses. The most effective and best hair oils can be used to condition, seal in moisture and give brilliant shine and sheen to Black natural hair. They really can be your hair's best friend.
A full, healthy head of kinky curly lusciousness almost always has a bomb hair oil in the mix that's responsible for the vitality and glow, that extra "uumph" factor that makes hair look especially radiant. 
Use Kinky Curly Hair Oils in The LOC Method
One of the ways you can absolutely SLAY is by using kinky curly hair oils for natural hair in the LOC method — liquid, oil, cream method — which is a 3-step application process that works to maximize health-boosting moisture by layering products. 
Using liquid (like water) serves as a foundation for critically-important hydration; oil is next used to seal in the moisture; and the final step, adding cream, is used to further add and seal in moisture as well as help style and define your hair. 
The L.O.C. method for moisture retention is a great go-to move for kinky curly naturals when it's time to do a braid out, wash-n-go or twistout style. 
If you are refreshing your twistout on its second or third day, you can see great results by lightly spritzing your hair with water, put a quarter-size amount of a good kinky curly hair oil in your hand and apply it to your ends, and follow that up with your favorite gel styling product.
Use Kinky Curly Hair Oils For Scalp Health - Oil Your Scalp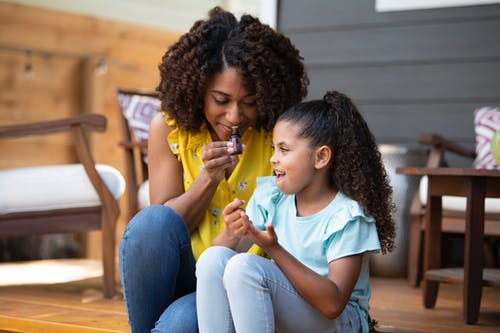 Another way you can use the best kinky curly hair oils for natural hair in your natural hair care regimen is by oiling your scalp on a weekly basis, up to 2-3 times a week. 
An ideal time to add this to your regimen is after washing your hair.
It's also a hair health-promoting habit to oil your scalp before bed on nights that you decide to pineapple your kinky curly crown instead of braiding or twisting it.
Before putting it up into a pineapple, simply divide your hair into 6-8 sections and put your kinky curly hair oils into an applicator bottle and run the product through your scalp, dividing your hair into mini-sections as you go. Hey, and learn what Moroccan oil does for your hair here.
Use Kinky Curly Hair Oils For After the Gym Styling
Lastly, a really helpful way to employ your kinky curly hair oils for natural hair is for an after-workout hair refresher. 
Here's how you do it: 
Using a spritzer/spray water bottle, add several drops of your kinky curly hair oils, along with a small dab of some ultra-moisturizing conditioner, and just shake the bottle to make your own "LOC juice" in a bottle. This is great to use for your after-workout, post-gym styling or for simply refreshing your curls after a long day at work.
The Secret Life of Kinky Curly Oils In Your Hair!
Don't get scared away from this video because of the thumbnail, she's not going to tell you to avoid kinky curly hair oils for natural hair, lol!
In fact:
This beautiful cosmetic chemist who specializes in natural hair care shares information about the importance of oils for kinky curly hair. She explains to you what oils actually do for your hair, which kinky curly hair oils you need to be using, and you also get a quick little lesson in kinky curly hair chemistry.
FAQs About Kinky Curly Hair Oils
Which oil is best for Afro hair?
The best oil for Afro-textured hair is subjective, depending on the condition and needs of your kinky curly hair. For example, avocado oil is one of the best for protecting the hair against damage, making your hair feel soft and smooth due to its thick consistency. This oil is rich in vitamins and minerals, plus, it contains more monounsaturated acids than coconut oil.
What oils can penetrate hair?
Science shows that the best oils to soak in and penetrate hair are sunflower oil, coconut oil, palm kernel oil (A.K.A. red palm oil), ucuuba butter, babassu oil, olive oil and caprylic/capric triglycerides which are a specific fraction of coconut/palm oil fatty acids resulting in only the more stable, and hair & skin-loving, caprylic & capric fatty acids. 
Which oil is best for moisturizing hair?
Argan oil is one of the best oils for sealing oil in moisture after feeding your strands vitamin E and fatty acids. Castor oil helps guard moisture while boasting antioxidant, antimicrobial, and anti-inflammatory properties that help prevent dandruff. Jojoba oil assists your moisturizing goals because it contains vitamins A, B, C, and E, and minerals like zinc and copper.
What is the best hair oil for natural black hair?
The best hair oils for Black natural hair seal in moisture, prevent moisture loss and infuse nutrients. Here are some of the best oils to try:
Almond Oil (lightweight)
Argan Oil (lightweight)
Avocado Oil (heavy) *Penetrates the hair strand
Coconut Oil (lightweight) *Penetrates the hair strand
Grapeseed Oil (lightweight)
Jojoba Oil (lightweight) *Similar composition to sebum our scalps naturally produce
Olive Oil (heavy) *Penetrates the hair strand
Sunflower Oil (lightweight)
Afro-textured hair benefits from the use of kinky curly hair oils for natural hair because the hair type doesn't naturally produce as much oil as straighter hair types, making moisture-loss easier and more likely to occur. 
[See kinky curly hair oil article about is Moroccan oil curly girl approved...]
Mixing Kinky Curly Oils for Natural Hair
Mixing oils for kinky curly natural hair is one of your best bets for keeping your hair moisturized, because every oil offers different nutrients, penetration abilities and levels of sealing capabilities to block moisture from leaving too quickly. The crazy amount of different DIY oil mixtures for hair growth you can create out of castor oil, avocado oil, jojoba oil, grapeseed oil and others, has no limit! 
And if you're a lazy natural you can find so many great Black-owned hair care businesses on Etsy that make amazing pure multi-use oil blends for hair and skin.
Using everything from which includes moringa oil, marula oil, baobab oil, argan oil, sweet almond oil, jojoba oil, sage oil, rose geranium essential oil and much more. And while the price of premium oil blends for kinky curly hair be a tad high, the hair health they give you makes it worth shelling a little more for the cost of quality.
If you are the DIY type, check out this video about how to make your own DIY kinky curly hair oils mixture for softer, longer, stronger natural Black hair!
Conclusion: Oils Don't Moisturize Kinky Curly Hair, But You Still Need The Nutrients & Moisture Retention
When we talk about your hair needing extra moisture that doesn't mean oil is going to GIVE you the moisture. You shouldn't think kinky curly hair oils for natural hair will do the job of water, other liquids or super-moisturizing hair conditioners. 
Moisturizing conditioners are typically known to increase the moisture content of your hair, improve elasticity and manageability. They work to add and retain moisture in natural hair. 
Fact is:
True moisture and hydration come from water in some form or another, and there's no way around it. 
Hydration is a main characteristic of water, so increasing moisture really means replenishing water content to the hair, and then preventing or minimizing its escape into the surrounding atmosphere. And that's where oils play a significant role in your natural hair moisturizing regimen. They not only infuse and/or coat your hair with nutrients that will be more effective in a moist scalp and hair environment, but they help lock in moisture and guard it from leaving so fast.
So anything that is going to help improve water retention in the hair and block a fast exit is ideal for dry Afro-textured natural hair.
There are many ingredients that will help and emollients and oils are among the best to add to your natural hair care regimen. On top of that, adding the best kinky curly hair oils into hydrating conditioners to supplement it with a rush of extra vitamins can help boost the nourishment level of your scalp.
{See my article on how Black hair is treated in media]

---