NHP is reader-supported. As an Amazon Associate we earn from qualifying purchases.

Difference Between Silk Press And Flat Iron [VS Battle!]
Difference Between Silk Press and Flat Iron
Let's talk about the difference between silk press and flat iron styling, because folks have been asking this for a long time. Take a peep at this question I read today...
QUESTION: "I was browsing Youtube and found this video of a silk press being done on natural hair. It looked very similar to a normal straightening with hair straighteners so I was wondering what the difference between silk press vs flat iron? I've heard silk presses look a lot smoother, silkier and give your hair more movement but the process looks the same. Am I wrong?"
You're not wrong sis, the styling technique is the same… First, let me clear something up, though:
Difference Between Silk Press And Flat Iron - Explanation #1
I want to answer the folks who don't understand that on the most basic level, the first difference is that a flat iron is a hair tool and a silk press is a styling treatment.
A flat iron hair straightener is the tool that is used to straighten out your hair as well as curl, wave, and crimp it if you choose. A silk press on the other hand, is a popular salon technique or method that still employs the use of a powerful flat iron.
A silk press requires higher levels of heat than a normal flat ironing session and results are better with professional-grade flat irons like Babyliss Pro, GHD and Bio Ionic Onepass Styling Irons.
Silk press styling is mainly used to take people who have natural hair from curly or kinky hair to straight.
The term silk press has been around forever, but the method received its name from a play-on-words: Years ago a pressing comb was often used and after seeing kinky-curly hair go to a silky look in one sitting without the use of chemicals or hair smoothers, the term silk press was born.
Now the process is more often done with a high-powered silk press straightening iron instead of a pressing comb.
Difference Between Silk Press and Flat Iron - Explanation #2 & Photos
So we're gonna show and tell about the difference between silk press and flat iron styling.
The difference in the way the final results look is because of differing heat levels used while flat ironing. It's really that simple.
Take a look at the normal flat-ironed hair in the photo below...
See The Difference Between Silk Press And Flat Iron On This Model...
As you can see in the photo above, the model's hair is flat ironed normally, not silk pressed. Her hair still has some texture to it. It's healthy, straightened and yet, not super shiny and silky-looking. This look is different from the extreme sheen of a silk press.
The reason it's not very silky looking is because normal heat ranges were used during the flat ironing session. 
Now let me just say this…
The technique stays the same whether you're flat ironing or silk pressing, there's no difference in technique, at all.
The only difference is the heat levels on the flat irons change depending on whether you want to silk press or flat iron normally, so for instance for the flat ironed style on her hair in the picture above, this is commonly achieved at temperatures between 375-400 degree fahrenheit - check out this back shot photo of the model's hair after it was flat ironed. BTW, the model's hair was prepped for both the flat iron style AND the silk press style with Smooth Thru Detangler by TM hair products. 
Difference Between Silk Press vs Flat Iron
OK, so now let's take a look at the difference between silk press and flat iron styling by checking out the next photo of the same model's hair after it has been silk pressed. 
A flat iron was used for both styles, the key for this look below is to use the proper flat iron temperature for silk press.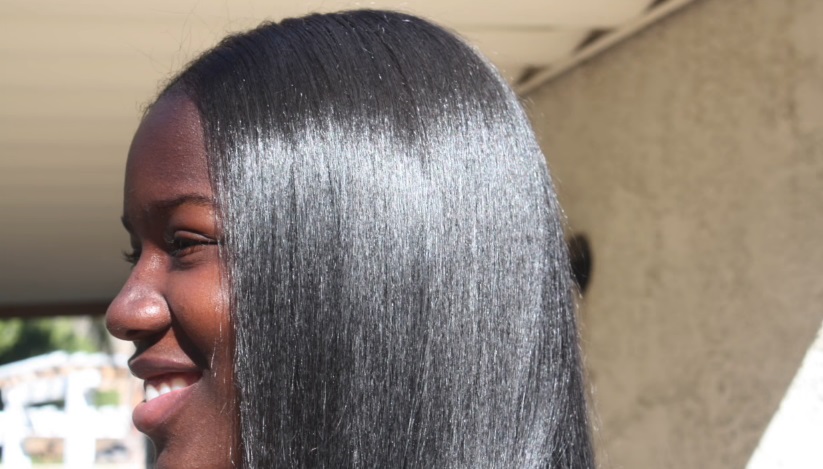 Difference Between Silk Press And Flat Iron Tutorial
With both styles, whether flat ironing normally or doing a silk press, I assure you that the same technique was used by the stylist. It's simply the heat level of the flat irons that gives a different result and look.
For the silk press in the above photo the stylist would use temperature ranges between 420-450 degrees fahrenheit, your flat iron needs to be hotter in order to achieve a truly shiny, silk-pressed look.
So that is the difference. It's not a technique difference and it's not that a silk press is actually done with the pressing comb anymore, you can still press hair with a flat iron it's just a matter of how much heat is applied.
You might get away with normal flat ironing hair every 2 weeks but a silk press every two weeks isn't that safe.
So let's talk about a couple tips for the ultimate silk press results...
How To Get a Silkier Look With Your Flat Iron During a Silk Press
First things first, if you have a janky flat iron, expect janky results. In order to achieve a silkier silk press look you need a premium-grade flat iron like a BaBylissPRO Nano Titanium Prima Ionic Straightener, which is one of the best straightening irons for thick & coarse hair.
In addition to needing higher flat iron temperatures for a silk press, keep that in mind that you can also use silk press products that have Dimethicone in them, such as Silk Drops Repair and Shine Serum or Moroccanoil Treatment Oil and things like that. 
And if you don't like to use a lot of products on hair when flat iron straightening it, you can use Smooth Thru Detangler by TM hair products as a deep conditioner and it yields the gorgeous results so here you see below in the two side-by-side photos.
You can see the same model's hair but two completely different looks, showing the true difference between silk press and flat iron results.
Is A Flat Iron Or Silk Press Best For My Hair?
Normal flat ironing is more gentle on your hair because the heat should be lower than what you'll use for your silk presses. So, the answer is that normal flat iron temperatures would be better if you are worried about heat damage. 
Still though:
There are ways to protect your hair during a silk press. Don't make the mistake of using your silk press flat iron on its own without protective products. Adding in use of a top-notch heat protectant or serum isn't just highly recommended, it's A MUST, I also recommend you read my article about whether you should let heat protectant dry before straightening.
While heat damage is a valid concern, using a heat protectant and spacing out the times in which you put your hair through a flat iron session or get a silk press can keep heat damage at a minimum. 
In fact, in many ways, silk presses can be a safer and healthier alternative from other traditional methods of straightening kinky-curly girl hair, like perm relaxers, which definitely have negative consequences, especially if used improperly.
Silk Press vs Brazilian Blowout Without a Flat Iron [Major Differences]
Let's step away from the silk press vs flat iron issues for just a minute though...
Ever wondered about the differences that you'll find in the Silk Press vs Brazilian Blowout battle? With your traditional Dominican Blowout, direct heat is only used for the blow-drying portion of the straightening process. The blow drying is done on dry hair, which limits the risk of heat damage.
The typical silk press uses much more direct heat under the use of the flat iron for the straightening process. This increases your hair's overall exposure to heat and thus the risk of heat damage, you can fight against that problem with a premium heat protectant though. 
Silk Press Vs Brazilian Blowout Styling Tools Are Different Too
The type of tool used during your silk press or Dominican Blowout matters, too. The blow drying element of Dominican Blowouts is always done with a round brush, which adds volume and movement to the hair.
However, the friction and extension from the brushing exposes hair to damage. To reduce this type of damage, the stylist's round brush skills need to be smooth and speedy.
The stretch from the rollerset and the right deep conditioning treatment, plus the slip and protection from the dimethicone serum all help reduce damage, too.
The Dominican Blowout Process Explained
The Dominican Blowout process starts with a good clarifying shampoo to remove any product buildup that may interfere with a silky smooth end result. After clarifying, the hair is deep conditioned with a rich Dominican super-conditioner.
The conditioner is part of the secret to getting your hair all the way straight while minimizing heat damage: many Dominican conditioners, like Crece Pelo deep conditioner, are so moisturizing and nutrient-rich that they effectively smooth hair out, make it flexible and softer, to the point where it's alot easier to straighten, giving you straighter and sleeker results more quickly.
The deep conditioning step is absolutely mandatory for the Dominican Blowout process. A must-do.
After properly deep conditioning, your hair is set on rollers and you sit under the dryer. Using direct heat on wet hair is a no-go in the Dominican hairdressing culture. And although the indirect heat of a hood dryer takes longer to dry wet hair, it's also gentler. 
​The roller set stretches the hair, partially straightening it - another step which makes blow ddring it straight a little easier.  Roller sets add alot of volume, body and bounce as well. The roller sets are a critical step to assure that you get a lot of movement in your hair.
Once the hair dries, the rollers are taken out and a good oil-free heat protectant is used. Usually a high-quality water-free silicone serum is applied sparingly throughout the hair.
After that, the stylist quickly moves through the hair with a blow dryer and round brush until your hair is blown out straight and silky-smooth.
Differing from a silk press, with Dominican Blowouts a flat iron is not traditionally used, but some salons might use a straightening iron just after blow drying to finish the look if the hair has been resistant to straightening, or to lock in straightness and keep the hair silky-smooth for longer.
The final step in the Dominican Blowout is the "Doobie" or wrap: your hair is wrapped around your head to smooth it all the way to supreme straightness and infuse even more flow and movement.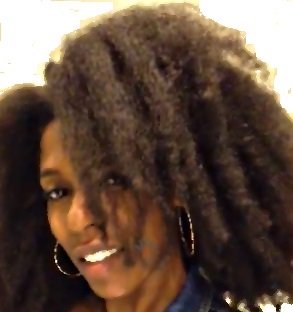 Hey sis, heyyy!
I'm Melissa Lee...
Co-founder of NHP. You'd de wise to...
TAKE DELIVERY of NHP Tutorials in your inbox for FREE!
Get EXPERT HAIR HELP at your fingertips weekly!
Let's keep in touch - sign up quickly by clicking RIGHT HERE...

The Wrap Up: Difference Between Silk Press VS Flat Iron
I hope I've clearly explained the difference between silk press and flat iron stylin well enough, and hopefully the photos helped get the point across in how the final results differ in appearance.
So you can decide which look you want to rock and now you know that the difference isn't in the technique, it's simply the heat range on the flat irons that are different when performing one or the other.

Follow Author of "Difference Between Silk Press And Flat Iron" Tutorial...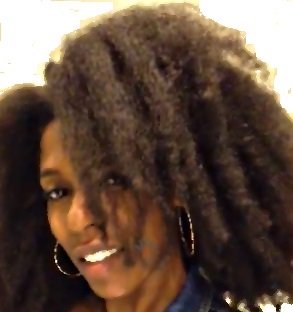 ABOUT THE AUTHOR: Melissa Lee 
Melissa Lee is a Contributing Editor to NHP and a former owner of the BlackhairOMG website. She formed 4C Trichology Growth Services, LLC., a US based hair care consultation service. She has also contributed as a writer and consultant for various hair and beauty websites. Melissa can be followed on Twitter here.

---