NHP is reader-supported. As an Amazon Associate we earn from qualifying purchases.

Flat Iron Temperature for Silk Press
Flat Iron Temperature for Silk Press
What's the best flat iron temperature for a silk press?
Answer is: The best temperature for someone who has thin/fine hair is 275-310°F; for medium hair, heat the flat iron to 310-390 °F, and for thick, coarser hair types, 400-420 °F is the proper straightener heat level for a silk press.
There's more to learn than the proper heat and temperature for getting the best results and silkiest hair.
In another article that I wrote, I explained why Babyliss Pro straightening irons are some of the best for performing the silkiest straightened style.
And today, we'll explain why using the correct temperature is key for silk press success and an alternative silk press method for less flat iron passes.
Let's get to the good stuff...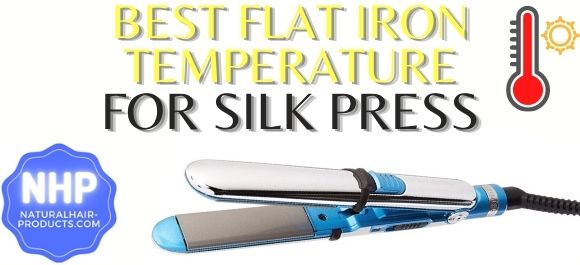 Why Your Flat Iron Temperature For Silk Press Makes THE Difference
For most stylists, the 'silk' in silk press ironing is about how the end results look- shiny, silky-smooth hair, rather than the use of a particular step or product ingredients.
Besides the differing temperature advice, much confusion comes from there being so many different versions of the silk press on YouTube videos of the differing silk press processes.
A silk wrap is the process of straightening, smoothing, and silking natural hair. This allows natural clients to have the ability to temporarily wear their hair straight without using chemicals.
Not all stylists include the silk wrap or silk products in their silk presses because the final results actually come from the flat iron temperature. The heat level is the most important part.
As any pro stylist will explain, the difference between a silk press and basic flat ironing session is the flat iron temperature for silk press needing to be significantly high. To do a great silk press isn't a matter of technique.
As one hair stylist said, "The technique is the same whether you're silk pressing or flat ironing", she says. "It's just the heat on the flat irons that yields a different result."
A flat iron temperature of between 375-400°F (190-204°C) gives a typical flat iron look - lots of texture, but not as much shine. "In order to achieve a silkier, silk pressed look, the flat iron temperature for silk press needs to be higher, in the range of 400-420°F (204-215°C).
Do High Silk Press Temperatures Damage Your Hair?
Some worry that the required high flat iron temperature for silk presses may cause damage. Studies show that the high heat concern is valid because silk press temperatures do raise the likelihood that your hair will get damaged, but the heat will not automatically damage your hair. There are ways you can fight against flat iron heat damage. 
You can give your silk pressed hair a chance to be healthy and free of damage by taking some precautions.
Let Heat Protectant Fully Dry Before Flat Ironing. The high temps are a great reason why

you should let heat protectant dry completely before straightening

. The best flat iron temperature range for a silk press for thick 4C hair is 400-420 degrees Fahrenheit. If your hair is thin or fine, you may want to stick with a lower range of 275-310 degrees Fahrenheit. If you don't let the water and heat protectant dry the high temperature could cause the water inside your hair's cortex to boil. Also, avoid turning the temperature up 450 degrees Fahrenheit.
Try One Flat Iron Pass Only. Each time you pass the flat iron through your hair, the strands become hotter. Try doing one carefully planned pass. The hair has less potential to become damaged than it would with several hasty passes.
Hair doesn't only have the potential to become damaged from too much direct heat. Adding too much heat to hair can cause it to become dryer than normal, especially if you're trying to avoid water and reversion. This is why using proper flat iron temperature for silk press straightening is vital.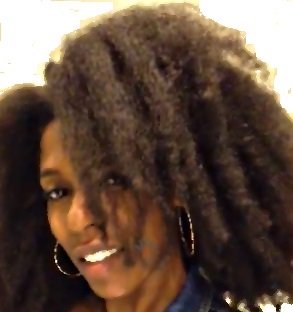 Hey sis, heyyy!
I'm Melissa Lee...
Co-founder of NHP. You'd de wise to...
TAKE DELIVERY of NHP Tutorials in your inbox for FREE!
Get EXPERT HAIR HELP at your fingertips weekly!
Let's keep in touch - sign up quickly by clicking RIGHT HERE...

Alternate Way To Silk Press With Less Passes Under High Temperature
In silk pressing videos, you often see stylists using a professional heat tool with high heat capabilities, but some stylists go old school! True experts are also capable of hot comb for pressing and follow up with a silk press flat iron, such as a Babyliss Pro, to prevent having to do multiple flat iron passes on hair: It always helps when you don't have to pass a flat iron over hair more than once to smooth and silk press the hair. If you want a silk press using this alternate method using a good ol' fashioned pressing comb—the kind your Granny used to use, we recommend finding a pro stylist at a natural hair salon. We don't recommend using a pressing comb at home.
Other Pro Tips:
Most heat damage is preventable, as long as you maintain your hydrating conditioning treatments and don't use flat iron heat daily.
Amazingly, some pro hair stylists test flat irons on their hand before applying heat to hair, or test the heat on a napkin to see if it burns. Leave these techniques to pros, though.
We recommend using this flat iron temperature for silk press scale: For someone who has fine hair, use heat 275-310°F; for medium hair, 310-390 °F, and for coarser hair types, 400-420 °F.
Also, check out my article about the difference between silk press and flat iron styling.
Follow Editor of Flat Iron Temperature for Silk Press Tutorial...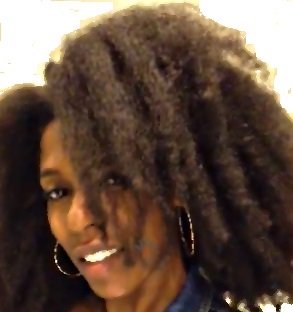 ABOUT THE AUTHOR: Melissa Lee 
Melissa Lee is a Contributing Editor to NHP and a former owner of the BlackhairOMG website. She formed 4C Trichology Growth Services, LLC., a US based hair care consultation service. She has also contributed as a writer and consultant for various hair and beauty websites. Melissa can be followed on Twitter here.

---