NHP is reader-supported. As an Amazon Associate we earn from qualifying purchases.

Silk Press Every Two Weeks - [Too Often?]
Silk Press Every Two Weeks
You thinking of doing a silk press every two weeks? Is that safe for your hair? 

Let's talk about it…
First, let's be clear that we're not talking about normal straightening every 2 weeks, because as I explained in my silk press vs flat ironing article, silk press straightening to get bone-straight shiny and smooth hair is different from doing a normal or light press.
Yes, both are done with a flat iron, yet, the heat levels of a good silk press have to be higher.
If you don't have a great silk press flat iron, check out our Babyliss straightener guide right here.
Should I Silk Press Every Two Weeks?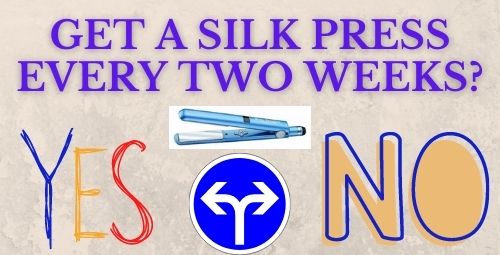 To give you your answer upfront, no, you shouldn't do a silk press every two weeks if long term hair health is important to you. Getting this type of high-powered press straightening can be done in safer ways to reduce damage and have healthy-looking hair. The tricky part is deciding how often should you get a silk press…
And since silk press styles don't often last past two weeks, some wonder if they can get pressed more often within the month...
So let's discuss it:
How Often Should You Get A Silk Press?
Answer: You should get your silk press no more often than every 3 to 4 months, since maintaining supreme health should be as important as silky hair to you, this timeframe between silk presses should help retain length without much heat damage.
If you want to be somewhat safe and still increase the frequency of your silk presses, at least wait three weeks before your next pressing session. And keep in mind, even 3 weeks should be the bare minimum.
How Long Does A Silk Press Last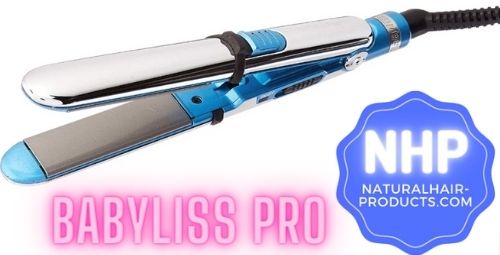 Whether You Get a Silk Press Every Two Weeks or Not... Use The Best Tools.
So many women complain and say, "my silk press did not last!"...
Oftentimes, that's because of 1-of-2 things… Because they didn't know how to maintain a silk press, or they didn't know how long a silk press should last.
Typically, a silk press will last you about 2 to 3 weeks depending on how well you take care of it.
Did you get your silk press in the summer? Do you sweat alot? You may get less than two weeks of wear from the style.
These are all things to pay great attention to. There are tips and tricks for how to keep your silk press from sweating out and have above average maintenance in order to make it keep a bit longer than two weeks.
How To Maintain Your Silk Press For Two Weeks Or More
Learning how to maintain a silk press is easy, yet, many don't take the time. So, I want to congratulate you for being cute AND smart at the same dang time! 
So look:
To extend the life of your silk press, buy a head wrap, a cute bonnet, or both to secure your straight style through the night.
One of the most efficient ways to wrap your silk press at night is combing into circular motion around your head, securing it with bobby pins, wrapping a scarf around once finished, and covering it with a bonnet.
I can't stress this next point enough, you should also avoid putting water or steam on your hair—they'll derail your silk press style, and can cause your hair to revert back to its natural kinky-curly girl state.
So if you're super active or really into working out, there's a high chance that you'll end up sweating out your silk press (I know, ugh). That doesn't mean you shouldn't get it done, but just know that it might not last as long as it would otherwise.
Also:
Don't Use Too Many Product (Avoid Build-up) 
After you've had your silk press for a while you might be tempted to use products to maintain the press for longer than 2 weeks. I have to warn you though…
Too much product will cause gunky product build-up on your tresses which will cause your silk press to look greasy and weigh your hair down. It will be hard to make it past two weeks with a gunked down silk press.
If your hair naturally gets greasy, I can suggest that you try using a dry shampoo to remove some of the oil and possibly extend your press for a few more days.
Keep Your Hand Out of The Luscious!  
Yes, you may be tempted to run your fingers through that silk-feeling hair, but if you want to make it last two weeks or more please refrain from constantly touching and manipulating your strands.
Constantly flipping and stroking your silk pressed hair can cause it to frizz up and will reduce the amount of time you can keep your style without a touch-up. This cause some to be tempted to get a silk press every two weeks because they can't make them last longer.
[RELATED ARTICLE: Can a flat iron kill lice?]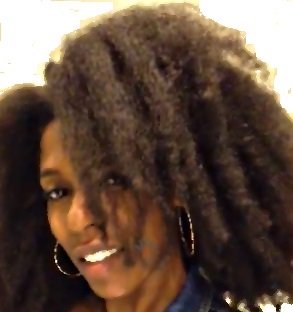 Hey sis, heyyy!
I'm Melissa Lee...
Co-founder of NHP. You'd de wise to...
TAKE DELIVERY of NHP Tutorials in your inbox for FREE!
Get EXPERT HAIR HELP at your fingertips weekly!
Let's keep in touch - sign up quickly by clicking RIGHT HERE...

The Wrap Up: Silk Press Every Two Weeks
Hey look:
Although I wouldn't advise you getting a silk press every two weeks, don't let me scare you away. They don't have to be looked at as bad for your hair, especially in comparison to some other straightening treatments.
Silk presses are far less damaging than chemical treatments like perms and such. That creamy crack will do a number on your hair, a dangerous number.
So if you're trying to straighten your hair, a silk press that's done with a true silk press flat iron and with a high-quality heat protectant is definitely a safer option than many chemical straightening procedures. 
Just make sure you wait three weeks in between each styling session to minimize heat damage.
Follow Author of Silk Press Every Two Weeks Tutorial...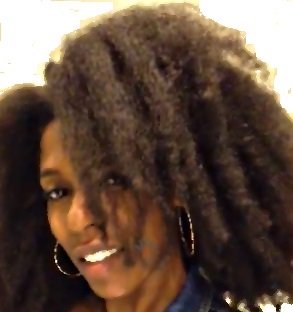 ABOUT THE AUTHOR: Melissa Lee 
Melissa Lee is a Contributing Editor to NHP and a former owner of the BlackhairOMG website. She formed 4C Trichology Growth Services, LLC., a US based hair care consultation service. She has also contributed as a writer and consultant for various hair and beauty websites. Melissa can be followed on Twitter here.

---