NHP is reader-supported. As an Amazon Associate we earn from qualifying purchases.

BaByliss PRO Ceramic Flat Iron Reviews [BEST VERIFIED]
Babyliss Pro Ceramic Flat Iron Reviews
BaByliss PRO ceramic flat iron reviews are soooooo flippin' revealing,and I want you to see what I liked and disliked learning about in these 1st-hand ratings and reviews...
Let's keep it real:
Our hair is Uber-important. And, I know that your look and feel needs to be right or you just don't feel the comfort and confidence that is needed to completely OWN your look for the occasion.
And when straightening your hair without chemicals, the better your premium, professional-grade flat iron is... the better results you'll see straing back at you in the mirror.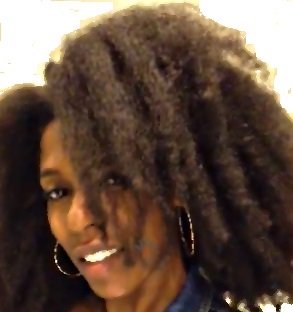 Hey sis, heyyy!
I'm Melissa Lee...
Co-founder of NHP. You'd de wise to...
TAKE DELIVERY of NHP Tutorials in your inbox for FREE!
Get EXPERT HAIR HELP at your fingertips weekly!
Let's keep in touch - sign up quickly by clicking RIGHT HERE...

Many natural hair curly girls, wavy women and kinky queens prefer to visit beauty parlors nowadays to get themselves dolled up and ready for their upcoming "red carpet of my life" events.

However, many beauty salons charge waaayyy too much money for giving you a straightened hairstyle with their professional silk press flat irons. After paying them a couple of times you'll have spent enough money to buy your own Babyliss Pro ceramic flat iron and straighten your own doggone hair for FREE!
So, it would be best to make a one-time investment in your own high-quality heat tool appliances. One such device is the Babyliss hair straightening iron. 
With more and more beauty products and hair straightening appliances coming into the natural hair market everyday, it's good to be able to get Babyliss Pro ceramic flat iron reviews from the REAL EXPERTS, professional stylists and everyday folks who have bought and used a Babyliss Pro ceramic hair straightener and compared it to other flat irons that they've used.
No need for naturals to be ashamed of non-chemically straightening our hair when we want to switch things up a bit. Look sis, I knoooooow...
...And I feel you, you may want to change your natural hairstyle appearance depending on your mood or the theme of a certain event.
My BaByliss PRO ceramic flat iron reviews article will help avoid buying the wrong straightener and looking like a WHOLE mess!
You know just like I do, women with very curly or kinky hair have to face many hardships to get fully straightened hair and achieve the perfect bone-straight hair look and silky texture.
Because of this, it becomes imperative to use a top-notch hair straightening iron, these BaByliss PRO ceramic flat iron reviews will lead you to the right choice for bone-straight fabulousness!
You can also see our expert opinion article filled with Babyliss Pro 4C hair reviews.
In this BaByliss PRO ceramic flat iron reviews article, I'll be looking at the BaByliss PRO Ceramic Flat Iron reviews on websites like Amazon, Ulta, Sephora and more to bring you the truth and cut the crap.
Towards the end, I will be giving you NHP's expert verdict on whether you should buy this flat iron or find something different. First though, let's talk about the difference between BaByliss porcelain ceramic versus the more popular titanium flat irons...
BaByliss Porcelain Ceramic VS Titanium Hair Straightening Iron
Before deciding whether you want to buy a Babyliss Pro porcelain ceramic or Babyliss Pro titanium hair straightening iron for your daily use, you need to understand the fundamental difference between the two products. We even wrote an entire expert article about Babyliss titanium flat irons.
Porcelain ceramic and titanium hair straightening irons differ significantly from each other regarding the plate material they transmit heat through. The plates of each flat iron type use a different mechanism to heat your hair. BaByliss PRO ceramic flat iron reviews often explain the difference. 
You see...
Ceramic plates warm your hair from the inside out.
On the other hand, titanium Babyliss flat iron plates heat the shaft of the hair from its surface. In generally, I have noticed and seen that the Babyliss Pro ceramic hair straightening iron take longer to get heated up than its titanium counterpart. 
It is a good thing for thin frail hair though, you want a slower heat up and I've noticed that more thin hair women are self-proclaimed "ceramic girls"because of its gentleness. On the contrary, Babyliss titanium hair straightening irons heat up quickly, but they pose a higher risk of hazard.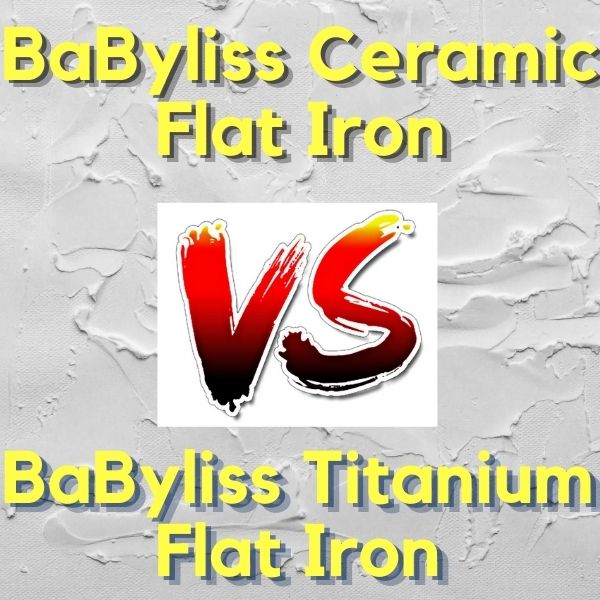 Titanium hair straightening irons are primarily used in professional beauty salons by true experts stylists because they are quick to heat up and result in smooth hair, yet, need to be handled correctly for amaing results and no scorching.

If you have thick or coarse hair, your best bet is a titanium flat iron. Still though, I recommend that you not buy a Babyliss titanium flat iron if you have thin or fragile hair because it can cause severe hair damage if not used correctly.
Experts, MDs, PhDs and hair and scalp specialist trichologists like Shuna Hammocks MIT MRSPH, a consultant trichologist from Sussex Trichology who has been a hair and scalp specialist for 17 years always warn against putting too much heat on hair that can't handle high levels. That can destroy the condition of your hair.
Now here's the difference, expert sylists will tell you that a titanium flat iron is perfect for kinky-coarse hair, I think that's because kinky and coarse hair needs more heat. That's the info I have found to be consistent across Babyliss flat iron reviews from women who wanted a great silk press flat iron for natural hair.
If you are a professional and know how to work with titanium hair straightening irons, you can consider buying it for your thin hair clients, but proceed with caution. I don't want you getting cussed out, lol!
Your kinky-coarse hair customers will sing your praises though, so the BaByliss Porcelain Ceramic VS Titanium Hair Straightening Iron battle is based on the conditions of the hair that will be subjected to these flat irons.
Remember that your hair texture plays an essential role in deciding the type of treatment and Babyliss flat iron that will suit you straightening needs best.
BaByliss PRO Porcelain Ceramic 1 ½ Straightening Iron Reviews
This product comes from a pretty reputed brand, "BaByliss," which is widely renowned for its hair appliances. It is used for straightening hair and is most suitable for straight hair types. This BabylissPro ceramic flat iron has 4.7 stars out of 5 at Amazon and over 219 ratings. The size of this product is 1.5 inches and comes in black color. 
As per the manufacturer, this flat iron allows you to straighten the hair locks and make beachy and loose waves, we also wrote a whole review of the best beach wave making flat irons.
This product produces far-infrared heat waves. These waves are scientifically proven to be less harmful as compared to other methods of heating.
One of the most significant advantages of this product is that it heats your hair from all sides evenly and distributes it throughout the hair such that no hotspots are formed. Negative ions are formed, which leave the hair shiny and smooth. 
This product is available in 1 inch, 1 ½ inch, and 2 inches plates. These are ceramic plates so that they instantly heat up. These plates are longer and wider to allow the user to heat the hair faster. It comes with a rheostat temperature dial which supports temperature up to 450 degrees Fahrenheit to ensure that your hair is smooth and shiny and your hairstyles are perfect. 
Customer reviews are excellent for this product. A verified customer from the United States reviewed this product on Amazon. She said,
"This product is impressive. I have been using chi irons for a long time now, and they are good enough. But, this product comes with extraordinary features that are pretty useful and make me like it much more.

The wider iron is really helpful as it takes less time and effort to straighten my hair. It also has a dial to adjust the temperature, allowing me to choose the heat I want to give to my hair. I love this product and thank myself that I purchased it. It has been working smoothly for me ever since I bought it from Amazon. That is why I am rating it 5 out of 5 stars on Amazon."
Another recent BaByliss PRO ceramic flat iron review from a customer based in the United States says...
"This product is amazing. It has a lot of features that work really well. It can get really hot but is still easy to handle. The only thing that I do not like about this product is that it has no auto shut-off feature. Sometimes when the user forgets to switch off the iron, it can get damaged due to overheating. That is why I am rating it 4 out of 5 stars."

We liked


We didn't liked


Ideal for thin or damage-prone hair.
Porcelain ceramic generates far-infrared heat.
Offer even heat distribution without hot spots & negative ions.

Longer plates allow you to work faster with wider sections


Not powerful enough to fully straighten 4C hair.
Some complain that the plate design is not great & plates don't close tight enough.
Another verified user with a BaByliss PRO ceramic flat iron review from Canada said...
"The product is good, but I do not like its build quality. The temperature control is analog, and I would have preferred a digital one. The cable is not of the best quality I have used. Overall, the product is useful and works fine for."

 You can buy this product from various online and offline stores. It is available at Amazon, check current Babyliss Pro ceramic flat iron prices here. 
Follow Editor of Babyliss Pro Ceramic Flat Iron Reviews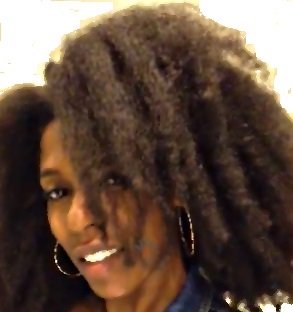 ABOUT THE AUTHOR: Melissa Lee 
Melissa Lee is a Contributing Editor to NHP and a former owner of the BlackhairOMG website. She formed 4C Trichology Growth Services, LLC., a US based hair care consultation service. She has also contributed as a writer and consultant for various hair and beauty websites. Melissa can be followed on Twitter here.
Babyliss Pro Ceramic Flat Iron Reviews CONCLUSION
I hope you enjoyed these BaByliss PRO ceramic flat iron reviews and are equipped with the knowledge to find the best Babyliss flat iron for your hair type. If you have kinky hair you may want to check out our best natural hair silk press flat iron tutorial.
It focuses on type 4C hair and the best hair straighteners to get your kinky, curly girl goodness bone straight and looking amazing!

---