NHP is reader-supported. As an Amazon Associate we earn from qualifying purchases.

Babyliss Pro 4C Hair Reviews
[#1 Type 4 Titanium Flat Irons]
Babyliss Pro 4c Hair Reviews
Babyliss Pro 4C hair reviews prove that not all flat irons are created equal. And these popular icy-blue titanium flat irons are proving to be some of the best straighteners for 4C natural kinky hair at Amazon.
Kinky-coily Afro-textured hair may seem like it needs lots of heat to get fully straightened out, but the wrong heat tool can fry your natural hair permanently. And that's why so many sisters are turning to Babyliss Pro flat irons…
Because even though we all like the smooth, glossy, sleekness of a great natural hair silk press flat iron, grabbing a cheap throwaway heat tool can lead to heat damage, split ends and flat out janky-looking results.
I call those "Awwwww, hecky-naw" results…
Because that's what folks be whispering (yes, I said "be whispering) behind your back when your hair looks tore-up-from-the-floor-up. Girrrrrrrrl...
So, whether you occasionally get a natural hair silk press or regularly heat style your luscious locks, Babyliss Pro 4C hair reviews will help you pick the best hair straightener for Black hair.
Like any investment piece you decide on, your flat iron should deliver high-quality results with every use, last a considerable amount of time, and never compromise the health of your natural hair.
That being said, if you're shopping for a new Babyliss Pro 4C hair hot tool to add to your routine, you're already on the right track and that shows that you don't settle for grabbing any ol' thing. Leave that to the "CHI flat iron girls".
It's their hair-ends on the line, their money being poorly spent and their lackluster results to worry about, not yours…
Instead, opt for one of the pro-approved picks for kinky natural hair that so many Babyliss Pro 4C hair reviews rave about!
What Makes Babyliss The Best Products to Flat Iron 4C Hair?
The sisters who write these Babyliss Pro 4C hair reviews we see at Amazon already know the struggle…
Let's keep it real, like, really real…
Straightening naturally coily type 4C hair can be very difficult because of its coarse nature. 
STILL though, if you have the right products to use in conjunction with best flat irons then it should be a breeze. And these titanium flat irons from Babyliss Pro have 4C sisters from the east to the west coast doing the happy dance.
What makes Babyliss the best product to flat iron 4C hair?
Because of their nano-titanium technology…..
Babyliss hair iron's are truly powerful professional stylers. The nano-titanium plates heat up fast and evenly and are designed to quickly straighten thick, kinky 4C hair without damaging it.
Babyliss Pro 4C hair reviews mention how simple and easy the temperature controls are to navigate, so you won't find yourself accidentally frying your follicles.
BTW, if you want to know about the best flat irons alternative brands to Babyliss straighteners, check out my best flat irons guide.
Best Protectant Products to Flat Iron 4C Hair - Serums, Sprays & Balms
When you read Babyliss Pro 4C hair reviews, you'll see tons of suggested "best products for flat ironing 4C hair" and it's wise to pay attention.
It's a good way to get tipped off about hair straightening products you may have never known existed.
The products I'll give you the heads up about work in perfect harmony with the best flat irons for 4C hair. Some of these top product picks allow your hair to soften so that you're Babyliss silk press flat iron or even a hot comb (which we don't advise using) can glide through your tresses easily as well as distribute the hair evenly.
In addition, these 4C straightener products help guard and protect your natural hair from being overwhelmed by the heat, assisting you in dodging nasty heat damage.
1. BRAZILIAN BLOWOUT Pro Thermal Straightening Balm
Don't be surprised to see this product mentioned in Babyliss Pro 4C hair reviews because of the heat-activated formulation that effectively straightens kinky 4C, 3C curls, and 2C waves, as well as tames frizzy hair problems in a flash. 100% humidity resistant.
To fully benefit from this product, Apply this protective thermal straightening balm formula generously throughout towel-dried kinky-coily 4C hair from roots to tips. Blow-dry with medium/high tension..
  2. MIZANI Thermasmooth Smooth Guard Smoothing Serum
You'd likely find mention of MIZANI Thermasmooth Smooth Guard Smoothing Serum in Babyliss Pro 4C hair reviews because of its ability to protect 4C hair against heat damage, this kinky-curly hair smoothing serum has high-grade coconut oil in it as well.
This is lightweight, leave-in thermal protecting serum that's a top candidate for "best hair straightener product for Black hair", because it buffers against heat styling damage and facilitates the use of Babyliss Pro heat tools by providing extra glide for easier manageability while maneuvering that nano-titanium through your 4C textured kinks.
This product not only protects against heat, it also works to repel humidity for a frizz-free, smooth straight 4C blowout look.
Towel dry hair and evenly distribute throughout hair. Blow dry or place under a hooded dryer until completely dry.
  3. CHI Iron Guard Style & Stay Firm Hold Protecting Spray
OK, so…. Although CHI flat irons don't hold a candle versus Babyliss Pro on type 4C hair. I'm not gonna sit up here and poo-poo some of the heat protectants that CHI produces.
We give them their props when it's due, no doubt, no hate, ALL FACTS.
CHI Iron Guard Style & Stay Firm Hold Protecting Spray from their Thermal Protecting System is a unique line of thermal protecting products that builds hair's strength and increases its ability to resist heat damage from styling tools.
Utilizing strengthening proteins and thermal protecting ceramic compounds, this complete hair care system is designed to dramatically decrease hair damage by building layered protection and resilience from cleansing to styling.
Used in combination with a Babyliss Pro on 4C hair the CHI heat protectant line is perfect for blow outs, bomb silk press hairstyles, and creating loose waves and curls with lasting hold.
  4. Moroccanoil Perfect Defense
Moroccanoil Perfect Defense is a dry aerosol spray that works in perfect harmony with Babyliss Pro 4C hair irons because it protects against thermal damage up to 450⁰F/230⁰C. This weightless heat protectants formula is infused with nourishing Moroccan argan oil and panthenol which helps promote healthier, looking hair.
You'll benefit from using this product before you blow dry or flat iron your 4C hair. It's a no-hold heat protectant spray, it does not hold it. This spray blends seamlessly into any existing styling regimen to protect hair from hot tools. Babyliss Pro 4C hair reviews mention that these tools heat up fast and heat protectant should always be used with powerful nano-titanium heating technology.
The suggested use id to simply mist this heat protectant spray generously and evenly 6 inches or so away from damp hair. Comb it through, blow dry and style with the best flat iron for 4C hair.
The GHD vs Babyliss battle is won by Babyliss on 4C hair, but Babyliss doesn't make a bomb heat protectant like GHD.
GHD Heat Protect Spray provides an invisible barrier against everyday heat damage on damp or dry hair.
It's a lightweight spray that protects 4C hair from heat styling damage because it contains the patented GHD Heat Protect System.
All you need to do is just spritz from your roots to your tips (around 6-8 sprays for mid-to-long hair) and comb through to ensure the product is distributed evenly before using your hairdryer or flat iron styler. Apply Heat Protection Spray first if you plan on layering it up with other styling products after your pressing session.
#1 Best Babyliss Flat Iron for 4C Natural Hair Silk Press
Unlike the traditional press and curl, a natural hair silk press flat iron gives your hair the appearance of being relaxed without making use of harsh chemicals. That way, your kinky natural 4C hair stays healthy even while straightened.
Don't be fooled though…
Not all silk press flat irons are created equal and it's common knowledge of hair forums, I just told you how CHI flat irons aren't in the same class as Babyliss Pro, especially on type 4C hair. 
And even though CHI flat irons aren't trash, some drugstore flat irons are downright bad for your hair all while not even giving you good-looking results. It's the worst of both worlds, garbage results and damaged hair health. All because of penny pinching and getting what you pay for.
In light of that, we're going to stick to profession-level salon-grade Babyliss Pro straighteners…
Here is one of the best silk press flat irons for natural hair according to Babyliss Pro 4C hair reviews. 
The BaBylissPRO 2" Nano Titanium-plated Ultra Thin flat iron is the best Babyliss flat iron for 4C when doing a natural hair silk press.
One reason is because it has wide plates that allow you to straighten large chunks of hair at once.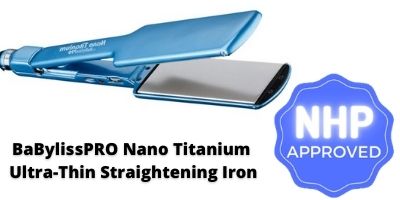 Babyliss Pro 4C Hair Reviews...
One Babyliss Pro 4C hair reviewer mentioned how she also owned the HSI flat iron which is the most hyped flat iron on amazon (with over 30k reviews and 4.5 stars).
And the HSI flat iron doesn't do nearly as good on 4C hair as the BaBylissPRO 2" Nano Titanium-plated flat iron on the same heat setting AND it wasn't the fault of not knowing how to press correctly.
The Babyliss reviewer said she always flat irons her hair after a keratin treatment, rollers and blow out. 

GHD on 4C Hair vs Babyliss Pro Reviews
The GHD on 4C Hair vs Babyliss Pro flat iron issue is quickly settled when you see them in action.
Although the ceramic GHD flat irons are elite professional straighteners, they are better-suited for thin, fine or frail hair. The ceramic is gentler on thinner hair but isn't always strong enough to truly straighten 4C hair. Babyliss also make a porcelain ceramic flat iron, I wrote an expert like and dislike article about BaByliss PRO Ceramic Flat Iron reviews that you can take a peep at.
GHD flat irons are great for people with thin hair. It works wonders on my thin, pathetic hair. LOL! I have the hot pink breast cancer one. Also you are 100% correct, no snagging.
It works wonders on my hair. I wish they would have taken that into consideration when making this. It should be for all hair types. My daughters have thick and frizzy hair and they can't use it. It just doesn't do it.

Check This GHD on 4C Hair vs Babyliss Pro Review Video
FAQs About Babyliss Pro 4C Hair Flat Irons & More…
How can I make my 4C hair straight?
Babyliss Pro 4C hair reviews mention tips about how blowing out your hair before flat ironing is great for making hair straight more effectively. Also, knowing how to identify and use the best 4C hair straightening serums or heat protectants to keep your hair safe from damage.
How long does a silk Press last on 4C hair?
How long does a silk press last? A properly-done silk press can last a good 2 weeks. The beauty of a natural hair silk press is that it doesn't last forever, two weeks long for 4C hair is very doable. One catch, though. You can expect the results to last for about two weeks—or until your next wash day or whenever your hair gets wet (whichever comes first). Silk press results are temporary.
What temperature should I flat iron my 4C hair?
The optimal temperature for flat ironing your natural 4C hair is the range can differ. Although 302°F to 405°F is often a sufficient temperature when using titanium flat irons. Fact is, you'll need to use higher temps on 4C hair to better make it straight.
Follow Editor of Babyliss Pro 4C Hair Reviews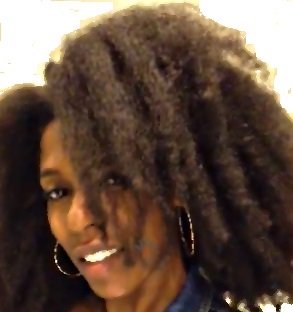 ABOUT THE AUTHOR: Melissa Lee 
Melissa Lee is a Contributing Editor to NHP and a former owner of the BlackhairOMG website. She formed 4C Trichology Growth Services, LLC., a US based hair care consultation service. She has also contributed as a writer and consultant for various hair and beauty websites. Melissa can be followed on Twitter here.

---