NHP is reader-supported. As an Amazon Associate we earn from qualifying purchases.

How To Make Your Hair Grow Faster With Honey [The Smart Way]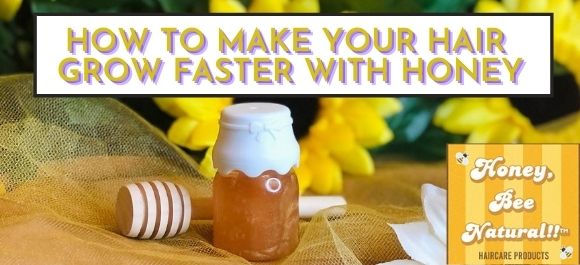 If you're wondering how to make your hair grow faster with honey, I want to let you in on a secret...
Even if you feel like your hair growth is stunted, you should know that nearly EVERYBODY'S hair grows about 1/4 to 1/2 inch per month. So the key to showing off longer hair actually comes down to health and the resulting length-retention.
And even though I'm going to introduce you to Honey Grow! Stimulating Hair Growth Serum from Honey Bee Natural Hair care. I need to tell you this…
Honey does not make your hair grow, per se. It does help retain length because a honey hair growth mask, for example, has important vitamins and minerals that support hair and scalp health.
Honey also serves as a humectant by pulling moisture out of the air, so the use of honey on your hair and scalp has shown marvelous results in helping the hair to become glowing and healthy.
Proper moisture helps the hair grow at optimal levels and honey will also nourish and condition the hair and scalp.
Learn how to make your hair grow faster with Honey Bee Natural Hair Products...
Benefits Of Honey On Natural Hair (Growth Retention And More)
Honey helps reduces hair breakage: Excess hair breakage is one of the most common issues that cause women to stress over their tresses. Thankfully, honey is an emollient which helps your hair seal moisture, which helps keep your hair conditioned and less prone to breakage. You'll be happy to know that one of the benefits of using honey on hair is that it reduces breakage. Products like the "Honey Grow! Stimulating Hair Growth Serum with Manuka honey" also has vegetable glycerin which also helps draw moisture from the environment to help fight against dry scalp. This hair hydration boost helps make hair strands stronger and thus reduces breakage, which is often the cause for the appearance of slower hair growth.
Honey helps strengthens hair: Weak and brittle natural hair is far more prone to split ends and breakage. And excessive breakage can drastically hamper your hair growth goals. Pampering your precious mane with a honey hair growth mask or hair health serum atleast once a week can strengthen hair follicles, curbing hair fall.
Honey helps prevent damage: Environmental factors such as harsh climate and pollution can cause hair health issues. The same can be said for unhealthy lifestyle habits like over-washing, over-manipulation and rubbing your hair vigorously are other common reasons for hair damage. These harmful factors are good reasons to include natural treatments in your regular hair care regimen. The healing goodness of natural ingredients such as honey can strengthen your hair and prepare it to avoid damage that would typically stunt hair growth!
Honey fights off scalp infections: Honey also benefits scalp health because of its antibacterial and antiseptic properties that help stop certain

scalp infections that cause hair breakage

, these bad bacteria fighting properties also help keep issues of dandruff, itchiness, swelling and redness from irritation at bay.
Because of the health infusion that hair and scalp enjoy from the nutrient in Manuka honey, women who've reviewed high-quality honey hair growth products on Etsy have noticed less hair fall and breakage; thus, the boosted length-retention makes it seem as if your hair is growing faster. At the end of the day, we want the result, right?
So, even though it would be better to ask "why is honey so good at boosting hair health and length-retention?" than to ask "how to make your hair grow faster with honey?"...
Seeing healthier hair and more length in your mirror is the main goal. 
Fact is:
Besides the benefits of honey on natural hair for growth hair, length-retention and more, honey is also known for having the quality of softening or soothing the skin.
[RELATED ARTICLE: Does weather affect hair growth?]
How To Make Your Hair Grow Faster With Honey At Affordable Prices!
One of the goals of this "how to make your hair grow faster with honey" article is to introduce you to a great, small-business that tailors their honey-based hair products to YOUR needs.
I'm talking about the Honey Bee Natural Hair care products made by Michaela R., her Etsy shop is more and more popular everyday and the raving, positive reviews about her honey hair growth serum and more show you the reason why.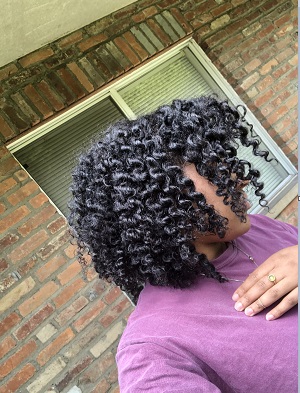 Honey Bee Natural Haircare Gets You Right!
Michaela created her affordable honey hair products because she was once a young broke college student who had hair so thick that she w end up using half a bottle of product in one use
She felt the pain of trying to be natural and maintain the health of her hair got very discouraging and frustrating at times. Many products were useless, and others were too expensive.
Hair care products were created because Michaela felt that we naturals shouldn't have to choose between what's best for our hair and what's affordable, especially when we have so many hair-healing natural resources that give us all the quality results we need and more! 
So if you've been wondering how to make your hair grow faster with honey or felt frustated wondering why your hair refuses to grow, you should definitely try her handmade honey hair growth serum. That's not all though…
Through trial and error Michaela also created an all-natural flaxseed gel infused with a variety of different ingredients such as raw Manuka honey, fresh aloe, and a mixture of hair healing oils, that provides more moisture, shine, and curl definition than many expensive hair products do! 
The Honey Bee Natural hair care business is fulfilling its mission of making being a natural kiny-haired babe or curly girl more cost friendly and available to people of all backgrounds, while not having to sacrifice product quality. Michaela feels that everyone deserves to fall in love with their natural and healthy hair just as she has.
Her handmade, made-to-order honey hair products will help you take pride in your healthy hair journey and enjoy being natural!
Wondering, "how to make your hair grow faster with honey?".... Grab some Honey grow Serum!
Honey Hair Growth Mask To Make Hair Grow Faster
If you're looking for a great honey hair growth mask product that will boost your hair health and vitality, check out Michaela's Manuka hair growth serum.
You can use it as a stand-alone honey hair growth mask or as a powerful ingredient to your own DIY honey hair growth mask recipes…
PRODUCT DETAILS: 
This honey hair growth serum contains a wide plethora of hair oils, that all aid in stimulating hair growth and promote scalp health/circulation.


The main base ingredients in this hair growth serum are pumpkin seed oil, peppermint oil, and avocado oil. Due to the addition of peppermint oil this hair growth oil serum is NOT RECOMMENDED IN CHILDREN UNDER 3, But can accommodate formula to your needs if you send a message!



This growth oil serum is enriched with Manuka honey and vegetable glycerin to help fight against dry scalp and dandruff while drawing in moisture to the scalp.



You apply this serum directly to your scalp and activate it by massaging it in. The tea tree oil and peppermint in hair growth formula tend to give you a slight tingling sensation as the blood flow to your scalp increases, this is completely normal!



Main Ingredients : Pumpkin seed oil, Peppermint oil, Avocado oil, sunflower seed oil, tea tree oil, sweet almond oil, Rice bran oil, Manuka Honey, Vegetable glycerin, Extracts including passionflower, Horsetail, and ginger, BTMS (naturally derived emulsifier/conditioning agent). If you want a full ingredient list in case of allergy concerns you can directly message Michaela at Etsy.

Other products that benefit your skin and hair: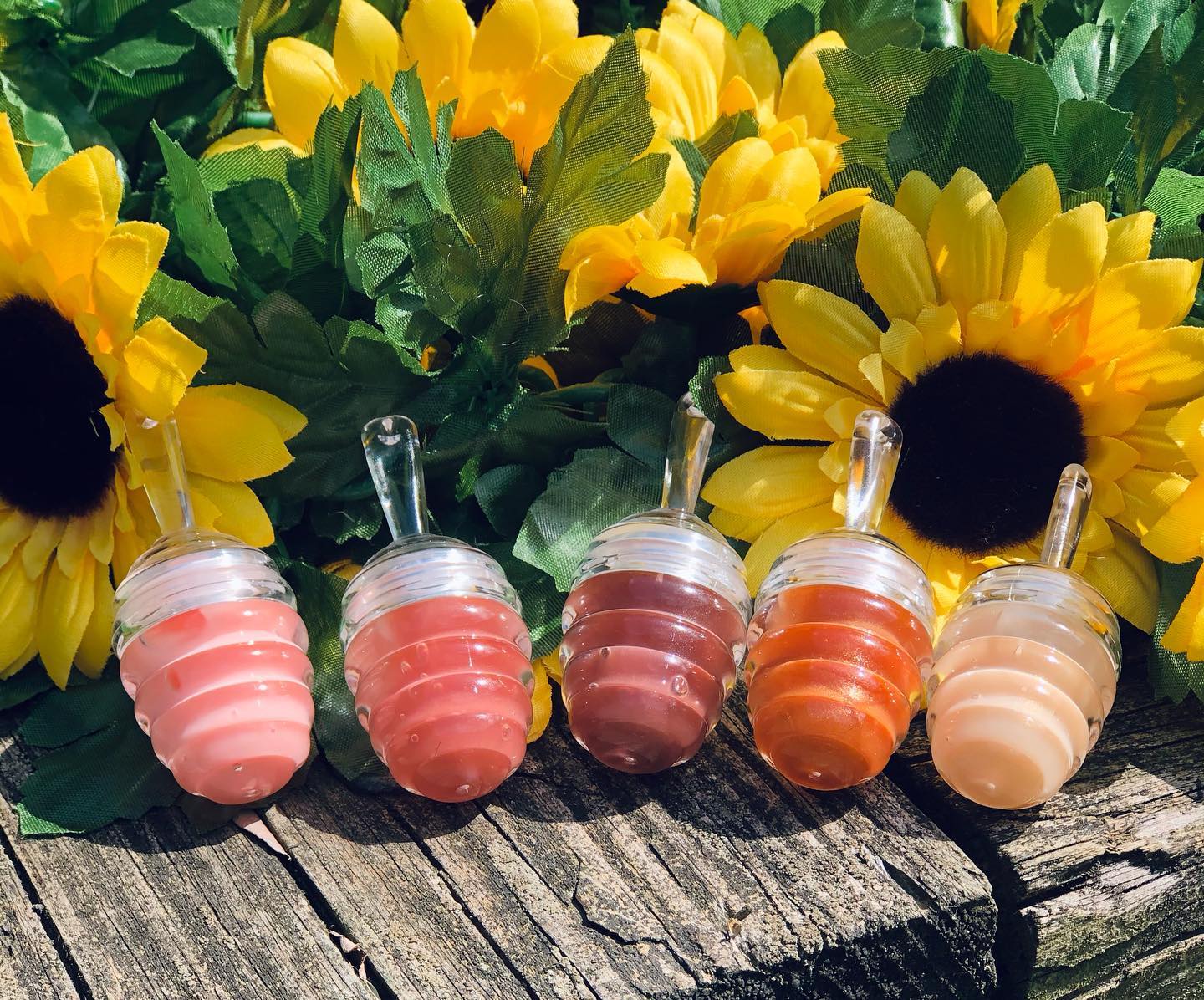 Have you EVER seen Honeycomb "yipgoss" Lipgloss? So dope...
The Manuka honey curl defining flaxseed gel is a personal favorite of many natural women who add this styling gel to their twist/braid out routines in order to enhance definition, shine and moisture of natural 3c-4c hair, but you don't need to be a 3c curly girl or a kinky-coily 4C natural to use this soft hold gel!
This natural hair gel is very versatile and can be used/added to almost every curly girl hair routine!
Please keep in mind all of these products are handmade & made to order solely by the business owner so that she can ensure that you get the utmost quality, so please be patient with their processing times! 
[RELATED ARTICLE: African black soap shampoo for hair growth]
Honey Natural Hair Leave In For Moisture To Boost Grow & Retain Length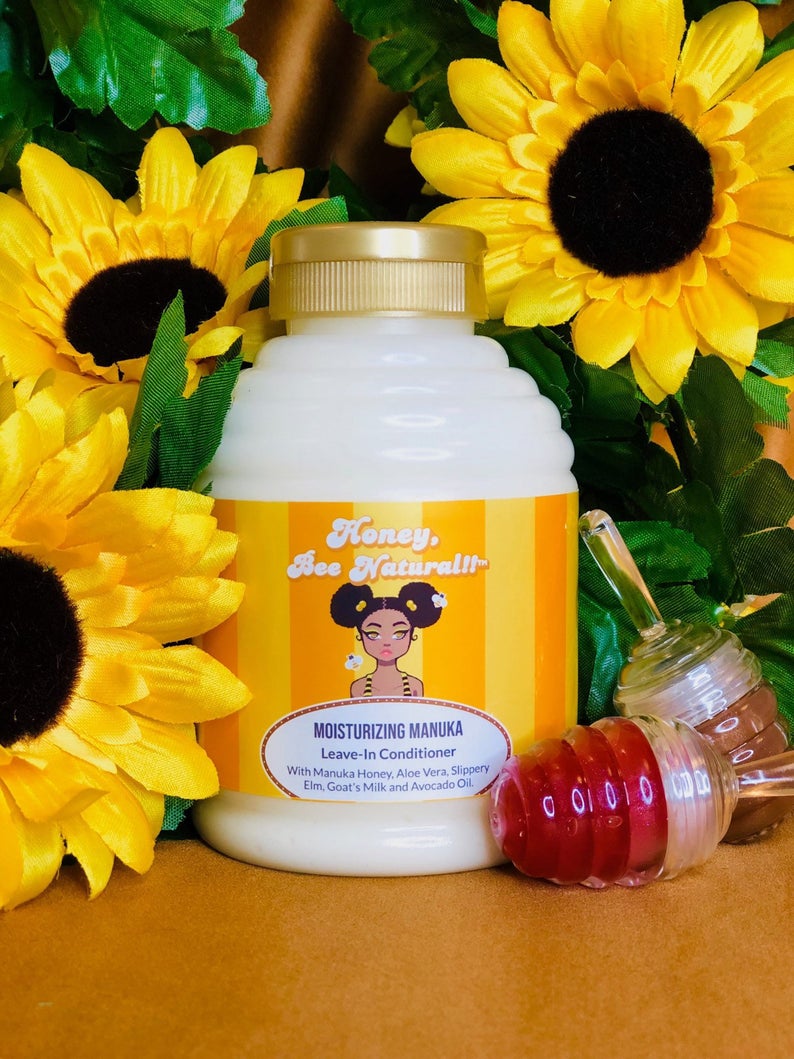 How to make your hair grow faster with honey? Stay moisturized...
Lastly, you need to lay your eyes (and then, hands) on Michaela's All-natural homemade & made-to-order Manuka Honey Natural Hair Leave-In Conditioner. One of the only complaints you'll hear about this leave-in condish is that it's often sold out.
Give this unique hair company some slack though, remember these hair beautifying products are handmade goodness, and good things go fast! 
PRODUCT DETAILS:
This honey natural hair leave-in is ultra moisturizing with great "slip" for detangling sessions.
Can be used as a regular or leave-in conditioner. For Finer hair textures, only a minimal amount is needed.
Great for added moisture after shampooing cleansing hair, or when styling.
Enriched with ingredients such as Manuka Honey, Argan oil, Slippery Elm, flaxseed and Aloe Vera Juice to promote a healthy scalp, fight dandruff, and hydrate/define curls, coils and kinks.
[RELATED ARTICLE: How To Fight Hormonal Hair Loss]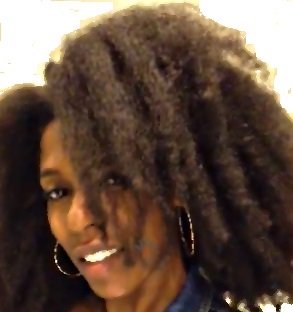 Hey sis, heyyy!
I'm Melissa Lee...
Co-founder of NHP. You'd de wise to...
TAKE DELIVERY of NHP Tutorials in your inbox for FREE!
Get EXPERT HAIR HELP at your fingertips weekly!
Let's keep in touch - sign up quickly by clicking RIGHT HERE...

Conclusion: How To Make Your Hair Grow Faster With Honey or Just Look BOMB!
Simply said….
Whether you want to know how to make your hair grow faster with honey or use it as a main ingredient in your styling products, Honey Bee Natural products has you covered.
If the product you want happens to be sold out at the time just message the product inventor through her Etsy sales page and find out when it will be back in stock.
And, I'll tell you this from experience. I've looked at products that were here today and then sold out the next day, so when your honey hair growth serum is there for the taking, throw that bad girl in your cart and get it with the quickness! Because...
When you shop with Honey Bee Natural you'll quickly find out that these products have a very loyal little fan club of their own.
And when a fresh batch of product drops, you might get your feelings hurt if you wait around too long, lol!
You've been warned sis, get on over to Honey Bee Natural hair products today. And I hope you enjoyed this "how to make your hair grow faster with honey" tutorial!
Follow Author of "How To Make Your Hair Grow Faster With Honey" Tutorial...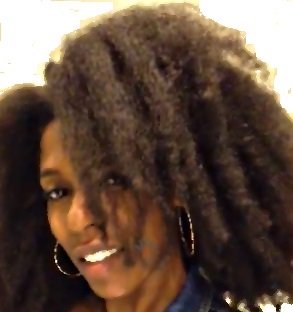 ABOUT THE AUTHOR: Melissa Lee 
Melissa Lee is a Contributing Editor to NHP and a former owner of the BlackhairOMG website. She formed 4C Trichology Growth Services, LLC., a US based hair care consultation service. She has also contributed as a writer and consultant for various hair and beauty websites. Melissa can be followed on Twitter here.
How to Make Your Hair Grow Faster With Honey

---