NHP is reader-supported. As an Amazon Associate we earn from qualifying purchases.

Black-Owned Hair Product

Companies SPOTLIGHT:



Pheme Hair Care System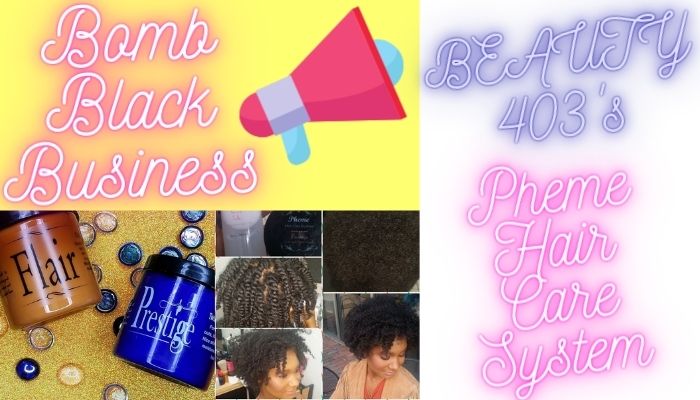 Black-Owned Hair Product Companies
Are you looking for Black-owned hair product companies that truly understand our hair, our culture and give you the absolute best ingredients to encourage healthy hair care and promote growth?
If so, you just stumbled upon a jewel! You're in the right place… AND, you'll get a discount just to encourage you to show love to this Black business...
Because as you'll see later in this article, some of these companies like Beauty 403 are ignored by the mainstream, yet, giving you the Black hair products that actually work.
And other hair product companies are faking the funk, and only appear to be Black-owned hair businesses when they are not at all. 
And hey...
Here at NHP, we like to shine light on the Black hair care businesses that don't get the privilege of being pushed 24-7 by big media as the end-all-be-all hair products, even though many of those mainstream companies aren't even trying to cater to kinky natural Black hair.
And when the big brand, mainstream companies do make products for the same Black hair that they don't even understand....
...can you really trust it will be good?
Who better to make your best edge control gel for type 4 hair than a Black-owned edge control business? You feel me?
So today, allow me to introduce you to another Black business-woman who is cut from the cloth of Madame C.J. Walker herself. And her name is Frances Armstrong…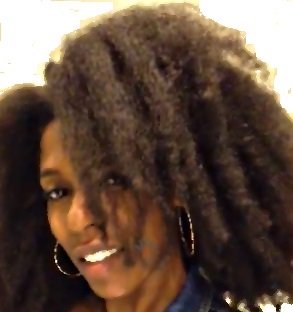 Hey sis, heyyy!
I'm Melissa Lee...
Co-founder of NHP. You'd de wise to...
TAKE DELIVERY of NHP Tutorials in your inbox for FREE!
Get EXPERT HAIR HELP at your fingertips weekly!
Let's keep in touch - sign up quickly by clicking RIGHT HERE...

Frances Armstrong's Black-Owned Hair Product Company: BEAUTY 403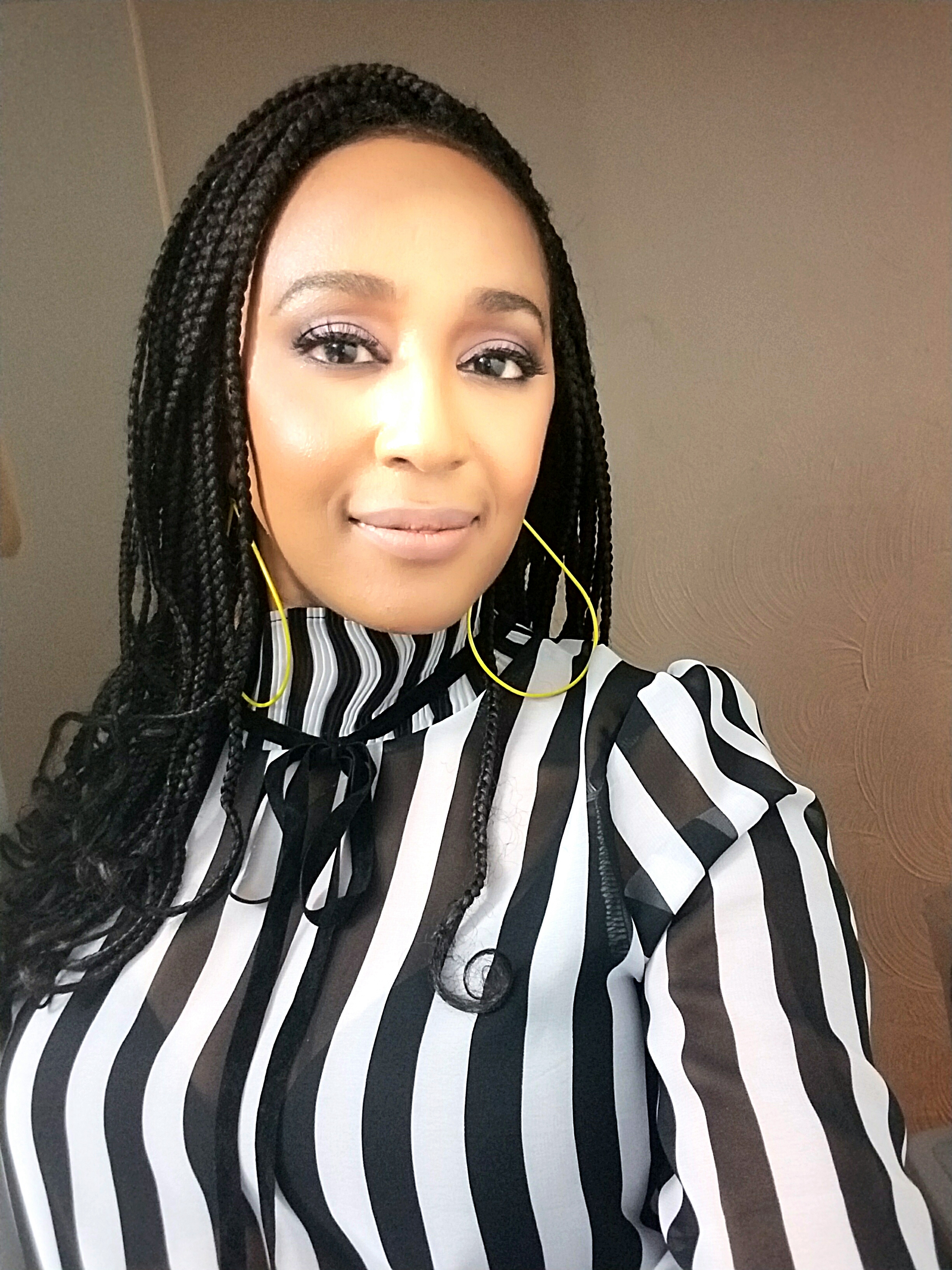 Frances Armstrong, Black-owned hair products creator.
The Beauty 403 brand was birthed from a beautiful Black mind, and because of that, many women in and out of Virginia (because they ship all across the U.S.) have been getting the specialized Black hair care that they always knew they needed, yet, couldn't find.
Created by Founder and CEO Frances Armstrong, Beauty 403 is unique even among Black-owned hair product companies, because this cosmetologist for over 20 years has made waves not only as a Black hair care line, she has a makeup line as well!
This gives Black women TWO beauty lines that are focused on providing you with high-quality ingredients that highlight your natural beauty, sophisticated style, and make it impossible not to strut with confidence.
Beauty 403's Hero Products for Healthy Textured Hair Care Are:
Made of Purely Organic Top-Notch Ingredients
Paraben-free
Sulfate-free
Extremely Hydrating
Deliciously Moisturizing
It took Frances years to develop and perfect these Black hair care products, making sure that her Pheme line had the absolute best ingredients to encourage healthy hair care and promote growth. By using Beauty 403's Pheme Black hair care products, you give your kinky-curly hair life and vitality that people will have to stop, stare, and say something about.
Beauty 403's Black business goal, from day ONE, has been to give you "The hair WORTH talking about."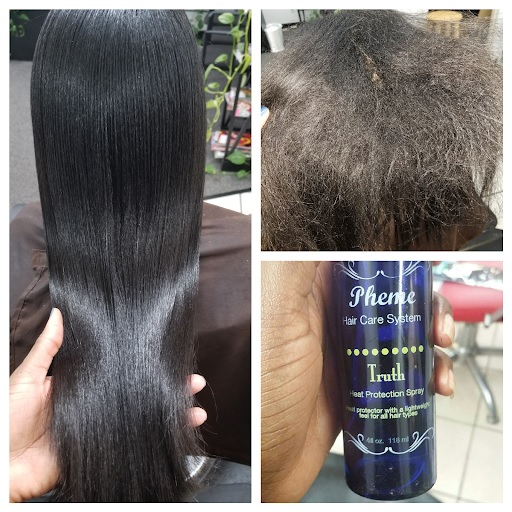 The "TRUTH" Heat protection spray - High-quality Black-owned hair products from Pheme...
All while making a contribution to the boom of Black-owned hair product companies that are pumping money and opportunity into Black communities.
Money that is beginning to circulate and create a stable base for future financial success that was almost unthinkable a few years ago. And setting the example for Black children to see.
Black-owned hair product businesses like Beauty 403 are the next generation of go-to examples for our children. The way we look back on our Black business heroes like Chris Gardner (who Will Smith Played in "The Pursuit of Happyness"), Madam C.J. Walker and Janice Bryant Howroyd.
Black-owned Hair Products List - Beauty 403's Pheme Hero Products
As I told you earlier in this article, Beauty 403 has alot more than hair products. But we'll discuss their Ella René Cosmetics makeup line in another article soon, you'll love those details.
For now though, let's take a good look at these Black-owned hair care products that you can grab today. 
Stylers and hair-health boosters: Everything from edge control for Black hair, twisting cream, scalp butter, detangling spray, heat protectant serum, hydrating conditioners and MORE!
Best Black-Owned Hair Care Products | Pheme Hair: "Flair" Curling Pudding
If you've never experienced the Pheme Hair Care System from Beauty 403, you're in for a true treat.
Especially as someone looking to buy from Black-owned hair product companies while getting your money's worth. One of the hero products is the FLAIR CURLING PUDDING.
The Flair Curling Pudding has a creamy, pudding-like consistency and is infused with hemp seed properties and amla extracts in order to provide consistent moisture and light hold without the stiffness and crunchy feel.
This curl pudding styler for Black hair works great for curly textures, kinky type 4 hair, twistouts and wash-n-go hairstyles.
Remember, these Black-owned hair products are created by a Black hair salon-owner and cosmetologist with more than 20 years of making women look and feel beautiful. Get the look you want...
Visit Beauty 403 for details and price of Pheme Flair Curling Pudding HERE.
Best Black-Owned Hair Care Products | Pheme Hair: "Prestige" Curl/Twisting Cream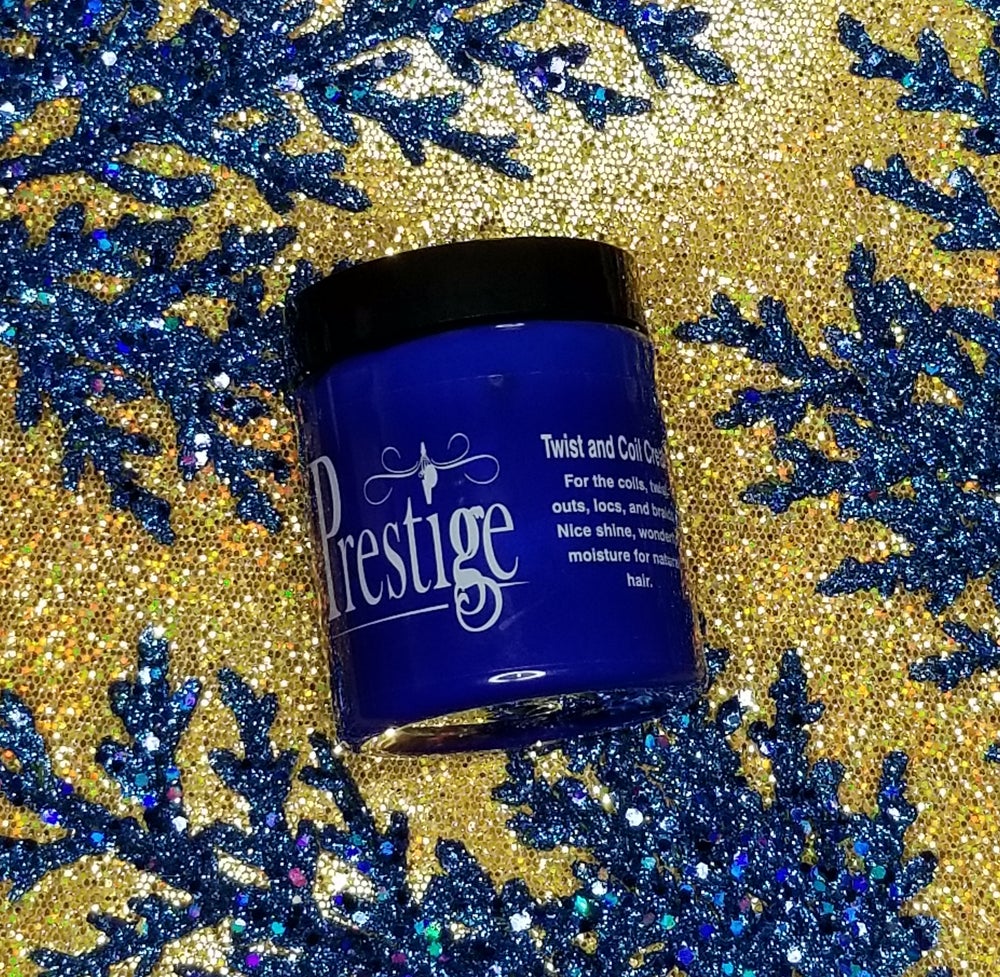 Best Black-Owned Hair Product Companies | Pheme Hair: "Prestige" Curl/Twisting Cream
Come on baaaaby, let's do the twist! Who else could understand what is TRULY NEEDED for your cutest twists styles and poppin' curls more than Black-owned hair product companies?
This Pheme Hair Care System "Prestige" twist and curl cream has a luxuriously creamy, buttery texture with shea butter, babassu seed oil, and mango butter designed to seal moisture to tight, thick, type 4 kinky-coily tresses. This Black hair care product can be used on wet or dry hair.  
Ingredients: Shea Butter, Caprylic/Capric/Stearic Glycerides, Organic Soybean Oil, Behentrimonium Methosulfate, Cetearyl Alcohol, Babassu Seed Oil, Organic Argan Oil, Pomegranate Seed Oil, Agave Nectar, Mango Butter,Murumuru Butter, Tucuma Seed Butter, Illipe Seed Butter, Lauric Acid, and Cocoa Butter.
Visit Beauty 403 for details and price of Pheme Prestige Twisting & Curl Cream HERE: https://www.beauty403.com/product/pheme-hair-care-system-prestige-curl-twisting-cream
Pheme Hair "Adore" Edge Control - Amazing Black-owned Edge Control Brand That Holds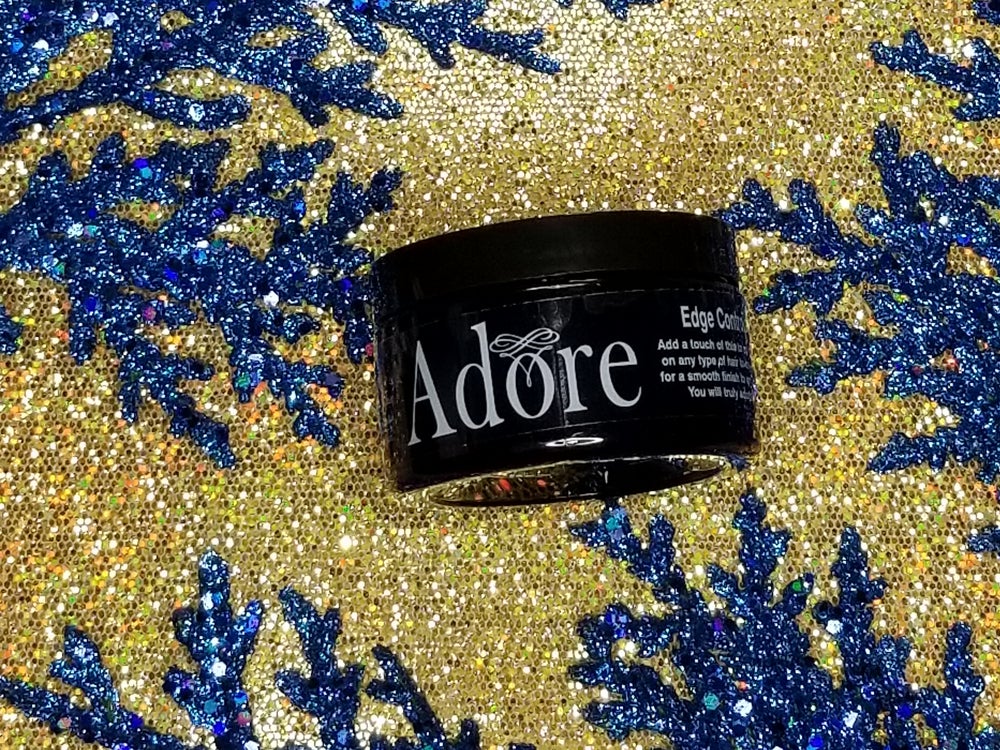 With baby hairs and frontals ruling our social feeds, the need for laid edges is a must.
While you may have some tried-and-true edge control options for slicked-down chicness, it is important to know that your go-to won't dry out and take out your hairline. Disappearing edges are not an option. 
So, what's the best edge control for Black hair? Let's turn to Black-owned edge control brands for the best solutions!
It only makes sense to turn to Black-owned hair product companies like Beauty 403 for the best edge controls for Black hair like the Pheme Hair Care System's - Adore Edge Control.
And listen:
This Black-owned edge control product not only lays your edges TO THA GAAAWDZ, it also nourishes your hairline edges.
Click through to get into some Black-owned brands that will help you keep and grow your tresses.
This edge control is one of Beauty 403's best-selling and most popular hair products for great reasons! 
I mean seriously…
Finally, a natural-based edge control that totally smoothes out stubborn edges and flyaways. It's not sticky, and it's non-flaking.
This Black-owned edge control gel works wonders for type 4 and all other hair types and adds an amazing finishing touch to any hairstyle.
The special formula gives you a moderate-hold and is infused with organic rooibos extract, organic white tea leaf extract, and organic green tea extract.
Take advantage of your super-power, your ability to share in circulating the Black dollar and buyin from Black-owned hair product companies, get your Pheme Hair Care System - Adore Edge Control HERE.
Figuring Out Which Hair Products are Black-owned and Which ARE NOT... 
Look… Supporting Black business doesn't mean you can't buy from anyone else...ever. That's not realistic.
Still, though:
It's irritating that during this time when so many Foundational Black Americans are showing our support by shopping at Black-owned hair product companies…
...we're also discovering that many hair care brands who are targeting sales to Black people are often mistaken for businesses that are 100% Black-owned. And they are not.
Some, such as Carol's Daughter, were formerly Black-owned hair product companies but then sold off to major corporations like L'Oreal.
Even the cleverly-named brands can confuse you into thinking you're buying Black-owned hair products.
For example, the "African Pride" brand belongs to a company that has always been run by non-Black people.
Ans some-dang-times, familiarity can trick us into thinking we're circulating the Black dollar within the community. For example, Is Cantu black owned?
You might believe so, because Cantu is so popular among Black women in the natural hair community. But, the answer is no. Cantu isn't actually a Black-owned hair company, although it is a fan-favorite brand and a good product.
While we're definitely not hating on these hair product brands, we feel you should know which companies are often confused for Black-owned hair product companies.
Below is a list of hair care brands aimed at selling to Black folks that are owned by non-Black people, whether as a standalone brand or as part of a major parent company.
List of Non-Black-Owned Hair Companies & Products
Check this list for businesses that you may have THOUGHT were Black-owned hair product companies...

Africa's Best
African Gold
African Pride
Aunt Jackie's
Blue Magic
Cantu
Carol's Daughter
Dark and Lovely
Doo Gro
Let's Jam
Mane Choice
Profectiv
TCB Naturals
Texture My Way
Shea Moisture
Soft and Beautiful
Sulfur8
Again, this is just information to make you an informed consumer if you're part of the growing group of people looking to make more financial transactions with Black businesses and specifically want to support high-quality Black-owned hair product companies.
Grab Black-owned Hair Accessories & Hair Tools from Beauty 403
Besides the hair care line and Black makeup line, Beauty 403 also sells some cool hair accessories and hair tools. You might have seen our article on titanium flats irons and how great they are, but have you ever laid eyes on a chic Rhinestone-coated flat iron with titanium plates? 
You gotta see it, and that bad girl is powerful too!
Beauty 403's Rhinestone flat iron can heat up to 480 degrees in 30 seconds, it has a 60 minute automatic shut off mechanism and a 360 degree swivel cord.
They tend to sell out quickly, so if it's out-of-stock now, just check back a little later.
And hey, if you're in or around the Virginia area, you can visit Frances Armstrong's hair salon! Check it out... 
Frances Also Runs One of The Best Black Natural Hair Salons in Virginia | Black-Owned & Licensed Stylists

Frances Armstrong's doesn't just run Black-owned hair product companies online. Her Salon 403, LLC is the premier boutique beauty & hair salon in Newport News, Virginia (the southeastern part of Virginia, better known as the 757 & Hampton Roads), offering you a wide range of styling services and exclusive products for your hair care needs.
This Black-owned business has licensed and experienced hair stylists who can master virtually any hair care need from haircuts, natural hair, relaxers, and color services. 
When you have big moments, they make sure you shine like the star you are on those "red carpet" days of your life.
If there's a wedding, party or event in your future — or if you're simply ready to get pampered and need a reliable stylist.
Her highly-trained staff with over 20 years experience are ready and willing to tackle all your needs with a true professional stylist who will leave you looking and feeling phenomenal. Head on in and give Salon 403 an hour of your time — you'll be glad you did!
Give this Black-owned hair & beauty salon a call today! 
Phone: (757) 595-4430
Address: 11747 Jefferson Ave, Newport News, VA 23606, USA    
Accolades: Voted "Best Hair Salon in Newport News" in 2019 by the Daily Press Reader's Choice Awards
Hair Salon Services Offered At SALON 403
- (Black-Owned Hair Business in Virginia)
At Salon 403, LLC, they offer superior-quality Beauty Salon services in Newport News, VA. — The inviting experience and personal service reminds you why it's so important to encourage good Black hair care businesses with your patronage. Everybody wins.
Here's What Salon 403 Offers:
Makeup Consultations/ Application
Haircuts
Hair Treatments
Relaxers (Virgin & Retouch)
Hair Weaving/ Extensions
Natural Hair Styling
Hair Color/ Highlights
Sets, Wraps
Updos
Cornrows/Twist/Loc Maintenance
You Know Of Any Black Owned Hair Companies That Don't Get Mainstream Attention?

Really quickly:
If you know of any Black-owned hair product companies that can't seem to get the traction or attention they need and deserve. Email us at: blackbusiness [at] naturalhair-products.com and tell me something about them.
If they are REALLY ABOUT THIS business and doing good work, we might write about them here at NHP!
Showing love to Black-owned hair product companies makes us feel like we're part of the solution for circulating dollars though the Black community...
Support Black-Owned Hair Companies - Visit Beauty 403 Today
Black-owned hair product companies were once few and far-between and that's changing because of people like you.
Folks who specifically search out and give your business to the creators and inventors of the Black community. 
Community support is the key for the circulation of the Black dollar and it's the way that the little-known Black-owned hair companies of today become the household names of tomorrow. So let's keep the momentum my people, buy Black and check out Frances Armstrong's excellent Black business today. 
Follow NHP's Editor For More Great Black-Owned Hair Products Companies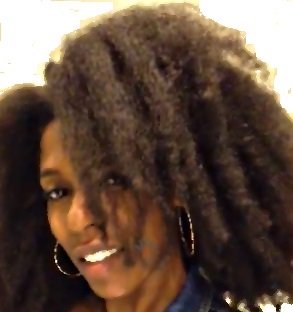 ABOUT THE AUTHOR: Melissa Lee 
Melissa Lee is a Contributing Editor to NHP and a former owner of the BlackhairOMG website. She formed 4C Trichology Growth Services, LLC., a US based hair care consultation service. She has also contributed as a writer and consultant for various hair and beauty websites. Melissa can be followed on Twitter here.

---