NHP is reader-supported. As an Amazon Associate we earn from qualifying purchases.

Protein-Sensitive Hair Products (FREE Ultimate Guide)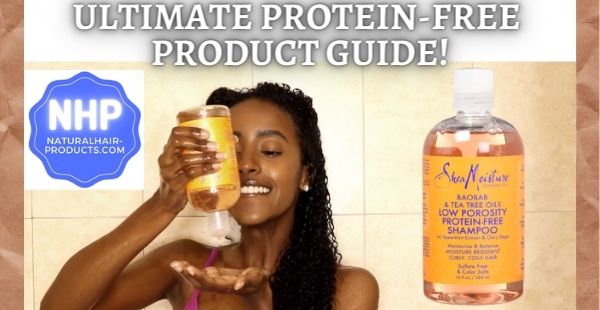 Protein-sensitive Hair Products
The rise of protein-sensitive hair products (AKA protein-free hair products) is very noticeable because women are becoming more aware of the issue of amino acid overload.
The search for premium no-protein shampoos, leave-ins, luxury deep conditioners with no amino acids and more is especially important for low porosity girls.
It's an issue that hits ladies of all races whether Black, Hispanic, Caucasion, Asian or any other... Doesn't matter if you have luscious 4C locks, type 3A or any other hair type classification.
Many women, especially low porosity honeys have bad hair day horror stories about the adverse effects after using protein treatments and protein-based products.
Protein overload has these women singing the brittle hair blues. I mean, who wants stiff hair? And sadly, many 4C hair naturals blame these issues on their bomb type 4C tresses. Nope! Still though...
To be clear: protein treatments DO serve a wonderful purpose when used correctly. Don't get it twisted...
Ya see...
Protein treatments are meant to strengthen your hair, not dry it out.
But some ladies get the raw end of the deal and end up with hair that feels like straw. If this sounds like you, you may feel as if you're "protein sensitive".
Here's what you need to know about protein sensitivity, including the best protein-free hair products for protein sensitive hair.
[RELATED ARTICLE: How To Get Your 4C Hair Routine ON POINT!]
Protein-Free Hair Products - Why Use Them? 
Even though everyone's hair needs protein, it's crucially important to have a protein-moisture balance for healthy, happy hair.
The ugly truth is that if your hair has protein overload, it can cause more harm than good.
That's because a lot of hair products are not protein-sensitive hair products and are formulated with some form of protein. 
So by the time you've added the shampoo, deep conditioner, leave-in conditioner, styling product, gel, and serum to your wash day, you may end up loading way too much protein onto your hair without knowing. 
Instead, for protein sensitive hair situations you should look to use protein-free hair products until your hair bounces back to health and is no longer protein sensitive. 
Before we get to the protein-free hair products list, let's define what TRUE protein sensitivity is...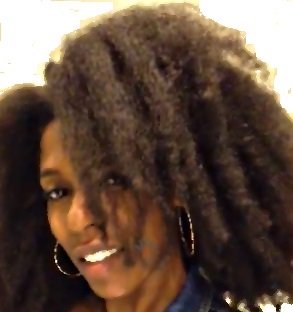 Hey sis, heyyy!
I'm Melissa Lee...
Co-founder of NHP. You'd de wise to...
TAKE DELIVERY of NHP Tutorials in your inbox for FREE!
Get EXPERT HAIR HELP at your fingertips weekly!
Let's keep in touch - sign up quickly by clicking RIGHT HERE...

What Is Protein Sensitivity?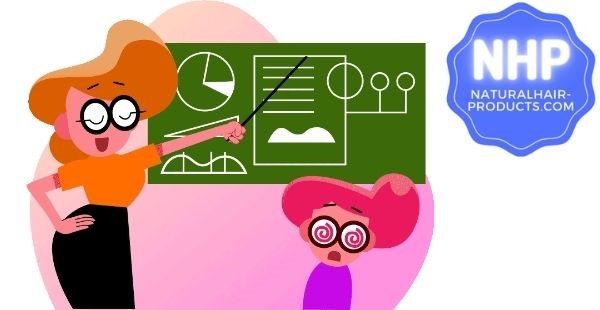 Protein sensitivity is evident when your hair has an adverse reaction to protein-based leave-in and wash-off products. Many low porosity naturals, and type 4A-4C hair honey's with coarse hair, are also protein sensitive.
Here are some common warning signs of protein sensitivity that should cause you to seek protein-sensitive hair products.
You have have brittle dry hair prone to breakage
You get excessive frizziness
Lesions or bumps at the scalp
Your has has problems holding hydration 
Now technically-speaking, since your natural hair is made up of proteins, it's impossible for hair without product overload or product damage to be protein sensitive as a natural.
The problem is actually a symptom of what we (or our stylist) have done incorrectly in our hair care regimen. Usually that means overloading our hair with too much and/or the wrong protein types.
A key step to avoiding "protein sensitivity" is to understand the ingredients of the products we use and to use the right type of proteins in our hair and the right amount to make sure we don't experience any of the common protein sensitivity problems.
Generally speaking, smaller-sized proteins such as hydrolyzed wheat protein, as well as amino acids and peptides work best to avoid developing protein-sensitive hair, because these substances actually penetrate into the hair follicles, supporting the native proteins in the cortex.
[RELATED: Which Gorilla Snot Gel Is Strongest & Good For 4C?]
How To Determine If YOU'RE Protein Sensitive & Need Protein-Sensitive Hair Products...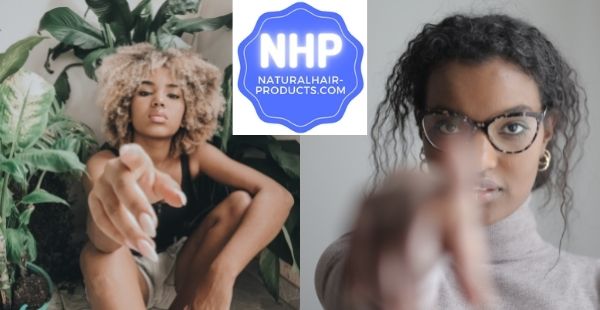 The best way to know if you are protein sensitive and need protein-sensitive hair products is to do a patch test.
Take a small section of hair near the back of your ear, where hair is more hidden, and apply a protein treatment for 20 minutes.
After that, wash the protein treatment out and observe how your hair reacts. If your hair looks dry and limp, you have protein sensitive hair that will likely suffer split ends and breakage.
If this is the case, protein-sensitive hair products are a major step in the right direction. Protein-free hair products won't add to the protein build-up that causes so many problems.
So take a look at this NHP of the best protein-free hair products...
Protein-Sensitive Hair Products List - Break Free From Breakage!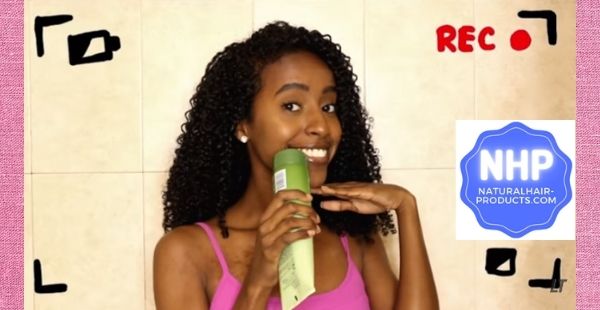 I compiled a list of protein free products for women who suffer from protein sensitivity. Please share this NHP Ultimate Guide with anyone suffering from protein sensitivity, women with very low porosity hair could benefit as well...enjoy! 

Protein-Free Clarifying Shampoos Products


Curl Junkie Curl Assurance Gently Cleansing Shampoo
Eden Body Works Coconut Shea All Nature Moisture Shampoo
Kinky Curly Come Clean Moisturizing Shampoo
Bee Mine Botanical Moisturizing Shampoo
Miss Jessi's Super Slip Sudsy Shampoo
Protein-Free Deep Conditioners Products



Earthtones Naturals Curl Condition Hydrating Conditioner
CURLS Coconut Sublime Organic Conditioner
Shea Moisture Raw Shea Butter Deep Treatment Masque
Obia Naturals Babassu Deep Conditioner
Cantu Shea Butter Natural Hair Deep Treatment Masque
Protein-Sensitive Conditioners Products



Curl Junkie Curl Assurance Smoothing Conditioner
Baobab & Tea Tree Oils Low Porosity Protein-Free Hair Conditioner
Protein Free Leave In Conditioner Sprays/Daily Hair Sprays/Daily Moisturizer Spray Products



The Mane Choice Tropical Moringa Daily Restorative Spray
Creme of Nature Argan Oil Perfect 7 Leave In Conditioner
Protein-Sensitive Curling Mousse Products



Herbal Essence Flexible Style Mousse

Herbal Essence Totally Twisted Curl Boosting Hair Mousse
Herbal Essence Set Me Up Mousse
Loreal Studio Upward Spiral Mousse

[RELATED ARTICLE: See a Bomb 4C Hair Styling Mousse From a Black Business!]
Protein Free Detangler Product (Mix w/ Water & Make DIY Protein-Sensitive Detangling Spray!)



 **Mix with water and spray away!
Protein-Free Curling Creams Products



Camille Rose Naturals Almond Jai Twisting Butter
Lotta Body Moisture Me Curl and Style Milk
As I Am Twist Defining Cream

Anita Grant Define and Curl Soft Hold Gel
Curls Creme Brule Whipped Curl Cream
Kinky-Curly Curling Custard
Curl Dynasty Twisted Definition
Jane Carter Solution Curl Defining Cream
Protein-Free Hair Growth Vitamins Products



The Mane Choice Vitamin
Hairfinity Healthy Hair Vitamin
Hairburst Chewable Hair Growth Vitamins
Nature's Bounty Hair Skin and Nail Pills
Ingredients To Avoid

When Buying Protein-Free Products for Sensitive Strands

Sometimes you'll think you've found protein-sensitive hair products because the ingredient names throw you off a bit.

Fact it, there are different types of protein sources that hair product companies can source proteins from.

To help simplify things, here's a quick list of popular proteins found in natural hair products you need to watch out for:
Amino acids
Hydrolyzed keratin
Hydrolyzed oat flour
Hydrolyzed silk

Hydrolyzed silk protein

Hydrolyzed soy protein
Hydrolyzed wheat protein
Hydrolyzed collagen
Quinoa protein
Rice protein
None of these ingredient will be in protein-sensitive hair products. Protein-free hair products should not have the word "amino" anywhere in the ingredient list.
Why Protein-Sensitive Hair Products Aren't As Needed By High Porosity Hair Honeys
Your hair porosity dictates the ability of your hair strands to receive and absorb water and/or water-based hair products.
If you have high porosity hair you probably don't need protein-free hair products. In fact you likely need products that ADD protein to your hair because the cuticles are far more open.
BTW, highly open pores aren't a good thing because it is difficult for high porosity hair to retain moisture which can cause gaps and breaks along the cuticle layer.
High porosity hair honeys should avoid protein-free hair products and instead opt for protein-based products as they will fill in cuticle gaps and increase moisture retention.
On the other hand, low porosity natural hair has a low absorption rate, because the low porosity hair cuticles are stubbornly closed, making it difficult for low porosity hair types to absorb water and hydration from hair products. 
This is why we see more and more protein-free conditioners for low porosity hair on the market.
Low porosity hair has tighter cuticles which means that nutritional and moisturizing ingredients in your hair products will take longer to enter and absorb the strands.
When you use hair products with too much protein in them, you can experience hair that turns out feeling hard and tough. It truly helps to grab protein-free products for low porosity hair.
If you are a low porosity girl, you'll want to limit the use of proteins and protein-like molecules, such as coconut oil, which create a film barrier around the hair strands.
And on the limited occasions when a protein treatment is due, the best type to use are small-sized molecule proteins, protein treatments like hydrolyzed wheat protein have very small-sized molecules that more easily enter hair cuticles.
After your protein treatment be sure to regularly apply leave-in products containing little to no protein/protein-adjacent ingredients.
[RELATED ARTICLE: Best 4C Hair Protein Treatments...]
FAQS: Do Caucasian's Get Hair Protein Overload Or Is It Ethnic?
ANSWER: Yes, Caucasians get hair protein overload as well because this is not a hair problem that's limited to any particular race. Protein overload has more to do with overuse of protein-laden products on low porosity hair. Like Michael Jackson said, "It doesn't matter if you're Black or White…".
Product build-up and overload is also much more likely to cause problems on low porosity hair which is a condition that Caucasians deal with just like everyone else. So, protein-sensitive hair products are great for all races!
FAQS: What's The Best Protein Free Shea Moisture Products?
ANSWER: One of the best protein-free Shea Moisture products is their Baobab & Tea Tree Oils Low Porosity Protein-Free Conditioner. This lightweight protein-sensitive hair conditioner product softens and improves manageability. This Shea Moisture product is ideal for low porosity, protein-sensitive kinks, curls and coils that resist essential moisture.
It's infused with fast-absorbing Baobab and Tea Tree Oils, Spearmint and Clary Sage to promote scalp health, and enriched with some of the best certified organic Shea Butter to deliver balanced, nourishing hydration where hair needs it most.
It also provides lasting moisture to types 1A-to-4C hair without surface protein build-up.

Enjoyed This Free Protein-Sensitive Hair Products Tutorial?
I hope you learned from and liked this free NHP protein-sensitive hair products tutorial!
If you want more free NHP content about the best natural hair products and private product discounts for the NHP-Hive just sign up for our free email newsletter!
We have tons of 3C-4C hair tips (mostly type 4C) and treats for natural hair honeys - Join the NHP-Hive and find out about all of the newest protein-sensitive hair products as we learn about them!
Follow Author of Protein-Sensitive Hair Products Article...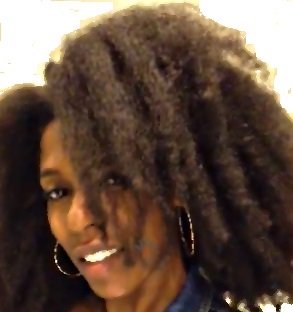 ABOUT THE AUTHOR: Melissa Lee 
Melissa Lee is a Contributing Editor to NHP and a former owner of the BlackhairOMG website. She formed 4C Trichology Growth Services, LLC., a US based hair care consultation service. She has also contributed as a writer and consultant for various hair and beauty websites. Melissa can be followed on Twitter here.

---