NHP is reader-supported. As an Amazon Associate we earn from qualifying purchases.

Mousse for 4C Hair [BEST For Natural Black Curls]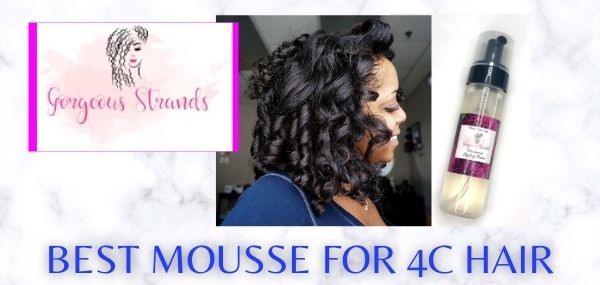 Are you looking for the best mousse for 4C hair? You aren't alone sis, and NHP has what your natural Black hair needs
(PLUS a special discount code on the best foam styler mousse below).
You see:
Mousse — or setting foam as some call it — has grown in popularity with the natural hair community over the years.
Although there are plenty of natural hair kinky-curly cuties who choose to use styling mousse — like this Macadamia oil styling foam mousse for 4C hair—  there are still some natural-haired honeys out there that aren't sure if mousse styling foam is even something that they should or could use on their African-textured mane.
After today though, that will no longer be a question. Here's how to know if using a mousse will be right for your type 4A-4C hair.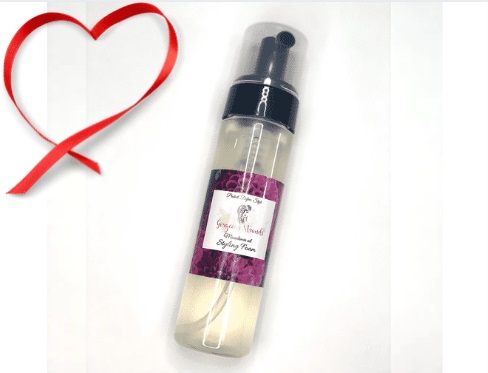 Use special discount code NHP10OFF for 10% OFF of your ENTIRE ORDER at GorgeousStrands.shop

Best Mousse For 4C Hair Benefits
There are plenty of reasons why you should invest in good mousse for 4C hair. Take note, I said a GOOD mousse. Quality of product always makes a difference in whether your look and final results are good or frizzy trash-nicity.
Using the best mousse for frizzy natural Black hair can instantly revive dull-looking strands and enhance their curl definition. The best mousse for 4C hair products also control frizz on hair without adding major product buildup on top of other products.
Although products like Macadamia Oil styling foam mousse for 4C hair can be used on ALL hair types, from straight fine hair to coarse deep curly hair without making it crunchy, it's made by a Black business who understands the needs of Black hair. 
Isn't it nice to be catered to by a hair product company? There are so many benefits for type 4C hair honeys when dealing with a brand like Gorgeous Strands!
You can use their Macadamia Oil styling Foam mousse for your wash and go, twist outs, roller sets, flexi-rod sets, and so forth. If you have high porosity hair, combining a mousse and a cream or gel like Mango Butter Curling Jellie may help you retain moisture in your hair.
The problem with some foam stylers is that the mousse tends to be too drying to high porosity hair especially if it contains alcohol. Thankfully, Macadamia oil styling Foam mousse for 4C hair has NO ALCOHOL in it. 
Quick PRO TIP: For wash-n-go styles mousse is best applied to damp (not wet) hair.
However, for twist hairstyles, you can use mousse foam directly on your dry hair. You can also use it on dry hair if you want to redefine your kinks and curls.
One more great benefit of mousse for 4C hair is that it gives you apply it from roots to ends to fight frizz on overly frizzy hair. Also, it's super easy and economical to use, has great coverage, and can be layered on with other hair products without weighing down your 4C hair. 
And if you are wondering about flaking and residue, the best mousse for 4C hair products on the market leave none of that on your 4C crown.
This is attributed to its airy light texture. To sum it up, the benefits of mousse for 4C hair include: 
Adding shine, bounce, and volume
Fighting frizzy hair
Helps in moisturizing and nourishing hair
Heat protection
Kink & curl definition
Creates lift
Helps you enjoy versatile hairstyles
Join NHP-HIVE and get sent our info-packed, down-to-earth & sometimes funny NHP hair tutorials by email. SIGN UP HERE...
Finding Best Mousse For Curly Hair That's Not Crunchy Is Easier… 
Many hair mousses made by true Black-owned businesses are different than those sold by mainstream companies who target a different demographic. 
Long gone are the days that every mousse available to you wasn't made for your hair type, resulting in your hair being left crunchy and stiff.
Now, we can find the best choices of mousse for 4C hair that are easy to apply, lessens frizzy hair, can provide good coverage and hold on its own or serve as the base to other great 4C hair products being used on top of it.
If you're looking for definition and a light hold in one, Gorgeous Strands' Macadamia Oil styling foam mousse for 4C hair could work wonders for you. 
Most people don't think of mousse for 4C hair as their go-to product when searching for definition and hold, but with the right styling foam product, you can get just that.
From a wash-and-go to a twist out, the best mousse for frizzy natural Black hair can help you achieve the look you're going for without compromising hold. 
Warning though, although you can use styling foam to re-do a twist out on dry hair or touch up the definition of your curl pattern, not even the best mousse for 4C hair would be the best product choice if you need to replenish your moisture day-to-day.
It's not to be used as a daily moisturizer. It's the styling power & versatility that you want….
One of the reasons that Macadamia Oil styling foam mousse for 4C hair is one of the best choices of mousse for 4C hair kinky-curly hair is that it's not crunchy because of the superior ingredients, check them out…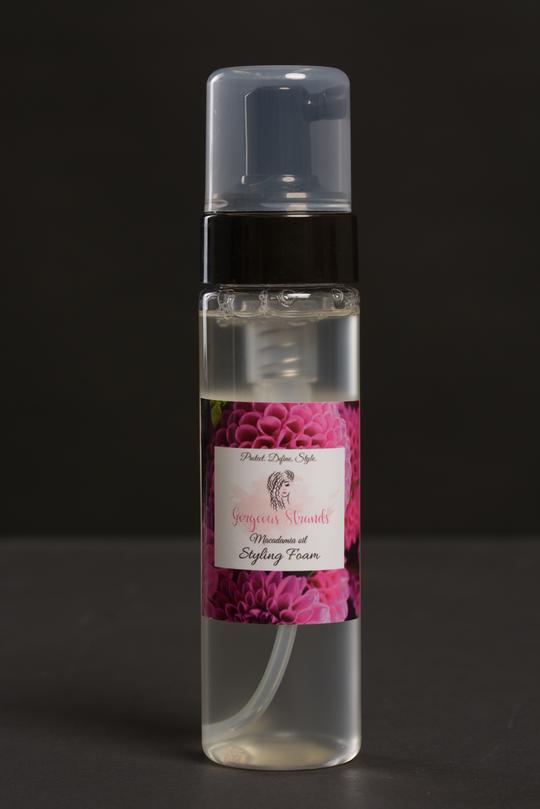 Mousse for 4C Hair INGREDIENTS From Gorgeous Strands Make The Difference!
The best foam mousse products for 4C curly hair that does not get crunchy are made with premium products.
The simple fact that Gorgeous Strands uses one the most expensive and luxurious nuts that money can buy as an ingredient for their premium Macadamia oil styling foam mousse truly explains why it gives you such shiny curls, sets and twists!
Ingredients list:
Ingredients: Aqua (Distilled Water), Aloe Barbadensis Leaf (Aloe Vera) Juice, Cocamidopropyl Betaine, Hydrolyzed Wheat Protein, Polyquaternium-10, Macadamia Ternifolia (Macadamia Nut) Oil*, Helianthus Annuus (Sunflower Seed) Oil*, Citrus Paradisi (Grapefruit) Oil*, Fragrance, Phenoxyethanol.
[RELATED ARTICLE: Is coconut oil bad for permed hair?]
How To Use Best Mousse For Frizzy Hair & Type 4C
So, here's how to use the best mousse for frizzy hair & type 4C natural Black hair…
Instructions: Apply to freshly cleansed hair and set, twist or braid as usual. Foam can also be used for wash-and-gos for those who have fine hair or those that have curls that need lighter products! Provides high shine and a soft hold!
Since it's imperative that those with Type 4A-4C hair pack on the moisture, the mousse styling foam should be applied after your moisture foundation has been built. Fortunately, for naturalistas who are fans of hydration and moisture, this Mango Butter Curling Jellie from Gorgeous Strands was created to moisturize 4C Black natural hair types and textures. 
And what's even better…
...is that the Mango Butter Curling Jellie gives you extra hold on your sets, just apply a small amount of all over your strands before setting with Macadamia oil styling foam mousse for 4C hair!
[RELATED ARTICLE: SEE 37+ Protein-Sensitive Hair Products!]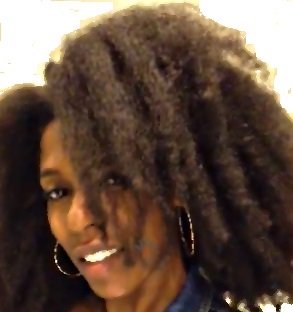 Hey sis, heyyy!
I'm Melissa Lee...
Co-founder of NHP. You'd de wise to...
TAKE DELIVERY of NHP Tutorials in your inbox for FREE!
Get EXPERT HAIR HELP at your fingertips weekly!
Let's keep in touch - sign up quickly by clicking RIGHT HERE...

Grab The Best Mousse For Natural Black Hair Today!
Macadamia Oil styling Foam mousse for 4C hair is an amazing option from a BOMB Black-owned business. 
It only makes sense to look amazing as your pay-off for supporting Black businesses who understand our hair because it's THEIR HAIR too!
Gorgeous Strands is proud to have formulated one of the best foam mousse products for 4C hair.
If you have type 4C natural Black hair, frizzy hair, or want a product for your kinky-curly hair that doesn't make it feel crunchy, go to Gorgeous Strands website and enjoy the benefits from the best mousse for 4C hair they have waiting for you. This styling mousse also works on fine and wavy hair as well!
Do you prefer softer styles without compromising shine and hold? Well, this styling foam mousse for 4C hair is your answer! Soft curls and amazing hold!
Long lasting shine
Great style hold
Works well on Men, women and gentle enough for children!
Macadamia oil reduces frizz to help your style last longer!
Smells great
Organic ingredients
Use special discount code NHP10OFF for 10% OFF of your ENTIRE ORDER at GorgeousStrands.shop

Follow Author of Mousse for 4C Hair Article...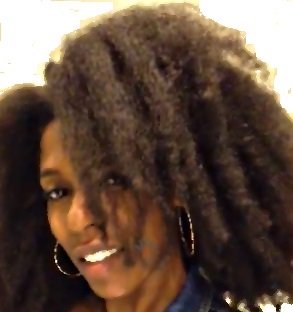 ABOUT THE AUTHOR: Melissa Lee 
Melissa Lee is a Contributing Editor to NHP and a former owner of the BlackhairOMG website. She formed 4C Trichology Growth Services, LLC., a US based hair care consultation service. She has also contributed as a writer and consultant for various hair and beauty websites. Melissa can be followed on Twitter here.

---