NHP is reader-supported. As an Amazon Associate we earn from qualifying purchases.

Is Peppermint Oil For Low Porosity Hair Good? [Or REALLY BAD!]
Peppermint Oil for Low Porosity Hair
I'm sick of y'all! LOL! Don't ask me about peppermint oil for low porosity hair NO MO! (After this super-dope NHP tutorial, ofcourse)
You know I won't leave you hanging when you want answers.
So look:
Determining which hair oil is best for low porosity hair  aint easy or without its challenges. That's why you'll see links to other NHP articles for bomb hair oils for low-po hair sprinkled into my content below.
The key in selecting an oil that is best for low porosity hair has everything to do with choosing an oil that can penetrate the cuticle.
Low porosity hair is notorious for its tightly closed cuticles, making it extremely difficult for water and other solutions to enter or exit.
Therefore, finding a hair oil or serum that will not merely "bead up" or sit on top of the hair, weighing it down, is not without its challenges.
Common problems that you might encounter as someone with low porosity hair is being prone to product build-up, and it doesn't matter if your have 3C, 4C hair or anything in-between.
The low porosity hair issues apply equally across the whole-dang-board.
Why Should You Use Peppermint Oil for Low Porosity Hair & On Scalp?
There is a lot of chatter in the natural hair community about the powerful effects of peppermint oil on your scalp, but is it the best oil for low porosity hair? Pure peppermint oil is an extract of the peppermint plant Mentha Piperita. This oil contains a high level of menthol.
Peppermint oil is known for its powerfully refreshing scent. However, aside from its refreshing fragrance, peppermint oil has a wealth of uses in today's skin and hair care products.
There are multiple reasons hair care companies elect to include this essential oil in their products for various hair porosity types.
For example, when combined with other oils such as castor oil, jojoba, or grapeseed oil, peppermint oil often acts as a rejuvenating solution.
Let's take a closer look at the benefits of using peppermint oil on low porosity hair.
[RELATED ARTICLE: Best DIY deep conditioner for low-po hair regimen...]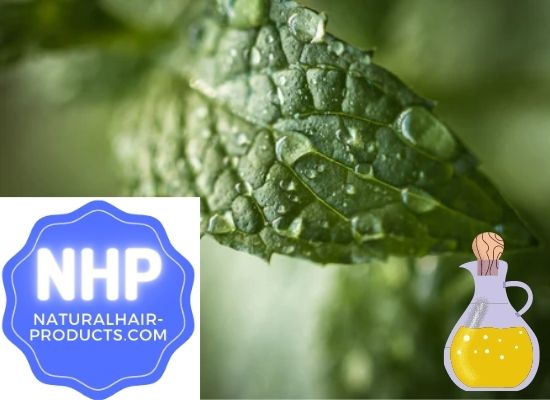 Peppermint Oil for Low Porosity Hair Creates pH Balance
One critical factor in growing healthy hair is establishing a healthy pH balance for your hair and scalp.
Peppermint oil contains the necessary properties to create pH balance, which also helps normalize your hair cuticle and create an atmosphere accepting moisture.
The optimal balance for hair is between 4.5 and 5.5 pH. An acidic environment can cause your cuticles to shrink, while an alkaline environment can help to open your cuticles.
[RELATED ARTICLE: Is Cantu good for high porosity hair...]
Peppermint Oil for Low Porosity Hair: Antimicrobial Agent
Healthy hair, no matter its porosity, starts at the scalp level.
Healthy hair demands a healthy base, and a healthy base can only exist with cleanliness.
Peppermint oil for low porosity hair assist greatly in this natural hair journey MUST because it's an antimicrobial agent that fights harmful bacteria that could cause hair loss and scalp issues.

Peppermint Oil for Low Porosity Hair: Promotes Hair Growth
OK NHP Hive! Peppermint oil for low porosity hair has becaome a hot topic lately because...
...the health-boosting products and essential oils you choose for your hair can make or break your natural hair care regimen.
For example, peppermint oil can help to boost natural hair growth thanks to its capacity to increase blood flow circulation at the scalp level.
And look:
Don't ever think that you can minimize the importance of consistent blood flow to the scalp region.
Constant blood flow helps to carry vital nutrients that stimulate follicular activity and keeps the risk of thinning hair at bay.
Several users of peppermint oil who suffered hair loss along their edges report positive results within a few weeks of initiating the regimen. 

Peppermint Oil for Low Porosity Hair: Provides Scalp Relief
Another positive aspect of adopting a low porosity hair care regimen that incorporates peppermint oil is the overall relief that peppermint oil brings to the scalp.
If you are battling scalp irritation, dryness, or flaking, peppermint oil can provide an overwhelming sense of relief.
Peppermint Oil for Low Porosity Hair: Strengthens Strands
Peppermint oil strengthens natural hair. As previously noted, it creates the perfect environment for moisture acceptance and retention, helping to improve the quality and elasticity of natural hair that might otherwise be brittle or prone to breakage or gnarly split ends.
[RELATED ARTICLE: Is Castor oil good for low porosity hair or nah?]
Side Effects When Using Peppermint Oil For Low Porosity Hair?
While rare, peppermint oil for low porosity hair side effects may occur when peppermint oil is applied to the skin without any carrier oil.
You should test the oil on a small patch of skin (such as the inside of your wrist) before applying to more delicate areas (i.e. the scalp). If you do experience irritation, the most common signs include:
Burning/stinging
Redness
Itching
Flushing of the surrounding skin
And as we talked about earlier peppermint oil for low porosity hair has growth-promotion benefits and clinical studies show that peppermint oil promotes hair growth without toxic signs.
How to Use Peppermint Oil for Low Porosity Hair
Are you ready to get started? Great! For best results, you will want to start out using peppermint oil daily on your scalp.
Remember to ensure you apply peppermint oil diluted with a carrier oil such as castor, jojoba, coconut, or grapeseed oil to ensure it does not harm your scalp or skin.
Undiluted peppermint oil can cause you to experience a burning sensation or cause a bit of irritation. So if you don't want to feel the sizzle, be sure you get your mix on as if you were a funky fresh DJ at a 90's hip hop party. Dilute that bad girl before applying!
After that:
Massage peppermint oil into your scalp. Other options including adding three to four drops of peppermint oil to your favorite hair care products like hair conditioners.
You can use it as a deep conditioning agent to add to your better deep conditioner products, which will support your efforts to grow thicker, healthier hair.
Wrap Up: Peppermint Oil For Low Porosity Hair? Yay or Nay...
Is peppermint oil good for low porosity hair? Answer is yes, peppermint oil is good for low porosity hair as it helps balance the pH of hair making moisturizing low porosity hair easier.
Alkalinity helps hair cuticles to open while acidity crosses the cuticle, peppermint oil for low porosity hair will balance the hair pH at 4.5-5.5 to normalize the cuticles. Peppermint oil will also help promote the growth of the low porosity hair as well as work to control dandruff.
Peppermint oil for low porosity hair is a valuable oil that not only helps to increase the opportunity for hydrating low porosity hair, it's also an excellent essential oil that helps to create a healthy environment to promote healthy scalp which is important for preventing unnatural hair loss.
It can relieve scalp conditions with consistent use, minimize the risk for the growth of bacteria or microbes that can lead to hair thinning or hair loss, and strengthen your hair so that it can withstand your daily styling rituals.
If this NHP hair tutorial taught you something - we got more of the goods sis!
Check out my super-dope article about avocado oil for low porosity hair...
Follow Author of "Is Peppermint Oil For Low Porosity Hair Good?" Article...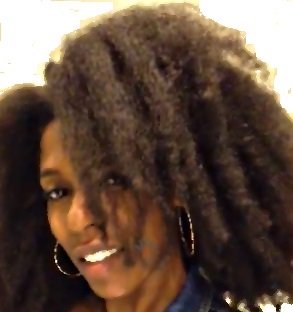 ABOUT THE AUTHOR: Melissa Lee 
Melissa Lee is a Contributing Editor to NHP and a former owner of the BlackhairOMG website. She formed 4C Trichology Growth Services, LLC., a US based hair care consultation service. She has also contributed as a writer and consultant for various hair and beauty websites. Melissa can be followed on Twitter here.

---