NHP is reader-supported. As an Amazon Associate we earn from qualifying purchases.

Are Olaplex Reviews Bad For Good Reason? [THE TRUTH]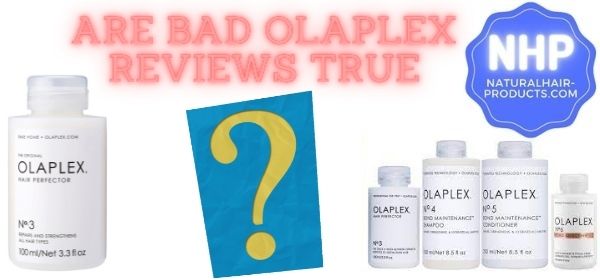 Bad Olaplex reviews??? Is Olaplex breaking hair off? What?!?!
Look:
It's no secret that Olaplex, especially #3, has TONS of positive reviews and is seen by many women as the holy grail for your hair.
STILL:
There's no denying that we can also find hundreds of negative reviews.
Many of these women show before and after photos and say that this product has destroyed their hair with breakage at the roots and chunks of hair breaking off (could this be from overuse?). 
Others claim that it makes their hair so dry that they can't get a brush through it. I've also seen many that say it did nothing at all and had no effect, positive or negative.
How is there such a dramatic discrepancy between five-star reviews ("Olaplex transformed my hair into silk") and disastrous reviews (half my hair broke off!)?
Well, if bad Olaplex reviews have you scared NHP has some comforting news for you!
So if you're wondering "Is there a specific hair type that Olaplex 3 is intended for?", or "Any hair types that should stay away from this product?"
We have your answer….
If you're wondering if Olaplex is truly meant for damage, split ends, and hair repair. You'll get answers RIGHT NOW.
[RELATED ARTICLE: See NHP's Favorite Curly Hair Products List…]
Are Olaplex Reviews Bad Because Of Unrealistic Expectations?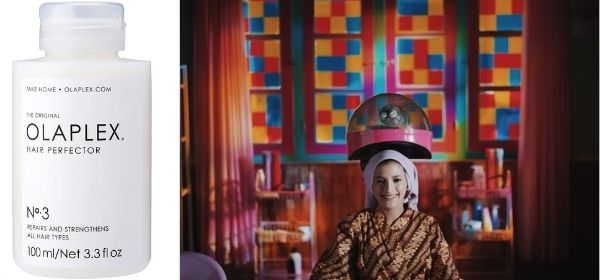 Some who leave bad Olaplex reviews may not want to hear this but...
...many professional stylist who use the product will tell you that Olaplex is not a CURE ALL, and that no product can "permanently" repair damaged hair.
Olaplex is a product that requires continuous and correct use to see continuously good results. It's best use as a preventative with the salon-level suite of products.
That being said - there are so many good reviews of Olaplex and their suite of products because many women take the time to learn how to best use them before applying. 
You MUST NOT try to use Olaplex 3 as a replacement for your moisturizing hair masks - only as an additive, or you'll quickly learn that it doesn't actually return any moisture to your hair in any significant way.
When using Olaplex as designed this product isn't likely to cause hair breakage or exacerbate existing damage.
[RELATED ARTICLE: Is Olaplex Curly Girl approved?]
Is Olaplex Breaking Hair Off? Here's a Reason Why...
Many who suffer from Olaplex breaking their hair off are dealing with an overdose of protein.
Protein is important and vital for hair health in the proper amounts, over-saturation of protein can certainly cause your hair to become very brittle and more prone to hair breaking off. 
For example, some reviewers have made the mistake of doing the Olaplex 3 step treatment twice in one week! Are some Olaplex reviews bad because of this type of mistake, the answer is yes.
This type of overuse of Olaplex 3 is overkill for sure unless your hair is like melted goo because of such a huge lack of protein bonds. In which case, the hair would be breaking off either way.
But there are some solutions to Olaplex overuse… Let's discuss.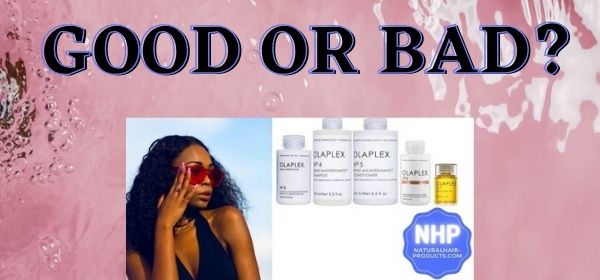 Olaplex Overuse a Problem? Here's How To Recover
Olaplex overuse is a major problem for some and can be a reason for Olaplex breaking hair off when it doesn't have to. Proper use is the key.
So look:

Don't use Olaplex (or any protein treatment) every time you wash your hair.

Product build up is real and your hair isn't going to cleanse itself. 

Using an Olaplex treatment every time you shampoo is a waste of product and will leave your hair feeling lanky… so don't overuse it.

If you've already suffered from Olaplex overuse…

…do this to recover before deciding to leave a bad Olaplex review:

Use a clarifying or detox shampoo, and a super moisturizing hair mask. Something that DOES NOT contain protein, silk, or keratin. You've probably over proteinized your hair with too much Olaplex, making it brittle and prone to breakage.
You probably just need to add more moisture to rebalance it. Look for something with an acidic pH that will close your cuticle, less than 4-5, joico lustre lock is a popular choice for this.
Just leave it in for 10 mins and rinse thoroughly. After that, use an oil when damp. A few good oil options are Sebastian dark oil, L'Oréal Mythic oil and Goldwell oil elixir.
Lastly, avoid hot tools since your hair is already fragile and you don't want to encourage Olaplex breaking hair off.
Next, let's talk about how hair treatment confusion can bring about bad Olaplex reviews, even when bad Olaplex reviews may not be warranted…
Misunderstand Hair Treatment Types Cause Olaplex 3 Misuse & Bad Olaplex Reviews
We discussed overuse of Olaplex 3 but let's talk about one of the root causes of common misuse.
One of the main reasons WHY people use Olaplex 3 incorrectly and end up with hair breaking off is…
…because many don't understand the difference between hydrating treatments and protein treatments.
You shouldn't expect both types of treatments from the same bottle.
Olaplex 3 Is a Protein Treatment: Not Hydrating
Olaplex 3 is one of the most popular protein hair treatments on the market. Of Olaplex's 1-to-5 product lineup – one and two are commonly used in the hair salon, Olaplex 3 you use at home, with 4 and 5 being the shampoo and Olaplex conditioner.
Many women who use the Olaplex 3 at-home system and get breakage or simply aren't happy with how their hair feels are suffering from their own errors in use.
Here's what's happening:
What Olaplex does is penetrate the hair shaft and begins repairing and strengthening your bonds.
Here's the cause of many bad Olaplex reviews though…
It won't make your hair feel extremely soft and shiny, nor is it designed to do so. So a lot of women use Olaplex protein treatments and say their hair feels worse, it feels strawy. Well… That's actually the protein doing its strengthening job.
Another common mistake some reviewers have made is using too much of the product. Olaplex overuse happens because highly-reviewed and beloved products are exciting and we get excited about using it and rushing results.
Oftentimes, when folks  first start using Olaplex, they go overboard and end up with hair that feels a mess.
It's best to start off using a tiny amount and you can work your way up from there, many positive reviews mention using a very small amount and how Olaplex made their hair feel healthier.
You Need Hydrating Hair Treatments



Hydration-infusing hair treatments are an essential part of giving you the final results you want from Olaplex. 
Proper hydrating treatments will help you avoid any "Olaplex breaking my hair off" stories or bad Olaplex reviews.
It's hard to leave bad Olaplex reviews when your hair feels like heaven.
A premium hydrating treatment will work on the superficial areas of the hair strand, the outside of the hair, and that's going to give you that soft, silky, oh-so-touchable feeling you may have mistakenly expected from the Olaplex 3 protein treatment.
NHP recommends a strengthening/protein treatment like Olaplex (or a dupe) once a week, and then we recommend a hydrating treatment once a week.
Olaplex protein treatments and true hydration treatments work in tandem, the lack of proper use is a major reason for some of the bad Olaplex reviews we see.
If using both once a week you could do one on a Sunday the other on a Wednesday, in order to truly pamper your hair for the best results. If you can't be bothered, you can just do an Olaplex protein treatment one week and your hydrating treatment the next.
Are Olaplex Reviews Bad Because It's Meant For Certain Hair Types Only?
Answer: No, Olaplex is not meant for a certain limited spectrum of hair types. This product line works for all hair types and can be used by all for good results.
As you've learned in this tutorial, many bad Olaplex reviews are the result of improper use and lack of proper understanding and education about the product.
So it really doesn't matter your hair type, whether 4C hair, 3C tresses, or all the way down to type 1A hair. 
[RELATED ARTICLE: Is Olaplex OK to use on fine & thin hair types?]
The Wrap Up: Are ALL Bad Olaplex Reviews Bogus?
So, are Olaplex reviews bad because of a faulty product? Not likely. Many bad Olaplex reviews are caused because of improper use.
With that being said,  some of the bad Olaplex reviews may be legit simply because some reviewers may be sensitive or allergic to something in Olaplex that is causing a reaction and hair loss. We won't claim that EVERY claim of Olaplex breaking hair off is because of user error.
If you have an allergic reaction you should stop using Olaplex and try some other sort of hair strengthening product on the market.
Also:
Have you gone to a doctor about hair breakage? Hair loss can be a symptom of vitamin deficiencies, hormonal issues, etc. 
Some of the bad reviews that speak of Olaplex breaking hair off may have issues that can only be helped by a medical expert. 
Either way, no matter if your Olaplex reviews are bad or the reviews are super-positive and glowing, be sure to make your voice heard and help add more information to the pool so that we all can learn how to take advantage of these products together!
[POPULAR ARTICLE: Is argan oil REALLY curly girl method approved?]
Follow Author of "Bad Olaplex Reviews" Article...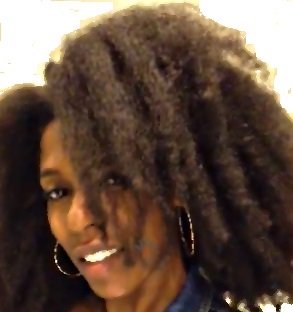 ABOUT THE AUTHOR: Melissa Lee 
Melissa Lee is a Contributing Editor to NHP and a former owner of the BlackhairOMG website. She formed 4C Trichology Growth Services, LLC., a US based hair care consultation service. She has also contributed as a writer and consultant for various hair and beauty websites. Melissa can be followed on Twitter here.

---