NHP is reader-supported. As an Amazon Associate we earn from qualifying purchases.

Emu Oil Hair Growth Reviews About Fro Butter [Stop Hair Loss Fast]...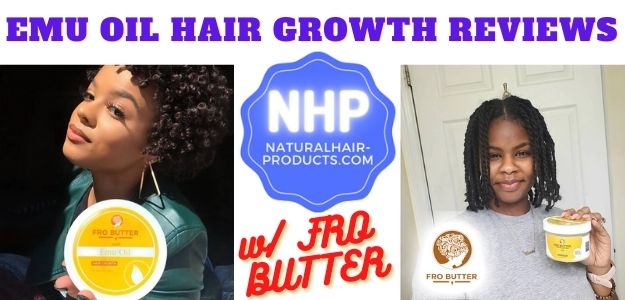 Emu Oil Hair Growth Reviews
I bet you're looking for Emu oil hair growth reviews, right? Does it really work for hair loss prevention? 
Well, after you see the amazing reviews for this Fro Butter With Emu Oil for hair growth…
…I think you're gonna like what you see and hear.
Let's keep it real, it seems like every-dang-day there's a new product guaranteed to give you longer, stronger, healthier hair. Some of them even go so far as to claim that they can stop hair loss and even regrow hair. 
And although some products can actually stop hair loss and allow for the regrowth of hair, I think it's important to separate the real from the fake by finding real Emu oil hair growth reviews and even looking into the science behind certain hair growth ingredients.
And, trust me sis…
I'm going to get you to your Emu oil hair growth before and after pictures and a bunch of reviews from women who have used Fro Butter With Emu Oil for hair growth.
You'll see it all in this article...
First though, let's touch on some of the science and Emu oil hair studies that prove to you why Emu oil products like this one help prevent hair loss and boost hair growth.
Emu Oil Hair Study & Research Backs Hair Growth Claims
What does Emu oil do for your hair? Science shows that one of the main benefits that Emu oil gives you is the healing and improvement condition of your scalp, which is where hair growth starts. 
In fact:
Dr. Michael F. Holick, a famous professor, and researcher from Boston University's School of Medicine, received a patent around his scientific discoveries related to using Emu oil as a topical treatment that encourages healthy hair growth and improving certain skin conditions, like reducing the presence of wrinkles.
Since Emu oil is currently becoming a more widely-known and popular treatment of hair regrowth (i.e., growing back your edges) in the natural hair community, the positive science and Emu oil hair studies are encouraging for women wondering why their hair isn't growing.
Additional Emu Oil Hair Study on Rodents Proves Hair Growth
Clinical studies conducted in the United States and other parts of the world show that emu oil works with the anagen phase of the hair growth cycle.
This is the only phase in which the hair follicle and the hair are actually considered "living," and thus can be affected by any type of product.
Early clinical studies on mice suggest that emu oil can promote new hair follicle growth.
The goal of this study was to determine the effect of topical Emu oil on the healing of burn wounds and hair follicle restoration.
The hair follicles in the Emu oil group were in several layers and seemed to be more active and mature. Moreover, Emu oil had a positive effect on fiber multiplication and synthesis of collagen.
The findings indicate that Emu oil has a positive effect on wound healing and it increases the number of hair follicles that regrow and increases in number, even in a burn wound.
Emu oil is also shown to have anti-inflammatory properties and it's absorbed easily according to the Journal of the American Society of Plastic Surgeons.
Pure Emu oil, as you'll find in all-natural Fro Butter With Emu Oil for hair growth, is also completely non-comedogenic, which means it won't clog your pores. And as we know, clogged pores on your scalp can easily lead to hair loss. BTW, you can also see our Black seed oil for hair growth review article right here.
Does Emu oil really work for hair growth?
Yes, the studies and science show that Emu oil really does work to grow hair faster, help healing on the scalp and fight against hair loss.
Emu oil benefits cell growth and provides skin stimulation around new hair follicles as they start and continue the development process. All of these benefits combined help hair to grow faster; in addition, the hair grown is said to be healthier.
And honestly…
Sometimes you might not understand the studies, yet, word-of-mouth will put you up on game quicker than anything. That's why you're gonna see Emu oil hair growth reviews and pictures of some BOMB hair, honey! 
It's been talked about at length in the curly girl community (i.e., anecdotal reports) that Emu oil not only encourages faster and thicker hair growth, it also effectively treats a wide range of skin conditions.
Pure Emu oil is also odorless and should not stain any bedding, clothing, pillows, hats, scarfs, bonnets or towels.
When you get Emu oil in Fro Butter you get the additional benefit of a hair growth product that smells "wonderful", according to Fro Butter Emu oil hair growth reviews.
Best Emu Oil for Hair Growth
The best Emu oil for Hair Growth will always be ALL-Natural and authentic and that's what the Fro Butter brand hangs its hat on.
Beware of fake Emu oil, as you can guess, anything that becomes known for increasing hair growth is often a target for scammers who try to sell you knock-off products.
That's why you're smart to study the Emu oil hair growth reviews, so you can get a first-hand account of how good or bad the product is.
If you want the Best Emu oil for hair growth in a luxurious butter, grab Fro Butter's highly-rated, 5-STAR Emu oil hair growth product that women are using to soothe scalp inflammation, fight alopecia and moisturize like nobody's business.
How To Use Emu Oil for Hair Growth & Prevent Hair Loss
Here's how to use Emu oil for hair growth production and prevent hair loss when using Fro Butter With Emu Oil. It can be used on both wet and dry hair.
If used on wet hair, first wash and detangle. Next, part hair into sections and apply a fingertip amount to each section, raking into hair as you go. Then style as usual.
If used on dry hair, apply a fingertip amount starting at the roots, then style as usual. Your hair may feel oily but this is by design; your hair will hungrily absorb it as it dries.
Does Emu oil thicken hair?
Answer is, yes, Emu oil does help thicken hair and stimulate human hair growth. It can heal the skin as well as hair follicles and helps regrow healthy and strong hair.
It reduces and prevents hair damage, keeps the hair follicle cells in the anagen phase (growth phase), and helps grow thicker and longer hair.

How often should I use Emu oil for hair growth?
For optimal results, you should use Emu oil for hair growth as often as you'd like. It can be used daily.
A topical application of All-natural Emu daily on hair and scalp is perfectly fine for those affected by hair loss. A few drops of the oil can be massaged into the scalp and the hair each night.
The following morning the treated areas can be washed and this process can be repeated every night.

Join NHP-HIVE and get sent our info-packed, down-to-earth & sometimes funny NHP hair tutorials by email. SIGN UP HERE...
Can I leave Emu oil in my hair?
Yes, with this Emu oil hair butter you leave it in and don't rinse it out even if it feels a bit oily at first it will absorb into your hair rather quickly.
This lightweight Emu oil hair growth formula has the BEST quality ingredients designed to stimulate hair growth and alleviate conditions such as traction alopecia.
An Emu oil hair growth butter that won't weigh down your hair or leave it looking greasy.
It absorbs quickly and penetrates deep into the skin and hair cuticles, increasing elasticity without clogging pores, promotes hair growth and a healthy scalp with its antibacterial properties. Leave it in and enjoy the benefits.

Emu Oil Hair Growth Reviews w/ Pictures
So let's get to some of these Emu oil hair growth reviews!
Fro Butter w/ Emu Oil Hair Growth Review #1: This stuff really works. My hair started growing in a month, and I can definitely see the difference. LIQUID GOLD!!
Fro Butter w/ Emu Oil Hair Growth Review #2:
The Jamaican Black Castor Oil was the first product I tried, it was a gift from my sister a couple years ago. Because it was a sample it was time for a full-sized version. While purchasing I decided to try the Emu Butter.

I've never tried Emu oil, but this product isn't as oily as I've heard Emu oils can be, and it smells wonderful! However, it can be a little oily, but a little goes a long way and my hair feels great!
- Tessany L.
Fro Butter w/ Emu Oil Hair Growth Reviews #3:
I absolutely love using the emu oil and the Jamaican black castor oil for my hair. It smells soo good and all I use for a braid out which comes out looking amazing ❤️...
- Precious W.
Fro Butter w/ Emu Oil Hair Growth Reviews #4:

I love these products! I have been using Frobutter Baby and the Emu Oil blend on my son's hair since he was about 1 year old. I love the smell of the products, but most importantly the results. His hair is healthy and shiny whenever I apply these products and they also last very long. I highly recommend it!
- Keziah M.
Fro Butter w/ Emu Oil Hair Growth Reviews #5:

There are not enough words that can say how in love I am with the emu oil fro butter product!! my only regret is that I did not take progress pictures but I can say in just under a year my hair has gotten so thick and touches my shoulder now and when wet it's in the middle of my back.
My hair loves his product I have tried many things being natural this is the only product that makes my hair soft manageable healthy thick and grow. I am a customer for life!!

- Markeisha M.

Emu Oil Hair Growth Before and After Pictures
Get more before and after pictures, plus authentic Emu oil hair growth reviews by visiting Fro Butter's website for Emu oil hair growth products that are beloved and reviewed as worth every penny!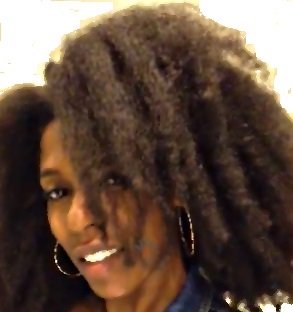 ABOUT THE AUTHOR: Melissa Lee 
Melissa Lee is a Contributing Editor to NHP and a former owner of the BlackhairOMG website. She formed 4C Trichology Growth Services, LLC., a US based hair care consultation service. She has also contributed as a writer and consultant for various hair and beauty websites. Melissa can be followed on Twitter here.

---