NHP is reader-supported. As an Amazon Associate we earn from qualifying purchases.

Best Flat Iron for Natural Hair [#7 VERIFIED]
Best Flat Iron for Natural Hair
Are you looking for the best flat iron for natural hair? I got your back sis!
Look:
Having naturally kinky curly girl hair is an amazing experience and is a major point of pride. From admiring your curls to playing with the best natural hair products, there are so many reasons why having natural hair is a blast. 
Still though:
There are times where we want to change it up and try straightening our hair. Whether you're looking to give yourself bone straight hair or you want to try a cute pixie cut, it's always fun to try out new styles.
It's great to try out a new look but it's important you have the right heat tools for straightening to make it work. That's why we've put together 5 of the best flat irons for natural hair to check out if you want to try straight hair. 
[RELATED ARTICLE: Should you let heat protectant dry before straightening?]
4 Rules - How to Choose The Best Flat Iron for Natural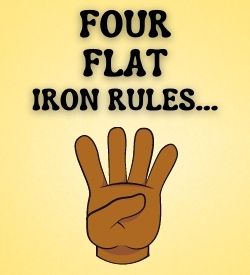 If you've been caring for your natural hair long, you know how important the right styling tools are to look your best. So it's important to thoroughly research each styling tool and hair product you use before you make your beauty purchase.
If you're new to shopping for professional salon-worthy flat irons, or if you're wondering why we chose the top 7 hair straighteners that we have, we'll lay out the criteria for a great flat iron here:
Rule #1 – If you can, choose a flat iron with a temperature gauge. Using a flat iron with a temperature gauge is one of the best ways to keep your hair safe from heat damage (along with using a premium heat protectant).
The gauge should tell you on the side whether or not the temperature on the side is hot enough to effectively heat and press your hair.
The heat that you'll need will range from hair type to hair type, but most stylists will tell you that if you have fine hair, use heat between three hundred and three hundred fifty degrees; if you have thick hair, use heat between three hundred fifty and four hundred and ten degrees.
Now, there aren't cheap drugstore flat iron hair straighteners out there that have gauges. In fact, some just have an on/off button. But lacking a gauge shouldn't detour you from choosing the best flat iron for natural hair.
If you find that there's a great flat iron set at four hundred degrees, and you know that four hundred is what works for your hair, then get it! Because for your hair type, THAT'S the best flat iron for your thick and coarse hair. But make sure that you know what the temperatures are and what its max is. Otherwise, don't get it.
Rule #2 – Choose plates that fit your hair length. The size of your plates will do a lot for your hair. If you have short, thick hair then I recommend using smaller one-inch plates. These will make maneuvering around your head easier and they'll be able to straighten your hair more efficiently.
Rule #3 - Figure out if you need automatic shutoff. Some flat irons for Black hair have a built-in clock that automatically shuts off if you don't use the iron for a certain amount of time. If you're the type of person who is busy, gets distracted, or lives an energy-conscious lifestyle, then I recommend looking for a flat iron with an automatic shut-off sequence like one of the Babyliss Pro flat irons which all have an auto shutoff.
Rule #4 – Figure out if you need titanium or ceramic plates. Titanium plates are great for people with thick hair (long or short) that need more heat to penetrate their hair (Babyliss Pro straighteners offer patented Nano-titanium).
This is great for women who have been natural for a long time and would need their first attempt with a flat iron to be super-efficient.
If you have a flat iron that requires you to straighten your hair with more than two passes, then the temperature is either too low, you need to prepare your hair more efficiently, or that flat iron just isn't the best choice for your natural curly girl hair.
However, I'd recommend ceramic plates for people with thin, damaged, or color-treated hair. Ceramic plates tend to be gentler on hair and doesn't penetrate hair with as much heat either.
So, the best flat iron for natural hair that is very thin or frail would likely be a ceramic straightening iron. If your hair is extremely frail, the best flat iron for you is NO FLAT IRON AT ALL. You should not press your hair if it's very weak and already on the verge of falling apart.
Once you understand these four rules choosing the best flat iron for natural hair will not only be easier, but safer. Here are the top 7 flat irons for natural hair.
Best Flat Irons for Natural Hair List [Super 7]
While the best flat iron for natural hair can change depending on your hair type and what new products are currently on the market.
Either way, these are some great picks that will lead you to premium selections that are salon-worthy and give superior results for silk press straightening, flipping hair and even making beach waves.
1. BaBylissPRO Nano Titanium Ultra-Thin Straightening Iron for Natural Hair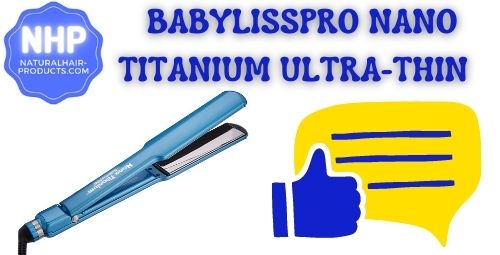 #1 Best flat iron for natural hair
As you can see from the title of the flat iron, this is a BabylissPro Nano titanium-plated iron is ultra-thin and also highly-rated by natural hair women. It has multiple settings for heat and goes up to four hundred fifty degrees.
At 5 inches long, the Babyliss plates are longer than usual for a natural hair flat iron, which is great because it allows you to cover a wider area of hair at one time over your traditional flat iron. And that's not all. The super-thin Babyliss Pro design enables you to curl your hair if you so desire, many Babyliss Pro Ultra Thin reviewers have pointed this out on various online retailers. 
The patented Babyliss Pro plates also reach high heat quickly as they are made of Nano-titanium. The result is uniformly straight strands faster than some other models, thanks to the built-in ceramic heater. 
This natural hair flat iron from Babyliss Pro also provides fast recovery between passes of the hair through the plates so you can finish styling sooner than if you had to wait forever for strands to cool.
Lastly, BaBylissPRO's Nano Titanium-Plated Ultra-Thin flat iron is one of the best hair straighteners for natural hair because of its lightweight design.
2. BIO IONIC Onepass Straightening Iron, 1 Inch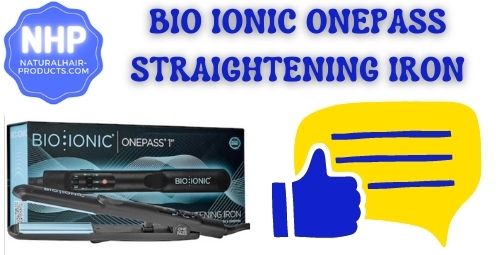 (1st Runner-up) Best flat iron for natural hair
If you're tired 1 or 2 cheapies a year you are smart to investigate the better selections. Yes, I admit that the BIO IONIC Onepass Straightening Iron is definitely a higher-priced salon-level flat iron than you may have ever expected to pay.
But after having had limited use of cheap flat irons from drugstores for curly girl hair and seeing that they seemingly do nothing. You'll understand why after getting a premium-grade flat iron for natural hair.
This BIO IONIC Onepass straightening iron is so easy to use; it is fast and lightweight and It has a long durable swivel cord. You'll love how the temperature range goes from 240º to 400º.
The BIO IONIC Onepass flat iron is also great for women interested in finding a flat iron that is designed to not be so damaging to natural hair.
The only thing MISSING is the lack of an automatic shut-off function. This flat iron for natural hair is highly-rated in various online reviews from consumer guides, pro stylists and individuals. And they seem to be thrilled with their purchase.

3. BaBylissPRO Nano Titanium Prima 3000 Ionic Straightener
#3 Best flat iron for natural hair
The BaBylissPRO Nano Titanium Prima 3000 1-1/4" Ionic Straightener is one of the best flat irons for natural hair because it features IonMultiplier Technology & aircraft-grade warp-resistant Nano-titanium plates for highly efficient heat transfer that instantly smoothes and straightens curly hair until bone-straight & boosts shininess.
This dual-use styling tool allows you to straighten or curl with smoother, shinier, more beautiful results. Our Dual-Ceramic Heating System delivers temperatures up to 465F for styling of the most resistant hair types. Check current price for this Babyliss Pro flat iron here.

4. FHI Heat Platform Plus Tourmaline Ceramic Pro Styler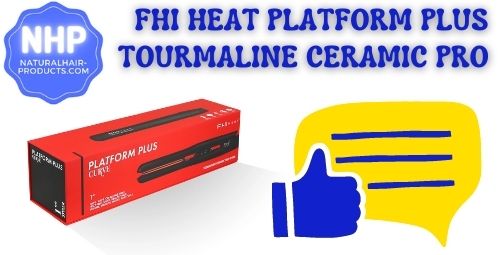 #4 Best flat iron for natural hair
The FHI heat flat iron for natural hair uses ceramic plates that are gentle on hair. It also uses tourmaline to help evenly distribute heat.
This FHI is one of the best flat iron for natural hair and great for people who want a high-end, salon-quality flat iron while also using something that's gentle on their natural hair. 
REVIEW: "My first flat iron about 10 years ago was from FHI. I loved it and continued to use it for about five years until I dropped it and it broke (was still usable but the plates were a bit loose). After that I decided to try less expensive brands such as Sedu and HSI, which were pretty good as well. After dropping my last cheap flat iron (completely shattered the plates), I decided to try this FHI flat iron once again and couldn't be happier. Not sure why I wasted my time using other brands."
5. T3 Lucea ID Flat Iron for Natural Hair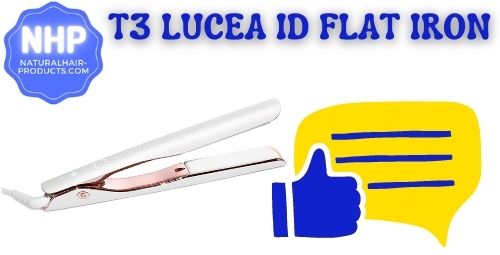 #5 Best flat iron for natural hair
The highly-reviewed T3 Lucea ID has to be my favorite out of all of the flat irons. The reason it's my favorite is that it's a smart iron.
Essentially, you can customize your flat iron to choose what heat is best for you based on your texture, length, and more. The goal of this iron is to efficiently use heat and not just get hot. I highly recommend this iron. 

6. Duvolle "RENDEZVOUS" Titanium Styling Iron for Natural Hair
#6 Best flat iron for natural hair
The Duvolle Rendezvous straightener is a quick start flat iron that comes with an automatic off button. As for heat, it reaches up to four hundred fifty degrees. It also uses titanium plates to thoroughly heat hair.
REVIEW: "Best flat iron hair straightner I've owned! My natural hair is very wavy and curly, thick, & long. It usually takes me 2 hours to straighten my hair without blow drying first (I get better results when I skip the blow dry process for some reason). So what I do is let my hair dry naturally after washing with zero product in it so it can dry quicker.
When my hair is about 90% dry, I part into small thin pieces and comb them straighten. I've tried 3 different straightening tools from Amazon before coming across this one. I sent the other 3 back. This flat iron is perfect! It didn't leave my hair frizzy wavy straight, but actually sleek and straight.
The only product that I put in right before straightening each piece is "Kenra Platinum" (which is a heat protectant spray that supposedly helps cut the dry time in half as well). This is combination with the straightener being used at 410, worked like a charm! Would recommend for anyone with thick, curly, long hair."
- Gina P.
BONUS VALUE PICK: Best Flat Iron for Natural Hair
I had to grab a flat iron that was a little bit cheaper for you because I know that some folks don't have the money to get the best-of-the-best top-tier flat irons, but still want to grab a straightener that is much better than the cheap drugstore flat irons and has good review ratings.
7. TYMO Sway Sakura Flat Iron for Natural Hair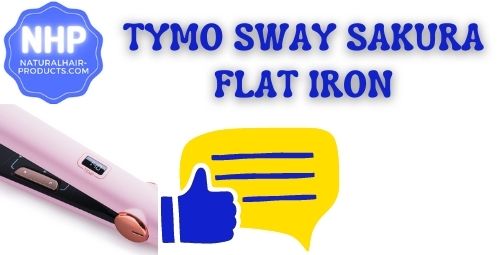 (Value Pick) Best flat iron for natural hair
The sway has titanium plates to help with efficient temperature change. As for its temperature range, it can go as low as one hundred forty degrees to a maximum of four hundred fifty degrees.
One of the best features of the TYMO is the gravity sensor. All you have to do is shake it and it'll turn! And if you're a busy person, don't worry. It comes with an automatic sleep mode.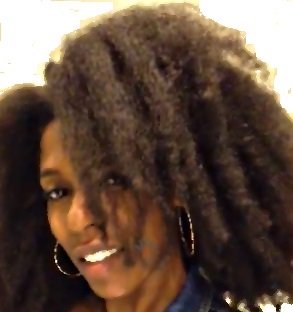 Hey sis, heyyy!
I'm Melissa Lee...
Co-founder of NHP. You'd de wise to...
TAKE DELIVERY of NHP Tutorials in your inbox for FREE!
Get EXPERT HAIR HELP at your fingertips weekly!
Let's keep in touch - sign up quickly by clicking RIGHT HERE...

Conclusion: Learn Proper Use of The Best Flat Irons for Natural Hair
Keep in mind that your flat iron is only as good as your flat iron routine. If you don't have a routine that protects your hair and keeps it healthy, then you won't see the results that you're looking for even with the best flat iron for natural hair.
So be patient with yourself and keep trying new things!
What is your favorite flat iron to use? How do you keep your hair safe when straightening it? Comment below and let us know.
And if you're looking to buy, check out the #1 BaBylissPRO Nano Titanium Ultra-thin best flat iron for natural hair RIGHT HERE.
Follow Editor of Best Flat Iron for Natural Hair Reviews...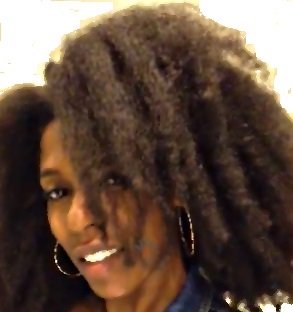 ABOUT THE AUTHOR: Melissa Lee 
Melissa Lee is a Contributing Editor to NHP and a former owner of the BlackhairOMG website. She formed 4C Trichology Growth Services, LLC., a US based hair care consultation service. She has also contributed as a writer and consultant for various hair and beauty websites. Melissa can be followed on Twitter here.

---