Getting your paws on the best blow dryers and ceramic hair straightener for fragile and delicate tresses can be difficult, ya know?
I'd bet my bottom dollar that it would put you at ease to know that you could get great looking results without worrying about your "luscious" fine hair getting damaged, right? 

Having bouncy beach waves or long straight hair with lots of movement and shine will always be a great go-to look when your painting the town red, and your absolute cuteness is a must!

Many women with fine thin hair are now realizing the harsh damage that the extreme heat of titanium flat irons can cause IN AN INSTANT to fine hair.
And, I'll tell you this straight-off-the-top...
The best ceramic flat irons for fine hair aren't usually the cheapest.
Yet, the durability you get from them ends up being a pocket-saver as well as your hair saviour.
When straightening, or making beach waves the type of ceramic flat iron you use can make or break you're styling efforts on fine & thin hair.
Why even touch your fine tresses if your hair isn't going to end up looking right because of getting scorched and damaged?
Because the ceramic flat iron that you use to straighten out your hair will determine if it comes out truly straight, soft, silky and shiny, or looking janky and half-done.
You do have to be careful of certain things before letting any ol' cracker jack box flat iron touch thin fine hair - or else you end up with scorched hair that breaks like glass bottles dropped from a 3rd floor balcony..
You've worked too hard to grow your hair and retain length, so let's not mess up your fine hair with a cheap drugstore-grade flat iron that destroys thin fine hair.  
One reason it is often better to DIY your flat ironing on thin hair at home is that many hair salons are so focused on the straightening part and not enough on hair health and safety, and they will quickly use excess heat on fine hair and this can cause heat damage and breakage that will take months if not years to recover from. 
Listen... unwsely using a sizzling hot titanium flat iron, or a low-grade "snag master" toss-away ceramic flat iron is BEGGING for heat damage and can completely burn out your beach waves or whatever hairstyle you were hoping for...
...burn it so bad, that it has reached the point where it will be nearly impossible to get your fine hair to look right, anytime soon.
Although this is not always the case and it can be avoided by taking the proper precautions, for example, using the proper equipment as well as high-quality heat protectants.
One mistake many fine-haired honeys make is opting for the cheapest flat irons available and not realizing that you often get what you pay for when it comes to the best ceramic flat iron for fine hair.
1. BIO IONIC Styling Iron - Best Ceramic Flat Iron For Fine Hair
"My stylist uses this on my hair & I can't believe the difference. I have fine hair and it was constantly being pulled, broke & snagged by my old regular-sized iron. But my stylist used this BIO Ionic styling iron & it was like butter.
The price is high, however worth every penny to me. My hair doesn't pull or break. On 3rd day hair, I use the vibrating plates & it's like butter. I would buy again & again!"
The BIO IONIC Styling Iron is ranked NHP's #1 best ceramic flat iron for fine hair.
The reviews for this flat iron are filled with women raving about how great this premium ceramic hair straightening iron is. 
It comes with unique PATENTED Vibrating plates that smooth and style in under 10 minutes, while the flat iron's rounded tip plates allow for versatile styling from roots to ends. Perfect for making beach waves, curls and more...
This professional-grade ceramic flat iron for fine thin hair is famous for being very gentle and smooth on your fine hair.
The BioCeramic Heaters are easy on fine hair because they give you constant and even heat, providing the ultimate shine and condition on thin hair
Although a somewhat pricey investment (see price at Amazon), the BIO IONIC Styling Iron is also a smart investment, you definitely get what you pay for with this great ceramic flat iron for fine hair.
And it will show in the way that your thin hair looks and feels. 
It straightens your fine hair very quickly and with fewer passes which causes less heat damage all while leaving your hair healthy and shining. 
1st Place on Best Ceramic Flat Iron For Fine Hair list.
GOLD STANDARD WINNING FEATURES: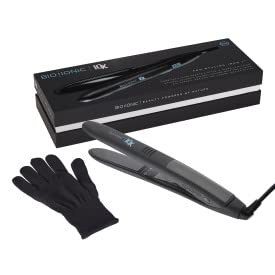 Natural Volcanic Rock Mineral infused plates 
Digital temperature control up to 450F/ 232C
Sonic Vibration Technology
1 hour automatic shut off
Rounded barrel for styling versatility to create wavy or straight styles
Universal dual voltage for travelling abroad
Convenient 9 ft swivel cord





The vibrating plates glide through hair, smoothing and polishing each strand. Creating a vibrant, high gloss finish that is unparalleled.   
As one reviewer mentioned, "it's very easy to straighten my shoulder-length, wavy hair. I also use it to curl my hair and it works well for that. I love how quickly it heats up!"
The problem with this ceramic flat iron for fine hair is that it is often sold out and it doesn't make sense as to why the manufacturer doesn't make more and eliminate this problem.
Another problen I found is that, for the price it should also come with a free travel bag, holder or something to make broke folks feel better, lol... 
2. Paul Mitchell Pro Tools Express Ion Style+ 1" Ceramic Flat Iron - Salon-Level Ceramic Flat Iron For Fine Hair
The 2nd highest-rated ceramic straightening iron on NHP's list is the Paul Mitchell Pro Tools Express Ion Style+ 1" Ceramic Flat Iron..
Look:
I'm gonna keep it 100 with you, it's the adjustable heat settings combined with a more reasonable price that made me push this bad girl up the rankings.
It was only edged out by the BIO IONIC styling flat iron and that's saying alot. Paul Mitchell hair products are famous around the globe for good reason. This great ceramic flat iron for fine hair is very long-lasting, extremely durable and a #1 contender any day of the week for women who need a gentle flat iron that will pamper their thin & fine hair.. 
The Paul Mitchell brand straightener is known for its exceptionally high quality and is one of the true luxury hair tool brands on Amazon right now.
2nd Place on Best Ceramic Flat Iron For Fine Hair list.
GOLD STANDARD WINNING FEATURES: 

Mdern Digital Display
Adjustable Heat Settings
Sleek Sexy Design
1" ceramic plates
Work up to 240 Volts With a Plug Adapter
Product Dimensions: 12.2 x 2 x 4.8 inches
Slim Light-Weight Design for Easy Handling
This is by far, one of the best ceramic flat irons for fine hair, thin hair gets scorch-free results and it's ideal for fine hair longer than 8 inches, its far-infrared + negative ion technology decreases styling time and eliminates frizz for healthy, shiny results..
This ceramic flat iron is a very popular product in high-level salons across the globe, many reviewers have called it the best flat iron they have ever owned, it smooths out thin and fine hair curls without burning through it and eliminates frizz smoothly, it gives your fine hair a professional-looking salon-quality straightening that shines brighter than moonlight flickering off of the waves of the ocean!
3. T3 Lucea Professional Straightening & Styling Iron for Fine Hair
This T3 Micro Lucea 1" styler for fine hair is very quick to heat up, and it's also lightweight and easy to hold and maneuver. It glides smoothly and you'll only need one or two passes to style your fine thin hair.
I like that it has ceramic plates, which are gentler on fine hair, and the plates are a little longer than average. I also like that you can set the temperature depending on the fineness and condition of your hair. A lot of styling irons only have one temperature setting.
There's a bit of a learning curve when you first use it, pressing the power/temperature button and up and down through all the heat settings. To lessen confusion, I'd prefer to have a temperature button separate from the power button, but you shouldn't have any issues with shutting it on/off or keeping the temperature where you want it. And admittedly, as far as looks go, the design is cleaner with only one button.
The design feels quite Apple-influenced: white, streamlined and elegant, and it does end up looking prettier than other styling irons I've reviewed.

3rd Place on Best Ceramic Flat Iron For Fine Hair list.
FEATURES: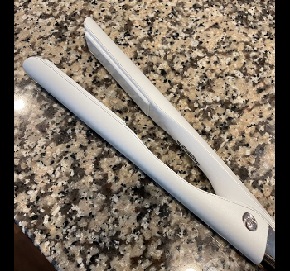 9 Heat Settings
Thermatouch Tech
Comes with AutoWorld Voltage which means it can be used around the world
Extremely Light-weight (weighs less than 1 lb)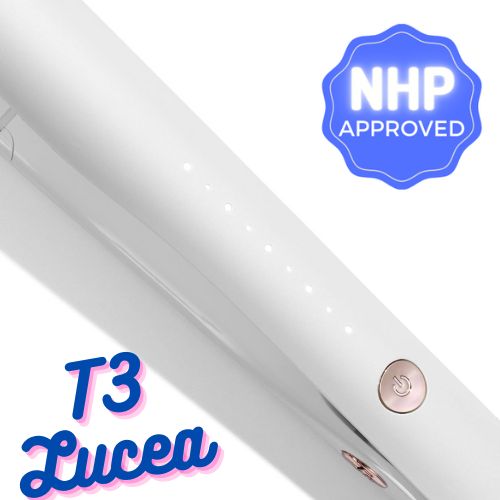 T3 Rapid Heat IQ technology delivers advanced heat precision in 9 digitally-controlled temperature settings for beautiful, frizz-free styles in just one pass.
Expert trichologists and scalp doctors often advise that you take precautions to protect your hair from damage, this is especially true with 2nd-tier or cheap tourmaline and ceramic flat irons.
"My first impression of this flat iron is how expensive and pretty it is! The look is very impressive. On top of that, it works well to straighten my fine hair. Honestly, it works the same as all flat irons I have tried, but this one has smart technology that will adjust the heat as you need it.
I can see this being a major benefit if you have thick hair. I also like how it has a very low heat setting, which I use, because I have very fine, thin hair. The T3 brand has a great reputation, and this is a high end, high quality flat iron. If you have thicker, or wavy hair that is hard to straighten, I think this is a great one to buy!"
- G. Lancaster
4. T3 Singlepass Ceramic 1" Digital Straightening & Styling Iron 



Because the T3 Singlepass Ceramic 1" Digital Straightening & Styling Iron instantly gives your thin & fine hair a press that's shiny and frizz-free with less damage than cheap drugstore flat irons, that's why it belongs on this best flat iron for fine hair thin hair list.
Among the tourmaline and ceramic flat irons in its price range it gives you superior performance with a lot of customization options, the makers of this ceramic flat iron gave it a super modern look and feel combined with technology to straighten in one pass without burning thin hair.
It also has ThermaTouch Technology to make the flat iron comfortable to hold in your hands without burning.

4th Place on Best Ceramic Flat Iron For Fine Hair list.
FEATURES: 
Universal Plug 
ThermaTouch Technology 
5 Digital Heat Settings
Has Heat Setting as Low as 260 Degrees
EvenGlide Hinge
The T3 SinglePass has enhanced technology that's designed to work in just one pass. It has an internal microchip that controls temperature fluctuations and maintains even heat for optimal styling and long-lasting results.
PLUS, the 1" beveled plates glide smoothly to straighten, wave, or curl with no tugging or pulling.
Check out this review about how using low heat worked:
"Before I received this T3, I used a Furiden. The Furiden iron did a fairly good job but I had to go over my hair a few times and my hair would feel too hot. I wasn't completely happy with it but thought maybe my hair just didn't like straighteners as I've tried others and it's been similar or worse results.
However, yay! This T3 Singlepass really did smooth my baby fine hair in one pass, and left it silky and shiny. And more importantly, my hair was not hot to the touch. I was able to hold the strand I'd just straightened without burning my hand, and that means it's more gentle to my hair."
- Janet Chambers
5. FHI HEAT Platform Tourmaline Ceramic Professional Styling Flat Iron
This FHI HEAT Platform Tourmaline Ceramic Professional Styling Flat Iron is highly-rated for the moderately-cheaper models that made this fine hair straightener list.
FHI Heat's Platform Styling Iron creates diverse looks from smooth styles to glamorous waves and curls. Known for its red ceramic plates and durable design, this iron maintains its heat and performance style after style..
5th Place on Best Ceramic Flat Iron For Fine Hair list.
FEATURES: 
3 Layers of Baked Ceramic Infused w/ Tourmaline
Negative Ions Eliminate Frizz
Adjustable Professional Temperature 140-450 Degrees
Beveled Plates To Prevent Snagging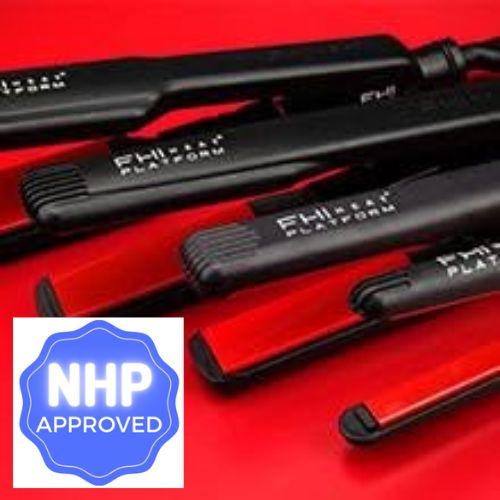 No more worries about burnt hair. This FHI makes the list for best ceramic flat iron for fine hair because it won't scorch thin fine hair and has nice slide. It's a great flat iron for fine hair.
Positive review from woman with curly-fine hair:

"Having tried many straightening irons after my favorite one gave out (and has been discontinued), I found this FHI iron works wonderfully on fine, curly hair. Being able to use it on any heat setting is a big plus. I've found that it heats up quickly and maintains even temperatures.
It hasn't left any marks, slides easily through my fine hair and no I get no hair burns or bad odors. I use it for a single pass after blow drying my curly hair to keep it straight on 300 degrees. I'm not sure how it would work on very thick hair, but for medium-to-fine textured, works great."
- Karen P.
6. GHD Gold Professional Styler, Ceramic Flat Iron for Fine, Thin Hair

This is the ideal ceramic flat iron for fine hair, it's made with good quality materials to be durable and long-lasting.
Even though this flat iron hair straightener is slightly lower rated than the GHD Platinum & Professional Performance Styler, it's also the more economical choice between the two. So you can decide between slightly lower performance with more dollars in your pocket or making the investment needed for the thin hair flat iron press job.
The GHD Gold Professional Styler has dual-zone ceramic flat iron technology which holds optimum styling temp 365ºF with 2 next-generation heat sensors..
This Good Hair Day model is also one of the best ceramic flat irons for fine hair because it feels durable and sturdy in your hands, doesn't feel like it's overheating and is not a constant burn threat like the knock-off, cheap $10 off-brand drugstore flat irons.

6th Place on Best Ceramic Flat Iron For Fine Hair list.
FEATURES: 
Equipped with dual-zone technology for a proven sleek finish.
Rounded barrel allows for styling full-bodied curls & smooth silk presses.
Plate feature next generation heat sensors.
Has advanced heat up time of 25 seconds.
Automatic sleep mode turns device off after half an hour of non-use.
You won't worry about smelling your thin & fine hair burning because this is one of the gentlest ceramic flat irons for fine hair in the world of profession-level straighteners, it only takes a few seconds to get to proper ironing temperature and simply does its job better than thse dime-a-dozen, soon-to-break, cheap flat irons. 
With straightening flat irons for thin fine hair, you get what you pay for and everyone will see it when you walk outside.
This is the best ceramic flat iron for fine hair and professional salon stylists who have higher standards for thei hair tools and know where to invest and where they shouldn't to pinch pennies.
This flat iron is a hairstylists favorite and a treat to use…
I'd hate to take the risk of spending half the money for something that doesn't last or simply doesn't make fine hair look the way I need it to look when I'm struttin' my stuff, you feel me?.
Check out this buyer review:
"Great price. I bought this to replace my previous ghd that I bought in 2012. I love ghd. I have very fine hair but a ton of it and it is a mix of tight and loose curls. Works perfectly."
- Love Hampton
7. GHD Platinum & Professional Performance Styler
I would have ranked this GHD Platinum Ro Styler higher if it wasn't SO DANG EXPENSIVE, Sheesh.
I know the reviews are overwhelmingly good, but I don't see myself paying $300+ for a flat iron no matter how great it is. 
Still though, check out some other reviews....
"Love this flat iron. I was hesitant about buying it, as it is pricy. So far it has been worth it. It heats up incredibly fast. I have thin, fine hair with a slight wave. I have had prior flat irons fry my hair. This one only take one pass over and it is smooth but not flat. Definitely recommend it."
The GHD Platinum & Professional Performance Styler is rated the 7th-best ceramic flat iron for fine hair because of its SMART styler technology that detects your specific hair type, and predicts your fine hair's needs in the moment and assures that any posiible damage is minimized.
It's a breakthrough technology feature that you won't find with other many other ceramic or tourmaline flat iron brands.
Have you ever used a flat iron for fine hair thin hair that intelligently predicts your hair's needs and appropriately adapts to ensure your hair gets the optimum styling temperature of 365°F at all times?
Look:
This thin hair flat iron monitors heat more than 4-times-per-SECOND, identifies your hair type and the speed in which you're passing the flat iron in order to control the heat distribution more effectively for the perfect heat distrubituion to avoid damages hair cuticles, giving you the ultimate results with visibly healthier hair.
The GHD Platinum+ adapts constantly in order to give you the optimum flat iron styling temperature for elite results with 70% less breakage, damage and 2x more color protection. Also has an automatic sleep-mode that shuts off your fine hair flat iron after 30 minutes of inactivity.
Mixed Review of this GHD:
"I love this straightener, it glides smoothly through my hair and leaves it looking and feeling silky and healthy. My hair type is fine/normal and slightly wavy. My hair is bad at holding curls I can create some great beach waves with these that last all day long. But, the thing that is annoying is the plastic casing of the plate has a seam in it that my fine hair finds a way to get trapped in, which never happened with my old GHD flat irons that I have owned for 10 years.
I also kinda wish the button was a switch like they used to be, the press and hold button to switch on and audio feedback just feels a little out of sync and devalues the experience for me. Still worth the $200 I paid for the platinum version though."
- Shelly J.
7th Place on Best Ceramic Flat Iron For Fine Hair list.
WINNING FEATURES: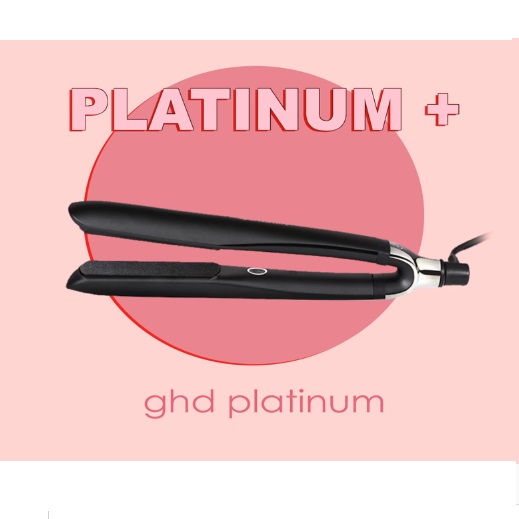 Ultra-Zone Technology 

Ultra-Gloss Plates

Optimum Styling Temperature 
Ergonomic Design 
20 Second Heat Up Time
Hair Type Predictive Technology
Long 3-Year "Confidence" Warranty
It has a great design, it doesn't fry your fine hair like some tourmaline, titanium and even ceramic flat irons do, it heats up in 20 seconds and even comes with a 36-month warranty, it makes your thin fine hair feel incredible, straightens after one or two strokes and is perfect for creating beach waves.
After using the GHD Platinum flat iron for thin fine hair you will turn into a flat iron snob, LOL! 
You won't ever again let a cheap, off-brand tourmaline flat iron wreak havoc on your fine thin hair strands after this experience.
You'll feel the difference, less fine hair breakage, more color protection and thin hair protection, with your hair left looking cute, sexy and feeling in great condition.
8. GHD Original Styler for Fine Hair
The GHD Original Styler is a longtime classic go-to fine hair flat iron that was seen as the "Holy Grail" Good Hair Day straightener just a few years back.
Because these are extremely durable, lasting up to 10 years and more, they are a candidate for best ceramic flat iron for fine hair that will be with you for a looooong time.
This fine hair iron has single-zone™ ceramic technology pre-set to the safer-for-hair temperature of 365°F, to give you great styling with no extreme heat
The GHD original is a professional-grade flat iron. It's high quality ensures that you don't suffer from tugging on your fine hair, no burning, and no snagging or catching on your thin hair. 
This fine hair flat iron leaves your tresses smooth & frizz free after very few passes, which gives you the results of a professional salon hair press job, if not much better.
8th Place on Best Ceramic Flat Iron For Fine Hair list.
WINNING FEATURES: 
Single-Zone Technology
Optimum  365℉ Styling Temperature
Universal Voltage
30 Second heat-up Tme
Automatic Sleep Mode after 30 minutes
Advanced Ceramic Heat Technology
24-Month Manufacturers Guarantee
See the good and bad in this buyer review:
"Wow, this GHD heats up so quick! It is heated up in only 26 seconds. You can hear the beeps of it turning on and beep when it lets you know it's up to temperature. This worked great for my dry, wavy hair. It made my hair nice and shiny. (Please ignore my split ends, I am due for a trim).
This flat iron only has one temperature setting, but it seemed to work just fine for my abundant, fine, wavy hair. It was hot enough to work well, but did not burn my fine hair."
- A.H. Giles
See more reviews of the GHD Original Styler at Amazon...
9. SUTRA Professional Ceramic Flat Iron For Fine Hair
This SUTRA Professional Ceramic Flat Iron with Ionic Technology is good for the cheap price…
Many reviewers like that it has extended edges so you can fit more hair in it while flattening for your fine hair or doing beach waves. It also heats up rather quickly.
9th Place on Best Ceramic Flat Iron For Fine Hair list.
FEATURES: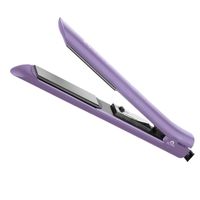 Ceramic Magnetic Plates
Dual Voltage for Worlwide Use
Rotary Knob On Handle To Control Temperature

Employs Ionic Technology For Rapid Heat
If you are not so concerned with extreme durability, this less-expensive ceramic flat iron for fine hair may do the trick.
Some ladies, are willing to pay less and just buy another fat iron when the current one dies out.
That's what I took note of from the following Sutra review:
"I got my Sutra Pro flat iron a few years ago. I can't believe how well it works for me still. I have fine very curly & frizzy hair. This straightener gets even the little hairs by my temple which are usually frustrating to reach. Makes it incredibly smooth feeling...compared to cheap straighters I've had in past. Still need to find something to use on my ends as they get increasingly dry in Alaskan winters plus use of straighter. Worth the extra money. Will purchase again if this one goes."
- Sarah
10. BaBylissPRO Porcelain Ceramic Straightening Iron
The BaBylissPRO Porcelain Ceramic Straightening Iron lets you straighten locks or create loose, beachy waves. Porcelain ceramic generates far-infrared heat which is less damaging than other heating methods.
10th Place on Best Ceramic Flat Iron For Fine Hair list.
FEATURES: 
Floating Plates For Better Hair Contact 
Dual Voltage  
Lowers to 235 Degrees for Fragile, Thin & Fine Hair.
8 Foot Swivel Cord 
3 Year Warranty
Porcelain ceramic plates offer even heat distribution without hot spots & negative ions leave locks smooth & shiny.
See this review:
"I like the size of the 1 ½ Inch and the long cord. It heats up well but I didn't notice a vast improvement from my cheaper conair version. But you can hold the tip while you straighten without getting your fingers burned or using a glove."
- Rachel Ennis
See this thin fine hair flat iron at Amazon...
Bonus Cheap Pick - CHI Original Digital Ceramic Flat Iron For Fine Hair
This CHI Original is one of the best ceramic flat irons for fine hair out of the cheapest models that aren't complete crap. This is our penny-pincher pick.
In comparison to GHD, T3, and BIO IONIC straighteners this CHI straightener is like comparing fast food to gourmet meals, but you still have to eat. Right?
The ceramic plates do well at preventing static. It has a decently quick heat-up and recovery up to a high 425 degrees F, along with adjustable heat settings.

This ceramic flat iron for fine hair can do the job adequately well, one of its bad points though, is that it is not made for long-standing quality and durability.
Remember though:
For the conveniently low price, this is to be expected.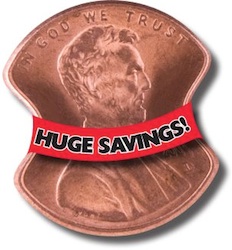 Our Penny Pincher Pick (Low-price, decent cheap flat iron)
FEATURES: 
Digital Temperature Display
 9 Foot Cord Length
Dual Voltage
Auto Shutoff
We added this as a bonus pick in this best ceramic flat iron for fine hair list because of the low price point but we really hope the manufacturer takes heed to these concerns because this is a really good temporary flat iron for the price. It just doesn't hold up over the long-term like the BIO IONIC Styling Iron (our #1 ranked best ceramic flat iron for fine hair...)
If someone has the money to invest in a flat iron that can last a decade, what's going to make them want to buy this 2 or 3 times if you could just spend a little more money on a superior hair tool and only have to purchase it once?
CHI needs to make a higher-quality version for the fine hair honeys who aren't looking for the cheapest buy, but for the best quality. 
On the bright side:
This ceramic flat iron is gentle on fine hair.. It has a digital LCD display which I always prefer, and the convenient 9 foot swivel cord allows you to easily maneuvering while styling. This is a decent straightener that you can get for under $100 price range.
Because the CHI Original Digital Ceramic Flat Iron For Fine Hair is not made of super-high quality material and can't be expected to last as long as the other flat irons on this list, this is not the best choice if you are flattening weekly or multiple times per month.
CONCLUSION:
Best Flat Iron For Fine Hair
By using the best ceramic flat iron for fine hair, you get a silky smooth, damage-free look with relative ease. All the hot styling tools that we've listed in this best ceramic flat iron for fine hair list are highly-rated, reviewed and many are among the best sellers on Amazon.
You can rest assured that these hair tools made NHP's best ceramic flat iron for fine hair top #10 list because of their outstanding performance, value-to-price ratios, and advanced features that make them perfect for fine hair!
They're the perfect straighteners for giving your thin and fine tresses bouncy, shiny and full bodied style without burn damage.
If you need more info about ceramic, tourmaline and titanium flat irons, check out our Ultimate Flat Iron Guide 101...