NHP is reader-supported. As an Amazon Associate we earn from qualifying purchases.

Can You Put Mousse on Faux Locs? [THE TRUTH!]
Can You Put Mousse on Faux Locs
Question of the day: Can you put mousse on faux locs? The real answer is, yes. You absolutely can benefit and have less frizzy faux locs by using mousse.
The reason why you may have seen confusing answers about putting mousse on faux locs is because many dishonest hair care brands are claiming that you shouldn't use mousse simply because they are selling alternative products.
They are making false claims (in other words, LYING) so that they can sell their own braid and locs frizz products to you instead….
FUNNY THING IS:
The lies are so unnecessary, because mousse isn't the only option for un-frizzing faux locs, there are plenty of great curly hair products.
These hair brands could simply say "YES, you can use mousse on your faux locs but we have a product that you might like a little better!".
Honesty goes a long way… Ya know?
Anyway...
NHP is gonna explain a BOMB FRIZZ KILLER METHOD to you for how to make faux locs less frizzy using mousse and a couple other great protective style hair care products.
Can You Put Mousse On Faux Locs? [Answered]
So many folks wanna know how to make faux locs less frizzy, that's why it's important that you have found the REAL answer to the question of "Can you put mousse on faux locs or not?"...
Now you know that you absolutely can put mousse on faux locs and look great.
Yes, and NHP doesn't only want to answer this question for you, we want to teach you the best way to apply mousse to get rid of frizz.
So, let's talk about the frizz problem and have to solve it with mousse, shall we?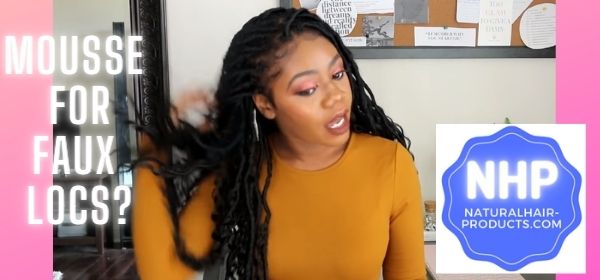 How To Make Faux Locs Less Frizzy Putting Mousse To Good Use
As we said earlier, yes, you can put mousse on faux locs. That doesn't mean your mousse has to be lonely!
NHP is gonna give you a great faux locs product routine that will have your hair care regimen working like a charm! Let's get it sis!!!
So when talking about everyday touch-ups for faux locs hair and how to keep your hair looking as fresh and detangled as possible, you have to keep up a smart routine.
Especially when using 100% synthetic locs hair with lots of curls on the ends it's going to be tangled at times, it's unstoppable.
Still, though...
...you can definitely manage it and get the tangles and frizz out by doing a little bit of daily maintenance.
Not only can you put mousse on faux locs, we'll show you A SMART & QUICK REGIMEN that you can use to make faux locs less frizzy depending on how tangled your faux hair is.
Here's what you can do with mousse to fight the light frizz & tangles on faux locs…
Use a spritzer bottle & spray some water on your faux locs.
Only spray enough so that your locs are a little damp, spray evenly.
Start slightly detangling while focusing on the ends. 
Then, you can put mousse on your faux locs. 
Put a lot of mousse in your hands and focus on applying to the ends.
Often, after answering the question about "can you put mousse on faux locs?", women want to know which faux locs products are the best and want suggestions. NHP has your back, as always.
One great mousse for faux locs that reduce frizz is the ever-popular (and alcohol-free) Tresemme Curl Care Flawless Curls Extra Hold Mousse.
When your faux locs are only slightly tangled you can use this oil-free mousse with great success.
Tresemme Curl Care mousse is best used if your locs are only slightly-to-moderately tangled because it doesn't have any type of oil in it to deal with heavy tangles, it's kind of like a conditioning detangler that really defines the curls on curly ends and it tames the frizz on faux locs.
If you need a heavier mousse, we've written an article about another amazing mousse for braids and faux locs that you can use (made by a Black-owned brand too!).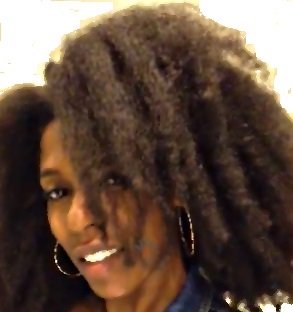 Hey sis, heyyy! I'm Melissa Lee, co-founder of NHP. 
I have a little-known 7-paged eBook for NHP subscribers only: JOIN 19,500+ Black Women in THE "NHP-HIVE" & GET YOUR GUIDE Titled: 
"15 Exotic Hair Growth Remedies From Around The Globe!" Girrrl, get IN on this!
Best Products For Faux Locs Besides Mousse For Less Frizziness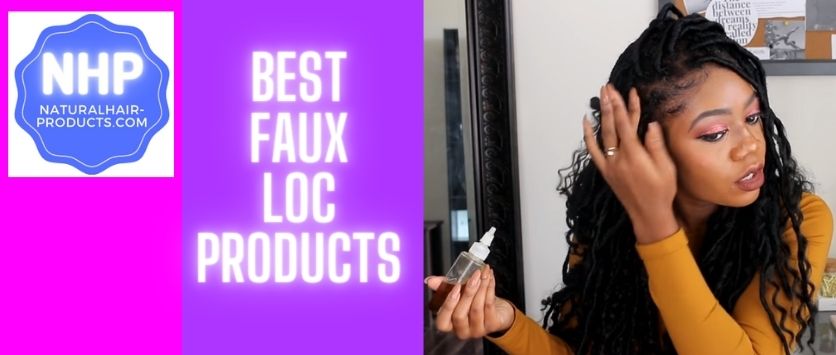 Frizzy edges are often a problem with faux locs, and yes, a premium mousse for curly hair can solve some specific problems with faux loc frizz, but you'll often need to recruit some other smart hair helpers to look your best and blessed by THA LORDT himself, lol! Here's a quick list of some of the best protective style hair products to add to your lineup:
Got2b Ultra Glued Invincible Styling Hair Gel - Great hold for making swoops in your baby hair edges - this gel gives amazing all day hold. Can be used without or without protective hairstyles.
Jamaican Black Castor oil 
Coconut oil ( used in half & half scalp cleansing mixture ) 
Apple Cider Vinegar ( used in half & half scalp cleansing mixture ) 
How To Make Faux Locs Less Frizzy Without Putting Mousse In Your Hair
Can you put mousse on faux locs? By now, you know that the answer is yes. Still though, you may not want to use mousse all the time, so here are some alternative methods for making faux locs less frizzy without putting mousse on them.

Faux Loc Mousse-Less Method #1 - Cantu For Bad Frizz & Tangles
If your faux locs are really, really dry and they feel tangled you can go ahead and use this Cantu Coil Calm Detangler with Shea Butter for natural hair & protective styles.
This frizz-fighting detangler product works great at detangling synthetic faux locs hair and can also be used on kid's natural hair.  
Here's what you do:
Whenever your faux loc hair feels super dry & tangled, spray this all throughout your locs.
Finger detangle immediately.
Focus on the ends because that is where the most tangling happens.
One negative to the Cantu Coil Calm Detangler is how it comes out as a stream instead of a spray, so it can be kind of messy. The product is very good though.
Some  great things about this anti-frizz detangler is that you'll likely loooove the way this stuff smells. Also, it doesn't leave your faux locs hair super-duper shiny. 
It's really good that this detangler doesn't leave synthetic faux locs hair very shiny because then you would have to use less product. Thankfully, you can really use as much as you'd like because this isn't a shine product, it's just for detangling your protective style.
If you want a brilliant shine, no worries! You can use a good shine spray that NHP will show you later in this tutorial.
Faux Loc Mousse-Less Method #2 - Use Scissors on Frizz & Tangles



To reduce crochet faux locs frizz, you will need a pair of scissors. You simply grab a frizzy faux lock and snip off the frizzy strands. Doing one strand at a time is tedious, so you can always do a few strands at a time.
After doing this you will need to wash your locs to get rid of the little stray strands that you cut off. Add in some leave-in conditioner or hair serum and use some hair gel on each strand, then dry your faux locs.
Proper Faux Locs Maintenance Quick Tips:
Maintain your crochet faux locs and soft locs with a few easy steps. 
At night we recommend that you use a satin bonnet to prevent tangling to your crochet locs. 
Finger detangle your locs to prevent them from sticking together. 
Use scissors to cut any stray hair and gel to put them back together.  
Washing your hair with crochet faux locs is simple & easy. NHP recommends some scalp therapy first, to keep your own natural hair nice and clean. 
Wet your scalp and add shampoo then scrub your scalp with the pad of your finger. Notice I said pad of your fingers, not your nails. Using your nails can cause too much friction on your scalp, leading to breakage. Proceed to add some premium shampoo on the locs, gently spread it downwards. Rinse your hair and use a super high-quality hair conditioner, gently spread it in a downwards motion as well, then rinse out.
To dry your faux locs, gently pat your hair dry with a microfiber towel. Do not add too much friction to your faux locs. Add some leave in conditioner or a hair serum, this step is optional but it will help reduce any frizz. 
Conclusion: Can You Put Mousse On Faux Locs For Frizz? Yes!
So, now you know the answer. Yes, you can put mousse on faux locs to help make them less frizzy. Don't listen to folks who falsely say that mousse is too heavy of a product for your locs. 
They say that heavy products like hair mousse, thick oils, moisturizers are going to cause buildups on your scalp which is ultimately going to lead to dryness, frizziness and stickiness. That may be true for heavy oils but mousse can be used on faux locs just fine.
Mousse also helps your natural hair blend into faux crochet locs.
And If you're vacationing and need to revive your locs after swimming, you can use mousse to help the loc hair return to its original state. Mousse works well for both natural dreadlocks and faux locs.
Missed Something? Jump Back Up "Can You Put Mousse On Faux Locs" Tutorial! Go Back To:
Follow Author of Can You Put Mousse on Faux Locs Article...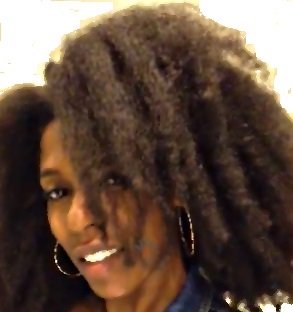 ABOUT THE AUTHOR: Melissa Lee 
Melissa Lee is a Contributing Editor to NHP and a former owner of the BlackhairOMG website. She formed 4C Trichology Growth Services, LLC., a US based hair care consultation service. She has also contributed as a writer and consultant for various hair and beauty websites. Melissa can be followed on Twitter here.

---