NHP is reader-supported. As an Amazon Associate we earn from qualifying purchases.

Can Hemp Oil Regrow Hair? [The Truth]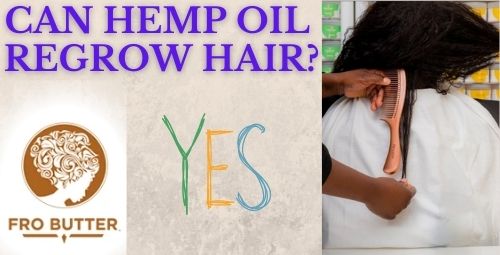 Can hemp oil regrow hair? That's a common question from folks looking for longer hair and beard growth.
Hemp oil, which is extracted from hemp plant seeds, contains very little or no THC (unlike CBD products).
This newly discovered hair growth oil is more popular everyday and products like Mama's Green Thumb - Hemp Growth Oil by Fro Butter are being used for the hair care benefits. Pure hemp seed oil is a dark green oil that manufacturers make by using solvents to extract their oil or cold-pressing the seeds. 
For a long time, hemp oil has been used in a bunch of supplements because of its amazing anti-microbial, anti-inflammatory, and analgesic health benefits. 
In addition to wondering about "can hemp oil regrow hair or not?", you should also know that hemp oil's therapeutic properties contain amazing components that help to improve texture and overall condition of the skin when taken internally or applied topically.
However the relationship between hemp oil and hair loss was not well known until recently when a study revealed that hemp oil can play a role in preventing hair loss as well as replenishing growth.
How Can Hemp Oil Regrow Hair?

The best hemp oils for hair growth are rich in omega 3, 6 and 9, hemp oil is packed with fatty acids that are necessary for maximizing hair growth.
Scalp massages with hemp oil can help regrow hair as well as promote blood circulation to the scalp. Your body uses blood to deliver nutrients and oxygen to your scalp and skin, which may improve hair growth. 
Not only is a hemp oil hair growth massage relaxing, but a good high-quality hemp oil will invigorate your scalp and promote hair growth.
Although scientific testing has not yet fully backed up all claims, the following are some of the ways in which hemp seed oil could benefit your natural hair:
by promoting hair growth
by thickening the hair
by moisturizing the hair
by reviving damaged hair
by preventing water loss to protect the hair
by adding shine
Can Hemp Oil Regrow Hair? Let Mama's Green Thumb Reviews Tell You...
This oil is lightweight a little really does go a long way! I love it keeps my hair moist! And I see my hair thickening up a lot of new growth...
- Ebony
I love mama green thumb hair growth oil.  It smells amazing and very moisturizing on my natural hair.  I can't wait to see my hair grow with this product.
- Yolanda L.
The oil is nice and smells good. Nothing to dislike at all, but for how I style my hair I prefer the Fro Butters more.
- Serita L.
I love this hair growth oil! It is super light. I just started using it and I can already see results.
- Brianna P.
My hair has become addicted to this Fro butter and hair growth oil....my first time using the Shampoo and Omg I'm just in love with this line of Hair Care ❤ like y'all had me in mind when you created it lol and I Thank You
- Kelley H.
Best Hemp Oil For Hair Growth From Fro Butter
With so many new CBD oil and hemp seed oil hair growth products hitting the market, it's hard to know which is the best hemp oil for hair growth. 
CBD oils are usually more expensive than hemp seed oils due to a more complicated extraction process. So if you're only interested in hair growth, hemp oil is probably the smarter option for your bank balance.
And, as far as the best hemp oils for hair growth...
...I'll show you a serious contender for the best, it's the Mama's Green Thumb - hemp seed hair growth and beard oil from Fro Butter.
Unlike some Black hair products online, the main ingredient of Fro Butter's hair and beard growth oil is 100% pure hemp seed. Fro Butter's hemp oil enhances the regrowth of hair on the scalp in a number of ways. Since your hair is made of keratin, up to 90% of which is a protein.
Mama's Green Thumb hemp oil provides this protein during growth as a basic element of the hair. This hair and beard growth oil also improves blood circulation on your skin and scalp, which ensures that the hair follicles are nourished enough to support hair growth.
So, if you struggle with getting your hair growth and length-retention past shoulder-length, give Mama's Green Thumb hemp seed oil a try.
MAMA's GREEN THUMB GROWTH OIL IS PERFECT FOR:
Damaged or thin edges 
Growing hair with braids
Growing out your dreadlocks 
Moisturizing Cornrows 
Filling in Patchy Beards
This hemp hair growth oil works perfectly in combination with their Fro Butter with Emu Oil, these two hair health products are sure to give your growth process a powerful 1-2 punch!
How to Use Hemp Oil On Hair for Growth
Here's how to use hemp oil on hair for growth and improved scalp health. These are instructions for using Mama's Green Thumb - Hemp Growth Oil by Fro Butter...
Massage their hemp growth oil into damp or dry hair, scalp and edges daily or at least 4 times per week to stimulate and retain natural and healthy hair growth. 
When you gently massage a bit of hemp seed oil into your scalp in the evening make sure not to rush it, take a few minutes and really work it in. 
Do not rinse this growth oil from hair, leave it in to work its magic.
Not only can hemp oil regrow hair when used correctly, the process is relaxing and isn't as astringent as some hair loss prevention oils. 
Mama's Green Thumb hair and beard oil will invigorate your scalp and promote hair growth. It will also promote moisture protection which is great for regrowing  hair, nobody wants dry hair that is limp and breaks easily.
Other consumer products for growth that incorporate hemp seed oil range from shampoos and conditioners with low concentrations of the hair growth oil to pure hemp seed oil that people can apply directly to the hair and scalp. Use these according to the directions on their bottle.
Taking Hemp Oil Internally To Regrow Hair
Some ask… Can hemp oil regrow hair with internal use? There aren't as many studies on it but hemp oil extract is approved to be taken as a daily supplement for added nutrition that helps slow down hair loss and promotes growth, thickness and density.  
Some people take a two-pronged approach to hair growth with hemp seed oil products by using both internal and externally applied products.
I'm not yet ready to take hemp seed internally, I'd prefer to stick to hair growth oils you can apply to the scalp, but it's an option that you're free to explore. 
[RELATED ARTICLE: How to use JBCO for hair growth]
Summary: Can Hemp Oil Grow Your Hair?
Can hemp oil regrow hair? Many anecdotal reviews say that the answer is YES. Interestingly, several studies have suggested that hemp seed oil shows promise as a treatment for acne and atopic dermatitis because of its anti-inflammatory properties.
Although scientific testing has not verified all of these claims, hemp seed oil can reportedly protect, heal, thicken, and repair the hair.
If you've been looking for an all-natural way to boost your hair growth journey and scalp health results, hemp oil extract and hemp seed oil for hair and beard growth could be great options.
Grab Mama's Green Thumb hair and beard oil HERE!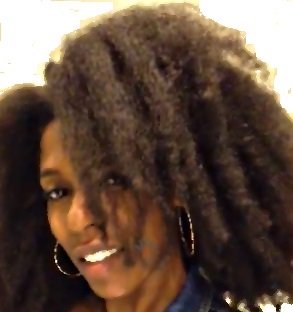 ABOUT THE AUTHOR: Melissa Lee 
Melissa Lee is a Contributing Editor to NHP and a former owner of the BlackhairOMG website. She formed 4C Trichology Growth Services, LLC., a US based hair care consultation service. She has also contributed as a writer and consultant for various hair and beauty websites. Melissa can be followed on Twitter here.

---