NHP is reader-supported. As an Amazon Associate we earn from qualifying purchases.

Black Hair Thinning At The Crown? [Fix It Now]
Black Hair Thinning At the Crown
Is your Black hair thinning at the crown? 
If your crown is suffering from this common problem, you'll adore this hair-helper guide!
Because we're going to discover how to avoid natural and unnatural hair breakage at the top of your head!
You'll learn a ton from the story of a woman who put 10 of her friends' crown hairs to the test.
Continue reading to find out what I discovered about the Black hair thinning at crown dilemma and it's assault on our natural hair growth efforts.
I strongly advise you to read the entire tutorial so that you get the answers you need!
Our crown would seem to be the most protected, least influenced, and hence the simplest portion of our hair to grow and retain length.
In many situations, though, hair breakage at the crown is a major issue. It is, in fact, the most delicate and kinkiest portion of our hair for some of us. So, what's the story up there?
[RELATED ARTICLE: Learn about hair transplants for Black females...]
Black Hair Thinning at The Crown - Why Does This Breakage Occur?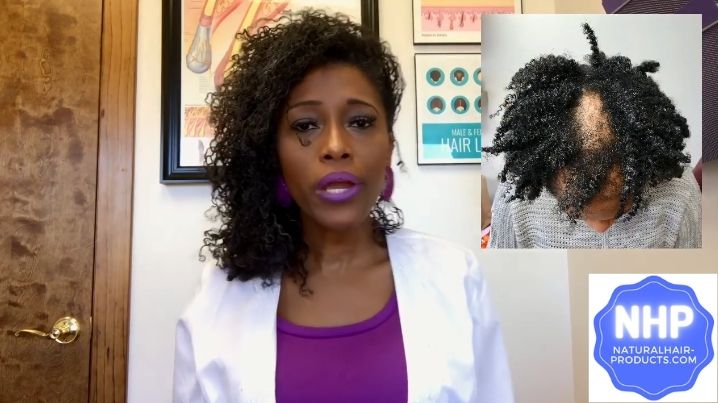 First and foremost, I want to emphasize that Black hair thinning at the crown does not affect everyone.
Some confuse shrinkage for breakage, it's possible that you have more shrinkage at your crown than in other regions of your hair if you have a tighter coil texture in the crown area.
This might make it look shorter and as if you have Black hair thinning at the crown, when it isn't.
Due to this, you may find yourself manipulating your crown more than you really should. 
Overuse of equipment like flat irons to shape your hair and volumize your locks is a HUGE culprit in the Black hair thinning at the crown saga.
If your texture is tighter up there, it's most likely more delicate and prone to breaking, therefore the over-manipulation will only hurt it.
Is Black Hair Thinning at the Crown For My 10 Girlfriends? Let's Test It!
Let's take a step back and look at the structure of crown hair for a moment.
I invited ten of my friends over to my place so that I could examine their scalps and crown hair.
Six of the ten of my girlfriends experienced problems with their crowns. All six of the people who had Black hair thinning at the crown had type 4 hair.

All six of them had highly porous hair in that area, which resulted in greater shrinkage, less curl definition, and breakage, frizz, and dryness, even when using the best moisturizers for type 4 hair.

The four women who did not have hair breakage at the crown were all type 3C or lower. Those four had normal porosity and didn't have any of the problems my type 4 sistas had.
After chatting with the original 6 women who have crown difficulties, they revealed that they utilize hair styling equipment on a regular basis, that is called over-manipulation.
Join NHP-HIVE and get sent our info-packed, down-to-earth & sometimes funny NHP hair tutorials by email. SIGN UP HERE...
Black Hair Thinning At Crown & Hair Porosity
So, I'm going to get all "Science-y" on y'all. Let's return to the topic of hair porosity: The crown of their heads had a different porosity than the rest of their heads.
They all had higher porosity hair at the top of their heads and normal or low porosity in the rest of their hair. Isn't it strange?
So I decided to save samples of their hair in little baggies before they departed.

I gave each of their strands a mild protein treatment to see whether the porosity would alter. And, indeed, it did!

Their little hairs either stayed on top of the water or floated to the middle.
The protein filled in the little areas of their hair that were missing which initially caused their hairs to sink to the bottom.
These missing areas contribute to the fragility of your hair strand and increase breakage and Black hair thinning at the crown..
High porosity hair is caused by these gaping openings, which allows your hair to absorb and lose moisture quickly. Protein fills in the gaps in your hair and regulates moisture retention.
Many naturals believe they are "protein sensitive" and avoid proteins as a result. Proteins, on the other hand, appear to help our delicate high porosity Type 4 crowns the most.
Yes, proteins may not provide that "slip" and may leave your hair feeling "straw" . They're not designed to untangle; rather, they're designed to strengthen.
So you may need to use a moisturizing conditioner after the protein treatment, but your hair will be stronger as a result of the whole procedure.
When you find that protein is causing MORE breakage and Black hair loss near the crown, stop using it.
Protein overabundance can also be harmful. It takes a precise balance of moisture and protein to accomplish natural hair equilibrium, but once you do, your hair will be stronger and thank you with faster hair growth and length-retention.
Black Hair Thinning At Crown By Traction Alopecia
Another common reason for Black hair thinning at the crown is traction Alopecia.
This condition of hair loss and crown thinning which is extremely common among Black women who prefer hair styles such as tight ponytails, dreadlocks, braids and weaves.
It is common for traction Alopecia to affect crown thinning of the scalp or the hair line, depending on where the most pressure is applied on the scalp.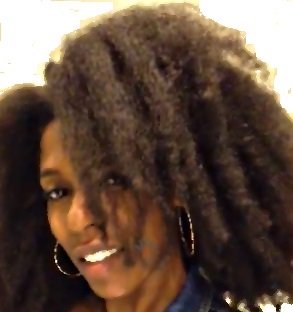 Hey sis, heyyy!
I'm Melissa Lee...
Co-founder of NHP. You'd de wise to...
TAKE DELIVERY of NHP Tutorials in your inbox for FREE!
Get EXPERT HAIR HELP at your fingertips weekly!
Let's keep in touch - sign up quickly by clicking RIGHT HERE...

Let's look at ways to prevent Black hair thinning at the crown. Here are a few ideas to get you started:
Treat your crown separately from the rest of your hair.  Give it its own section on wash day and provide it with mild proteins every now and then.  Also, moisturize and seal often.
Reduce the amount of manipulation! Because of its anatomical nature, your crown is delicate. Hair breaking near the crown is more likely if the hair is kinkier. You'll have to take care of it rather than growing angry with it and manipulating it further, which would result in more Black hair thinning at the crown.
This brings me to my next point: try to avoid using the pick as much as possible. You may shape your hair using bobby pins instead of plucking it out.
To prevent Black hair thinnng at the crown, apply UV-protective oils to your head. Red Raspberry Oil has an SPF of 4 and Macadamia Nut Oil has an SPF of 6. It isn't extremely high, but it may be sufficient to make an impact.
Understand that even once it begins to retain length, the crown area will still have more shrinkage than the rest of your hair. And that's ok.
Reduce the amount of direct heat. EXTREME flat ironing of natural hair and hot blow drying will do nothing to improve your crown.
If you have Black hair thinning at the crown, avoid permanent hair coloring chemicals.
I hope my black hair thinning at crown tip is useful to you!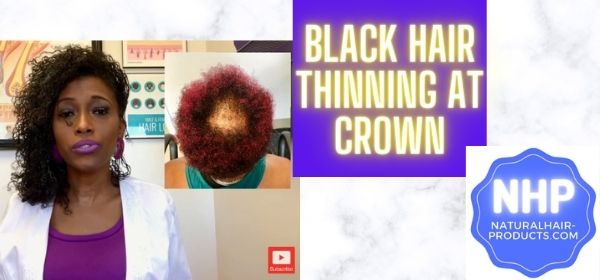 Get More Black Hair Thinning At Crown Info 
If you want more information about Black hair thinning at the crown and 4C hair all you have to do is sign up to be part of The NHP-Hive.
Receive FREE weekly updates from NHP about Black hair issues and solutions. Be sure to BOOKMARK THIS NHP WEBSITE...
We're here to serve you when most websites ignore REAL Black hair. See this related article about "Why your hair looks thin when wet? Why?"
Follow Editor of "Black Hair Thinning At The Crown" ...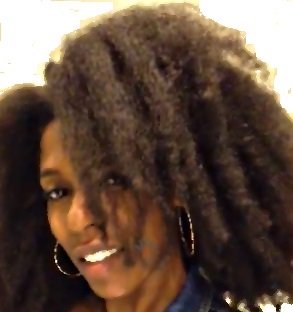 ABOUT THE AUTHOR: Melissa Lee 
Melissa Lee is a Contributing Editor to NHP and a former owner of the BlackhairOMG website. She formed 4C Trichology Growth Services, LLC., a US based hair care consultation service. She has also contributed as a writer and consultant for various hair and beauty websites. Melissa can be followed on Twitter here.

---