NHP is reader-supported. As an Amazon Associate we earn from qualifying purchases.

Best Steam Flat Iron For Black Hair   
- NHP Top 7 List
Best Steam Flat Iron for Black Hair
O.M.G! I have spent so much time searching for the best steam flat iron for Black hair that it makes me wanna slap somebody else's mama!
(Aint slappin' mine, I aint crazy, lol…) Anyway…
Finding the best hair straighteners for 4C hair is hard, right?
Well, you're gonna love all the hard work I've already done for you… (jump to flat iron comparison chart here)
Because:
If you're anything like me, then you just want to see the most helpful professional steam hair straightener reviews from sistas with natural hair and decide which one to get, or IF a steam straightener for natural hair is actually your best option…
SPOILER ALERT: After I researched a review article about the best flat irons for natural hair silk press styles. I'm not in love with the steam variety. Not even the best steam flat iron for Black hair can touch a Babyliss Pro nano-titanium straightener.
Still:
I'll be unbiased and you'll discover the benefits of steam flat irons for Black hair because I'll admit it sis. Some women are in love with their steam technology hair straightener.
I said SOME women love them, not ALL (or even most)....
Don't worry though, you'll get all the deets, PLUS, I'll cheat and show you a much better professional salon-grade non-steam flat iron for Black hair that will give you results that crush even the best steam flat iron Black hair competitor.
You may be excited to grab the next big thing when it comes to straightening your kinky-curly hair.
I feel you girl! Look though…
I've researched and reviewed so many hair straighteners, hair dryers, tongs, air stylers, traditional ceramic straighteners, tourmaline straighteners and of course, my titanium straighteners, just so that you don't waste your money.
Because aint nothin' worse than buying a piece-o-junk that half-way works and is soon to break.
Are the best steam flat iron for Black hair worth buying VS. non-steam options?
So, in this hair styler review guide, Imma give you the important steam hair straightening models PROS & CONS that had me intrigued and will help you get the cutest, straightest natural hair press ever!
Guaranteed! So dive in!

Comparison Table: Best Professional Steam Flat Irons for Black Hair Reviews
And so, before I start telling you aaaaaall the negatives about steam flat irons for Black hair I want to balance things out by whispering sweet nothings about the benefits of steam flat iron use, first. So let get down to business, check it out…

What is a Steam Straightener for Natural Hair?
If you have questions about what exactly is a steam flat iron straightener for Black natural hair, and I the answer for you.
A steam straightener is a unique, advanced-technology hair straightening tool It looks nearly identical to traditional straighteners except that it has protruding bristles inside it, attached to the top and bottom plates.
As you'd imagine, it heats up water from a small tank that you fill and creates heated steam to straighten your hair and it is supposedly less damaging than traditional straighteners (like your GHD's or your BaByliss straighteners), although that is debatable. While it straightens, it also delivers moisture and infused hydration.
Steam flat irons hold water which needs topping up every now and then, generally, the water lasts around 15 minutes so if you have very long, kinky or very thick hair, you probably do need to top it up in the middle of styling even with the best steam flat iron for Black hair. Steam flat irons are very easy to use and it feels "safer" and less damaging, because it uses water. You use it just like a regular flat straightener, except for adding water into a water chamber.

Benefits of Steam Flat Iron Use for Black Hair
It all sounds so exciting, right?  A straightener using steam technology!  Here are some of the benefits that this unique hair straightening tool gives you.
Vapor Infusion

The best steam flat iron for Black hair uses vapor infusion to inject hydration and moisturize your hair. Regular flat irons without steam technology don't do this and in fact, can zap your hair's moisture. Leaving your hair feeling very dry and brittle over time (although professional flattening technique will avoid dryness and breakage, I teach you that too).
Also:
You, of course, can reduce normal flat-iron damage by using the best heat protectant products for natural Black hair before flat-ironing and the best hair-saver treatment oils afterward.
But with vapor infusion, you can use less product on your hair due to the injection of pure hydration.
Less Heat Damage
Much like the best hair steamers for natural hair, the elite steam flat iron's heat won't damage your coily type-4 tresses. The hydration that infuses your hair with moisture prevents damage from high temperatures.
Maybe you've gone natural with your hair to avoid using too many harmful products. With less heat damage, you don't have to use products that are made to protect hair from heat. That will save you money as well as time during your styling process.
Softer Hair

When you have natural hair, you want to create a sleek, silky style when straightening. Without chemicals, that can be hard to accomplish. Yet, the addition of chemicals can weigh your natural hair down. It'll be heavy and won't move as freely as your tresses would without all of the heavy products and chemicals.
When straightening with steam, you're getting a smooth, soft finish. And using the best steam flat iron for 4C hair allows your strands to move flowy and beautifully without being stiff.
You want your natural hair straight, not stiff.

Less Frizz
The frizz that you'll normally get after flat iron straightening is usually due to dryness. That is less of a concern with a steam straightener for natural hair since moisture is a huge component of the steam iron straightening process.
The steam technology creates a soft head of hair that's shiny. See...
Frizz is dry and dull, which won't happen with straighteners using steam.
A steam flat iron is more gentle on your natural hair and less likely to pull and snag, causing breakage. That news should come as a huge relief for those who have wondered, "does a steam straightener damage hair?".
Oils Can Be Used During Flat Ironing Session (With Some Models)
One thing you can't do with even the best non-steam flat irons for natural hair is use oil during the press/flattening process (at least you shouldn't, that's what the professionals advise for your best results).
So, a major advantage you get from a steam straightener for Black natural hair is that you can add essential hair oils to the water during the process. With some models (not all), be sure to check their reviews before buying if this is an important feature for you.
You see, steam flat irons have a small water tank, and you can add a few drops of your favorite essential oils for a heavenly smell. I recommend the gorgeous-smelling MoroccanOil argan-infused treatment oil for smoother, longer-growing hair.
The heat of the steam and vapor will infuse your every strand with the scent and nutrient-infusion of your oils, for the healthiest hair and best-looking results.

Best 7 Professional Steam Hair Straightener Reviews | 4C Steam Iron Reviews
1. DORISILK Professional Ceramic Tourmaline Steam Flat Iron for Black Hair
This was a really good buy for me. I really wasn't sure what to expect when I bought this flat iron steam straightener; however, it is really wonderful!
I also like that there isn't that burnt hair smell when straightening with it like some other flat irons. I'm very happy with this flat iron and my purchase!
Love it 100%, I recommend this steam iron to all my friends and family. I'm very happy. - Cynthia P.
The DORISILK Professional Ceramic Tourmaline Steam Flat Iron is really good in comparison to other steam flat irons.
But, as with even the best steam flat irons for Black hair there are some gimmicky aspects that detract from its value.
One weird thing about this iron is that the on/off button is on the inside of the flat iron where the plates are, as well as the temperature adjustment button.
I found that to be badly-designed. I aint gona lie...
...because you'll end up wishing that the controls were on the outside like some of the best flat irons for Black hair that aren't as gimmicky.
ALSO:
This flat iron can get really hot, so when you have it on and are trying to adjust the temperature you have to be careful not to burn your fingers in the process. Which is something I don't like to have to worry about.
Maybe that's just me though...
And yes, this is the #1 in the steam flat iron category, ha. I'm just making things very clear for you, this is the best IN ITS CATEGORY of best steam flat iron for Black hair, I'm not putting this up against non-steam versions that are considered contenders for the best flat iron hair straighteners overall.
On the positive side:
It does have a neat little lock on it so that it can stay closed when not in use. It also has a pretty long cord.
All in all this is a nice flat iron for the steam variety category and just needs some tweaks to make it a great flat iron. 

1st Place on Best Steam Flat Iron for Black Hair list.
GOLD STANDARD WINNING FEATURES: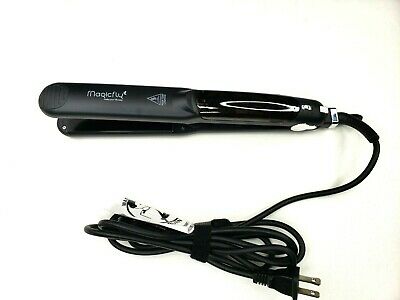 2-in-1 Straightens and Curls
Heats Up In 1-Minute
New Steam Technology
3D Floating Plates 
5 Conditioning Steam Vents





You can save time with its 2-IN-1 design (straightening & curling) and you know I love two way use for heat tools! Its 3D floating plates are excellent for hair straightening and hair curling. You can use the styler as a regular straightener without steam by turning off the Steam Function, so that's cool. 
And when you want to use the steam option just add pure water an hit the steam control button.
2. Magicfly Pro Salon Ceramic Tourmaline Flat Iron w/ Vapor
One major PLUS that differentiates this tool is that it's not hard to use at all. Sometimes, with other steam irons, the construction is confusing and hard to figure out. Not the case here.
And look:
This flat iron softens your hair very well with moisture and straightens really good (for a steam flat iron).
This tool, in particular, has helped some women with natural hair keep from going back to relaxers after finding this product. This is a good steam flat iron for mimicking a relaxed hair look. Your coarse hair will feel smoother, and silkier afterwards.
This iron is highly-recommended if you're transitioning from relaxed hair to natural and want to avoid damage from excess dryness. This gets your hair looking silky from root to ends!
I strongly recommend that you use MoroccanOil hair treatment oil in conjunction with whatever other natural hair care products you use for superior heat protection. 
2nd Place on Best Steam Flat Iron for Black Hair list.
GOLD STANDARD WINNING FEATURES: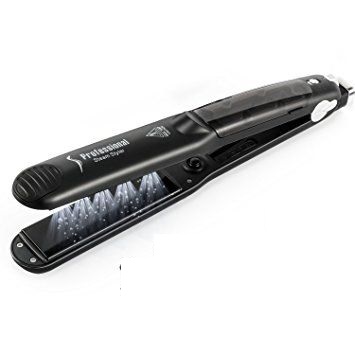 This steam flat iron was designed with newly updated steam flattening technology, the water tank can be easily filled with water and oil-free hair care rinses, this sprays steam that disperses negative ions, which helps add moisture and gloss to hair and decrease damage.

3. MKBOO Nano Titanium Ceramic Steam Straightener for Black Hair

This is a very good flat iron and it feels professional..
I used this flat iron on my daughter's hair and found it easier to hold while straightening her hair, than my own though.
It's gonna take a sec to get the knack of holding this correctly and straightening my own hair. I like it though.
The MKBOO Hair Straightener is rated the 3rd best steam flat iron for Black-hair because it softens natural hair with steam vapor, smoothes your natural hair during the styling process, adds moisture and gloss to your hair and fights against frizz! 
ONE MAIN COMPLAINT: This specific model of MKBOO steam flat iron is not made to allow the addition of hair oils in the water tank. And this is a slight bummer in comparison to some other steam straighteners on the market...
It is what it is though:
You can ONLY USE WATER in the water tank, NO OIL or any other liquid can be added for use during your flat ironing session. 
This is not a super-major "deal-breaker" drawback though, because you can always use some good hair growth oils for sheen and protection against moisture loss and breakage after you finish straightening your natural hair.
3rd Place on Best Steam Flat Iron for Black Hair list.
WINNING FEATURES: 
Titanium Plated Aluminum Plates

New Steam Technology 
450°F Maximum Temperature 
5 Level Adjustable Temperature 
Temperature Display 
Removable 4D brush 
Auto Temperature Lock 
30 Second Heat Up

There are 6 heat settings and you can set it the iron to no steam, medium steam or full steam. Many reviewers really enjoy this flat iron and some women view it as the best flat iron for African American hair that's 4B and 4C. You'll notice that you can put large sections of thick hair in the straightener and it will come out pretty darn straight (for a steam iron). Highly recommend among many steam flat irons.

4.
 Cortex ProSteam Flat Iron 1.5" Ceramic Tourmaline
This Cortex Prosteam is viewed by some as the best steam flat iron for Black hair because some reviewers say the flat iron straightens hair in fewer passes, provides you with smooth, frizz-free hair faster and easier than ever before. Reviews also mention that it effortlessly glides over even the thickest, kinkiest, waviest, or curliest strands, leaving you with a silky, lustrous finish that lasts all day long.
The Cortex Prosteam has ceramic plates. Each one is infused with a semi-precious gemstone called Tourmaline, which naturally produces negative ions. This ionic technology not only prevents breakage, but also seals in moisture and reduces heat damage, making this steam flat iron the 4th best flat iron for African American hair in the steam iron category. Many reviews say you'll have shinier, healthier hair that always looks picture-perfect. 
4th Place on Best Steam Flat Iron for Black Hair list.
FEATURES: 
Gemstone-infused Ceramic Plates      
Variable Temperature Settings     
Limited Lifetime Warranty


If you have fine, thin, or color treated natural hair that is extra prone to breakage, the gentleness of this steam straightener makes it a smart option. I has adjustable, accurate temperature settings that ensure that the heat is always evenly distributed throughout the plates. If you're worried about it getting too hot for your hair, just dial back the temperature, and you're good to go.
Great for simple (not bone) straightening, this state-of-the-art steam styling tool also gives you the freedom to get creative and add volume, waves, or curls to your hair depeding on your hair type. Its lightweight, durable design is paired with a 360-degree swivel cord so you can spend more time styling and less time taking care of tangles. When you're finished, a little loop at the end makes storage a breeze.

5. FURIDEN Steam Flat Iron Hair Straightener 1" Plates
The Furiden straightener is rated the 5th best steam flat iron for Black hair because it nourishes dry and brittle Black natural hair making your 4C hair look gorgeous. It moisturizes your 4C natural hair keeping it soft and smooth all day. Steam natural hair straighteners make use of hot steam vapors that straighten natural type 4 hair without damaging the hair cuticle, as a result, your natural hair becomes frizz free and can be more easily managed. It doesn't lead to snapping or breakage of natural Black hair.
This steam flat iron hair straightener causes less breakage and damage than many of it's competitors, while delivering hydrating moisture and not burning off the essential natural oils of your hair.
As a result, your Black hair looks smooth, shiny and moisturized. This #5 best steam flat iron for Black hair is suitable for all hair from Black to Caucasian and the steam hair straightener has plenty of heat adjustment settings to help you reach the appropriate level of heat for your texture.
It works for all hair density types. Whether you have fine, medium, thick or coarse, textured or natural wavy hair. 

5th Place on Best Steam Flat Iron for Black Hair list.
FEATURES: 
At the end of the day though... Steam doesn't straight like non-steam flat irons do, so a few touch ups might be required but you don't need to straighten repeatedly even redo your entire head.
This is equipped with floating plates and a useful no-gap designs that won't tug or pull. Helps create a sleeker style without too many repeated passes.

6. Xtava 1" Ceramic Steam Flat Iron Hair Straightener for Black Hair
Xtava "Time-to-Shine" 1-inch flat iron steam straighteners for hair are designed with nano ceramic and tourmaline plates to straighten thick or coarse natural type 4C Black hair without over-drying your follicles. The packaging is very nice, showing that the steam flat iron manufacturer pays attention to detail, that's one little and appreciated nicety that comes with the #6 best steam flat iron for Black hair.
And as an added bonus, the Xtava steam straightener comes with a thermal heat glove and a dripper tool. The water dropper tool comes in very handy since it's really difficult to get water into the water tank without one. 

6th Place on Best Steam Flat Iron for Black Hair list.
FEATURES: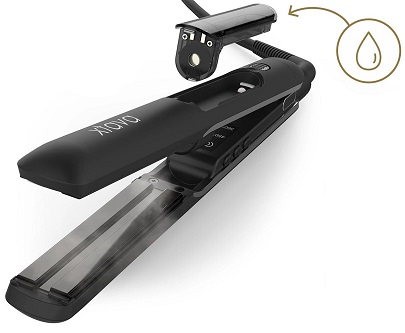 Plate size: 1'', Nanoceramic and Tourmaline Technology
Conditioning Steam Helps to Add Moisture and Shine to Hair
360F/450F Temperature Control (2 heat settings)
60-second Rapid Heat-up
8'10", 360° Swivel Cord
Removable Water Reservoir
Includes Heat-resistant Travel Bag w/ Water Dropper
The amount of steam that the Xtava pushes out is impressive and it's the steam that makes the whole difference making it one of the best steam flat irons for natural hair types.
Another bonus is that it's lightweight and very easy to use. For you natural hair honeys who never have used one of these steaming straighteners but are deadset on getting one, this is a good option.
It is so gentle that it will save your hair from damage. This is a good buy for you if you have big natural kinky curls and love your natural kinks, but still enjoy straightening your hair from time-to-time. Some natural Black women feel that this is the best steam flat iron for Black hair because after beginning use of this Xtava steaming flat irons and years of use, the moisture and hydration given has caused healthier hair than ever. 
7.
 Infiniti Pro by Conair Ionic Steam Flat Iron for Black Hair; 1 1/2"
Youll love what the Infinity Pro by Conair high-tech 2-stage styling system can do for your natural hair. The nano silver makes this steam flat iron's plates glide smoothly through natural Black hair, and the tourmaline ceramic smooths your natural hairs cuticle layer to protect it from excess heat damage.
The Infinity Pro 2-step hair styling system first infuses hair with conditioning steam, and then locks in all that healthy moisture with heated plates. The results you get for your natural Black hair is gorgeous, silky, shinier, straight styles that last! The advanced Nano Silver Tourmaline Ceramic technology and their 2-stage styling system lets you achieve longer lasting salon-straight looks on your natural hair every time you style!
7th Place on Best Steam Flat Iron for Black Hair list.
FEATURES: 
Stage Styling and Advanced Technology
Retractable Detangling Combs       
Multi-level Steam Function        
Ionic Properties Neutralize Positive Charges in Air
Nano Silver Micro-particles Coat Plate Surface         
Electronic Temperature Control        
Professional 9'Swivel Cord 
You'll also benefit because the ionic properties of this steam flat iron neutralizes positive charges in the air, reducing the irritating static electricity that dulls hair and causes frizzy flyaways. With consistent use you natural hair quickly becomes more manageable and shiny. The ionic steam straightener is equipped with a true ion generator that releases 2 million ions / cm3. Steam and ions create increased softness and brilliant shine for flawless results.
The Infinity Pro by Conair has patented Nano-Silver Tourmaline Ceramic coated plates, the micro-particles of nano silver coat the steam flat irons surface. The fusion of ceramic and tourmaline gives the plates optimal resistance to the highest temperatures and guarantees the integrity of the plate surface. Your natural hair glides through the plates effortlessly, without friction. The integrity of your natural Black hair is preserved.
Another reason this Infiniti Pro is ranked on our best steam flat iron for Black hair list is because maintenance and upkeep of your straightener is easy. Cleaning the glide plates is super-easy and requires little effort because of its non-stick surface. You simply wipe the flat iron plates with a damp cloth after each use to remove any product buildup.
Join NHP-HIVE and get sent our info-packed, down-to-earth & sometimes funny NHP hair tutorials by email. SIGN UP HERE...
Best Steam Hair Straightener vs Standard Flat Iron for Black Hair: What's The Difference?
The differences presented in the steam straightener vs normal straightener debate are crystal clear.
The normal standard flat iron is always going to be more solidly built and durable than even the best steam flat iron for Black hair.
The construction of steam flat irons is flawed:
Because the addition of the water tank will always lead to your steam flat irons dying faster than the common flat iron with normal construction. Steam flat irons just have too many moving and water-holding parts to be truly long-lasting.
And because many steam hair straighteners have comb teeth attached, they don't clamp down on your hair as firmly as regular flat irons for Black hair.
A regular flat iron has metal plates that are heated. Those heated plates are pressed around the hair and pulled downward. That heat and the metallic plate material works to remove frizz, curls, and waves from hair.
Black natural hair relies more on heat and time under higher temperatures to remove natural kinks and curls more it depends on moisture and hydration for straightening purposes.
And so:
The heated metallic plates from a regular flat iron delivers more consistent heat that's needed to give you really, truly bone straight straight hair.
Black natural hair that hasn't been relaxed with added chemicals needs that extra consistent heat boost from normal pro-level non-steam flat irons to get that bone straight look that you want.
On the other hand, professional steam hair straightener reviews show that the difference steam flat irons make is infusing your hair with hydration and moisture, so in effect, they are straightening (to a lesser degree) without burning off as much of your hair's natural sebum oil and moisture. A regular flat iron uses your hair's own moisture to straighten.

Are Steam Flat Irons Better for Black Natural Hair?
Look… If you're thinking about buying a steam technology hair straightener, you should be asking…
...are even the best steam flat irons better?
Well, it depends because the steam hair straightener vs flat iron argument is interesting, and really, it depends on which benefits you're looking for because you can't have them all…
Hey, I'm just being honest with you sis... Tellin' it like it "T... I... IS..." (**Bernie Mac Voice**)
If you're looking for THE MOST GENTLE type of flat iron for natural hair, then yes. The best steam flat iron for Black hair will be better.
I've found that steam straighteners are popular for being far gentler on Black hair, so I feel that's a big benefit that can't be ignored, especially if your hair is prone to dryness or breakage.
Here's the problem though:
If you're looking for the absolute best flattening results or a faster press, your common steam straightening flat iron, even the best STEAM flat iron for Black hair, isn't going to do a better job for you than the top-notch professional non-steam straightener.
Sorry, it's the truth though...
See:
Steam technology hair straighteners, are very gentle but don't give the straightest results, steam irons also take forever to finish a whole head of hair, so if you're in a hurry or you want your hair "bone straight", then the steam straightener isn't the most convenient or best flat iron for African-American hair. Flat out….
(You get the joke? "Flat out"...... OK, neva mind, lol!)
Truth be told, when you have to be constantly filling up the water tank, the whole process is monotonous and if you have very long kinky-curly hair it adds to the time it takes to complete the task at hand.
And because of the complex construction (having a water tank and all), even the best steam flat iron for Black hair is less durable and more likely to stop working pretty quickly in comparison to normal flat irons without steam.
On the bright side though:
The best steam flat irons for 4C hair are usually very lightweight, which for many naturals is a huge advantage.
Still though:
Too many professional steam hair straightener reviews sound like this...

Best Steam Flat Iron For Black Hair Review...
How To Use a Steam Hair Straightener
for Black Natural Hair
OK, so let's imagine that you've bought your first steam straightener, so of course you want to know how to use it properly!
Fortunately, these hair tools are simple to operate, check out my bullet list below on how to use a steam straightener for the best straight hair results:
Wash your hair with a good quality shampoo and deep condition thoroughly, try one of

TGIN's good products for natural hair

.
Towel dry hair, apply a serum or hair product suited to your hair type.
Allow hair to air-dry naturally or speed it up by using a

good blow dryer for Black natural hair

.
Apply one of the best heat protection sprays for type 4 Black hair.
Split hair into sections (depending on how long your hair is, the number of sections will vary, and the thickness too).
Fill your steam straightener up with the required amount of water and plug in, switch on.
Allow your pressing tool to heat to your desired temperature.
Take the first section at the back and place the steam straightener over the section at the root. Gently pull the straightener through to the bottom, turn in or turn out depending on how you want your ends to fall. 
Complete the same process around the rest of your naturalhair. 
Finish with a

high-quality serum or nutrient-infusion oil

to add extra sheen!

It's as easy as that and not too many differences from traditional straighteners except for adding water.

Is The Redken Rowenta Steam Iron Extinct?

You see.... This is what I try to tell y'all. There is a price to pay when products are NOT durable.
Listen...
The Redken Rowenta steam iron was one of the legendary straighteners back in the day (around 2013 and after), many thought that it was BY FAR the best steam flat iron for Black hair, and then one day...POOF!
Gone like the wind sis...
I think it's because these companies have to deal with too many returns when they sell steam flat irons.
Even the ones that give the best results aren't as durable as a non-steam Babyliss PRO flat iron for example, or a Good.Hair.Day (GHD) model.
So... Many companies stop making steam iron and they go discontinued.
The few that ARE left are so expensive, only a PLUM FOOL would buy.
The Redken and Rowenta salon steam infusion straightening iron price is just BANANAS!
I've seen companies selling them for over $550! Even Walmart got in on the action, the Redken and Rowenta salon steam infusion straightening iron price over there had reached over $700 at one point.
The scarcity drove up the price on the Redken Rowenta steam infusion flat iron and it's nearly impossible to find.
And even if you could find it, steam flat irons break & stop working too quickly! I'm cool on that sis....
Do Steam Flat Irons Damage Black Hair?
I bet I have your attention now girl! You probably have wondered does a steam straightener damage hair or not. The answer is, no. If used correctly. Especially if you have the best steam flat iron for Black hair.
And that's why I show you how to use them properly so that steam straighteners won't harm or damage your natural hair.
And:
To be sure that your steam flat iron doesn't damage your hair you need to do more than simply rely on the powers of your hair tool. For example, if you have dry, color-treated or already damaged hair you should start off using your straightener on a low heat setting.
Also, don't do too many passes, don't keep going over and over the same sections of hair, that's a good way to fry your hair like Popeye's chicken sammiches.
Yes, I said "sammiches", and yes I can spell sandwich. Mind ya business, LOL!
Lastly, always...always...always use a good heat protecting spray to create a protective barrier for your hair when applying high temperatures. Use straighteners gently, never overstuff the plates with hair and always treat your natural hair to conditioning masks once a week to combat dryness.
Fact is, not only do steam flat irons NOT damage hair, they are well-known to be less damaging than most other types.
People who were looking for flat irons that won't damage hair happily sing the praises of the safety benefits they've received when writing their professional steam hair straightener reviews.

Is The Best Flat Iron for African-American Hair a "Steam Straightener"?
If you were under the impression that the best steam flat iron for Black hair would give you the straightest, flattest results.
You'd be wrong sis… (It's good to KNOW THOUGH, right?)
Not even the best steam flat iron for Black hair will give you bone-straight results.

According to the majority of professional hair straightener reviews from Black women, you'll see more positive reviews for the elite professional NON-steamer brands, namely, the GHD flat iron for Black hair and the BabyLiss Pro for natural thick hair.
These two professional straighteners are constantly running neck-and-neck in competition as the best flat iron for African American hair. 
HANDS DOWN...
And don't bother looking for BabyLiss steam flat iron reviews, because neither GHD or BabyLiss dabbles in the steam flat irons market.
These two professional brands also ignore production of the popular, yet gimmicky, steam flat iron with comb.


Not even the best steam flat iron for Black hair gets your hair bone-straight...
Conclusion: Best Steam Flat Iron for Black Hair 4C
So, when all is said and done the DORISILK Professional ceramic tourmaline vapor steam flat iron is our most highly-rated choice for best steam flat iron for Black hair.
But, as stated. Even the best steam flat iron for Black hair is a candidate to have complications and break much sooner than a normal straightener without the steam component.
If you want to see flat irons that straighten FAR better, straighter and faster than steam flat irons, I suggest you hop on over to my article about the 10 best flat irons for natural hair silk press.
I think you may find that the article sheds some more light on finding the best flat iron for African-American hair.

Missed Something? Jump Back Up The BEST STEAM FLAT IRON FOR BLACK HAIR Tutorial! Go back to:

Liked This "Best Steam Flat Iron for Black Hair" Tutorial? Follow The Editor...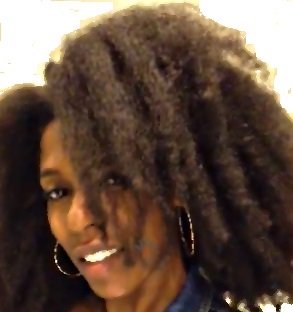 ABOUT THE AUTHOR: Melissa Lee 
Melissa Lee is a Contributing Editor to NHP and a former owner of the BlackhairOMG website. She formed 4C Trichology Growth Services, LLC., a US based hair care consultation service. She has also contributed as a writer and consultant for various hair and beauty websites. Melissa can be followed on Twitter here.

---