NHP is reader-supported. As an Amazon Associate we earn from qualifying purchases.

5 Best Hair Products For Two-Strand Twists w/ Gorgeous Strands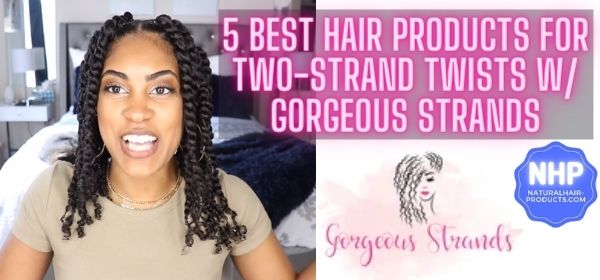 Best Hair Product for Two-strand Twists
You looking for the best hair product for two-strand twists? I ain't mad atya sis, do you and stay looking cute! 
Fortunately for you...
...I have some great product suggestions for you below that will have your 2-strand twists moisturized, nutrient-infused and looking STRAIGHT-UP BOMB! Your twist outs will be fire too because I'll show you some great curl products for that too, and even hook you up with a special NHP discount!
Why The Best Hair Product for Two-Strand Twists Matters...
Errrbody knows that 2-strand twists and twist outs are staple hairstyles for gorgeous type 4C naturals and every texture below it. Twists, twist outs, flat twist, and flat-twist outs are created on both wet and dry hair.  
Using the best hair products for two-strand twists do much in deciding whether your twist out hair creates a defined curl or not.
Also, using the best products when wearing your hair in twists or twist outs allow many naturals to flaunt beautifully-stretched second day, third day, or even all-week hair without doing another long wash day. 
Twistouts are cute, sexy, and even great prep style for other styles, and with the right two-strand twisting cream can make your hair shine and make you look like the melanin-blessed star that you are!  
So since you're looking for the best hair product for two-strand twists, here are some holy grails natural hair products that many use for twists our twist-outs that give stellar definition in your twists and will allow the style to make it to that second or third day.
Everyone has their perfect way to create twists or twist-outs, but all will say the right product is necessary so check out this top 5 list that NHP has put together so that you can get amazing results.
5 Best Hair Products For Two-Strand Twists w/ Gorgeous Strands
So let's talk about an amazing natural hair care brand that is not only Black-owned, they have a deep selection of twist and twist out products as well as amazing curl defining options.
The Gorgeous Strands company is dead-set on making the best hair product for two-strand twists on the market. If you go through their website, you'll see what I mean.
Let's me show you what they offer....
1. Best Two-Strand Twist Product Combo: Juicy Twist Duo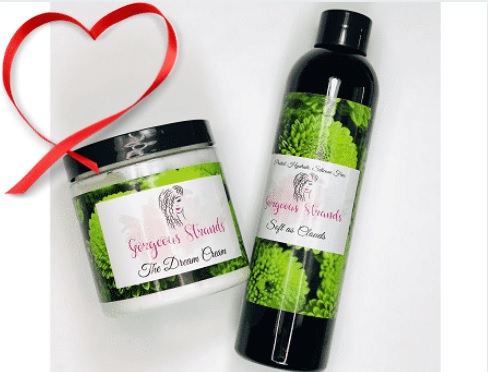 This natural hair product combo is ONLY for those that are looking to decrease the frizz in their twist outs, shine, definition and style that holds! Is that you? Get your juicy twists poppin' quick-fast!
This is a strong candidate for the best hair product for two-strand twists because it gives you hydration, super shine, definition, great slip and long lasting style.
2. 
Best Styling Foam: Macadamia Oil Styling Foam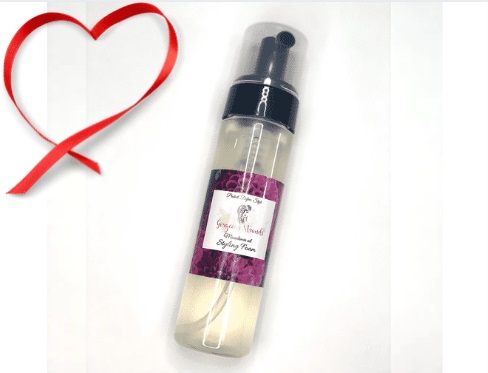 If you're looking for the best hair product for two-strand twists that gives superior shine, definition, super softness and a lasting hold you just may have found it!
The star ingredient in this twist foam is Macadamia Oil! Macadamia oil is great for taming frizz and a darling 4C hair treat!
This silky-feeling twisting foam slips easily through your curls while leaving behind an amazing smell!  Get the best out of your flexi rod sets, twist outs, braid out, define your curls and more! 
Enjoy wash-n-gos that are soft without the crunch and last long! The foam makes an excellent product for two-strand twists and can be used alone or with the Creme de la curls leave in.
Are you a 4C hair honey? Another texture? No prob sis, this two-strand twist hair product can be used on all hair types and densities!
For tighter coils and more dense 4C hair just use more in your type 4 hair care regimen! For light density and loose waves or curls use less! It's simple…
To top it all off, this natural hair twist product is made of organic ingredients, smells heavenly, gives long-lasting shine and hold while working for men, women and children alike!
3. 
Best Silicone-Free Product for Two-Strand Twists: Soft As Clouds by Gorgeous Strands
Are you sensitive to smells? Do you abhor silicones? Well sis! It looks like you've found the best moisturizer for two-strand twists to match your desires and avoid your pet-peeves!  
This fragrance-free moisturizer for 2-strand twists is called Soft As Clouds, it's a bomb Black hair moisturizer. It is Silicone Free, Paraben free all while moisturizing your 3A-3C curls or 4A-4C curly coils and kinks!
It's also vegan-friendly with natural and organic recipe ingredients.

Best hair product for two-strand twist review!
To moisturize your hair with this bad girl, just apply a liberal amount on freshly cleansed, damp hair. For best results seal moisturizer in with your favorite oil.

Check out the ingredients list and decide for yourself if this could be the best hair product for two-strand twists and other natural hair styles.
Ingredients: Pineapple and Green Tea Leaf Infused Organic Aloe Leaf Juice, Organic Coconut Oil, Shea Butter, Behentrimonium Methosulfate, Cetearyl Alcohol, Organic Soybean Oil, Kalahari Seed Oil, Cetyl Alcohol, Pro-vitamin B5, Coconut Fruit Juice, Kalahari Seed Extract, Phenoxyethanol, Benzoic Acid, Dehydroacetic Acid, Citric Acid.
[RELATED ARTICLE: Pre poo 4C hair overnight...]
4. 
Best Creme Consistency: The Dream Cream
Are you looking for a twisting cream that provides shine, softness and hold?
This lusciously creamy hair product for two-strand twists does it all! You're gonna have errrbody asking you about your beautifully softer, fluffy wash and gos and juicy twists! Tell them to back up so you can explain! Dang! Lol….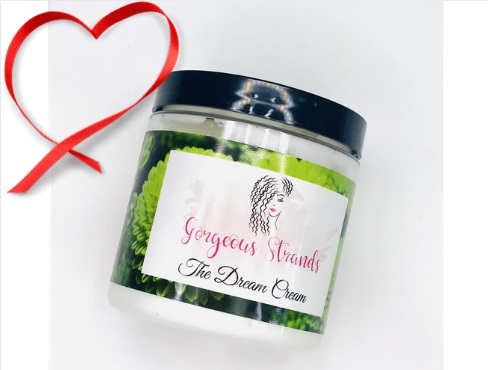 This organic and vegan-friendly twist product does not contain coconut oil.

It works well on the whole family's heads and has high-quality Manuka honey in it to give you lasting shine and hold.
It's not named "The Cream Dream" for nothing baaaaaaby! You need to get your hands on this stuff.
To use this premium two-strand twist product just apply on freshly cleansed damp hair, only using a small amount. Part hair into sections while applying a small amount of products to create the juicy twists or defined curls of your dreams! For best results allow hair to completely dry before styling.
5. 
Best Twisting Gel For 4C Natural Hair: The Curl Defining DUO by Gorgeous Strands
To tell the truth, Gorgeous Strands says that this product works on all porosities and densities! They recommended it for type 3 and 4 naturals.
Let's keep it real though… At NHP we are focused on our 4C honeys who often get overlooked by product makers.
So if you want the best hair product for two-strand twists that can bless your 4C crown, look into this bad girl rightchere (yes, I said "rightchere")....
This organic and vegan-friendly hair product duo has ZERO Phthalates, PEGs, Parabens, Dyes, Mineral Oils or Parabens. Get your 4C hair curly and poppin'...This product duo includes:
How to use: apply Creme de la curls all over. Section hair. Apply Mango Butter Curling Jellie on each section. Dry and style as you please! Flaunt your curl definition all round town because you KNOW you're lookin' too cute NOT to be seen!
[RELATED ARTICLE: Pre-poo for transitioning hair]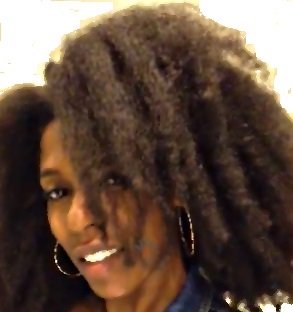 Hey sis, heyyy!
I'm Melissa Lee...
Co-founder of NHP. You'd de wise to...
TAKE DELIVERY of NHP Tutorials in your inbox for FREE!
Get EXPERT HAIR HELP at your fingertips weekly!
Let's keep in touch - sign up quickly by clicking RIGHT HERE...

What To Use To Twist Natural Hair: Gorgeous Strands!
As you can see, the Gorgeous Strands brand is locked and loaded with an amazing suite of products for 4C hair and every texture below it.
Many products of which could be considered the best hair product for two-strand twists, you'll have to decide for yourself.
If you use Gorgeous Strands brand products email NHP your reviews so we can keep updating this article, let us know if you think one of these Black Business creations is your choice as the best hair product for two-strand twists and other natural hairstyles.
Don't forget to BOOKMARK THIS PAGE and sign up for hair product discounts from NHP for FREE.
Follow Author of Best Hair Products For Two-Strand Twists Tutorial...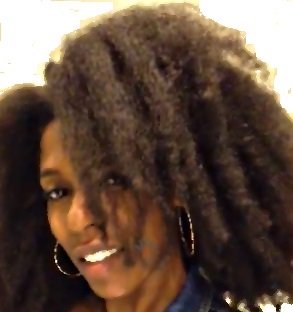 ABOUT THE AUTHOR: Melissa Lee 
Melissa Lee is a Contributing Editor to NHP and a former owner of the BlackhairOMG website. She formed 4C Trichology Growth Services, LLC., a US based hair care consultation service. She has also contributed as a writer and consultant for various hair and beauty websites. Melissa can be followed on Twitter here.

---