NHP is reader-supported. As an Amazon Associate we earn from qualifying purchases.

Best 360 Wave Products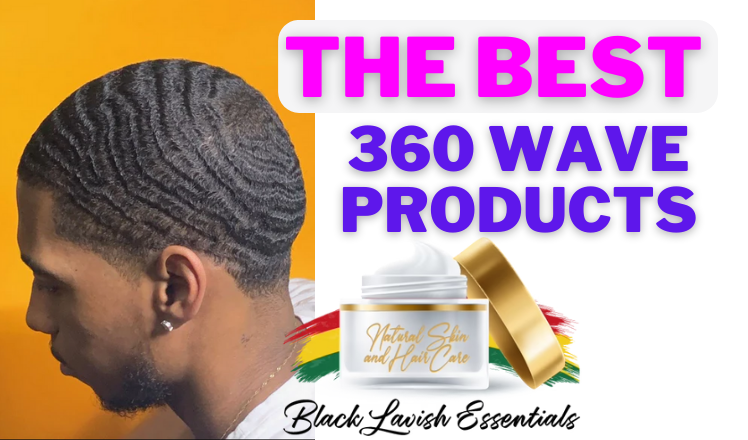 Are you looking for the best 360 wave products, bro? Listen man, as a lifetime waver (on & off) since I was 16 sitting in school with my wave brush sitting on my lap until the teacher looked away and I could get a few brush strokes in…
…I've understood the importance of a top-notch wave grease or wave pomade product.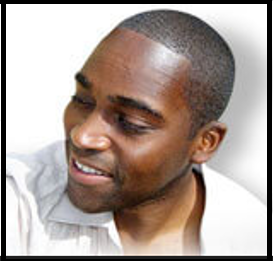 Hey fellas, I'm Torrey Lee. Co-founder of NHP, and I also step in to write about the topics that I care about.
If you're seeing my face on an article, that means this topic is something I care about and wanted to add my 2 cents in about. Read this article to find out why.... 
STILL THOUGH:

I'm now in my 40's and I'm just learning about the importance of getting the best ALL NATURAL 360 wave products, instead of slathering chemical goo on my scalp and letting toxins seep into my blood.
At the same time, alot of purely natural 360 wave products give weak hold and don't really help wolf your pattern in the way you really want.
That;s why I'm geeked to let you know about a NEW Black-owned brand that makes natural 360 wave products that have the bros goin crazy. I'm excited too! Real talk…
(PLUS I have a 10% OFF Exclusive discount code to tell you about…)
So look…

The Best 360 Wave Products Shouldn't Harm You…
Man, the crazy thing is that I JUST played myself on Amazon a few weeks ago, thinking I was buying a natural 360 wave grease.
How did I play myself? Well…
I bought a pomade that WAS LABELED as a "natural 360 wave pomade"...
But when I got that joint, the first ingredient listed on the can was "petroleum", the best 360 wave products should NOT have harmful chemicals.
Putting petroleum is dangerous to your health bro, seriously, petroleum products are fuels made from crude oil and other hydrocarbons contained in gas.
Look, the largest organ on your body is your skin, and this organ ABSORBS what we put on it. What you put on your skin and scalp absorbs into your bloodstream and affects your other organs like your brain, liver and kidneys.
Products with petroleum are NOT all-natural, and yet….
…this was the "natural" 360 wave grease they sent me. They called it natural because they added some natural products ON TOP of a gasoline BYPRODUCT, dude!
I was pissed man, I don't mind paying a little extra dough if I'm getting what I want and expect.
But this Amazon 360 wave pomade that was FALSELY labeled as natural basically ripped me off because I never put it in my hair after I realized it was the same as Murrays, Dax and all the other poison pill 360 wave products.

And because I'm such a dude (lol), I didn't go through the pains of sending it back. But I did light them fools up with a bad 1-star review, and I never leave reviews! I was pissed though and I wanted to save other guys from making the same mistake…
Anyway, bump all that. Because I'm about to put you up on Black Lavish Essentials 360 wave products because they don't have petroleum in their all natural 360 wave products, the brother who runs the company has some bangin' 360's himself, and the reviews from other fellas all say that this product is THE TRUTH for real wavers.
Can't beat that!

Get The Best Natural 360 Wave Products From Black Lavish Essentials
Do you want all-natural 360 wave products with strong hold? You done fooled around and found out messin' with NHP big fella!
Because, the organic wave pomades by Black Lavish Essentials are used for training your hair to achieve the perfect 360 spin.
These 360 wave products boast a combination of raw shea butter, mango butter, and key essential oils that are great for providing your hair with the hold you need for wolfing sessions and the healthy nutrients it needs to form deep waves before and after your next haircut.
The various 360 wave pomade recipes that they offer are oil based products with firm hold that are great for keeping your hair healthy while providing the perfect 360 wave style and shine you need without leaving a heavy greasy buildup.

Why 360 Wave Products From Black Lavish Essentials Can Be Trusted…
You may be wondering why so many 360 wave products turn out to be trash, like the wave grease I bought at Amazon.
Most of the time it's because the products are made by people who don't even have or understand Black men's hair and how much we are tired of killing ourselves with unhealthy products.
But Black Lavish Essentials is BLACK-OWNED, which is major.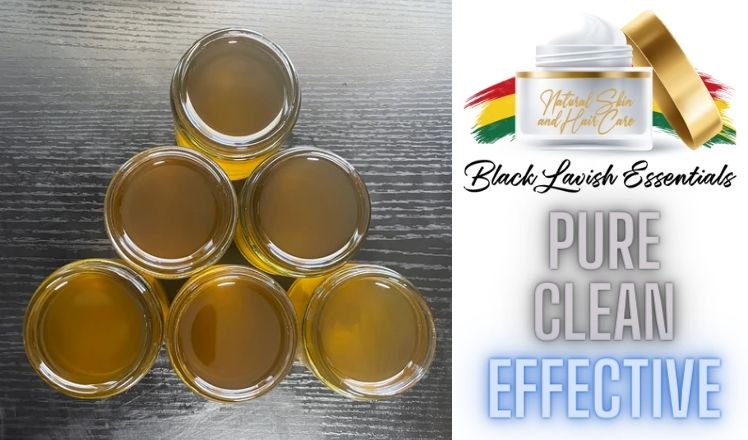 Still though, we expect good products, Black-owned or not. And, Black Lavish Essentials has the reviews that prove that their 360 wave products are top-notch.

So here's the deal… Black Lavish Essentials is a natural self care and beauty brand inspired by the use of organic raw shea butter and their unique combination of oils to handcraft luxury skin products (like their whipped body butters) and hair care kits.
In 2018, Joshua, the company's co-founder and his twin brother ventured to Ghana, West Africa, where they built relationships in communities that allow them to work together to provide quality natural skin and hair care products like the best 360 wave product and more.
These brothers spent several weeks in various regions of Ghana as part of a cultural immersion experience where they gained a better understanding of the history and culture within Ghanaian communities, family life, and African Ancestral history that was interrupted due to the Trans-Atlantic Slave Trade.
While starting a business was not their original intention, within nine months of returning home, Black Lavish Essentials was born. Shopping with Black Lavish Essentials and buying the best 360 wave products from them not only supports a successful Black business in the United States but also families and communities in West Africa without the harsh chemicals or added ingredients.
Anybody that knows NHP, knows we are ALL ABOUT keeping the Black dollar circulating among GOOD and RELIABLE Black businesses!
Get great 360 wave products while supporting your people, ain't nothing better than that.

You WILL NOT FIND this discunt code on another website, this is an NHP special discount thanks to the owner of Black Lavish Essentials.
Use the special code "NHP10" at the Black Lavish Essentials Website for an instant disscount at checkout!
Get The Best 360 Wave Products AND MORE!
If you didn't know, now you know man… These natural non-greasy spinna pomades are some of the best 360 wave products online to transform your waves, and they have a crazy selection of different mixtures and different fragrances you can grab.
You can grab the After Dark 360 Wave Pomade, the Cool Breeze 360 Wave Pomade, the Money Mango 360 Wave Pomade, the Teakwood 360 Wave Pomade or the Coconut Wave Pomade. They smell great and help you switch up and keep from getting bored with your 360 wave pomades.
Still, all the product variations have an all-natural base made of….
Shea Butter

Mango Butter

Avocado Oil

Argan Oil

Jojoba Oil

Aloe Vera

Safflower Oil

Almond Oil

Fragrance Oil
These are some of the best 360 wave pomade products because they contain only natural raw ingredients & essential oils to make a quality oil based solution that is safe for everyday use in your hair.
And still, they have great hold to keep your waves in place.
These 360 wave pomade products are intentionally made without any artificial preservatives, chemicals, alcohols, emulsifiers, or water-based solutions that you may find in chemical-laden, unnatural 360 wave products, which can potentially have damaging effects on your hair and hairline in the long run.
Besides 360 wave creams, Black Lavish Essentials has their own wave brushes to bless the 360 wave product market! Check it out below…

360 Wave Brushes - Best Products Available!
When discussing the best 360 wave products, you've gotta take a look at the curved 360 wave brush by Black Lavish Essentials.
Their 360 wave brushes are excellent for wave training (ie, wolfing) and getting your hair to lay down exactly how you want during a long wolf.
Use their signature BLE 360 Wave Brush to style your hair with the wash and brush method and transform your waves into a full 360 pattern in the sink or shower.
The 360 wave brushes curved design contours to the natural head-shape making it easier to brush from all angles and lock in deeper waves.
Also, try wetting the brush to dampen your hair on-the-go to quickly enhance your overall 360 wave pattern.
Try pairing this with their all-natural and organic 360 wave pomade products and a silk durag to lock in your new deep 360 wave style today!
Light 360 Wave Cream - Shea Butter
Another great 360 wave product many people love is pure Shea butter, used as a natural hair conditioner and 360 wave cream.
Black Lavish Essentials has that for you too, these folks ain't playing.
So, if a light 360 wave cream is your 1st choice, grab some organic raw Shea butter from Black Lavish Essentials today.

Reviews For The Best Natural 360 Wave Products By Black Essentials
Below I wanna show you a few reviews about these amazing Black-owned 360 wave products, the reviews I'm gonna show you are from the main Black Lavish Essentials website, but you can see even more at their Etsy Store.
The reviews will prove that these are some of the best all-natural 360 wave products on the market!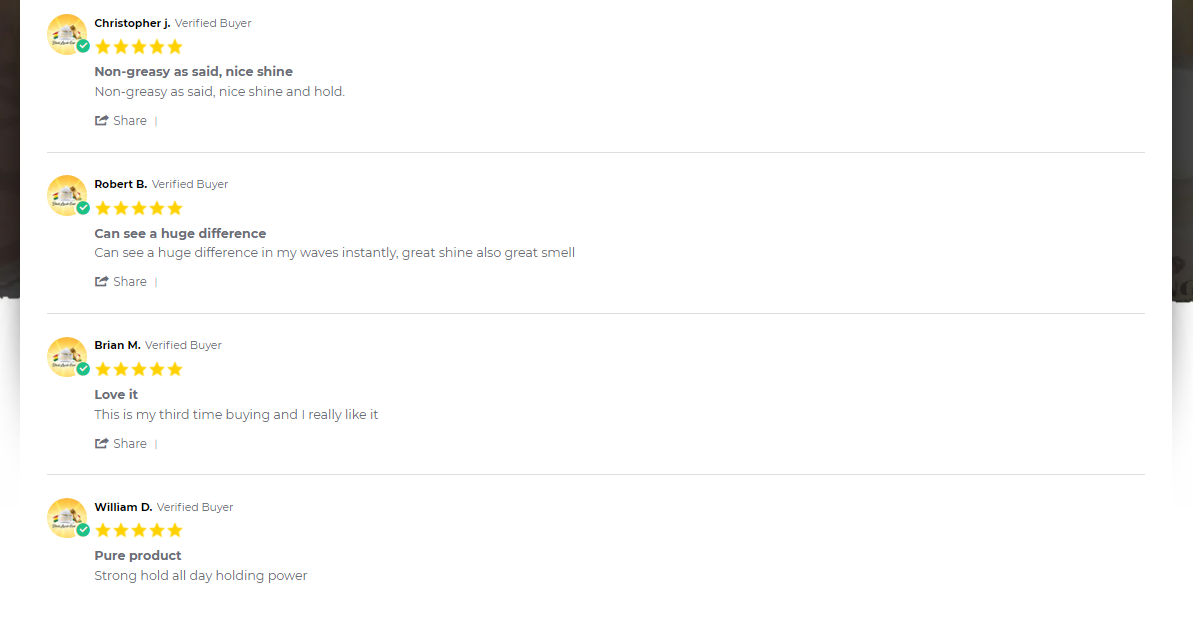 Best 360 Wave Products Can Be Purchased Here:

Hey, if you want the best natural 360 wave products with hold and a great scent, you know where to go bro. And hey, NHP haggled with the good brother who owns Black Lavish Essentials to get a discount for you…
(OK, I didn't have to haggle, bro gave us a discount code for you after asking one time, but let ME be great….lol)
… So after negotiating this brother under the table, he was gracious enough to give YOU a 10% discount, all you have to do is use the discount code "NHP10" at purchase to get 10 PERCENT OFF your entire purchase.
Gotta love the BBB's, Bomb Black Businesses.
Support the fam all while getting the dopest 360 waves you've ever had. The 360 wave products from Black Lavish Essentials are the best secret that will have you spinning and have the ladies grinnin'...
Get yours here.
And follow Black Lavish Essentials on your favorite social media platforms:
Instagram: @BlackLavish_Essentials
Twitter: @BL_Essentials
Facebook: Black Lavish Essentials
Youtube: Black Lavish Essentials
TikTok: @BlackLavishEssentials

You WILL NOT FIND this discunt code on another website, this is an NHP special discount thanks to the owner of Black Lavish Essentials.
Use the special code "NHP10" at the Black Lavish Essentials Website for an instant disscount at checkout!
Follow NHP's Editor of Best 360 Wave Products List...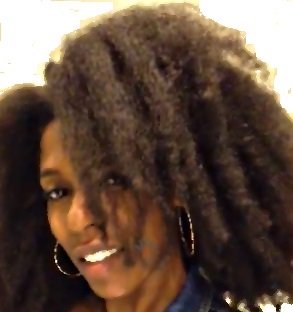 ABOUT THE AUTHOR: Melissa Lee 
Melissa Lee is a Contributing Editor to NHP and a former owner of the BlackhairOMG website. She formed 4C Trichology Growth Services, LLC., a US based hair care consultation service. She has also contributed as a writer and consultant for various hair and beauty websites. Melissa can be followed on Twitter here.

---