NHP is reader-supported. As an Amazon Associate we earn from qualifying purchases.

Argan Oil Before Washing Hair? [PROS & CONS!]
Let's talk about argan oil before washing hair. It's no secret, argan oil seems to be a key ingredient in many premium shampoos and conditioners these days, and there is a true rhyme and reason why it wins high praises, even though some folks think that argan oil is bad for hair.
However, should you use argan oil on your hair before washing it?
Is Using Argan Oil Before Washing Hair OK?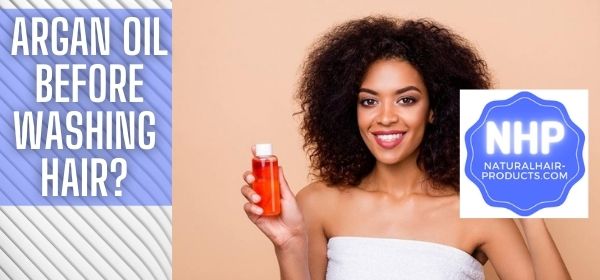 If you are a pre-poo aficionado, the benefits of using argan oil before washing hair are not a shocker.
Additionally, you likely have a DIY pre-poo recipe that rivals the best-manufactured blends of pre-poos.
If you're just getting started in the land of DIY pre-poos, likely, you are still finding your way to the magical formula and mix of hair growth oils that will yield the best results for your texture.
No matter your station in the pre-poo world, your medley of oils may or may not include argan oil – but should you use argan oil on your hair before washing?
The short answer is -YES! You can use argan oil before washing your hair. because argan oil is rich in omega fatty acids, melatonin, and antioxidant compounds that work together to produce an array of benefits no matter whether you apply it before, during, or after washing your hair.
Hair Hydration: There are numerous benefits of using argan oil ahead of the big event. First, argan oil is an excellent solution for helping to infuse moisture into your hair. Hair hydration is vital for hair growth, elasticity, and keeping frizz at bay.
Scalp Treatment: Next, argan oil is amazingly beneficial in naturally restoring moisture to scalps ravaged by dandruff or psoriasis. Its anti-inflammatory properties help soothe the scalp, creating an environment that is more supportive of healthy hair growth. Argan oil helps to bring vital nutrients to your scalp while also boosting moisture levels.
Healthy Follicles: Argan oil is a reparative agent that can enhance the overall structure of your hair follicles. In addition, vitamins and minerals available in argan oil improve the rate at which keratin production occurs.
Keratin is an absolute must-have protein in your quest to achieving, healthy hair that can withstand the challenges of daily hair manipulations or protective styling practices.
[RELATED ARTICLE: Benefits of sesame oil for hair growth health...]
Benefits of Argan Oil Pre-Poo Before Washing Hair
Before we dive into using argan oil, let's discuss the primary benefits of pre-pooing. Many people deploy the practice of pre-pooing before moving into the actual shampoo and conditioner process. Pre-poos have gained traction in the last few years for multiple reasons.
Protects the Structure of Your Hair: Pre-pooing your hair helps prepare your hair for the shampoo process because most pre-poo formulas contain the right blend of ingredients that add a protective layer to those precious strands on your head. This protective layer helps prevent shampoo products from stripping your hair and robbing it of its natural sebum oils.
Detangles Your Hair: Pre-poo is a natural detangling agent if you combine the appropriate agreements. The oils commonly used in pre-poos create slippage, creating the space for tangles to slide away and make room for manageability.
Softens Hair: Pre-pooing your hair not only helps to detangle your hair but also softens your hair. This side effect is a direct result of moisture-rich hair growth oils that penetrate your hair. This moisture serves as a mechanism of rehydration for hair that loses moisture in between washes.  
[RELATED ARTICLE: Yikes! Coconut oil ruined my hair!]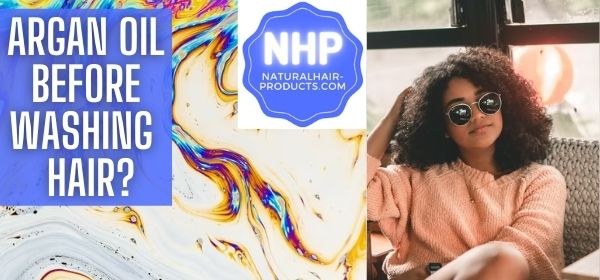 How To Use Argan Oil On Hair Before Washing
Using your own pure argan oil before washing hair will get you the most bang for your buck because you can use it on its own or combine it with other nourishing ingredients, like coconut oil or JBCO castor oil.
Here's how to use argan oil on hair before washing::
Start off with dry hair. Section it into two parts or more depending on your hair type and length. 
Warm up a couple of spoonfuls of your favorite oil and apply it evenly before shampooing. 
Use your fingers to gently detangle each section. Start from the ends and work your way up. Focus the oil on your ends because they're the  driest and that's where the tangling happens. 
Once done with covering the strands with a thin layer of oil, cover your head with a silk or cotton cloth or cap. 
Let the oil sit for as long as you wish. Some prefer to pre-poo the night before washing their hair and this is a good option. 
Rinse with warm water and then clean with shampoo as you normally would. Make sure you don't leave any residue behind.
Incorporating argan oil before washing hair as a natural hair pre-poo is a health-promoting step that you can add into your hair care regimen as often as needed.
It might be every time you wash your hair or once every two weeks depending on your hair type.
Then, be sure to cleanse your hair with a good moisture repair hair cleanser or deep hydration shampoo, also every 4-to-5 months or so you may want to use a proven clarifying shampoo to cleanse away product build up and gunk.
Follow these hair-washing tips for salon-level results.  
[RELATED ARTICLE: Does tea tree oil help low porosity tresses?]
Best Argan Oil Hair Treatments
Using argan oil before washing hair is great, there are other argan oil products besides pure oil though..
That's we also show you some of the best argan oil hair treatments in the form of oils, and argan-oil infused shampoos and conditioners…
1. Moroccanoil Treatment Light Argan Oil
This award-winning Moroccanoil hair treatment is great to use before washing hair.
With one or two pumps of the "light" version, you'll experience argan oil before washing hair benefits like detangled strands, faster dry time, boosted shine, less frizz, and protection for even the most delicate hair.

2. 
ORIBE Gold Lust Repair & Restore Shampoo w/ Argan Oil
There's nothing modest about this high-price but beloved Oribe Gold lust argan oil shampoo. The directions on the back instruct just three tasks: lather, indulge, rinse.
Want truly luscious looking hair? Simple! Swap out your current shampoo for this dermatologist tested, color-safe argan-infused cleanser. With century-old healing oils (argan and maracuja), it will take your hair to its glossiest potential.
3. 
Cliganic USDA Organic Argan Oil
Use this multi-use argan oil before washing hair. This argan carrier oil has remarkable effects on the hair, scalp & beard, and It can be used for all skin types.
Light-weight and fast absorbing, it's gentle enough to be used on even the most sensitive skin.
Using Cliganic argan oil before washing hair is a great option, you can also use argan oil spray, for DIY beauty of making argan oil shampoo and conditioner or even making argan oil hair mask.

4. 
Redken All Soft Argan Oil Conditioner
You can use argan oil before washing hair AND after too! This moisturizing, detangling, and softening Redken All Soft argan oil conditioner is a best-seller that transforms brittle strands with deep hydration using argan oil.
It's also great for sealing split ends and creating shine.

5. 
Gisou Honey Infused Argan Hair Oil
Enriched with argan oil and honey to strengthen your strands, this luxurious Gisou honey-infused hair oil rebuilds and repairs dry, damaged hair.
Use this argan oil before washing hair, not only does it help tame air-dry frizz, but it also creates fresh-out-of-the-salon softness and shine.

NHP Wrap Up: Argan Oil Before Washing Hair
In closing, using argan oil before washing hair and on your scalp is entirely acceptable.
We know that this essential oil can deliver fantastic results for those seeking relief and healthy hair growth. Argan oil in your pre-poo mix is a must-have solution.
If you are on the fence about using this oil, go ahead and add a few drops to your next pre-poo event. The results will amaze you. If you choose to use argan oil before washing hair let NHP know! Email us your review today...

Follow Author of "Argan Oil Before Washing Hair" Article...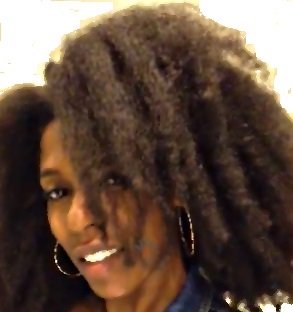 ABOUT THE AUTHOR: Melissa Lee 
Melissa Lee is a Contributing Editor to NHP and a former owner of the BlackhairOMG website. She formed 4C Trichology Growth Services, LLC., a US based hair care consultation service. She has also contributed as a writer and consultant for various hair and beauty websites. Melissa can be followed on Twitter here.
Argan Oil Before Washing Hair

---