NHP is reader-supported. As an Amazon Associate we earn from qualifying purchases.

Is Argan Oil Bad For Hair?
Is Argan Oil Bad for Hair
If you're ever wondered, "Is argan oil bad for hair?" - NHP is going to clear up any doubts for you.
Argan oil is available in tons of premium hair care products. From ultra-hydrating shampoos all the way to luxury Moroccan argan oil deep conditioner masks and over to moisturizing treatment serum hair products, argan oil has become a staple ingredient in the mix, promising to deliver magical results for everyone experiencing dry, brittle, and dull hair.
So, it is only fair that we challenge the status quo by examining how good or bad is argan oil for your hair?
Let's start by examining all of the reasons so many in the natural hair community tout this oil as being one of the best hair growth oils for your tresses.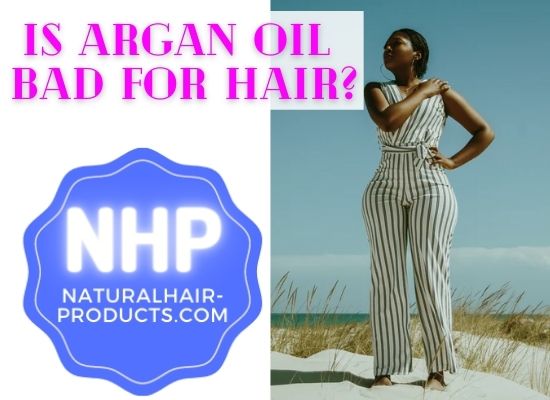 Is argan oil bad for hair? Find out TODAY...
Is Argan Oil Bad For Hair?
If you're asking "Is argan oil bad for hair?", you're in a small group that questions this best-selling and popular natural hair oil.
While most love it, there are a few who have complained that argan oil dried and made their hair super brittle. So, is argan oil bad for hair? 
The answer is still no. Argan oil, in general, is not bad for hair. You simply need to know the best ways to use it and if your hair porosity type is a good match.
Later in this NHP tutorial we'll talk about the precautions to take with argan oil if you have low porosity hair. It remains a good hair growth oil though.
The Benefits of Argan Oil for Hair Aren't Bad At All!
Argan oil has earned the moniker of "liquid gold." It is the product of fresh kernels of the fruit of the Moroccan argan tree.
This oil has been around for centuries as a result of all of the advantages users report.

Prevent Bad Sun Damage w/ Argan Oil
The sun is perhaps one of the most underrated damaging elements of the environment around us. The sun can cause the structure of our hair to break down over time, leaving it vulnerable to split-ends and breakage.
Argan oil acts as a natural protectant against ultraviolet rays that may cause hair strands to become brittle and dry with exposure.

Condition & Guard Hydration w/ Argan Oil



Argan oil is top-rated among naturalistas because of its moisturizing guarding properties for the hair and skin.
This is one of the reasons that argan oil is definitely not bad for hair, it helps coats hair strands and keep the hydration and moisture inside.
In addition, argan oil contains a unique blend of fatty acids, which help create the perfect environment for moisture retention.

Boost Scalp Health From Bad to Good w/ Argan Oil



Argan oil is also helpful in revitalizing and protecting your scalp's health. In addition, Argan oil can help relieve scalp inflammation that can sometimes be associated with other conditions such as seborrheic dermatitis, psoriasis, and infection by restoring or infusing moisture.
If left untreated, inflammation can trigger temporary or long-term hair loss due to poor circulation and decreased follicular stimulation.

Fight Bad Hair Loss w/ Argan Oil



Speaking of hair loss…argan oil contains vitamin E, which studies show can boost the rate and quality of hair growth. In addition, Argan oil is rich in potent antioxidants that protect hair from free radicals known to trigger hair fall.
It is a vital anti-frizz agent that helps to improve the overall manageability of hair and, once again, helps to keep the risk for breakage to a minimum.

Soften Hair w/ Argan Oil



Another positive effect of keeping frizz at bay is curl and coil definition. If you are struggling to achieve the perfect curl definition, this oil may assist you with getting on track.
Argan oil is most recognized for its ability to leave hair feeling soft and manageable.
[RELATED ARTICLE: Can Jamaican black castor oil cause hair loss?]
Is Argan Oil Good or Bad for Low Porosity Hair?
You might think that argan oil could take the trophy as the top oil for natural hair with all of the benefits mentioned above. But, unfortunately, despite the many benefits of argan oil highlighted in this article, it is not a keeper for all natural hair types.
In fact, there is a school of thought that 100% pure argan oil may not be a top pick for naturalistas with low porosity hair.
The rationale?
Argan oil has large molecules that prevent it from penetrating hair cuticles. This characteristic can cause the oil to sit on top of the hair rather than penetrate it so that the hair can reap the benefits.
Others find argan oil beneficial for people with low porosity hair because it is a lighter oil, and there is some opinion that it can penetrate the hair shaft and provide adequate hydration.
If you have low porosity, you will simply want to be mindful of reports that argan oil may not be as beneficial for individuals with low hair porosity.
Argan Hot Oil Treatments May Be a Good Option
If your interest is now piqued in using argan oil or getting the most out of your products that contain argan oil, you might consider applying a hot oil treatment. Hot oil treatments create the perfect atmosphere for your cuticles.
Hot oil treatments help to open your cuticles, allowing for moisture and oils like argan oil to enter.
In addition, hot oil treatments are easy to do from the comfort of your home. All you need is a good thermal cap, premium argan oil, an oil applicator bottle, and hot water.
First, warm the water, being careful not to warm it to the point of scalding your skin or scalp. Next, apply the warmed oil to your scalp, massaging it enough to generate blood flow.
Next, rub it through your hair from root to tip. Finally, cover your hair with the thermal cap and leave it covered for 30 minutes.
[RELATED ARTICLE: Aloe vera juice & almond oil for length-retention?]

The Wrap Up: Is Argan Oil Bad For Hair
In closing, the answer to the question of whether argan oil is good for low porosity hair may depend on how you use it.
Despite being a lighter oil, there is some concern voiced in the professional hair community that the molecules may be too large to enter the cuticle or penetrate the hair shaft.
But overall, is argan oil bad for hair? The answer is no, high-quality argan oil is not bad for your hair and it's actually very beneficial with a good amount of nutrients and uses.
The secret to enjoying the fantastic benefits of argan oil, if you have low porosity, may entail taking steps to open the cuticle so that I can receive moisture.
Hey, if you learned something from our NHP tutorial please bookmark this page an see more bomb info like this article about the best pre-shampoo treatments for shedding hair.
Follow Author of "Is Argan Oil Bad For Hair?" Article...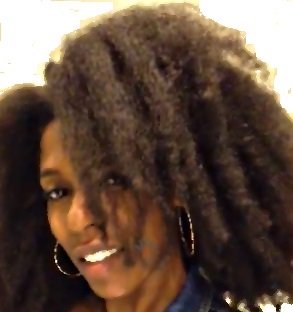 ABOUT THE AUTHOR: Melissa Lee 
Melissa Lee is a Contributing Editor to NHP and a former owner of the BlackhairOMG website. She formed 4C Trichology Growth Services, LLC., a US based hair care consultation service. She has also contributed as a writer and consultant for various hair and beauty websites. Melissa can be followed on Twitter here.

---