NHP is reader-supported. As an Amazon Associate we earn from qualifying purchases.

After Shower Oil for Hair?
After Shower Oil for Hair
Wondering if after shower oil for hair is a good idea? Are you at a loss for what the best oil is to use after showering on your hair?
Don't worry gorgeous, I have your answers here just-a-waitin...
Knowing which oil will work best for your hair once you leave the comfort of a steamy, hot shower is not unique to you.
These days, everyone has an opinion about which oils will penetrate your hair vs. which oils will help you seal in the moisture, but what is the best path to follow?
Consider using both. HOWEVER, the key to using both requires you to use a particular type of oil before you step into the shower and a different kind of after shower oil for hair after you step out.
When To Apply Hair Oil, Before Or After Bath?
Answer: Deciding whether it's best to apply hair oil before or after a bath or shower depends on your main hair care goal.
Oils are commonly used before bathing as a pre-poo. When you want to boost the effectiveness of your shampoo session you can use a hair oil on your scalp and strands before you bathe and also during your shower for a deep moisturizing treatment.
Sandalwood & Grapeseed natural hair oils are great for this as they provide strength and intense hydration, another fine option is jojoba natural hair oil. 
Using hair oils before you shampoo helps to protect your scalp so it's ideal if you have fine hair, dry hair or a sensitive scalp.
It's also fine to opt for after shower oil for hair as long as you use it sparingly, we'll talk more about how to apply hair oil after showering in the section towards the end of this tutorial.
[RELATED ARTICLE: Are Olaplex products good for thin fine hair?]
Penetrating After Shower Oils for Hair 
One of your greatest goals in caring for your hair post-wash should be to moisturize it.
Moisture can be your best friend and lack of nutrients can be your greatest foe when it comes to strengthening your hair and hydrating your scalp. That's why after shower oil for hair can help.
Hair requires moisture for hair elasticity and many other things like shine, frizz control, and split ends prevention. Without adequate moisture, you are setting yourself up for a world of aggravation and confusion.
Moisturizing oils penetrate the hair shaft and can be used with water or leave-in conditioners. Pre-poos ideally should contain moisturizing oils. Moisturizing oils are crucial to sustaining the health of your scalp.
Without a healthy scalp, healthy hair cannot exist. For this reason, you want to choose an oil that will prove helpful for your hair and beneficial to your scalp.
Examples include coconut oil, avocado oil, and argan oil.
Coconut Oil: Coconut oil can boost the rate at which your hair grows. Hair damage? Not a problem. Coconut oil contains the perfect blend of antioxidants that fight against free radicals that may damage the overall structure of your hair.
Avocado Oil: Avocado oil is beneficial for hair that may be suffering from heat damage or simply need a bit of moisture to help smooth the cuticle. If you have low porosity hair, avocado oil is a top pick. This oil is a natural detangling agent that softens hair, leaving it manageable and vibrant.
Argan Oil: Argan oil contains fatty acids, antioxidants, and vitamins, which moisturize your scalp and hair but helps to soften hair, making it more manageable. If you suffer from problems with dandruff or other scalp conditions, Argan oil is an excellent natural treatment for dry or inflamed scalps. And hey, check out our arrticle explaining if argan oil is Curly Girl approved or not.
Best Moisture Sealing After Shower Hair Oils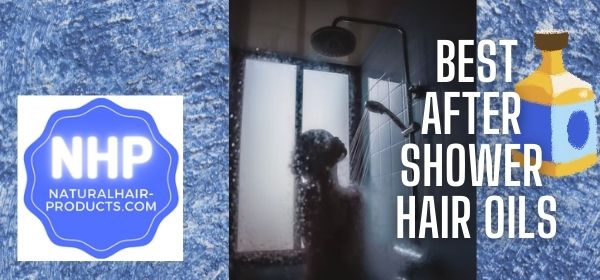 Moisture sealing oils do not penetrate the hair shaft. Instead, they sit on top of the hair, helping to lock in moisture and give hair a fantastic shine.
Think of these oils as a protective coating for your hair that prevents moisture from escaping hair. The best time to use these oils is after you apply our moisturizing oils.
Jamaican Black Castor Oil, grapeseed oil, and jojoba oils are examples of moisture sealing oils.
Jamaican Black Castor Oil: Jamaican Black Castor oil is an excellent after shower oil for hair oil for sealing in moisture, and it softens hair. It helps relieve dry scalp, increases blood flow to the scalp, and may contribute to thick hair growth. This oil can be heavy, so it is important to remember that a little bit goes a very long way.
Grapeseed Oil: Grapeseed oil works well for women who have fine or thin hair and may benefit you if you have coarse or thick hair. Grapeseed oil can help with combating frizz and is another option for restoring shine.
Jojoba Oil: Jojoba oil is present in most conditioner hair products for a reason. Jojoba is a good after shower oil for hair that contains zinc and copper, two minerals that help to improve blood flow at the scalp level.
This action can help stimulate your hair follicles to produce hair, potentially increasing the rate at which your hair grows.
How To Apply Hair Oil After Shower
So here's the answer for how to properly apply hair oil after shower. This is especially good for people with naturally wavy hair.
Follow these steps to give after shower hair oiling a try:
Shampoo hair in the shower as normal.
Pat your hair dry with a microfiber towel or t-shirt so there's no dripping.
Apply 2-5 drops of penetrating oil on your scalp and massage with fingertips using a circular motion.
Apply the oil left on your palms to your hair.
Cover with a towel or shower cap for 30 mins. (optional)
Remove hair covering and enjoy.
When dried, you should notice softer hair that can be detangled easier than before, some wavy hair naturals prefer using after shower oil for hair more than using popular hair conditioners.
Some have completely stopped using conditioners after finding this trick/solution. As long as you don't use too much the hair doesn't feel greasy either. Many have noticed less hair breakage and hairfall.
After shower oil for hair may end up bein a replacement for any store bought chemical-laden conditioners. It depends on how naturally oily your hair is though, so test it out and see if it's good for your tresses! 
After Shower Oil for Hair: The Wrap Up
In closing, the best oil to use after stepping out of the shower is a moisture sealing oil.
Using a moisture sealing oil like JBCO or grapeseed oil can work with your "moisturizing" oil to strengthen your hair and deliver much-needed vibrancy.
To see the best results, try using a pre-poo solution that contains a moisturizing oil and then apply a small bit after stepping out of the shower.
It may require a bit of trial and error, so be prepared to test the waters to determine which after shower oil for hair works best for your texture.
[RELATED ARTICLE: How to stop shrinkage on 3C curly hair...]
Follow Author of "After Shower Oil for Hair" Tutorial...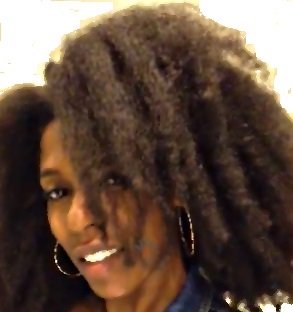 ABOUT THE AUTHOR: Melissa Lee 
Melissa Lee is a Contributing Editor to NHP and a former owner of the BlackhairOMG website. She formed 4C Trichology Growth Services, LLC., a US based hair care consultation service. She has also contributed as a writer and consultant for various hair and beauty websites. Melissa can be followed on Twitter here.

---