NHP is reader-supported. As an Amazon Associate we earn from qualifying purchases.

Type 2 Hair [Natural Wavy Hair 101]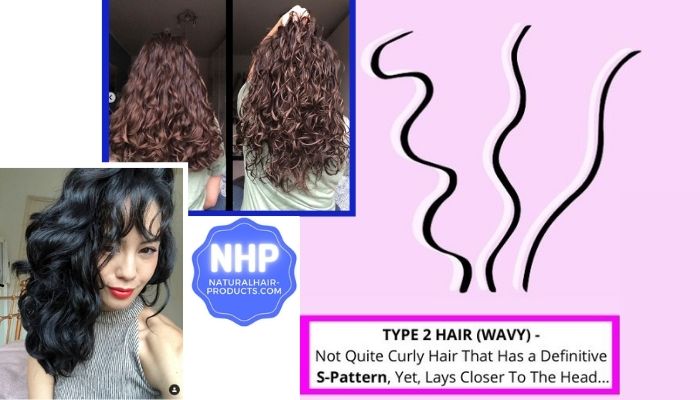 Type 2 hair is natural wavy hair. Unlike other hair types, type 2 wavy hair is often misclassified as curly hair. 
Yet, like curly hair and straight hair, wavy hair is a distinct hair type all to itself. And, it actually shares some attributes of both the straight and curly hair worlds. Once you understand it, you'll know how to identify the best styling products for your wavy hair.
With naturally wavy hair, you've probably already noticed that the weather plays a huge role in your wave patterns.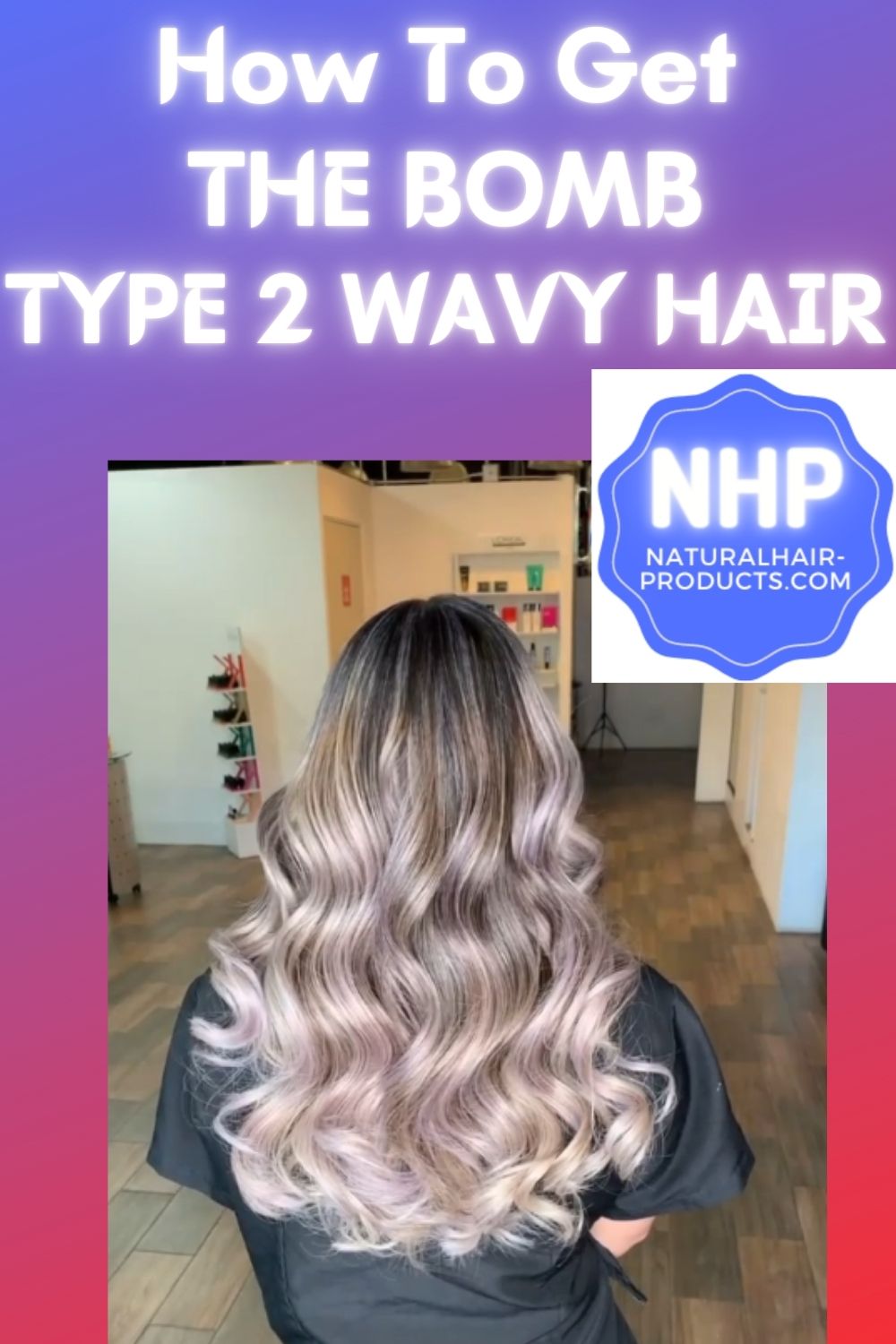 Odds are, that in the warm summertime weather, your wavy hair gets curlier due to higher humidity and as the seasons change and cools down, the dry winter air causes your type two tresses to become flatter and straighter-looking.  
Get happy though, sis! You're gonna look and feel so much better about your type 2 natural wavy hairstyle mastery after grabbing up all of this dope info…
Because:
Having a better understanding of your exact hair type is a huge game-changer when it comes to your wavy natural hair styling capabilities. Plus, it makes selecting the right type 2 styling products much easier.
What is Type 2 Hair? Decoding This Natural Wavy Hair Type...
There are three main variants of type 2 naturally wavy hair. Type 2 is the "in-between" hair type. It's not completely straight nor is it completely curly, and not at all kinky like type 4 tresses.
It's also the "in-between" hair type because it's not too dry, yet, it isn't too oily either.
You can tell if your hair is Type 2 by inspecting the wave or curl pattern, and against popular belief, your hair porosity does not determine the difference between type 2A, 2B and 2C.

There are Three Type 2 Hair Natural Wavy Hair Sub-types - 2A, 2B and 2C
While all variants of type 2 hair are considered "natural wavy hair," they each have their own unique look, proper style techniques and require their own unique hair care regimen/routine.
And regardless of your sub-type, there are always great type 2 hair products for you to discover at Amazon.

Type 2A Natural Wavy Hair: Defined
Those with hair type 2A natural wavy hair have a fine, barely-there tousled texture that's very easy to straighten, intentional or unintentionally. 
You definitely want to avoid the fluffy and limp style and texture that 2A hair often displays and can be naturally prone to. Type 2A hair often looks best in slightly shorter hairstyles to provide more volume and added texture to your natural waves.
A shorter hair style will also create the illusion of a fuller, thicker set of wavy locks.
Women with this type 2A natural wavy hair texture have to be cautious of using heavy styling products that can easily weigh their loose 2A strands down, rendering them limp and lifeless. A big problem, because 2A natural wavy hair lacks volume at the root. 
PRO TIP: NHP highly recommends using an airy, water-based mousse, like the Aveda Phomollient Styling Foam, to add a bit of oomph at the base, making hair look fluffier and fuller.

Type 2B Natural Wavy Hair: Defined
2B natural wavy hair lies flatter at the crown with more defined S-shaped waves than 2A hair.
Type 2B hair strands are also thicker in diameter than 2A natural wavy hair, and you have to put a bit more elbow grease into getting it straightened. Since type 2b hair is in between curl and wave, the frizziness gets even more real and challenging.
With this frizz, your new best friend will be Moroccan oil treatment oil and a good smoothing serum or blowout creme. Type 2B natural wavy hair can also be prone to more tangling which leads to nasty knots and split ends.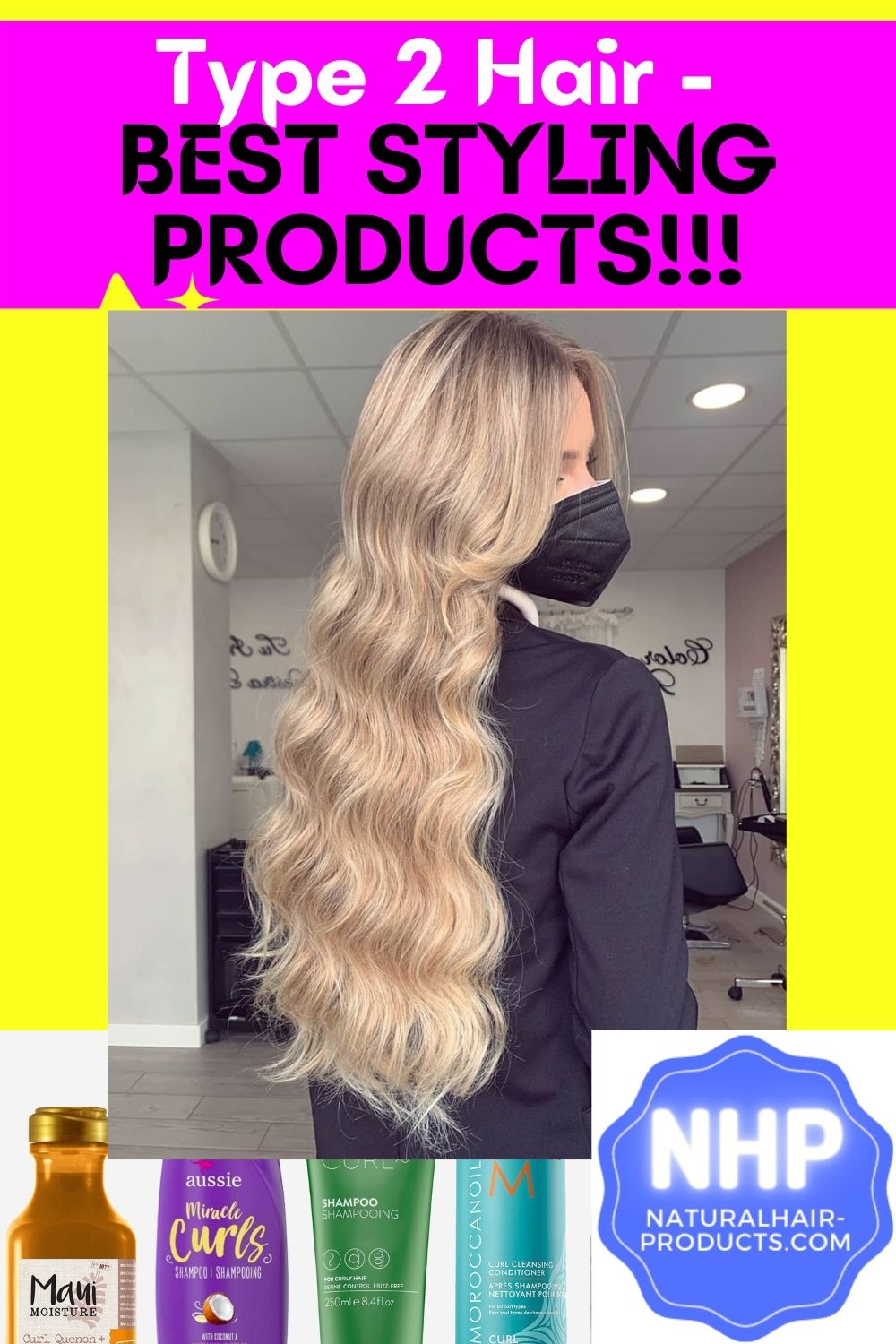 With a small amount of both type 2 hair products, you can combat that frizz and heaviness while showing off your new smooth, naturally wavy and bouncy tresses.

To enhance your natural surfer-babe waves, use a sea salt hairspray like Verb Sea Spray - Windswept Waves for light dry texture or the Herbivore Botanicals Sea Mist Coconut + Sea Salt Beach Wave Hair Mist enriched with natural sea salt and aloe for sexy texture that's never stiff or crunchy.
Type 2B hair looks best the more effortless and messy the wave is. For type 2B hair, it is best to use a smoothing and frizz-free shampoo and a top-notch frizz-free conditioner.
If you are looking to put in the least amount of effort possible, it is best to keep type 2B natural wavy hair at a medium length to avoid the weighing down effect of long waves or frizziness of short waves.
Adding multiple layers throughout can boost the look and feel of your type 2 hair texture, giving you the bounce of natural wavy hair with TRUE body.
Type 2C Natural Wavy Hair: Defined
Since type 2C hair is thick and full it can feel intimidating to style. It is best to take it back to the basics with 2C hair. So what exactly does that mean?
The simpler the better. Styling your hair with an off center part and embracing the curly, natural wave is best with these thicker, waviest of the wavy locks.
But because type 2C natural wavy hair is thicker it's more susceptible to frizzing up.
The S-bends are well-defined and begin at the roots. In between shampoos, type 2C ladies can use a non-lathering, sulfate-free cowash to cleanse without stripping essential moisture from your hair strands.
You can grab type 2 hair cowash products like MIZANI True Textures cream cleansing conditioner with coconut oil (paraben & sulfate-free) or Briogeo Be Gentle, Be Kind Avocado + Quinoa co-wash, which is also great for type 4B hair.
When looking for products that work well with your thicker, wavier locks it is important to focus on gentle cleansing and hydrating shampoos and conditioners. Less is more with type 2C hair so avoid all the heavy add ins after showering, the heavy products work better on type 3C hair.
PRO TIP: For thick type 2C hair, NHP recommends layering a leave-in conditioner under a mousse to lock in your hair's natural wavy hair pattern while adding hydration.
We like the Suave Avocado & Olive Oil Leave-In Conditioner and the Design Essentials Natural Almond & Avocado Curl Enhancing Mousse.
What are the Best Styles for Type 2 Natural Wavy Hair?
You've seen Instagram posts on social media and even advertisements showing off the coveted "beach hair" look. Those hair models have type 2 natural wavy hair.
If you share this same hair type, then your wavy tresses can be either straightened or curled. Yet, as you're probably well aware – without the right hairstyling techniques or haircut, your type 2 hair can easily appear like a lifeless mess.
For type 2 natural wavy hair, an even-length haircut is ideal. Layering could make your hair look too thinned out, especially if you have a habit of going back and forth between wavy and straight hairstyles.
Type 2 natural wavy hair usually does best in a medium-length to long haircut.
What's the Biggest Difficulty for Type 2 Natural Wavy Hair?
The answer, in a word: Frizz. That dang frizz chases a "wavy baby" down like Jason Voorhees chases down obnoxious teenagers through the woods.
By far, frizz is the biggest challenge for type 2 natural wavy hair, making it somewhat difficult to manage. If it's not styled properly, type 2 hair simply looks messy.
To keep your natural wavy hair looking its best, you need unique hair care regimens tailored to your type 2 hair.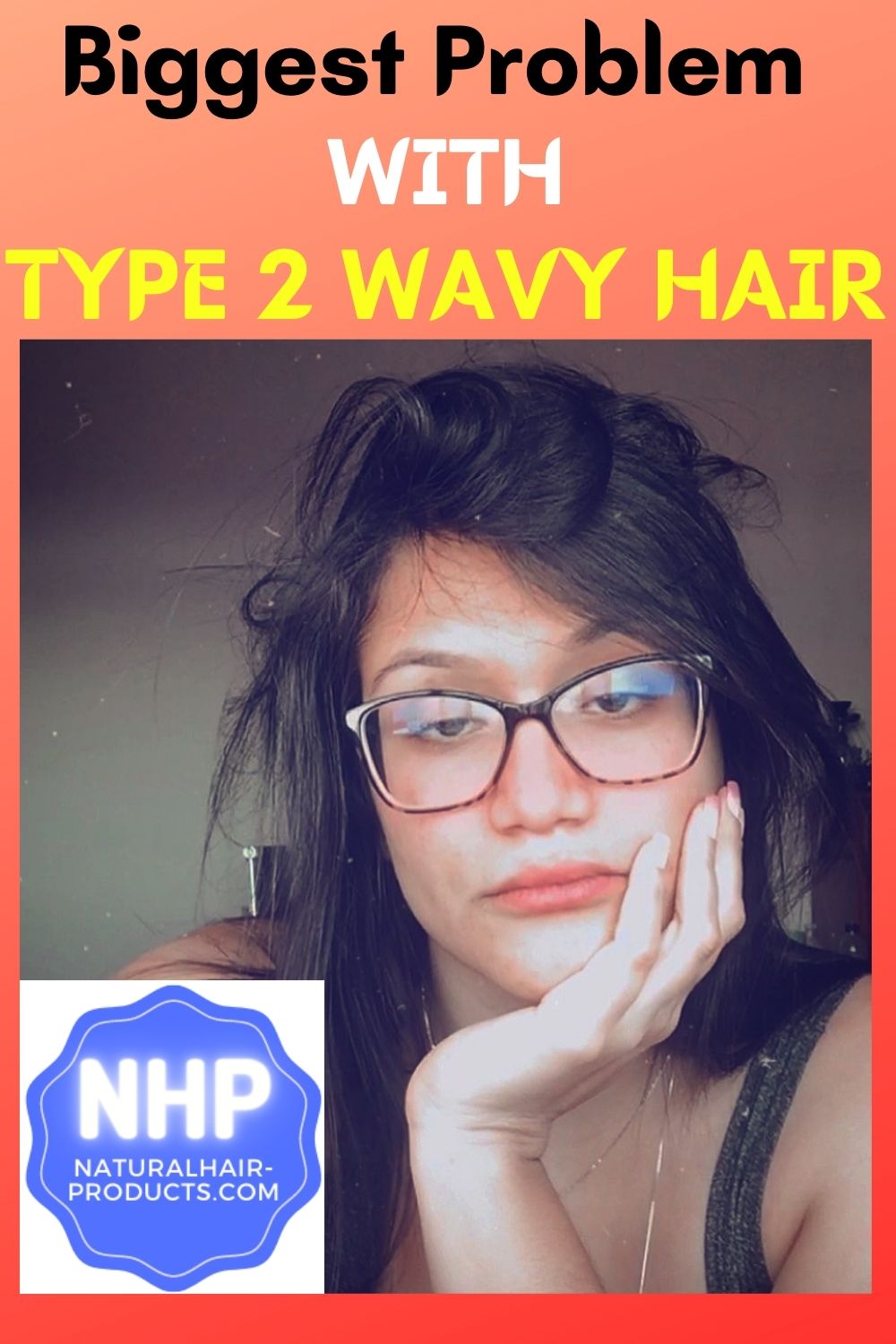 One way to cut down on frizz problems is to omit towel-drying your hair. While it's completely normal to jump out of the shower and towel dry your freshly-washed locks, doing that actually damages your natural wavy hair and creates more frizz. 

Instead of reaching for the towel, wring out your type 2 hair before you get out of the shower. Then let all of that wavy goodness drip-dry or, if you're in a rush, use a diffuser attachment on your blow dryer.
If you insist on using your beloved towel, opt for a microfiber or bamboo hair towel, please give up on the rough cotton options, though.
Another frizz-creating culprit is your hairbrush. When your type 2 hair is wet, use a wide-tooth comb instead of a hairbrush to avoid the oh-so dreaded frizz.
Better yet, skip combing your hair and simply scrunch your hair with a natural wavy hair-friendly product.
FAQs About Naturally Wavy Type 2 Hair
Before we get into these commonly asked questions about type 2 hair, I want you to know that you can always write to me and ask NHP questions.
I might answer your natural wavy hair question by email or like I did today, I'll add your question and our answer to an article so a ton of folks can get answers… 
Hit me up at questions@naturalhair-products.com - anywhoo… Let's get to these type 2 hair commonly asked questions...
Can You Have Naturally Wavy Hair?
Yes, you can have naturally wavy hair, many do. Your wavy texture and pattern may not be as consistent as naturally curly and coily patterns, but once you learn proper hair care, type 2 natural wavy hair looks beautiful and unique!
Sadly, naturally wavy hair texture can commonly be misunderstood as its own distinct hair type. 
What Causes Natural Wavy Hair?
Answer: Scientists have proven that the shape of the hair follicle matters in causing differences in wavy, curly, kinky and straight formed strands.
As well as, how hair proteins (keratin) clustered in the hair shaft. Your wavy hair type can change too. Naturally, our hormones, stress and aging are common causes for changes to your natural wavy hair texture and quality.

Should You Brush Wavy Hair?
Answer: You should not brush your naturally wavy hair if you want to avoid flattening it out or pulling it straight. Wavy hair is normally more delicate than curly hair, so it should be treated gently, so it helps to avoid brushing away and destroying waves...
Even curly hair can be overly-flattened, pulled straight, or made "poofy" if brushed or combed.
Is Wavy Hair Pretty?
Answer: Yes, if you have a proper type 2 hair routine for your natural wavy hair, it's not only pretty, it's downright sexy and creates attractive hairstyles. Weirdly enough, wavy hair typically gets wavier and prettier when it's a tad bit dirtier (sounds pretty bad, but it really isn't).
See, when the natural scalp oils moisturize your strands, your waves look more defined, sleek and attractive. You wake up to see the cutest natural wavy hair that hardly needs to be touched, those are truly "good hair days".
How Do You Treat Type 2 Hair?
Answer: To properly treat your type 2A and 2B hair, you should wash these hair types every 2-3 days, and treat type 2C hair to a shampoo every 3-5 days for 2C.
People with wavy hair have S-shaped waves that cascade down loosely. Type 2 hair ladies are primarily concerned with taming frizz and maintaining the integrity of the curl without weighing curls down or making them feel crunchy.

What Does Type 2A Hair Look Like?
Answer: Type 2A hair does tend to look thinner and looser than type 2B and 2C hair. Women with type hair 2A have a fine-looking, barely-there tousled texture that's super-easy to straighten.
Women with type 2A hair texture likely should steer clear of heavy styling products that can easily weigh their strands down, giving it a limp and lifeless look that you won't like.

What is Type 2 Wavy Hair?
Answer: Type 2 natural wavy hair texture is what you'll notice isn't quite straight, yet, not completely curly, the spectrum of hair ranges from loose loops to coarse, thick S-shaped waves.
Type 2 wavy hair texture is typically flatter at the root and lays close to the head, getting curlier from the ears down.
Does Plopping Work for Wavy Hair?
Answer: Plopping does work, it's a perfect technique for women with natural wavy hair, curly hair, or even fine hair. It will keep your type 2 hair healthy, shiny, and looking its best. Use a Turbie Twist Microfiber Hair Towel to transform your morning wavy hair routine, giving you beautiful beach waves.
Can Your Hair Become Naturally Wavy?
Answer: Naturally straight hair can't become naturally wavy, so, no. Still though, you can enhance curls and wave with the best hairstyling products.
A curl-enhancing product is especially effective if you want to make straight hair look wavy. You can also braid hair then press the braid out waves with a straightening iron.

How Can I Improve My Natural Wavy Hair?
Here's the answer on how to accentuate and improve naural wavy hair...
Wash your hair with a premium moisturizing shampoo.
Condition your hair to fight frizz.
Use cold water to rinse your hair.
Pat your hair dry with a towel.
Comb your hair with a wide-toothed comb.
Spray your hair with a premium leave-in conditioner.
Scrunch in 1 to 2 pumps of hair serum.
Add a volumizing mousse.
Air dry your hair for a natural wave.
Diffuse your hair to speed up the drying time.
Sleep on a silk pillowcase.
Refresh your waves by spritzing with a mixture of water & leave-in conditioner.
Can Wavy Hair Become Curly?
Answer: No, wavy hair can't naturally become curly. The same is true from curly to wavy hair. If your hair is truly naturally wavy, you can't just make it grow in curly.
You'll need to manipulate with products, use a curling iron or even perm your hair if you have straight hair and/or wavy hair that you want to become curly.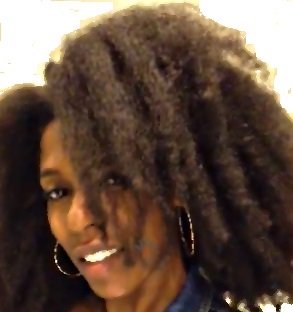 ABOUT THE AUTHOR: Melissa Lee 
Melissa Lee is a Contributing Editor to NHP and a former owner of the BlackhairOMG website. She formed 4C Trichology Growth Services, LLC., a US based hair care consultation service. She has also contributed as a writer and consultant for various hair and beauty websites. Melissa can be followed on Twitter here.

---